Best Value Online Psychology Degree Programs 2016
Psychology is one of the most popular majors for undergraduates. Psychology majors are able to explore a wide-range of topics that prepare them for a variety of careers. A bachelor's degree in psychology typically requires students to complete around 120 credit hours. Most students finish bachelor's degrees in psychology in 4 years. Some of the core courses that psychology majors are required to take include statistics, experimental psychology, abnormal psychology, and elective courses, such as consumer psychology, social processes, and human performance.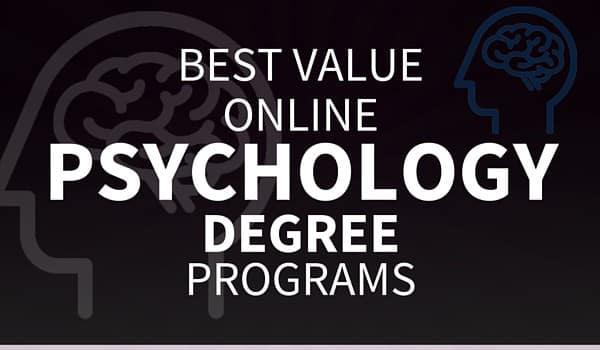 Online psychology degree programs are great for students who may be working or have other obligations that don't allow the time to enroll in traditional, on-campus psychology programs. There are over 100 bachelor's degrees in psychology fully available via online programs.
Students looking for the best value programs will find our list helpful. This list showcases online psychology degree programs that offer the lowest cost and highest probability of degree completion. "Best Value" psychology degree programs are measured by
Net Price (Tuition + Fees minus average financial aid, including scholarships and grants)
Retention Rates
Graduation Rates
For EDsmart's Best Value Online Psychology Degree Programs rankings, net price is used instead of sticker price because it represents a more accurate cost to the student. A high sticker price can actually have a low net price, thus widening a student's college choices beyond what was seemingly an unaffordable tuition. Retention and graduation rates are a good measure of how pleased students are with their choice of college, with the student finishing their degree at the college at which they began.
All data has been gathered from http://nces.ed.gov/collegenavigator, school websites, and school Facebook pages.
10 Best Value
Online Psychology Degree Programs
2016-2017
1. UNIVERSITY OF FLORIDA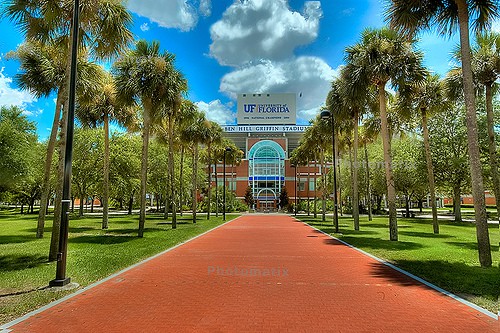 ONLINE BACHELOR OF ARTS IN PSYCHOLOGY
Net Price: $14,786
Retention Rate: 96%
6-year Graduation Rate: 88%
The university of Florida earns the top spot for the best value online Pyschology degree programs. This program combines the natural and social sciences in a brilliant way. The breadth and depth of this degree offers graduates a wide range of career opportunities in business, marketing, education, healthcare, counseling and personal management. UF provides Psychology students an in-depth education that comprehensively covers this broad discipline. UF was recently ranked as the #47 university in the nation, #31 clinical psychology grad program, #40 for Psychology, amd #11 in the nation for best online bachelor's programs.
2. UNIVERSITY OF CENTRAL FLORIDA
ONLINE PSYCHOLOGY B.S.
Net Price: $14,745
Retention Rate: 88%
6-year Graduation Rate: 70%
Students at the University of Central Florida can earn Psychology degrees online for an amazing price and within a fraction of the time-frame it would at similar institutions. Admissions into UCF are relatively rigorous but students are well-rewarded with a program filled with fieldwork, research and internship opportunities. Online instruction is not permitted in all 50 states. Check the program's page at UCF.edu (below) to see if yours qualifies.
3. FLORIDA INTERNATIONAL UNIVERSITY
ONLINE BS IN PSYCHOLOGY
Net Price: $11,552
Retention Rate: 84%
6-year Graduation Rate: 54%
Florida International University offers the third most affordable online Psychology degree on our list of the best. FIU's 2,400+ Psychology majors stay engaged and challenged by one of the fastest, most flexible and convenient Psychology degrees in the U.S. Along with accelerated courses, FIU offers one-on-one guidance for students through their high-tech online platform. FIU's accredited online Psychology degree program produces leaders in scientific research and human behavior.
4. WASHINGTON STATE UNIVERSITY
ONLINE BACHELOR OF SCIENCE IN PSYCHOLOGY
Net Price: $16,427
Retention Rate: 80%
6-year Graduation Rate: 67%
Washington State University is one of a handful of higher education institutes in Washington that offer online Psychology degrees. Coursework combines business, law, education, and medicine to provide a well-rounded education for their students. This program is tailored for students aiming to acquire the training necessary for a career in a variety of fields including health and human services, research and development, and others. This program is great for those looking to pursue higher degrees in Psych, Law, Medicine, Sociology, and Education.
5. WESTFIELD STATE UNIVERSITY
PSYCHOLOGY DEGREE (B.A.), ONLINE COMPLETION
Net Price: $15,498
Retention Rate: 77%
6-year Graduation Rate: 63%
Westfield State offers accelerated courses and summer sessions to speed up degree completion. In academic circles, Westfield has a solid reputation for developing  students with skills that employers most need. This online Psychology degree program incorporates classes that help students grow into flexible, imaginative, and communicative workers. WSU's bachelor's in Psychology is a degree completion program which is a great fit for local community college graduates–a smooth transition for "Mass Transfer impact" students.
6. OREGON STATE UNIVERSITY
B.A./B.S. IN PSYCHOLOGY-ONLINE
Net Price: $16,462
Retention Rate: 84%
6-year Graduation Rate: 63%
Oregon State University has a solid track record across the boards and was recently named the #7 Best Online Bachelor's Program in the nation by US News. OSU's grad school ranked #101 for Psychology by US News. OSU provides graduates with reputable credentials that help place them in their careers. This online Psychology program offers amazing training for students looking to work in social services, clinical psychology, research, law enforcement, and more.
7. AMERICAN PUBLIC UNIVERSITY
ONLINE BACHELOR'S DEGREE FOR PSYCHOLOGY PROFESSIONALS
Net Price: $9,572
Retention Rate: 76%
6-year Graduation Rate: 46%
University of Minnesota – Duluth offers an affordable, accelerated psychology degree completion program allowing students to complete upper-level Psychology coursework completely online. UMD was recently ranked #7 Top Public School and #29 Best College for Veterans by US News. Outside the classroom, UMD offers internships, independent study opportunities, teaching and research assistantships and more–a great way to grow and network.
8. UNIVERSITY OF MINNESOTA DULUTH
PSYCHOLOGY MAJOR-ONLINE
Net Price: $15,681
Retention Rate: 77%
6-year Graduation Rate: 59%
American Public University offers one of the most affordable online psychology degree programs for working professionals. APU can even save students more money by accepting credit from academic and work-related experience and training. These credits are accepted by APU for up to 50% of their students. APU's bachelor programs were recent;y ranked #58 by US News.
9. BLUE MOUNTAIN COLLEGE
ONLINE BS IN PSYCHOLOGY
Net Price: $$9,244
Retention Rate: 63%
6-year Graduation Rate: 46%
Blue Mountain College is a small, Christian, private institution with a total undergraduate enrollment of 520 and was recently ranked #22 best college in the South by US News and #191 for best online bachelor's programs. BMC's Psychology program engages students in every aspect of the human mind, emotion, behavior, and existence through a study of topics including physical, emotional, and abnormal behaviors.
10. NORTHERN ARIZONA UNIVERSITY
ONLINE PSYCHOLOGY BACHELOR'S DEGREE
Net Price: $12,946
Retention Rate: 74%
6-year Graduation Rate: 52%
Northern Arizona University is one of Arizona's public universities to pioneer online learning for more than 20 years. NAU's online Psychology degree offers a broad survey of practical and theoretical topics combining human cognition, learning and development. The analytical framework and professional skills learned in NAU's Psychology degree online equips students with everything necessary for success in the workforce.
Congratulations on providing great value for Psychology students! Feel free to show off your achievement by using the badge to the right on your school or program's website.
For further inquiry about this ranking report, please contact tstevens@edsmart.org.