Best Community Colleges in New York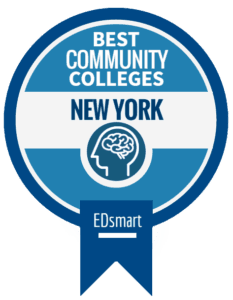 The state of New York is home to 121 two-year colleges. Two of the major community college systems in New York are the City University of New York (CUNY) and State University of New York (SUNY), which, combined, operate more than 90 percent of all public community colleges in New York.
Some students at New York community colleges attend in order to complete an associate's degree or some type of vocational training while others work on completing general education courses in order to transfer to a four-year institution of higher education.
For many students, the choice to attend a community college with the end goal of transferring to a four-year university is a more affordable option than going straight to a four-year institution.
Naturally, some of the community colleges in New York and New York City offer higher graduation and transfer rates than others, while some provide low tuition and more financial support.

Ranking Methodology
The team here at EDsmart ran the numbers on over 120 community colleges in the state of New York and ranked them based on:
Retention Rate
Transfer Rate
Graduation Rate
Net Price
*Data gathered from the National Center for Education Statistics' College Navigator.
All four factors allow students to see the affordability and academic quality of each respective community college on our list. Every school was given a ranking in each category listed above then assigned a composite score with the highest score being 100. The only school to receive a perfect 100 was Guttman Community College.
Rankings and information about each school can be found below.
Rank

Name

Graduation Rate

Transfer-Out Rate

Retention Rate

Net Price

1
Stella and Charles Guttman Community College
49%
30%
73%
$5,988
2
Herkimer County Community College
36%
27%
61%
$7,487
3
Columbia-Greene Community College
30%
19%
59%
$5,196
4
Nassau Community College
22%
20%
72%
$3,817
5
Ulster County Community College
31%
17%