Best Colleges & Universities in Alaska
One click can begin your thousand-mile journey to the immense state of Alaska. The northernmost state in the United States is well-known for its natural beauties. Attending college in Alaska would allow you to behold the wonder and beauty that is in Alaska as you move forward in your academic journey.
Fourteen colleges, universities, and other post-secondary institutions are available for you to choose from. If you are looking to live in and explore Alaska during college, here is some helpful information for you as you choose which institution is right for you.
Alaska may not be the first place you think of when looking at where to attend college, but with lower tuition rates than most other places, it may be the right state for you. Though there are few postsecondary schools there, Alaska has adopted measures to boost academic growth with the state's money. This is why tuition costs remain low. By doing this, Alaska has now added low-cost tuition to the list of beautiful things that already draw many to the state. The hope is that it will bring students like you to their colleges who are ready to enjoy all that Alaska offers.
Colleges in Alaska Fast Facts
Fall enrollment (2017) = 26,905
Degrees awarded in Alaska(2016) = 5,630
Median in-state public tuition (2016) = $5,936
Median private tuition (2016) = $14,450
Largest school = University of Alaska Anchorage
Rankings
EDsmart assesses colleges in Alaska based on data that covers four main areas:
Cost (average net price)
Academic quality (graduation rate)
Student satisfaction (retention rate)
Salary After Attending (the median earnings of former students who received federal financial aid, at 10 years after entering the school)
All data was gathered from the U.S. Dept of Education websites College Scorecard and College Navigator.
This ranking aims to help students assess the affordability and value of top colleges in Alaska so they can make informed decisions about which college to attend.
Best Colleges in Alaska for 2019-2020
1. University of Alaska Fairbanks
Score: 100
Salary After Graduating: $38,700
Average Net Price: $9,988
Retention Rate: 76%
Graduation Rate: 28%
You don't need to search hard for the best schools in Alaska because the University of Alaska Fairbanks (UAF) tops the list. As the only national college in the state as named by U.S. News and World Reports, it also received the high honor of being called one of the top ten small universities in the country in 2018 by Times Higher Education.
Offering undergraduate and graduate programs of study, UAF offers majors such as Accounting, Alaska Native Languages, Atmospheric Sciences, Indigenous Studies, Oceanography, Physics, and more. Students can finish up their post-graduate studies and move onto their graduate studies without the need to transfer to another college. Some programs qualify for significantly discounted tuition so it's worth the effort for you to inquire about them.
The Best Colleges in AK receive an A ranking from Niche.com. The four-year university has a solid B rating. With an A in Diversity and B+ in Academics, it could very well be the right choice for you in your pursuit of higher education. Housing and dining options make it possible for students from all over the country to live on campus while they complete their degrees.
2. University of Alaska Anchorage
Score: 99.4
Salary After Graduating: $45,400
Average Net Price: $13,378
Retention Rate: 70%
Graduation Rate: 24%
Known as the second largest post-secondary institution in Alaska, the University of Alaska Anchorage offers over 100 certifications and degree programs. Students can major in everything from Accounting to Art to Computer Science to Medical Laboratory Science. The university is broken into multiple colleges of study which specialize in different disciplines such as Arts and Sciences, Engineering, and Health.
Generous with its awarding of scholarships, you'll find it topping the list of the best colleges in Alaska for good reason. The average student is female and over 28 years of age. Adults looking to change careers or hoping to continue graduate studies at another institution, love what UAA has to offer them.
Its Niche.com score ranks it a C+. The college received an A for diversity thanks to its variety of subjects to study. If you care less about partying and more about gaining the knowledge and skills needed to work in the profession of your choice, you'll want to review the application process and try for one of $34 million in scholarships.
3. Alaska Career College
Score: 99.2
Salary After Graduating: $31,200
Average Net Price: $16,603
Retention Rate: 72%
Graduation Rate: 70%
Among the best schools in AK, Alaska Career College offers certifications and degree programs ranging from Aircraft Dispatching to Therapeutic Massage. Its Medical Assistant program remains one of its most popular options to choose from. There is also Business: Accounting Technology, Business: Computer Technology, Business: Human Resources, Insurance Coding and Billing, and Phlebotomy Technician.
Students appreciate smaller class sizes and the personalized attention they receive from instructors. Since March of 1985, the college received accreditation from the Alaska Commission meaning that all programs of study meet certain standards as deemed necessary by the accrediting party. When transferring credits from one college to the next, you'll find accreditation having the utmost importance.
In addition to providing support for students of all ages, it also caters to the needs of current members of the United States military as well as veterans and their dependents. Offering a flexible classroom environment and help to locate housing in Anchorage, your needs are prioritized by college staff who set you up for academic success. With a B rating from Niche.com and 100 percent approval rate, the small institution rates high for student life.
4. Alaska Pacific University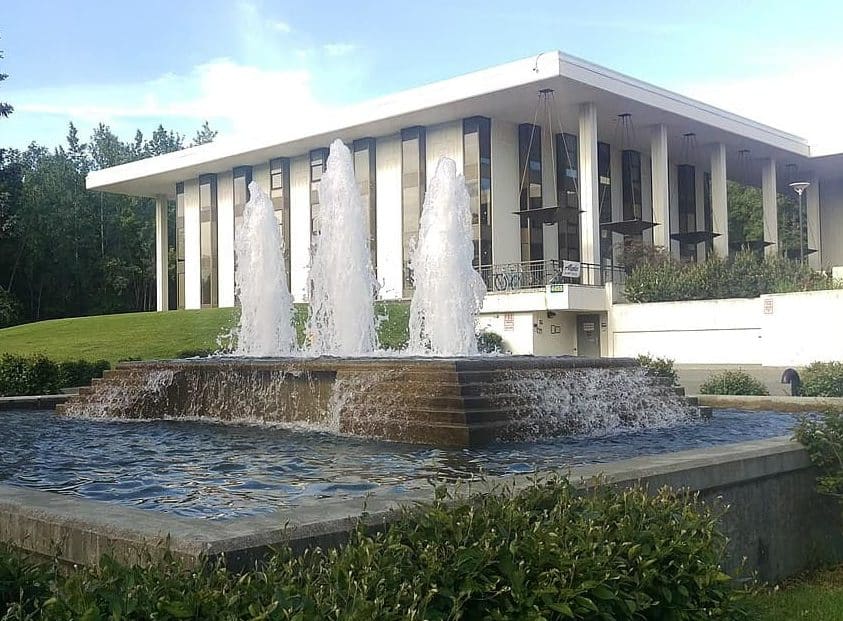 Score: 99
Salary After Graduating: $40,200
Average Net Price: $18,518
Retention Rate: 64%
Graduation Rate: 50%
Students wanting a different type of higher education gravitate toward Alaska Pacific University (APU). Catering to the needs of Undergraduates and Graduates, the school offers degrees and certifications in a wide range of career fields. Some of the more exciting options include Marine and Environmental Sciences, Outdoors Studies, and Outdoor and Environmental Education. Many APU students take advantage of everything the beautiful state has to offer by pursuing majors that involve the natural world. If you opt to major in the aforementioned fields of study, you'll get an up-close and personal view of the Great Outdoors through the classes you take.
The best colleges in AK rank high for student satisfaction. When considering APU, don't forget to consider the school's many recreation facilities including pool, weight room, climbing wall, and even biking trails. Students who want to live on campus find housing options that meet their needs and budget. You're able to eat well at school, too, thanks to the dining hall and weekly Farmer's Market.
Quite possibly one of the better schools in the state for all the extras it offers its students, Alaska Pacific University's Niche.com rating is a B straight across the board. It's a smaller institution with big potential!
5. University of Alaska Southeast
Score: 98.4
Salary After Graduating: $36,000
Average Net Price: $12,533
Retention Rate: 63%
Graduation Rate: 21%
The University of Alaska Southeast (UAS) offers students the opportunity to earn undergraduate and graduate degrees in one location. The high-ranking college has programs of study that include Biology and Marine Biology, Education, Healthcare, Marine Transportation, Mining, and Outdoor Studies to name a few. UAS has three campuses in Juneau, Ketchikan, and Sitka to make it easier and more convenient for you to study the major of your choice.
Offering students the opportunity to explore their surroundings further, student life at UAS is one of the things that make the university one of the best schools in Alaska. From offering paddleboards, tents, and mountain bike rentals to making dozens of exciting clubs such as Gaming Club, Film Club, and Orchestra accessible, the institution knows how to appeal to people just like you. Enriching experiences await you at one of the top schools in the state.
The four-year college has a B rating on Niche.com. It earned an A- in Diversity and a B+ in Academics. UAS has an acceptance rate of 71 percent and costs over $30,000 to attend. Scholarship opportunities are available for students wanting to defray the cost of higher education. You can look into them by visiting the college's website.
Sources
School websites