Easiest Online College Degrees for Students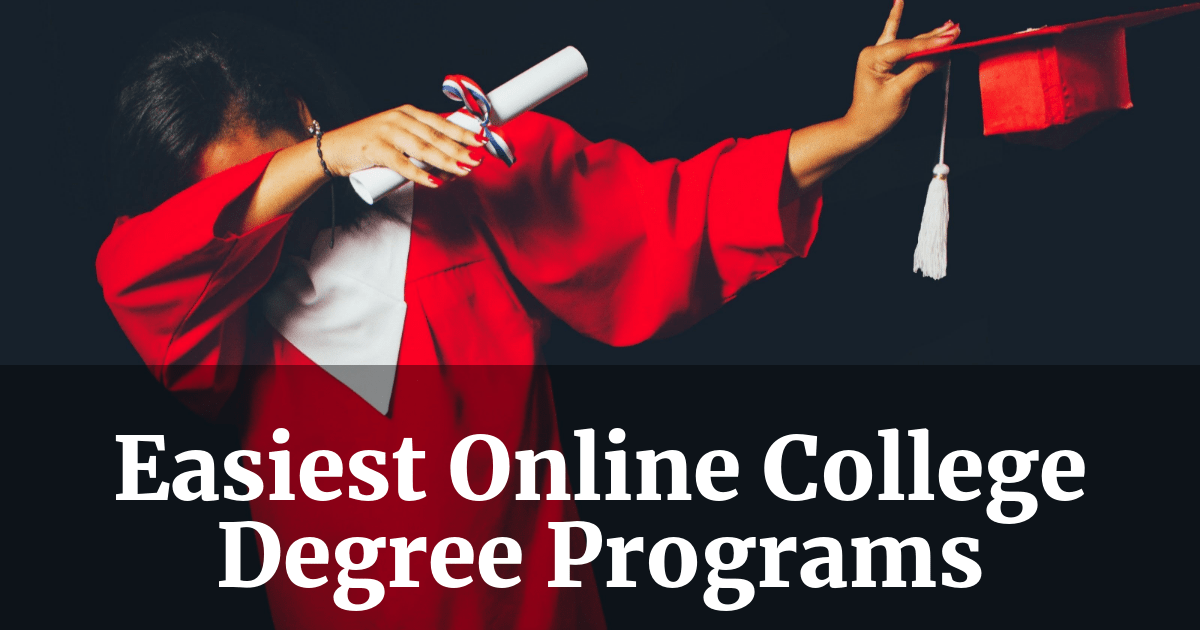 The reality of the job market is that there are fewer and fewer full-time jobs available for people that just have a high school education. Many employers are requiring prospective employees to have at least a bachelor's degree. But if you have part-time job and mouths to feed, you can't take the time to attend a college campus and attend classes for four years for a bachelor's degree program or two years for an associate's degree.
That means that students are often looking for the easiest online program to get into, or the easiest degree to finish in the least amount of time. They want it easy and they want it quick so they can get out into the field and earn money.
Studying online is an option that is growing more and more popular every year. Whether your work and family life doesn't give you much time to go to classes, or you live too far away from campus, online programs offer flexibility that can't be matched. Online degree programs offer flexible schedules and the ability to go at your own pace. It's an "on-demand" type of option for an "on-demand" generation.
Click here to jump to the list of Easiest Online College Degree Programs
Why get a degree online?
A lot of college students take online programs because it fits into their schedule in a way traditional programs do not. These distance education programs are flexible because they don't require a physical presence in a classroom and classes can often be attended at the availability of the student. This flexibility is ideal for people that can't commit to being a full-time student, or need to temporarily take classes part-time.
Online programs are ideal for students that want to approach education in their own way. Students of online programs can also finish their degrees at a faster pace (or slower) if they have the self-discipline.
How easy is it to earn a degree online?
Let's get this out of the way: if you're looking for a shortcut to a college degree, there isn't one. There's no such thing as a quick and easy college degree as they all require hard work and discipline. Even the easiest online college program or the easiest online degrees still requires students to attend classes and do homework. You have to put in the effort to learn. It takes work.
Plus the reality is that online degree programs that don't require much work are probably not legitimate. If it doesn't require hard work, it probably doesn't meet the high accreditation standards that are typical for higher education.
Don't shortchange your education by going for ease over quality.
However, there are some degrees that require "less" effort—depending on your own strengths and weaknesses. For example, someone that is great at math might have a hard time with an art history class and struggle with writing and vice versa. To determine whether a program is easy for you, just take a good look at your strengths, and be realistic about it. You're not going to suddenly become really good at physics just because you opened one book and you liked a YouTube video.
The Easiest Degrees
That said, if you're looking for the easiest bachelor's degree to get online, then we have to warn you to be careful what you wish for. Not all bachelor's degrees are created equally—for example, you're not going to get a job in engineering with a degree in art history.
But there are some subjects in the humanities that are easier than some of the subjects in the science-heavy fields. It really comes down to what kind of job are you hoping to land after you graduate.
In our study of the different programs available to students, we've found that some of the easiest bachelor degree programs to complete: Computer science, business administrations, nursing, education, accounting, criminal justice, and early childhood education.
Bear in mind, these aren't necessarily the easiest subjects, but they are some of the easiest programs to find online that also have the most flexible formats—which is why it's so much easier to finish these degrees.
The Easiest Online College Degree Programs
Some universities have easier admission, transfer, and academic requirements than others. The list below is a look at some of the schools that are easier to get into and have programs that students can finish at a faster pace. Many of these schools have financial aid available for students, as well as additional perks like online tutoring.

An affordable and flexible option for adult learners and traditional students alike, BYU-Idaho helps students earn certificates, associate's degrees, and bachelor's degrees. Students that have no prior college experience, or low high school grades can enroll in the PathwayConnect program and earn college credits that can be transferred into BYU-I's online program. These two options make this program one of the easiest and innovative programs for students to succeed in.
Located in beautiful San Francisco, the Academy of Art University has been an integral part in helping art students find jobs at places like DreamWorks and Nickelodeon. Though it's strictly an art school, students can earn degrees in majors like fashion styling, visual development, and communications in as little as 18 months.
Known for its state winning culinary program, Baker College of Michigan is a top school that understands that the time of students is very precious. To that end, students can finish certain courses in as little as eight weeks! Baker's Virtual College gives students 24/7 access to 33 online undergraduate majors, enabling students to easily finish their education at their own pace.
Home to more than 165,000 students, Miami Dade College is a winner of the Aspen Prize in education. But the quality of education isn't the only thing this school is known for. MDC values speed as well. Students of MDC love how the school schedules eight-week sessions for easy online undergrad degrees in 14 different majors.
If your goal is speed, then Walden University is for you. Beyond a high-quality online education,  bachelor's degree students can transfer up to 75% of required credits and can complete programs in as few as 12 months—an unbelievably fast pace.
In 2017 UMUC earned the Academia Circle of Excellence award. Since then it's been declared on elf the best colleges for adults by Forbes and has gone on to earn accolade after accolade. UMUC has four start dates every semester with eight-week modules in 33 degrees. The school even accepts up to 90 transfer credits as well. You can't find that kind of flexibility very easily. Students can earn degrees in fields like gerontology, humanities, communications, and more.
With over 200 degree programs designed to help students get into their career as fast as possible, SNHU is one of the easiest to access schools in the country. Whether it's getting a bachelor's degree or earning a master's degree, SNHU has offerings in studies like accounting and finance, art and design, business, writing, economics, engineering, healthcare, marketing, nursing, psychology, sports management and more.
Purdue University Global is an extension of Purdue's world-class education and offers fully customizable programs for adult learners. They offer more than 180 online programs for bachelor's degrees, master's degrees, and doctoral degrees in areas such as business, criminal justice, education, health science, nursing, psychology and more.
The City University of Seattle has one of the most generous credit transfer rates, accepting up to 135 quarter credits. On top of receiving a high-quality education, online students here could finish undergraduate degrees in fields like general studies, project management, and applied psychology in just two years.
WSU has been growing rapidly in the last few years and it's no surprise. Routinely named one of the best colleges in the west, WSU is a well-kept secret that is beginning to break. WSU online programs provide a respectable education that meets the needs of the students. The school offered easy online programs like bachelor's in professional sales, integrated studies, general studies, and health services administration.