Become a Medical Assistant in 6 Weeks
Accelerated Medical Assistant Programs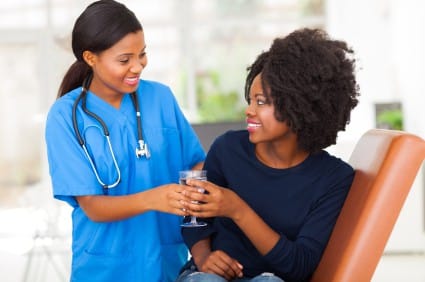 You've decided you want a career in the medical field, but you know that medical careers require extensive training.
You are the type of person who wants things done NOW! You don't want to spend years in school. What do you do?
Consider becoming a medical assistant. You will be working with patients, doctors, physician assistants, and other staff members as needed. Training for most medical professions takes years, however, you can become a medical assistant in just six weeks.
---
Jump to:
6 Week Online Medical Assistant Programs | Accelerated Online Medical Assistant Programs | Medical Assitant Programs Near Me
Many vocational or technical courses take a year of study in order to receive a certificate, including the medical assisting field. These courses are good choices for a variety of people, depending on your lifestyle, career goals and motivation. However, it is important to take the time to recognize what options will work best for you before you jump into your college adventure.
Thanks to technology, courses have been created which allow you to become a medical assistant online. There are also in-class options available, as well as hybrid versions.
When choosing which course option to take, it is important to consider your lifestyle, how well you learn on your own, or if you prefer to learn in a group setting. You will also need to consider how much time you are able to devote to your studies.
What is a Medical Assistant?
As a medical assistant, you will work directly with doctors and patients. There are two types of medical assistant positions: administrative and clinical. You may do one or the other, or possibly both, depending on the needs of the facility in which you work. Below is a brief listing of job summaries of both positions. Keep in mind, this list is not exhaustive.
Administrative:

Greeting patients
Answering phones
Accounting and bookkeeping duties, including billing
Coding insurance forms
Corresponding with insurance companies
Updating patient records
Scheduling procedures and surgeries
Obtaining pre-authorization for procedures

Clinical:

Taking patient history
Recording vital sign information
Drawing blood
Performing simple tests such as EKGs
Running basic laboratory tests
Assisting doctors or nurses during exams
Removing sutures
Dressing wounds
Advising patients of how to take medications
Choosing the Right Program
Before jumping into the first medical assistant program you find, take time to do some research. Evaluate your personal situation with regards to time and money, as well as your aspirations. Taking the time to answer a few questions will ensure that you are on the right path to your educational goals.
Previous Education
Do you have any previous education under your belt? If so, you may be able to transfer your existing credits and graduate in a shorter amount of time. If you have professional experience in a medical setting, these may also help you to grasp concepts more quickly and may increase your chances of completing some courses in a shorter amount of time.
Classroom Setting: Online vs. In Class
Are you the type of person who does well working on your own?
Do you like to have an instructor to speak with, directly?
Do you enjoy working with other students?
Do you need to have interaction with others to help you succeed?
How much time can you devote to studying each day?
Can you study at specific times, or do you need more flexibility?
Answering these questions will help you to decide if an online medical assistant program or an in-person course is best for you. Many schools also offer a hybrid of these two choices.
How long does it take to become a medical assistant?
The quickest medical assistant program is six weeks long but most medical assistant training is three months or longer.
Medical assistant courses vary from a total of 5 days to two years, depending on the certificate or diploma you are earning. Courses that take roughly two years to complete generally allow you to earn an associate's degree. Programs that only take a few months, or less, will provide you with a certificate. Deciding which you prefer, will also help you choose the right medical assisting course to take.
Are you a person who has the ability and resources to take a longer course? Or do you need to find a paying job quickly? Keep in mind that generally, people with more education receive more pay. However, don't let that dissuade you from taking a shorter course to become a medical assistant, there are several options available to get you started.
6 Week Medical Assistant Degree Online
You have several choices when searching for the right medical assisting course. We have included a few schools to help you with your search.
Before enrolling in this online medical assistant program, make sure to check out the reviews on Better Business Bureau. If you are uncomfortable with the reviews, try some of the other fast-track online medical assistant programs below. They're not six weeks but they are fast.
Time Frame: 6 weeks, self-paced so this program can be longer or shorter per your pace
Course Type: Online
Course Cost: $1415, offers reduced rates at different times
Certification Awarded: Certificate
Accreditation: NACB (The National Accreditation and Certification Board)
At St Augustine School you have the ability to take the Medical Assistant course at your own pace. This course does not have any deadlines or time limits, so you can study as your time allows. The average time to finish this course is 6-8 weeks. This is the way to become a medical assistant in 6 weeks.
During this course, you will take classes such as medical terminology, medical billing, infection control and more. You will learn how to process insurance claims, how to give injections as well as emergency procedures, and how to provide CPR. This course allows you to secure employment with a Medical Assistant Certificate. However, St. Augustine also offers certificates in Medical Billing and Coding.
Accelerated Medical Assistant Programs Online & On-Campus
Time Frame: 4 months
Course Type: Online
Course Cost: $3599
Certification Awarded: Certificate
Accreditation: None. However several programs are recognized and certified by industry-specific organizations.
CareerStep Online Education & Training Solutions provides online medical assisting training, that allows you to earn a certificate in just 4 months. This program, coined "The Fast Track," is all online and you work at your own pace. You will have access to the program for a total of 6 months. This allows you the ability to go back and look up information or you can use the entire 6 months to finish the program.
In the fast track medical assisting course you will learn patient advocacy, phlebotomy, clinical care, and more. The course is taught online using exercises, images, games, and interactive tools to ensure your understanding of the material. CareerStep Online also offers other health-related courses such as medical coding and EMS education.
Time Frame: 4 months
Course Type: Online
Course Cost: $979-1289 Depending on which course you choose and how you pay.
Certification Awarded: Certificate
Accreditation: DEAC, NCCT, NHA, AMT, CACCS
U.S. Career Institute offers two different options of its medical assistant course; the Standard Course and the Enhanced Course. The financial difference is $10 per month. In the enhanced version you receive all of the same education that is taught in the standard version of the program, however, the school adds in a few extras: blood pressure cuff, medical watch, stethoscope and more.
In this online medical assisting program, you will learn first aid, front office procedures, medical insurance info, pharmacology and more. Each course is taught online. However, you do have the option of purchasing hard copy materials for the courses. After you graduate, U.S. Career Institute will provide you with career coaching to help you land the perfect job.
Time Frame: 7 or 9 Months
Course Type: Online
Course Cost: $3500
Certification Awarded: Certificate
Accreditation: None
At Care One Health Training Institute you can earn a Medical Assistant certificate online in as little as 28 weeks. This course is completed solely online; however, you must appear at the school in person in order to register. While classes are held online, there are deadlines that you must meet.
In this program, you will learn about special diets, how to administer medications, draw blood and basic lab procedures. You will also learn how to assist physicians with medical exams, as well as minor surgery. This school also offers several other health-related courses such as CPR, Phlebotomy, EKG Tech, and more. However, these other courses are not offered online, they are in-person courses.
Time Frame: 12 months
Course Type: Blended
Course Cost: $15,249
Certification Awarded: Diploma
Accreditation: Higher Learning Commission, ABHES, several regional accreditations
Rasmussen College offers several different options for those looking to enter the medical field. The medical assistant program is a "blended" course, which means there are classes that are provided online as well as in-person courses.
This program teaches courses on math, communication, medical law and ethics and administrative practices. You will also take courses that will teach functions of the human body, psychology and more. In this course, you will also be required to do an externship. Before enrolling in the medical assistant program, you are required to pass a background check as well as be up to date on certain immunizations.
Time Frame: 24 months
Course Type: Blended
Course Cost: $34,976
Certification Awarded: Associate of Science Degree
Accreditation: Commission on Accreditation of Allied Health Education Programs
Keiser University offers a well-established medical assistant program. The length of the course is 24 months. However, you will receive an associate's degree once you graduate. This program is only available in-person and is offered at several campus locations in Florida.
During the medical assistant program at Keiser, you will learn how to prepare exam rooms, client communication, and how to assist in minor surgical procedures. You will take courses such as Radiography and Medical Terminology. Once your coursework is completed you will have two externships to complete as well. However, you must receive at least a "C" in your coursework before you will be able to begin your externships.
FAQ
Can you work as a medical assistant without being certified?
Yes, you can work as a medical assistant without being certified. Nevertheless, having a certification is highly recommended to help set you apart from the ever-increasing competition. You may also find that some employers will only hire candidates that have obtained certification from an accredited medical assistant program as well as proof of certification.
Do medical assistants get paid well?
According to 2019 data from the U.S. Bureau of Labor Statistics (BLS), medical assistants earn an average annual salary of $34,800 per year or $16.73 per hour. The lowest 10% earn less than $25,820, and the highest 10% earn more than $48,720.
Do medical assistants make more money than CNA?
On average medical assistants make nearly $5,000 more per year than certified nursing assistants (CNA). In 2019, CNAs made $29,640 per year ($14.25 per hour) while medical assistants made an average $34,800 per year ($16.73 per hour).
Searching for Medical Assistant Programs Near Me
If you're looking for medical assistant programs near you, use the tool below. Simply enter your zip code and this tool will populate schools with medical assisting programs near your location.