Become a Medical Assistant in 6 Weeks
Some accelerated medical assistant programs online claim to offer students the opportunity to earn their credentials in as little as six weeks.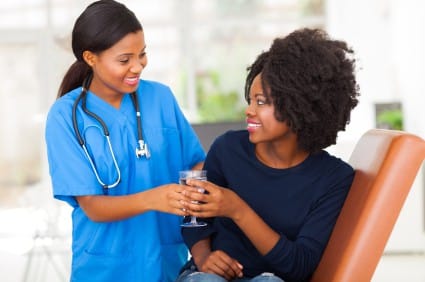 Is it possible to earn a medical assistant degree online in 6 weeks? We take a closer look at some of the most popular options.
You've decided you want a career in the medical field, but you know that healthcare careers require extensive training.
You are the type of person who wants things done NOW! You don't want to spend years in school. What do you do?
Consider becoming a certified medical assistant (CMA). You will work with patients, doctors, physician assistants, and other staff members as needed.
Training for most medical professions takes years. However, you can become a medical assistant in just six weeks.
---
Recommended Online Medical Assistant Programs
Learn about start dates, transferring credits, availability of financial aid, and more by contacting the universities below.
---
Jump to:
6 Week Online Medical Assistant Programs | Accelerated Online Medical Assistant Programs | Medical Assitant Programs Near Me
Many vocational or technical courses take a year of study to receive a certificate, including the medical assisting field. These courses are good choices for various people, depending on your lifestyle, career goals, and motivation. However, it is important to take the time to recognize what options will work best for you before you jump into your college adventure.
Thanks to technology, courses have been created which allow you to quickly become a medical assistant online. There are also in-class options available, as well as hybrid versions.
When choosing which course option to take, it is important to consider your lifestyle, how well you learn on your own, or if you prefer to learn in a group setting. You will also need to consider how much time you can devote to your studies.
Medical assistants have a unique blend of administrative and clinical responsibilities, which makes it difficult to find programs that can teach the necessary skills and knowledge in only six weeks.
---
CMA Classes Near Me
Find certified medical assistant classes or associate's degree programs accredited in your state with the tool below. CMA programs are available in many locations!
---
Medical Assistant Degree Online in 6 Weeks
Six-week online medical assistant programs typically cover essential topics such as human anatomy and medical records management. Additionally, most stand-out programs usually require you to both complete clinical requirements and complete a long stint of interning in a professional medical environment.
Some online programs advertise a six-week medical assistant degree. Some of those schools prioritize quick profits over quality education and career training, and this can lead to problems if the program is not accredited. Talk to an admissions officer or counselor if you have questions, and check for the program's accreditation before enrolling.
Before you commit to a program that offers a medical assistant degree online in 6 weeks, consider your academic and professional needs. If you want to start a medical assistant job quickly, a shorter, less-intensive program may be the best option. If you're starting your medical career, a more comprehensive program with transferrable college credits may be a better path.
You have several choices when searching for the right medical assisting certificate course. We have included a few schools to help you with your search.
Time Frame: 6 weeks, self-paced. This online CMA program can be longer or shorter per your pace.
Course Type: Online
Course Cost: $700 (registration fee)
Certification Awarded: Certificate – Certified Clinical Medical Assistant
Accreditation: NCCT (National Center for Competency Testing)
At Phlebotomy Career Training, you can take the Medical Assistant course at your own pace. This course does not have any deadlines or time limits, but there is an incentive for students to finish within 6 months. Students who complete their classes and internship before 6 months will get their national accredited exam paid for by the school. The Medical Assistant Course consists of 996 hours of class instruction and 204 hours of internship work, practicing skills like taking vital signs, assisting in minor surgical procedures, and performing drug/pregnancy tests.
Healthcare students will learn various skills necessary to work in the field, including being knowledgeable of workplace management and administrative tasks, with a focus on HIPPA and OSHA regulations. They will also be taught how to use professional conduct at all times. Upon successful course completion, all students will need to pass the certification exam to be certified as Medical assistants. Phlebotomy Career Training offers national accrediting exams for those looking for licensure opportunities across the U.S. and Canada.
Accelerated Medical Assistant Programs Online & On-Campus
Most of the quick medical assistant programs are online medical assistant certifications.
Time Frame: 4 months
Course Type: Online
Course Cost: $3,999
Certification Awarded: Certificate – medical assistant certification online.
Accreditation: None. However, several programs are recognized and certified by industry-specific organizations.
CareerStep Online Education & Training Solutions provides online medical assistant training that allows you to earn a certificate in just 4 months. This program, coined "The Fast Track," is all online, and you work at your own pace. You will have access to the program for a total of 6 months. This allows you the ability to go back and look up information, or you can use the entire 6 months to finish the program.
In the fast-track medical assisting course, you will learn patient advocacy, phlebotomy, clinical care, and more. The course is taught online using exercises, images, games, and interactive tools to ensure your understanding of the material. CareerStep Online offers other health-related courses, such as medical coding and EMS education.
Time Frame: 4 months (8 hours a day, 5 days a week)
Course Type: Online
Course Cost: $3,540 Full Certificate Tuition
Certification Awarded: Certificate – medical assistant certification online.
Accreditation: Contact the school to find out
The online medical assistant program at the University of Utah is provided at an accelerated, self-paced speed. The curriculum for this program is online, but the program requires online in-person labs.
Students will enroll in skills lab classes (about 20.5 hours) and practice pre-defined skills in the class. Students should try to take a minimum of one skill lab per month, but you can go at your own pace.
After finishing all required in-person and online skills labs and submitting all needed documents, students will be given a temporary 180-hour externship within the University of Utah Health—this is unpaid.
Time Frame: 4 months
Course Type: Online
Course Cost: $1239, depending on your course and how you pay.
Certification Awarded: Certificate – medical assistant certification online.
Accreditation: DEAC, NCCT, NHA, AMT, CACCS
U.S. Career Institute offers two options for its medical assistant course; the Standard Course and the Enhanced Course. The financial difference is $10 per month. In the enhanced version, you receive all of the same education that is taught in the standard version of the program. However, the school adds in a few extras: a blood pressure cuff, a medical watch, a stethoscope, and more.
In this online medical assisting program, you will learn first aid, medical office procedures, medical insurance info, pharmacology, and more. Each course is taught online. However, you do have the option of purchasing hard-copy materials for the courses. After you graduate, U.S. Career Institute will provide career coaching to help you land the perfect job.
Time Frame: 7 or 9 Months
Course Type: Online
Course Cost: $3552.50
Certification Awarded: Certificate – medical assistant certification online.
Accreditation: None
At Care One Health Training Institute, you can earn a Medical Assistant certificate online in as little as 28 weeks. This course is completed solely online; however, you must appear at the school in person to register. While classes are held online, there are deadlines that you must meet.
In this online program, you will learn about special diets, how to administer medications, draw blood, and basic laboratory procedures. You will also learn how to assist physicians with medical exams and minor surgery. This school also offers other health-related courses such as CPR, Phlebotomy, EKG Tech, and more. However, these other courses are not offered online; they are in-person courses.
Time Frame: 24 months
Course Type: Blended
Course Cost: $42,336 (yearly tuition excluding fees)
Certification Awarded: Associate of Science Degree
Accreditation: Commission on Accreditation of Allied Health Education Programs
Keiser University offers a well-established online medical assisting program. The length of the course is 24 months. However, you will receive an associate's degree once you graduate. This program is only available in person and is offered at several campus locations in Florida.
During the medical assisting program at Keiser, you will learn how to prepare exam rooms, client communication, and how assist in minor surgical procedures. You will take courses such as Radiography and Medical Terminology. Once your coursework is completed, you will have two externships to complete as well. However, you must receive at least a "C" in your coursework before you will be able to begin your externships.
Purdue University: 18-Month Medical Assistant Certification Online
Time Frame: 18 months
Course Type: Blended
Course Cost: $371 per credit; 58 credits or roughly $21,158
Certification Awarded: Certificate
Accreditation: HLC
Online Medical Assitant Programs – FAQ
4 Week Medical Assistant Program?
To date, we have been unable to find any legitimate 4-week medical assistant programs. The quickest we have found is a six-week program provided by Phlebotomy Career Training, as mentioned in the article above–but make sure to read the description for the Phlebotomy Career Training online medical assistant program before enrolling.
Can you work as a medical assistant without being certified?
Yes, you can work as a medical assistant without being certified. Nevertheless, certification is highly recommended to help set you apart from the ever-increasing competition. You may also find that some employers will only hire candidates that have obtained certification from an accredited medical assistant program as well as proof of certification. You can earn a medical assistant associate degree.
Do medical assistants get paid well?
According to 2019 data from the U.S. Bureau of Labor Statistics (BLS), medical assistants earn an average annual salary of $34,800 per year or $16.73 per hour. The lowest 10% earn less than $25,820, and the highest 10% earn more than $48,720.
Do medical assistants make more money than CNAs?
On average medical assistants make nearly $5,000 more yearly than certified nursing assistants (CNA). In 2019, CNAs made $29,640 per year ($14.25 per hour), while medical assistants made an average of $34,800 per year ($16.73 per hour).
Medical Assistant Guide
As a medical assistant, you will work directly with doctors and patients. There are two types of medical assistant positions: administrative medical assistant and clinical medical assistant. You may do one or the other, or possibly both, depending on the needs of the healthcare facility in which you work. Below is a brief listing of job summaries of both positions. Keep in mind that this list is not exhaustive.
Administrative Medical Assistant:

Greeting patients
Answering phones
Accounting and bookkeeping duties, including billing
Coding insurance forms
Corresponding with insurance companies
Updating patient records
Scheduling procedures and surgeries
Obtaining pre-authorization for procedures

Certified Clinical Medical Assistant:

Taking patient history
Recording vital sign information
Drawing blood
Performing simple tests such as EKGs
Running basic laboratory tests
Assisting doctors or nurses during exams
Removing sutures
Dressing wounds
Advising patients on how to take medications
Choosing the Right Medical Assistant Program Online
Before jumping into the first medical assistant certification online that you find, take time to do some research. Evaluate your personal situation about time and money, as well as your aspirations. Taking the time to answer a few questions will ensure that you are on the right path to your educational goals.
Previous Education
Do you have any previous education under your belt? If so, you may be able to transfer your existing credits and graduate in a shorter amount of time. Suppose you have professional experience in a medical setting. In that case, these may also help you to grasp concepts more quickly and may increase your chances of completing some courses in a shorter amount of time.
Online Medical Assistant Programs vs. In-Class Programs
Are you the type of person who does well working on your own?
Do you like to have an instructor to speak with directly?
Do you enjoy working with other students?
Do you need to interact with others to help you succeed?
How much time can you devote to studying each day?
Can you study at specific times, or do you need more flexibility?
Answering these questions will help you to decide if an online medical assistant program or an in-person course is best for you. Many schools also offer a hybrid of these two choices.
How long does it take to become a medical assistant?
The quickest medical assistant program is six weeks long, but most medical assistant training is three months or longer.
Medical assistant courses vary from 5 days to two years, depending on the certificate or diploma you are earning. Courses that take roughly two years to complete allow you to earn an associate degree. Programs that only take a few months, or less, will provide you with a certificate. Deciding which you prefer will help you choose the right medical assisting course.
Are you a person with the ability and resources to take a longer course? Or do you need to find a paying job quickly? Keep in mind that generally, people with more education receive more pay. However, don't let that dissuade you from taking a shorter course to become a certified medical assistant; several options are available to get you started.
Outlook for a Career in Medical Assistance
The job market for Medical Assistants holds a very positive outlook. As of 2020, there are 720,900 medical assistant jobs in the US. While the projected national average of job growth is 4% from 2020 to 2029, this field has a projected 18% growth.
An Associate's Degree or certification is required for a beginner position as a Medical Assistant. Medical assistant programs such as these will generally be faster and cheaper than a Bachelor's Degree. They can grant greater access to jobs in the medical field to those with more limited resources. In this way, it can even be a stepping stone to funding higher-level medical degrees if you choose to get them.
The Bureau of Labor Statistics (BLS) projects an 18% job growth rate for medical assistants from 2020 to 2029 – much faster than the 4% national average for all occupations.
With experience and graduate school, medical assistants can attain greater skills and higher positions. Being certified in specialties such as orthopedics, pediatrics, or neurology can also broaden your horizons. In this article, we assess what salaries can be expected for various locations and specializations.
Medical Assistant Salaries
As of 2020, the Bureau of Labor Statistics found that the median salary of medical assistants was $35,850 per year or $17.23 per hour. Actual income for medical assistants can vary greatly based on education, location, experience, and specialty.
Medical assistants have a mean pay at varying levels of education and experience, ranging from $13.75/hour to $17.85/hour, according to PayScale. As of 2021, certified and/or experienced medical assistants earn an average of $18.04/hour.
These salaries vary based on location. According to the BLS, in 2020, the mean salary of medical assistants ranged from its lowest at $33,700 in Texas to its highest at $46,610 in Alaska.
Medical Assistant Clinical Specialties
Medical assistants in clinics can specialize in one specific area of the healthcare industry. Most of these specializations require certification. In this article, we'll explain the basics of four of these specialties.
Endocrinology
Medical assistants specializing in endocrinology help endocrinologists treat endocrine disorders, including hyperthyroidism, diabetes, and Cushing's syndrome. The duties of an endocrinologist's assistant include running tests, treating injuries or disorders, and preparing patients for procedures.
Medical assistants aiding endocrinologists need in-depth technical knowledge of human hormones and related disorders, including how they affect the various parts of the body. In helping patients, medical assistants in endocrinology need skills such as bedside manner, a strong knowledge base on hormone biology, and effective treatment of chemical disorders.
Neurology
In neurology, medical assistants help neurologists treat patients suffering from neurological problems such as cognitive decline, neuropathy, and paralysis. Due to the nature of neurological conditions, the treatments are rendered by neurologists and their assistants.
Medical assistants help neurologists conduct tests and brain scans, prepare patients for procedures and inform patients and their families about their relative diseases and potential treatments. This specialty requires skills such as an informed knowledge of the human nervous system, compassion, and patience.
Obstetrics and Gynecology
Medical assistants specializing in women's care, including obstetrics and gynecology, help Obstetricians and Gynecologists to prevent, diagnose, and treat women and in-utero children. This specialty entails prenatal, natal, and postnatal care. These assistants often help OB/GYNs with scanning, testing, and treating and birth.
Medical assistants specializing in obstetrics and gynecology prepare women for procedures such as hysterectomy, tubal ligation, abortion, and removal of ovarian cysts. Specialists in the obstetrics/gynecology field also need skills such as compassionate speech, bedside manner, and technical knowledge of the anatomy and biological processes of women and fetal children, as well as health risks to both. These experts use their skills and knowledge to heal, teach, and comfort their patients.
Oncology
Oncologists require the help of medical assistants for their work in preventing, diagnosing, and treating various kinds of cancers and other tumors in often lifesaving procedures. Most medical assistant roles in this specialization include performing scans or tests, administering treatments, and looking after other patient needs.
Medical assistants in oncology must have advanced knowledge of treatments, symptoms, and outlooks of various forms of cancer. These assistants must also be compassionate and possess effective bedside manner skills due to the aggressive nature of cancer. Medical assistants in oncology provide life-altering care through effective prevention and treatment and compassionate, supportive communication.
Searching for Online Medical Assistant Programs Near Me?
If you're looking for medical assistant programs near you, use the tool below. Enter your zip code, and this tool will populate schools with medical assisting programs near your location.
---
Recommended Online Medical Assistant Programs
---