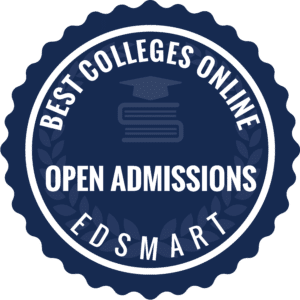 If you were someone that had bad grades in high school, you might have despaired of ever going to college. Add to that some bad SAT or ACT test scores and you're definitely sunk. For some students, academics aren't a strength but they may still have career goals that are locked behind the realm of a four-year degree.  Fortunately, if this sounds like your situation, then you may be able to benefit from open enrollment.
When you apply for college, the admissions department looks at 2.5-3 years of your life to decide whether you are worthy of attending its school. When we are teenagers, we go through many changes and hardships, so those three years may not have been the best picture of who you are.
If you want to go to college now, but your grades from high school are not great, or you chose to earn your GED instead, a college with open admissions may be the best option. The online aspect of these schools in our list is an even bigger bonus for you because it allows you to have a more flexible schedule to allow your continuing education to fit into your existing life schedule.
For your degree to help you acquire your future career, the school you earn it from needs to be recognized by an accrediting agency. When you finally narrow down the schools you wish to attend, be sure to research the accreditation of those schools at this site that lists the CHEA and USDE Recognized accrediting organizations.
Sometimes You Just Need a Second Chance
What is Open Enrollment or Open Admissions?
Open enrollment or open admissions reduce the admission criteria to just a high school diploma or GED equivalent.  The rest of the requirements are a lot more streamlined:  a placement test, application forms and fees, proof of high school graduation, and additional English proficiency testing for international students.
Generally speaking, community colleges are open admission since their main goal is to make associate degree level education accessible for all students.  There are a few universities that follow this same philosophy as well, in addition to some veteran-friendly schools that waive strict requirements.
Because of the generous nature of these schools, there may be limited space if there are more applicants than there are seats.
Benefits of Open Enrollment
There are a lot of benefits to entering a program with open enrollment. These schools are typically more affordable than schools with more restrictive admissions policies. Getting into school can be a ruthless and cutthroat activity, but with open enrollment, a lot of that difficulty is taken away.  In a sense, you don't have to "pay" to compete before you even get to the classroom.  When you don't have to worry about what schools are going to reject you and what schools will accept you based on your test scores, a lot of the anxiety of university application goes away.
However, because the selection process is much more open, the competition in classes isn't as stiff either. That can be both a good and a bad thing, depending on where you sit on the need for competition spectrum. Since open enrollment lacks the stringent academic requirements of other programs, your classmates may not be the "brightest" of the batch.
But does that really matter? No. Students in an open enrollment school may find that they actually thrive in an environment where there isn't the stiff competition between students. A degree earned online from an accredited school is just as good as a degree earned through traditional methods. And really, it's not how fast you earn the degree, it's what you get out of it that counts.
Without further ado, here are the top online programs with open enrollment. These schools were ranked based on our own proprietary formulas and statistics from the National Center for Education Statistics.
---
Best Online Colleges with Open Admissions 2020-2021
1. Bellevue University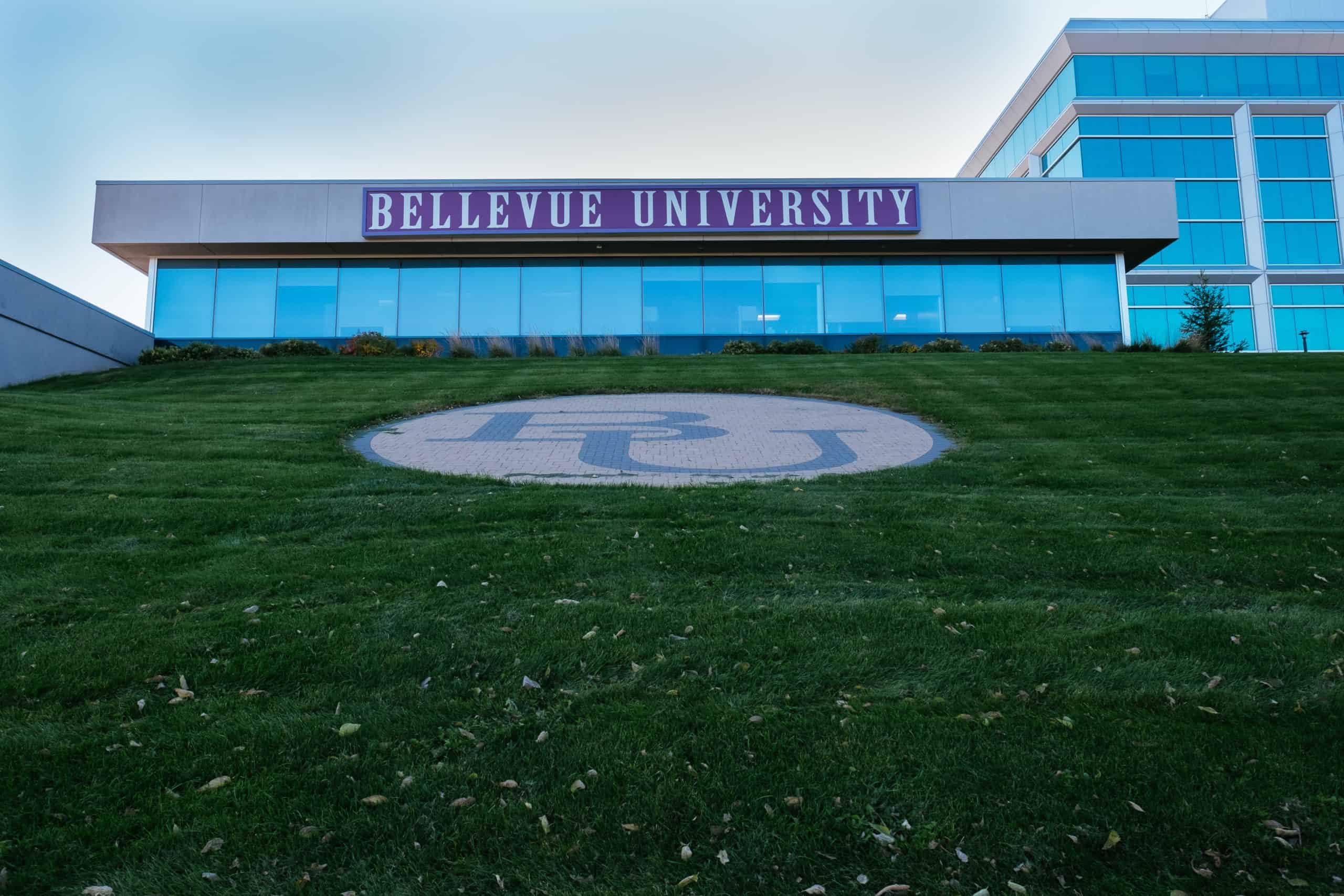 Score: 100
Average Net Price: $12,055
Retention Rate: 76%
Graduation Rate: 41%
Salary After Attending: $80,100
Located in the very heart of Nebraska, Bellevue University operates as a top-tier institution of post-secondary education, offering online curricula in over 70 different fields and boasting minimal costs and a high post-graduate salary average. Its courses enable students to work full-time while pursuing their education, featuring flexible hours and 24/7 online technical support. Bellevue is also a non-profit university, which means that all tuition is put toward maintaining high-quality education.
Bellevue's generous transfer policy is one of its more remarkable features, allowing students who are unable to finish school due to extraneous circumstances to apply their existing credits to their Bellevue education. Graduates' only complaints concern textbook prices and the Kirkpatrick series, a class that some students felt had negatively affected their grades. Bellevue professors are known to be friendly and helpful, and the majority of BU students report that class workloads are entirely manageable.
2. Florida National University
Score: 99
Average Net Price: $21,736
Retention Rate: 94%
Graduation Rate: 59%
Salary After Attending: $62,000
Florida National University is dedicated to its motto of "opening doors to the future," and the university certainly delivers on that promise. Like Bellevue, it offers both physical and online classes, and students can earn their associate's, bachelor's, or master's degrees in everything from nursing to law. Unfortunately for remote students, some of the physical campus amenities (writing lab, library, etc.) are unavailable in a virtual format. Though tuition costs are relatively high, FNU offers a wide selection of scholarships, several of which are available to all students.
Niche.com grades Florida National University a 'C-', with the lowest-scoring campus aspects being student dorms, campus food, party scene, professors, and diversity. It ranks high in safety and student life, with mediocre rankings for the other specific areas. Students give it four stars out of five, with the largest portions of reviewers rating their experience as either very good or excellent.
3. Rasmussen College – Florida
Score: 97.7
Average Net Price: $18,640
Retention Rate: 100%
Graduation Rate: 25%
Salary After Attending: $72,200
Rasmussen College is a career-focused institution that directs student education toward qualification and preparation for future occupations. Its seven schools of study in business, design, education, health sciences, justice studies, nursing, and technology boast 24 locations across six states, as well as a series of comprehensive programs offered fully online. The school offers six-week certificate programs that enable students to get a headstart in their chosen field. The Higher Learning Commission regionally accredits Rasmussen, and the school's graduates are employed by companies like Apple, JP Morgan, Nielsen Media, and more.
The majority of Rasmussen's negative reviews relate to in-person classes offered at campuses outside of Florida. On average, online students and those studying in Florida are statistically more satisfied with their education. Rasmussen's online classes offer flexible hours and are operated by a staff of helpful professionals. Online students particularly enjoy the positive atmosphere and the career-centered curriculum of the virtual format.
4. Granite State College
Score: 97.3
Average Net Price: $13,604
Retention Rate: 37%
Graduation Rate: 52%
Salary After Attending: $46,200
Granite State College offers a 100% online option for learning and offers associate's, bachelor's, and master's degrees in fields like business, healthcare, public safety, communications, technology, liberal arts, and education. The U.S. News and World Report named it among the Best Online Bachelor's programs in 2020. The school also merited a CCNE accreditation for nursing. Aside from nursing and teaching, GSC's online certificate programs are available in all fifty states.
Niche.com awarded Granite State College a 'B-' overall, with its lowest ratings in the categories of campus and student life, neither of which is likely to affect an online student's experience. Statistically, the majority of students rated their GSC experience 'good,' with those that find it 'excellent' in a close second.  Notably, GSC is welcoming toward older students and students report that it is specifically equipped to aid them in balancing schooling with everyday life.
5. Capella University
Score: 97.0
Average Net Price: $7,290
Retention Rate: 56%
Graduation Rate: 11%
Salary After Attending: $77,500
Capella University offers more than 48 undergraduate and graduate degree options online, as well as more than twenty certificate options. Unlike some of the other options on this list, Capella University offers doctoral programs online in business, psychology, nursing, information technology, and more. Most of Capella's programs follow a guided path, which a more traditional model of study, but certain programs follow the flex path, which allows students greater freedom in terms of individualized study options, and takes less time overall.
Of all students polled, 83% reported that professors put significant effort into course material, and 90% reported that it was easy to reserve a spot in the specific classes they wanted to take. Student reviews for Capella University rate it highly, with reviews deeming the college experience 'very good' or 'excellent.' Students report feeling satisfied with their professors and encountering challenging yet highly beneficial course workloads.
6. Grand Canyon University
Score: 97
Average Net Price: $21,197
Retention Rate: 65%
Graduation Rate: 33%
Salary After Attending: $74,500
Grand Canyon University is a Christian institution that provides a flexible education for everyone who might need it. The school offers a variety of degrees and certificate programs, including studies in theology and ministry. GCU fosters connections with employers and businesses around the country, and works with them to provide scholarships and grant opportunities for online students, thus helping them avoid taking on student loan debt. GCU is widely known for accommodating military service members, as well.
Niche.com ranks Grand Canyon University at #33 among the best online colleges in America. It received an overall grade rating of 'B,' with diversity being one of its strongest-ranking aspects. A majority of over 6,000 students have rated the GCU experience as either 'very good' or 'excellent,' with only about two thousand reviews spread among the three rating levels below. Across the board, students rate professor effort very highly, and in general, both in-person and remote GCU students seem to have positive learning experiences overall.
7. Liberty University
Score: 97
Average Net Price: $27,883
Retention Rate: 83%
Graduation Rate: 40%
Salary After Attending: $67,200
Liberty University is an accredited online Christian school that offers a variety of online degree programs in addition to its divinity and theology programs. Their online format supports everything from associate's up to doctoral degrees. Liberty takes pride in having been a "leader in distance learning for over 30 years." The school operates several programs that only take eight weeks to complete, allowing students to enroll at the most convenient time for them. Overall, Liberty ranks in the top 1% of online colleges for academic quality, affordability, and accessibility.
Niche.com gives the school a grade rating of 'A-,' with diversity, student life, and academics being some of its strongest-ranking aspects. Among the best colleges in America to study criminal justice, Liberty sits at #2. It is also the 3rd most conservative college in America. However, that aspect is likely to be more noticeable on the physical campus. Students give Liberty professors a grade-rating of 'B-' overall. In total, 71% of students take courses entirely online.
8. University of Maryland Global Campus
Score: 96.7
Average Net Price: $13,672
Retention Rate: 44%
Graduation Rate: 27%
Salary After Attending: $63,800
The University of Maryland Global Campus, previously known as the University of Maryland University College, offers online options to help working adults pursue their education while managing a full schedule. UMGC operates through 140 different locations around the world to provide additional support. It offers more than 90 certificates and degrees, as well as a plethora of scholarship opportunities. UMGC's free digital class materials cut down the cost of textbooks significantly.
Overall, the school has a reputation for administering challenging programs that produce results. The majority of students rate it as 'very good,' with roughly equal portions rating their experience as either 'excellent' or 'average' and very few rating it as 'poor' or 'terrible'. The consensus among graduates seems to be that UMGC asks more of its students than some other online programs, but is definitely more beneficial for those willing to put in the effort.
9. Baker College
Score: 96.3
Average Net Price: $13,329
Retention Rate: 46%
Graduation Rate: 18%
Salary After Attending: $69,200
Baker College offers more than 50 degree and certificate programs 100% online. As a not-for-profit university, it offers a lower price than many of its competitors, earning it a place among the most affordable online colleges with open admissions. Baker prides itself on its accessibility, and with any internet-capable smart device purchased in the past two years, students are able to access course material. BC also focuses on helping its students find careers after they graduate. So if your goal is to be employed immediately after graduation, that continuing support can make Baker College a good option for you.
Niche.com gives Baker College an overall grade-rating of 'C-,' with some of its lowest points falling under campus quality, party scene, location, and student life, all of which are unlikely to affect online learners. With some of its strongest points under the categories of professors and diversity, it's no surprise that the majority of students reviewed their experience as 'very good.'
10. Colorado Technical University-Colorado Springs
Score: 95
Average Net Price: $15,658
Retention Rate: 41%
Graduation Rate: 25%
Salary After Attending: $71,500
Colorado Technical University focuses on getting you the degree that you need without putting your life on hold. They offer a credit transfer that helps students obtain fast certification. CTU also provides a set of credit-earning preliminary tests that gauge what students already know, regardless of where or how they learned it. This service, called CTU fast track, can save students up to 30% of the time and money they could have spent on unnecessary classes.
According to Niche.com, CTU earns an overall grade rating of 'C+,' with none of its graded categories earning lower than a 'C.' Of all CTU students, 96% study entirely online, and 77% are employed within two years of graduation. The majority of students rate their CTU experience as 'excellent,' with the rating of 'very good' coming in at a close second.
11. Strayer University
Score: 94.7
Average Net Price: $25,512
Retention Rate: 42%
Graduation Rate: 27%
Salary After Attending: $61,000
Strayer University emphasizes affordability and student-driven learning. Most attendees are able to enroll in at least five free classes, and students starting a bachelor's program in the spring of 2020 or later will be provided a Microsoft laptop to help them make the most of their classes. Strayer offers programs from the associate's level all the way up to master's programs. To make your education more affordable, the Strayer Graduation Fund enables students to take one free class in their final year for every three classes they've passed up to that point.
Strayer student reviews aren't as plentiful as those for some of the other institutions on this list, but of the few available, the majority report satisfaction with the Strayer experience. Reviews reflect the responsiveness of the school's staff, and student reviews laud Strayer professors for being good motivators and going out of their ways to help students succeed.
---
15 Best Open Enrollment Colleges Online [2018-2019 Rankings]
Student to faculty ratio 18:1
Percent receiving aid: 97%
Average net cost: $26,954
Graduation rate: 47%
Retention rate: 84%
The top open-enrollment college on our list is Liberty University. Liberty University is a private, non-profit Christian University based in Central Virginia. Students come to Liberty for the opportunity to earn a solid Christian foundation as well as an education. As a religious liberal arts school, they are committed to academic excellence and training champions for Christ. Amazingly, tuition costs at Liberty University have not increased in three years, despite rising program costs across other online schools and university campuses. Liberty University offers online associates, bachelor's, master's, and doctoral degrees in a wide variety of fields and specializations. Liberty even offers a unique dual enrollment program for high school students looking to get ahead in the game.




Student to faculty ratio 19:1
Percent receiving aid: 99%
Average net cost: $20,912
Graduation rate:  41%
Retention rate: 66%
Grand Canyon University finds its home in Phoenix, Arizona. Located at the heart of the desert state, it has served the local community for almost 70 years. Where it once teetered on the edge of insolvency due to a lack of financial support, GCU has redefined itself and is now a bastion of study with more than 60,000 students enrolled online. In fact, over 47% of the online student population are graduate students, and that percentage continues to grow. GCU offers bachelors, masters, and doctorate degrees in eight different fields. This open enrollment college online believes courses should be challenging,  rather than the transferring or financing process. GCU will request your transcripts, evaluate your graduate coursework and determine your anticipated graduation date within 24 hours.
Student to faculty ratio 7:1
Percent receiving aid:  96%
Average net cost: $12,983
Graduation rate: 13%
Retention rate: 45%
Coming in at number three on our list is Baker College, from the great lakes state of Michigan. Baker College believes that you don't have to put your life on hold to get an education. To that end, the school strives hard to provide a high-quality education that will help you achieve your career goals from day one. Even though Baker College is one of the state's largest independent, not-for-profit universities, thanks to its amazing student to faculty ratio, students always receive the help they need to succeed. This school offers a wide variety of online associate, bachelor, master, and doctorate degrees. Baker's online programs are available 24 hours a day, seven days a week so that students don't need to rearrange their entire lives for an education.
Student to faculty ratio 31:1
Percent receiving aid: 95%
Average net cost: $20,995
Graduation rate: 61%
Retention rate: 97%
Located in the northwest of the magic city of Miami, Florida National University finds its home in the Hialeah area. Much like the city it belongs to, the student body population of Florida National University is very diverse though primarily Hispanic. Indeed, it's this focus on the student body that makes the school stand out from its peers. FNU prides itself on understanding the needs of students from immigrant backgrounds in the US or students who have not used English at home or in school. The school welcomes non-native English speakers into its student body and helps them adapt to the larger community. FNU offers more than 25 different associate's, bachelor's, and master's degrees in a number of different fields.
Student to faculty ratio  11:1
Percent receiving aid: 90%
Average net cost: $12,905
Graduation rate: 14%
Retention rate: 43%
Representing the New England region of the country, Granite State College is a public college in Concord, New Hampshire. Granite State College is a pioneer in distance education. More than 40 years ago, the school embraced the idea that if a student was motivated to pursue a college education, then they should have access to it. Today the pursuit of that goal has been realized in the form of online programs that offer virtual and in-person support to students and working adults. Routinely ranked among the top online degree programs (like this ranking!), GSC is known for providing quality education in areas of study that match the needs of employers. This school offers online associates, bachelor's and master's degree programs as well as teacher certification.
Student to faculty ratio 13:1
Percent receiving aid: 87%
Average net cost: $12,884
Graduation rate: 32%
Retention rate: 50%
From the bluegrass state most famous for its horse racing (and fried chicken) is Sullivan University. Originally founded as a business college, Sullivan University today is a school that believes in its students, and most importantly it believes that it can help students jump-start their careers. The institution has come a long way from its sleepy associate degree-granting roots and now offers the full range of degrees, from associates to doctorate degrees. Sullivan University firmly believes that education should be available to all those that are seeking it. To that end, financial assistance is available for students of all ages. Combined with the flexibility of online programs, students are able to begin shaping their future careers right away at Sullivan.
Student to faculty ratio 17:1
Percent receiving aid: 67%
Average net cost: $15,428
Graduation rate: 12%
Retention rate: 75%
National American University is a for-profit school located in Rapid City, South Dakota in the shadow of the black hills.  Since 1941, this school has provided quality educations to thousands of recipients all across the country. And when we say all across the country, we mean it. NAU has locations in multiple states including Colorado, Indiana, Kansas, Minnesota, Missouri, Nebraska, New Mexico, Oklahoma, and Texas. What this means for students is that they can enjoy online programs as well as hybrid formats with ease.  NAU offers more than 60 different online degree programs and a number of scholarships to help students with their tuition costs.
Student to faculty ratio 40:1
Percent receiving aid: 89%
Average net cost: $11,359
Graduation rate: 17%
Retention rate: 74%
Though it feels like every other state in the country has a Bellevue, Bellevue, Nebraska is the home of this university. Bellevue University is famous for being a top-quality institution of higher education. One of their best-kept secrets? No classes on Fridays. Bellevue's "Real Mastery" approach helps students master the knowledge and skills employers are looking for. For over 50 years, Bellevue has built a reputation of being able to meet the needs of adult students by implementing flexible class schedules and a variety of career-relevant degree options. With a shift to online and hybrid classes, students are able to continue their education and rest assured that they are getting the most value for their dollar. Online students are able to select from cohort or traditional format programs to fit their lifestyles. Students are also able to access educational support tools 24/7.
Student to faculty ratio 24:1
Percent receiving aid: 95%
Average net cost: $19,540
Graduation rate: 22%
Retention rate: 48%
Finding its home in West Virginia, Salem International University was originally founded by the Seventh-day Baptist Church in 1888. Since then the school has provided degree programs with a strong foundation in the liberal arts. Salem has had 130 years to perfect its craft–a Salem degree is designed to provide the insight, knowledge, and skills to get ahead in the professional world. If you're someone that has difficulty multitasking, then this school is definitely one for you. Salem University takes pride in its unique one course per month format that allows students to focus on one class at a time, and move forward at an accelerated pace. Salem University offers a wide range of online degrees from the associate to doctorate level in a broad range of disciplines.
Further Reading: Cheapest Accredited Online Colleges
Student to faculty ratio 19:1
Percent receiving aid: 52%
Average net cost: $23,232
Graduation rate: 42%
Retention rate:  57%
National University is a veteran founded, nonprofit school that has 28 locations all across California and Nevada. What sets this school apart from its peers is that National University was founded by veterans for military students from all branches of the armed services–at home, on base, and abroad. NU features one-month classes specifically designed for military students that are offered online, on-campus, and at over a dozen military bases. National University has a niche for everyone and offers more than 130 different online degrees from the associate's to the master's level.
Student to faculty ratio  28:1
Percent receiving aid: 86%
Average net cost: $15,888
Graduation rate: 26%
Retention rate: 44%
Colorado Technical University in Colorado Springs, Colorado was founded in 1965 to help armed forces veterans transition back into civilian life through education. From that day on, the school has maintained a close tie to the military and a commitment to the men and women serving at home and abroad that has never wavered. Since 2008 CTU has awarded over $8.5 million in scholarships to wounded warriors and their families.  CTU's online programs rank among the best in the country. Reflecting the interests and needs of veterans of the armed services, CTU offers over 100 different degrees from the associate level to the doctorate level covering fields like criminal justice, criminal justice for veterans, business administration, computer information technology, and engineering.
Student to faculty ratio 19:1
Percent receiving aid: 60%
Average net cost: $17,458
Graduation rate: 39%
Retention rate: 33%
In 2017 Purdue University, one of the biggest universities in the country, acquired Kaplan University, a powerhouse of the adult education industry. This acquisition created a new entity: Purdue University Global. Purdue University Global is designed for adult students who need flexible degree programs. By combining the respected reputation and academic standards of Purdue University with the online assets of Kaplan, PUG is an online school that is impossible to ignore and a great value for students everywhere. In fact, Purdue Global does something that no other university does–a three-week introductory period. Students can try classes for 3 weeks for free so they can experience what classes are like before making a  decision.
Student to faculty ratio 19:1
Percent receiving aid: 56%
Average net cost: $15,256
Graduation rate: 9%
Retention rate: 38%
Which is it? A university or a college? The school that knows that it's a bit of a mouthful, University of Maryland University College, actually captures what the institution does quite clearly: take courses and programs from all academic departments and offer them outside of the campus and normal class times. For more than 70 years, UMUC has been there to meet the complicated time needs of students. Since its foundation in 1947, it has offered flexible classes to meet the needs of GIs returning from World War II. Today, the school still is a leader in providing higher education to the U.S. military. UMUC offers online and hybrid classes, as well as evening and weekend classes so that students can get the education they need when they want it.
Student to faculty ratio  16:1
Percent receiving aid: 93%
Average net cost: $27,440
Graduation rate: 5%
Retention rate: 36%
Argosy University is located all over the country with campuses from Hawaii to Virginia. An Argosy program is designed to help students receive the knowledge, ethical values, and interpersonal skills required to succeed in the workplace. But those attributes aren't enough for Argosy graduates. An Argosy graduate is also defined by their social responsibility and how they give back to the various communities to which they belong.  Argosy programs are designed with flexibility in mind. Classes are taken one at a time and typically last 5-7.5 weeks. There's an app for that –  not every class requires you to be on a computer and can be accessed from a mobile device.
Student to faculty ratio  22:1
Percent receiving aid: 100%
Average net cost: $15,667
Graduation rate: Not Available
Retention rate: 50%
Cappella University is a big name in online masters degree programs and it's easy to see why. They've been growing rapidly and have been on the forefront of helping not only students but employers recognize the benefits of graduates with an online degree (hint: there's no difference between an online and offline degree).  What makes Cappella programs so unique is that you can access course materials on your computer, tablet, or mobile device. Capella has developed a one-of-a-kind tool that allows students to visually track their assignments and percent completion in the course so that students will always know where they stand after each assignment and where they may need additional help.