The Best Scholarship Websites to Fund Your Education
Finding scholarships can be as easy as picking up your cell phone and searching in Google. It used to be more difficult to find scholarships but thanks to the internet, students can find scholarships fairly easily.
There are many websites that will allow you to search a database of scholarships according to a variety of factors such as degree, race, religion, gender, special interests, and plenty of others.
Below, you will find the best scholarships websites online today. Within each, you will find easy access to millions of scholarship dollars to help fund your education. Start your search with one of these databases and you're sure to find money to fund your college education in no time.
If you're looking for scholarship application tips, visit College Raptor Scholarship Guides.
Online Programs That Might Interest You
Learn about start dates, transferring credits, availability of financial aid, and more by contacting the universities below.

---
Scholarships.com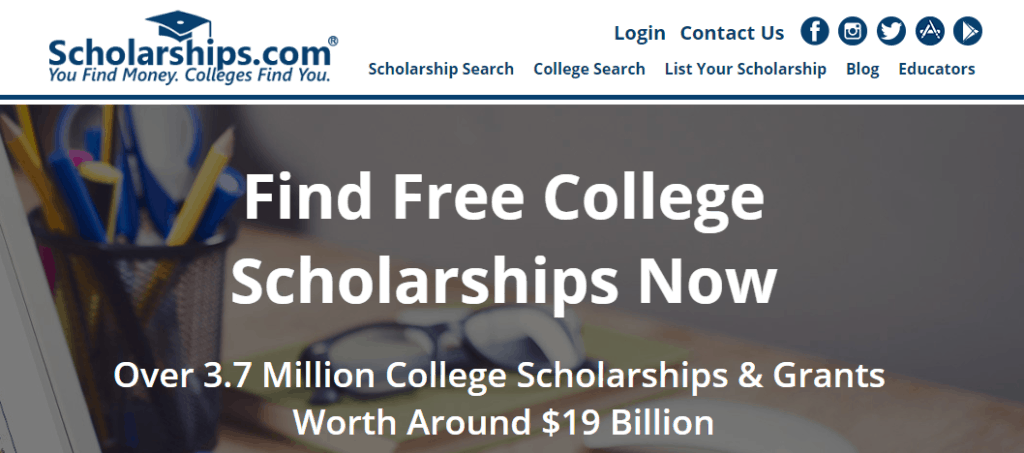 Scholarships.com offers quick and easy access to over 2.7 million free college scholarships. Over the years, they've provided access to scholarships with a total value of over $19 billion since its inception.
This site allows high school students, college students, and returning students access to millions of scholarships, grants, and other financial aid opportunities.
Using Scholarships.com is simple and free to use and only takes a few minutes to get started. Scholarship listings are updated every few months and the site offers all types of scholarships.
Registration is simple. Registered users can choose which types of scholarships they're shown and can opt-in for email notifications about relevant scholarships to a person's preferences.
Scholarships.com also offers a college directory and college matching service all at no cost for registered users.
Visit Scholarships.com today to start finding funding for your college education.
Peterson's


Peterson's helps students and prospective students for their perfect scholarship(s) through over 5 thousand scholarship providers. This scholarship website provides $10 billion in scholarships, grants, fellowships, prizes & forgivable loans.
Peterson's provides a simple interface with tools, tips, filters, and a short survey that will tie scholarships to your background, life experience and more.
Peterson's offers access to a few undergraduate scholarships that are over $100,000 each. At the graduate level, Peterson's offers over 82 scholarships over $25,000 each. The highest scholarship being offered by Fannie and John Hertz Foundation Fellowship at $200,000 per awardee.
The filtering capabilities on Peterson's easily helps narrow down which scholarships will work for you. The more niche your scholarship, the better.
Visit: https://www.petersons.com/
Fastweb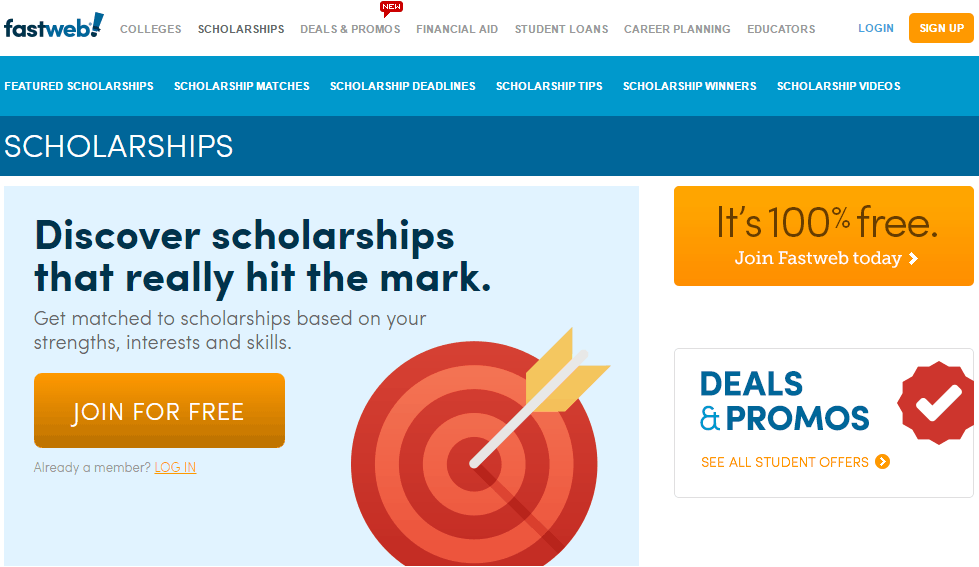 Fastweb was launched around 16 years ago and provides access to more than 1.5 million scholarships totaling $3.4 billion in awards to students over the years. The site has helped hundreds of students to find money for college.
Fastweb is free and easy registration makes it a popular destination for those seeking scholarship money. The site will match you with scholarships based on your strengths, interests, and skills.
Scholarship seekers can select specific criteria for which scholarships they seek such as amount, deadline, and types of scholarships. They also offer links to scholarship application pages.
One thing that sets Fastweb apart from its competitors is that they provide scholarship tips, career advice, financial aid information and resources, and a college search tool. This is truly an all-in-one site for paying for college.
The Fastweb scholarship database is updated every 24 hours or less, making it the most thorough and up-to-date scholarship search website. Once registered, users can choose to be notified, via email, of new or possible scholarship opportunities.
Visit Fastweb.com today and find a scholarship fast!
Unigo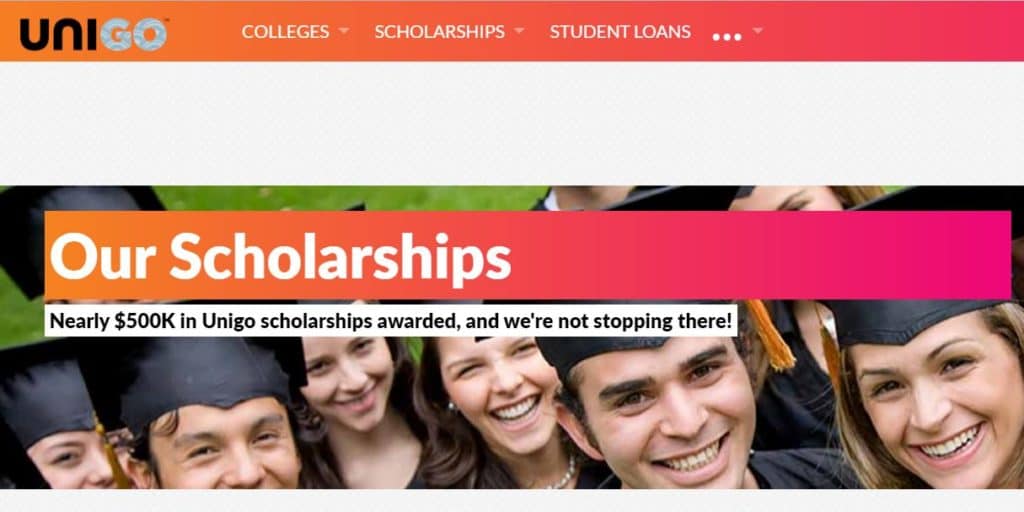 Unigo sets itself apart from the rest of the online scholarships websites. Their robust platform offers plenty beyond scholarships, including jobs, internships, college rankings and profiles, and more.
This site provides around 3.6 million scholarships totaling over $14 billion in awards. Unigo offers personalized results to offer you the best opportunities.
Unigo's list of scholarships, awards, and grants can "give you fun, unusual, academic, need-based, student-specific, career, and even more types of scholarships."
One of EDsmart's favorite scholarships on this site is the $2,000 Zombie Apocolypse scholarship. All they require is a student's "plan to avoid the zombies, where you would hide (or maybe you don't need to), and the top five things you would bring to stay alive."
Visit UNIGO today to find scholarships for all walks of life.
Chegg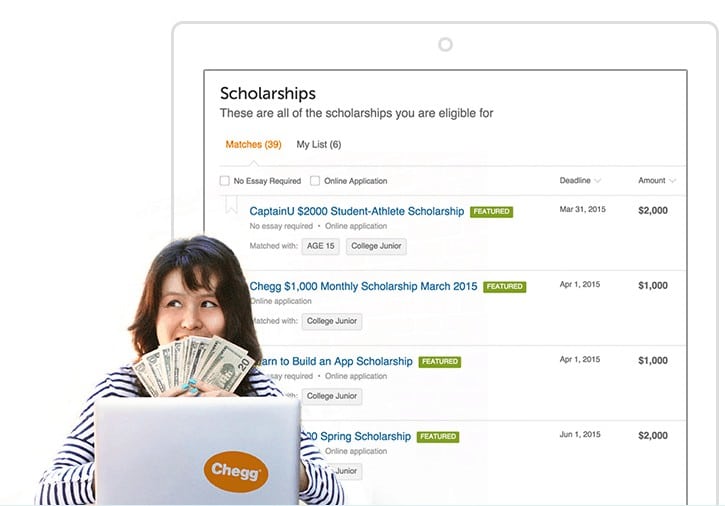 Chegg, formerly known as Zinch.com, is a newer scholarship website that has seen rapid growth due to the simplicity of its scholarship search tools. Visitors can compare different scholarships from all fields and industries.
Chegg is free to use and provides over 5,000 scholarships with a total value of over $1 billion in awards. Chegg is updated frequently so that students can quickly be the first to apply.
Chegg requires user registration. Once registered, you can search for scholarships that are most relevant to your goals and needs, including your age and stage of education. Registered users can organize and save scholarships for later viewing and application.
Scholarship opportunities cover a wide range of opportunities including traditional and vocational schooling and even grad school. The site itself also offers a $1,000 Monthly Scholarship.
This site offers users the ability to search by zip code, cumulative GPA, and more. This allows students to find scholarships provided by local businesses, foundations, and associations—some of the best scholarships to apply for due to localization.
Once you have found scholarships for which you would like to apply, you can review deadlines and submission requirements. The interface and search tool are intuitive and easy to use. Registered users can also opt-in to receive reminders so they will never miss a scholarship deadline.
Visit Chegg to begin your college funding journey
Cappex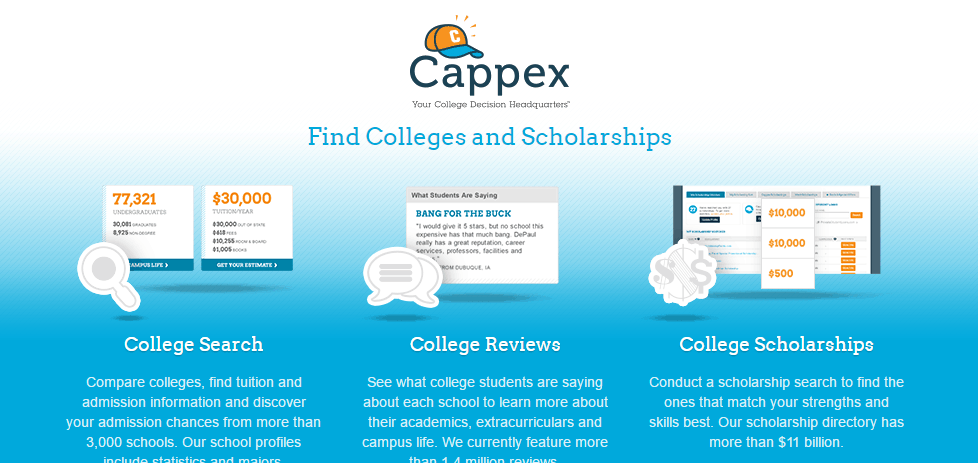 Cappex is a free service that claims to provide "More Than $11 Billion in Scholarships." Registering can be tricky but well worth it once you're signed up. The registration process helps narrow down the best awards for you. Make sure to fill out as much as possible. The more information you provide about your college plans, the better your scholarship results will be.
Registrants get total access to college scholarships, college reviews, and tuition and admissions-related information.
This site offers its "What Are My Chances" tool, which calculates your odds of getting into certain colleges before you apply. They also provide a college comparison tool that allows you to add personal notes and rankings. Another helpful tool is the Cappex College Fit Meter which will instantly show you whether or not a college you're interested in will be right for you.
Cappex has a rating of A+ on the BBB with zero complaints.
Visit Cappex.com
GoingMerry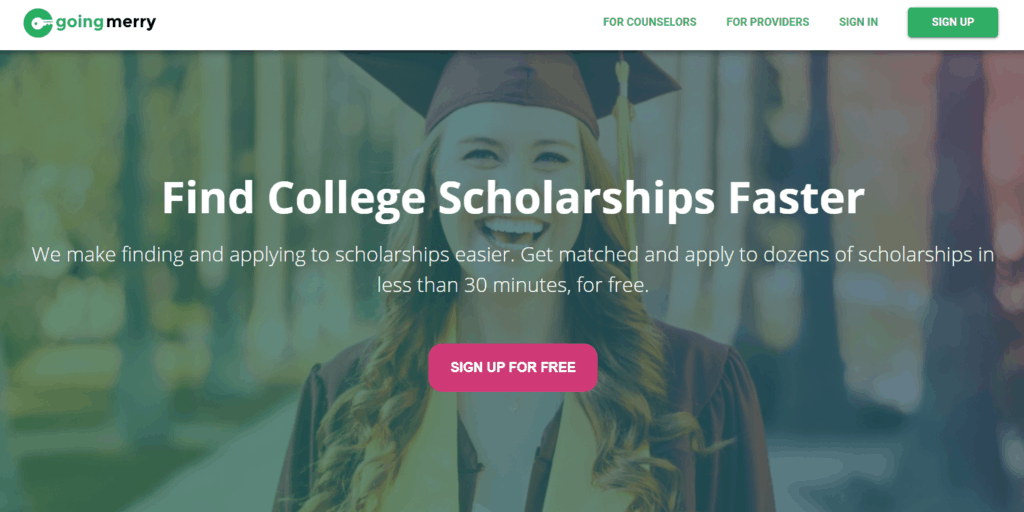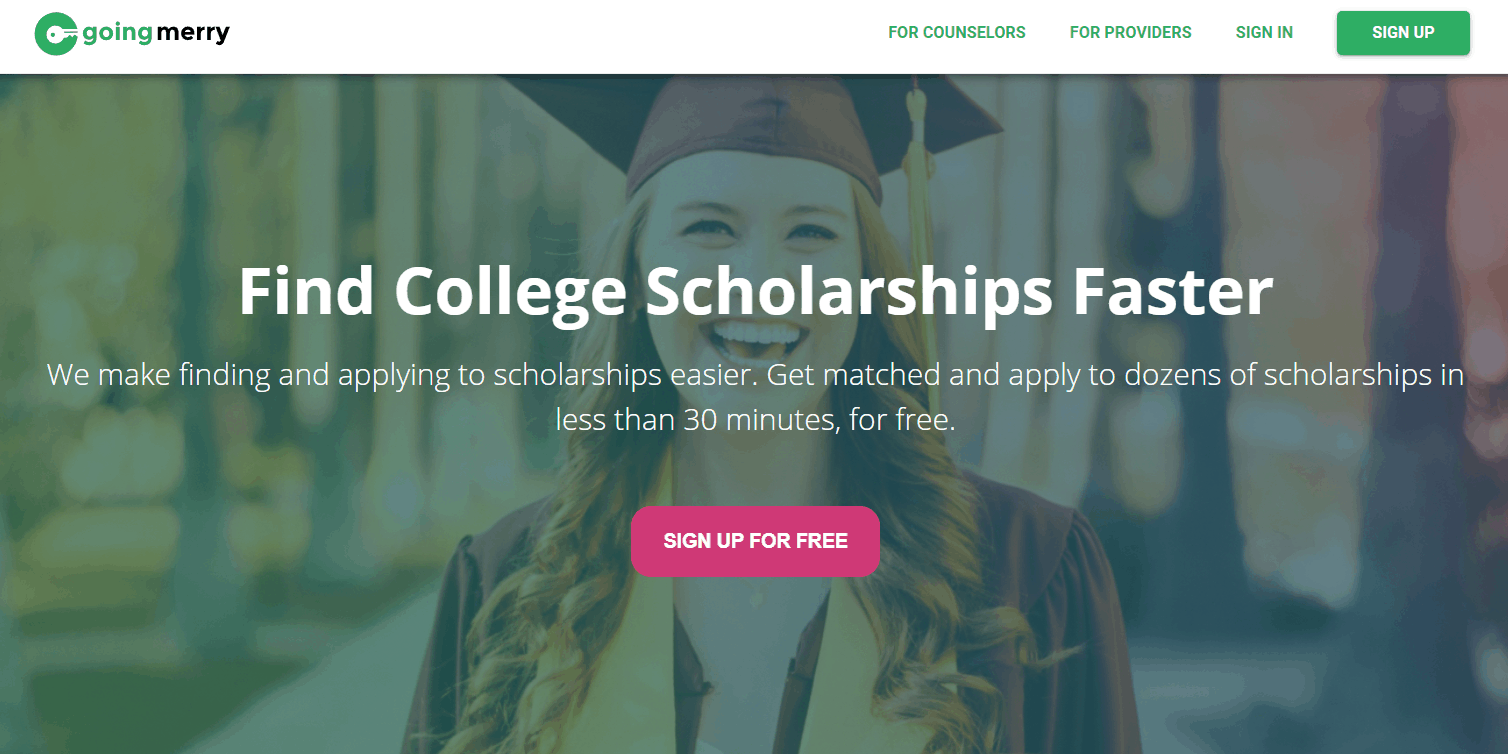 GoingMerry is a scholarship platform that works with over 7,000 high schools and focuses on hyperlocal scholarships as well as third-party national scholarships.
Completing scholarship applications is free and easy. Students can fill out their information once and the system will automatically find scholarships for which the students qualify.
Their app allows students to quickly find and organize their favorite scholarships. Filtering allows them to search by category, deadline, completion time, award amount, number of winners, number of applications, location, and more.
GoingMerry is the best platform for school counselors. Counselors can host all of their local scholarships for free.
Many of the counselors that GoingMerry works with recommending them to their students over sites like FastWeb and others because they have built one place for all their scholarships–no more jumping around to different sites because GoingMerry houses them and students apply for scholarships via the GoingMerry college scholarships platform.
If you're looking for other ways to pay for college, GoingMerry has a mountain of information to help with that too. Check out their Paying for College guide to get started.
Visit GoingMerry.com
Further Resources:
Access Scholarships – Scholarships Search Engine
Online Programs That Might Interest You
Learn about start dates, transferring credits, availability of financial aid, and more by contacting the universities below.