Online Colleges that Offer Laptops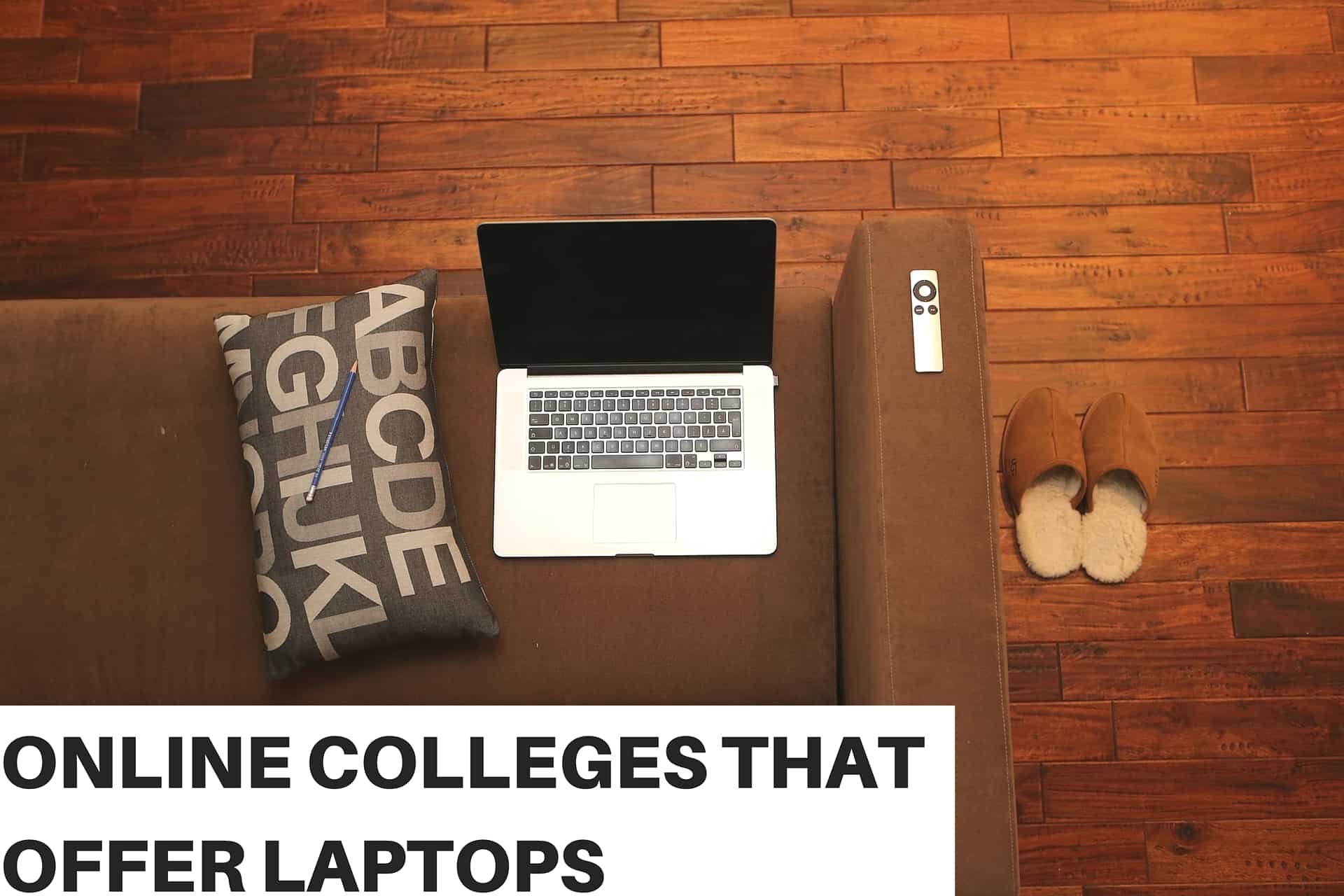 The use of technology in schools has skyrocketed since the early 2000s. The majority of college classes now require students to have personal laptops. Obviously, a computer is a requirement for online courses, but some universities have gone as far as mandating that students have a laptop before enrolling in classes. Sadly, this requirement hinders certain students from enrolling.
Jump to:
Online colleges that offer laptops | Online colleges that offer iPads only
Don't let $600 stop you from pursuing your hopes and dreams. See our list of online colleges that offer laptops by clicking here.
In order to help students qualify for classes and save money, many colleges are now offering free laptops to students who attend online classes. The cost of the laptop is often packaged with the tuition payment or assessed as a one-time or ongoing fee. Some schools allow students to borrow school laptops that are to be returned to the school upon graduation. Both of these options allow students to have a laptop so they can take college courses online. Whatever the agreement, students can enjoy cost-savings running from $300-$2,000 by choosing a university that offers laptops.
Thanks to the colleges listed below, needing a laptop should no longer deter you from going to college. Whether the online colleges are offering laptops for free, for rent, or at discounts, you shouldn't let the cost of a laptop stop you from improving your life via a college education.
Overview

Best Online Colleges that Offer Laptops

#1 Southern Nazarene University – Choice of 3 laptops. Dell Latitude 3380, 13″ MacBook Pro, 15″ MacBook Pro
#2 Wake Forest University – free laptop must be returned upon graduation
#3 Northwest Missouri State University – free laptop must be returned upon graduation
#4 St. John's University – choice of 3 laptops – Apple MacBook Pro, Lenovo ThinkPad L380, Lenovo ThinkPad L380 Yoga
#5 Independence University Online – laptop and iPad program
#6 Bethel University – Google Chromebook
#7 Centenary College
#8 Widener University
#9 CollegeAmerica – free laptop
#10 Stevens-Henager College – laptop
#11 Azusa Pacific – Website Link
#12 Everest University – Laptop Loaner Program. (Currently unavailable 02/17)
#13 Full Sail University –Apple MacBook Pro
#14 Indiana State University
#15 University of Minnesota-Crookston
#16 Colorado Technical University
#17 Saint Leo University
#18 Rochester College – free Apple MacBook or iPad
#19 Wentworth Institute of Technology

19 Online Colleges Offering Laptops to Students
Below is a list of 32 of the most popular online universities that provide laptop programs. [Last update Feb. 27, 2019]
Southern Nazarene University is a private, Christian university with a 100% acceptance rate. Graduates from SNU earn an average 20-year net ROI of $217,000 according to Payscale.com's recent College ROI report. Popular majors include Organizational Behavior Studies, Business Administration and Management, and Human Development. Southern Nazarene is praised for having thoughtful, caring professors that are brilliant and reliable. Click on the button below to request more information from SNU about their laptop program.
Wake Forest University is a small private university that ranked #27 in the 2019 edition of USNews Best Colleges rankings. Students who earn a bachelor's degree from WFU earn a 20-year net ROI of $476,00 on average. Popular majors include Economics, Communications, and Psychology. Students praise Wake Forest for having small classes, great professors and a great business, economics, communications, and political science programs. Click on the button below to request more information from Wake Forest about their laptop program.
Northwest Missouri State University is a public university which ranked #86 in the 2019 edition of Best Colleges is Regional Universities Midwest. Popular majors include Elementary Education, Communications, and Business Administration and Management. Students praise NMSU for friendly, genuine professors that push their students to excel. In-state graduates can enjoy an average o $161,000 a 20year net ROI. Click on the button below to request more information from NMSU about their laptop program.
St. John's University in Queens, NY is a large private, Catholic university. St. John's offers you the choice of three laptops. Students may keep the laptop if they graduate with at least a Bachelor's Degree. This college offers 26 online programs. Popular majors include Psychology, Physician Assistant, and Biology. St. John's was recently ranked the #31 school for online graduate education programs and #35 for online graduate business programs (excluding MBA) by US News. Students praise the study abroad programs and passionate professors. Click on the button below to request more information from St. John's about their laptop program.
U of M Crookston offers every student a laptop from day one. The University of Minnesota-Crookston offers on-campus students an HP laptop computer. In 2019, This school was ranked the #2 Top Public School and #36 Regional College in the Midwest by U.S. News. UMN-Crookston's graduates earn an average 20-year Net ROI according to Payscale.com.
Bethel University, U.S. News' #22 pick in Best Value Schools, #11 in both Best Colleges for Veterans and Best Undergraduate Teaching, and #17 in Regional Universities in the Midwest, offers Chromebook laptops. Bethel offers 35 undergraduate, graduate, and seminary online degree programs. Depending on the program and concentration, Bethel offers "fully online, a mix of face to face and online, and fully online [programs] with one or two-week on-campus intensives each year." Click on the button below to request more information from Bethel about their laptop program.
All incoming, on-campus undergraduates can choose from a 5.3-lb. Toshiba Satellite C55 with a 15.6-inch screen or a 4.5-lb. MacBook Pro with a 13.3-inch screen. This school allows students to keep their laptops after graduation. Centenary College offers online, undergraduate, and graduate studies.
Widener University offers laptops to engineering students only. Click on the button below to request more information from Widener University about their laptop program.
The laptop program is not offered for "free" or at "no-cost". It does not apply to master's degree programs.
#12 Everest University – Laptop Loaner Program. (Currently unavailable 02/17)
#13 Full Sail University –Apple MacBook Pro
Project Launchbox: Full Sail University has teamed up with Apple to provide students with a current-generation MacBook Pro laptop and the software needed for students to have success in their given degree of choice. The only programs that receive an HP laptop instead of a MacBook Pro are Game Development, Software Development, and Simulation & Visualization degrees. The Launchbox itself costs $3,000 but students who maintain above a 1.0 GPA receive a $3,000 scholarship to cover the cost. Click the button below to request more information about the Launchbox program.


Indiana State University offers the Sycamore Technology Award which covers full laptop costs to students who are admitted and are Pell-eligible, as determined by the FAFSA. This scholarship is open to both in and out-of-state residents–but not available to international, returning Indiana State or online-only students. All incoming freshmen are automatically considered for the award while transfer students must apply for the scholarship.
Rochester College offers all full-time undergraduate incoming freshmen an Apple MacBook or iPad completely free. Students who transfer to Rochester with 29 credits or less are also eligible to receive a free MacBook or iPad. Rochester was recently ranked #59 in Regional Colleges Midwest by US News & World Report. Graduates will earn a 20-year net ROI of $59,800 on average. Rochester College offers undergraduate and accelerated degrees online.
CTU offers free laptops to Armed Forces veterans via a Patriot Scholarship. CTU was recently ranked as the #115 best online college by U.S. News & World Report.
Saint Leo University offers a rental laptop with a $250 deposit. This laptop rental program is available to full and part-time students, transfer students, and commuters. Saint Leo was recently ranked #14 in Best Value Schools and #69 in Best Online Bachelor's Programs by U.S. News.
Receive a tablet during your first module (four-week term) and a laptop when you begin your fourth module–Does not apply to master's degree programs. Click on the button below to request more information from Independence University Online about their laptop program.
Wentworth Institute of Technology ranked #70 in Best Value Schools and #93 in Best Online Bachelor's Programs provides every full-time undergraduate student with a brand new laptop that they keep upon graduation. Each major receives a laptop model and software that best reflect their needs. The cost of the laptop is part of the tuition with no additional fees. Students borrow the laptop from Wentworth during their time enrolled. The laptop becomes the property of the student upon graduation.
---
If your college is not on this list, they still might offer laptops or iPads. Contact your advisor to ask about your school's laptop program.
7 Online Colleges that Offer iPads Only
6 Online Schools offering deep discounts on laptops for students
Most colleges and universities offer some sort of discount for students to purchase both the software and hardware needed for classes. If you do not see your school listed here, contact your school or search their website for "computers" or "laptops".
Laptop Program Types
There are several laptop program options that colleges offer their students. Here are the three most common types with their explanations.
Loaner Laptops
Students are given to laptops to use while they are enrolled at the school. The laptops must be returned upon graduation, transfer, or leaving the school. The laptop is not technically free to own, but free to use.
Early Graduation Gifts
A school will allow a student to use the laptop while enrolled. If the student completes the program, then the school gives the ownership to the student. If the student leaves the school, it must be returned. The computer belongs to the school until the student graduates. This is an added incentive to graduate.
Payment Plans
Some colleges set up payment plans by which the student gradually pays off the price of the laptop. This allows students to spread their spending throughout their college years. The payments may be tacked on as a school fee or as a separate bill. This option is more like a rent-to-own laptop program. By the time the student graduates, the laptop will belong to him or her.
Why do online schools give students free laptops?
A student with a laptop is a student that can study and do homework wherever they may be.
Online schools know that students need a laptop or PC in order to do any online work. Since all the classes are online, it only makes sense that this needed utility be provided by the school. Offering a free laptop to their students allows students to not have to worry about another big, out of pocket expense in order to enroll. By removing this barrier to entry, online colleges give students a chance to enroll wherein they may not have before–all due to the fact that the student could not afford a laptop. There is also the monetary benefit to both colleges and students. In essence, if a laptop is the only thing holding you back from attending a specific university, they are happy to oblige you as a full tuition paying student.
Typical Technology Needs for College Students
It has become common-place for teachers to require technology to be used in and out of the classroom. The technology needs for each type of major or program differs. For example, graphic design courses will require a laptop with a good graphics card, music production classes require a good sound card and a lot of RAM, while a business course may require nothing more than a basic laptop with Excel and Word.
The table below offers cost guidelines for some of the technology that students may need for their programs.
TECHNOLOGY

DESCRIPTION

PRICE

LAPTOPS AND ULTRABOOKS
Windows Laptop
Dell Latitude E7440 Touch
$1,949
Windows Ultrabook
Acer Aspire
$1,450
Apple Laptop
Top of the line MacBook Pro with Retina display, OS X
$1,999
Apple Laptop Ultra Notebook
MacBook Air
$800
Chrome OS
Samsung Chromebook 2 (Wi-Fi, no hard drive, cloud storage)
$351
READERS AND TABLETS
Apple Tablet
iPad Air
$499
Android Tablet
Samsung Galaxy Note
$549
Windows Tablet
Dell Venue 11 Pro
$499
Amazon Fire OS
Amazon Kindle Fire HDX
$379
SMARTPHONES
Android Phone
Samsung Galaxy S5
$199
Apple Phone
Apple iPhone 5s
$199
Windows Phone
Nokia Lumia 925
$299
OPTIONAL GEAR
Laptop Lock
Cable, combination lock
$20-$40
Noise-cancelling headphones
Headphones or in-ear buds
$25-$550
Smart Pen
Livescribe 8GB Sky Wi-Fi Propack
$199.50
Laptop-cooling Pad
Logitech N315 Portable Lapdesk
$19.95
MiFi
Verizon Jetpack 4G LTE Mobile Hotspot
$19.99, plus monthly service fee
USB Flash Drive
Kingston Digital DataTraveler SE9 64GB USB 2.0 Flash Drive
$28
Online Colleges That Offer Laptops FAQs
Q1: When is the laptop received?
A1: Laptops are typically given to new students the day the student becomes an official student of the online college in which they enroll.
Q2: Do you get to keep the laptop?
A2: The laptop is property of the university. Some universities allow the students to keep the laptop. Others require the laptop to be returned. The majority of online colleges that offer laptops allow students to keep the laptop upon successful graduation from their college.
Q3: What if the laptop gets lost or stolen?
A3: Generally, if a student loses the laptop or it is stolen, the student pays for it at a reduced rate. The student has to report the stolen laptop to the police. Once the report is filed by the police, a replacement laptop may be purchased at a reduced rate.
Further Resources:
Best College Laptop Guide on LaptopNinja.com
US News Best Colleges Rankings