Online Colleges That Offer Free Laptops 2023
Laptops are necessary for online learning, but they can be expensive. If you need a laptop, check out our guide to online schools with free laptops and other tech perks.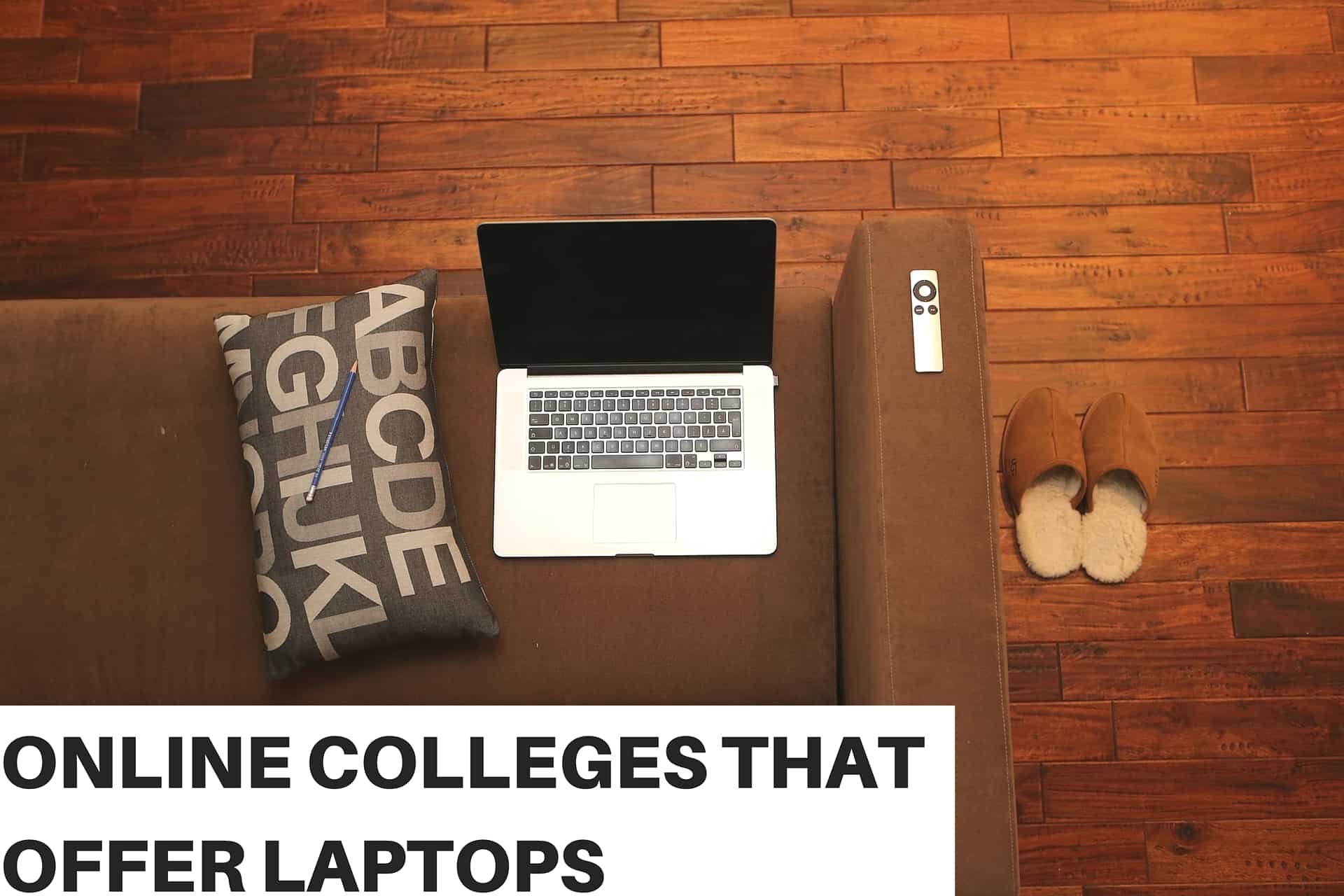 The use of technology in schools has skyrocketed since the early 2000s. The majority of college classes now require college students to have laptops. A computer is a requirement for an online school, but some universities have gone as far as mandating that students have a laptop before enrolling in classes. Sadly, this requirement hinders certain students from enrolling.
When schools provide the needed technology, they level the playing field so that no student falls behind simply because they lack the financial means to keep up. Even with this, students can still pursue their dreams in a way that makes them feel more confident.
EDsmart believes that the world of higher education is moving forward, and schools realize that it's necessary to provide the technology needed for their students to succeed in today's society. It can be argued that it is both innovative and admirable for schools to provide such resources to help their students attend college or university.
With the new technologies available, students can understand complex topics more quickly and efficiently. Below we've compiled a list of a few of the top schools that offer free laptops to their students.
Related Programs That Might Interest You
Learn about start dates, transferring credits, availability of financial aid, and more by contacting the universities below.
Jump to:
Online colleges that offer laptops | Online colleges that offer iPads only | Online Schools that Give Refund Checks and Laptops | Colleges Offering Deep Discounts | FAQ
12 Popular Online Colleges Offering Laptops to Students 2023
Below is a list of 12 popular online universities that provide laptop programs.
1. Wake Forest University – Choice between several Apple MacBook Pros and Airs or Microsoft Surfaces
Wake Forest University is a small private university ranked #28 among National Universities in the 2022 edition of U.S. News Best Colleges rankings. Popular majors include Economics, Communications, and Psychology. Students praise Wake Forest for having small classes, great professors, and great business, economics, communications, and political science programs.
Wake Forest Universities WakeWare program allows students to purchase a brand-new laptop at a negotiable price. As a bonus, with each laptop, you'll receive insurance and protection in case of any damage occurs. Undergraduate students can receive Technology Grants to assist them in paying for their laptops.
2. Northwest Missouri State University – free laptop must be returned upon graduation
Northwest Missouri State University is a public university ranked #31 in Top Public Schools in the 2022 edition of U.S News and World Report. Popular majors include Elementary Education, Communications, Business Administration, and Management. Students praise NMSU for friendly, genuine professors that push their students to excel.
Undergraduate students taking at least 12 credits and graduate students taking at least nine credits will receive a laptop for their studies included in tuition. This free laptop program has saved students over $6,800 over four years. Students attending Northwest Missouri State University explicitly online do not qualify for this program.
3. Bethel University- Tennessee – Google Chromebook
Bethel University ranked #22 pick in Top Performers on Social Mobility and tied for Regional Universities South according to the U.S. News and World Report. Bethel offers various undergraduate, graduate, and seminary online degree programs. Depending on the program and concentration, Bethel offers fully online or hybrid options for students making classes more flexible.
Bethel University offers free laptops to students who are a part of the College of Arts and Sciences or students in the College of Professional Studies. For faculty, Chromebooks make it convenient to work more effectively since the system is web-based. For students, they come with more sharing and collaboration options.
4. Centenary College
All incoming, on-campus undergraduates can choose from a 5.3-lb. Toshiba Satellite C55 with a 15.6-inch screen or a 4.5-lb. MacBook Pro with a 13.3-inch screen. You must be a full-time undergraduate student to participate in the Centenary College laptop program. You can't be a part-time or a graduate student for these computers.
Laptops are given when you enroll in school and must be returned upon graduation. Centenary College began this program to ensure all students can access the latest technology and stay connected with peers and faculty during their studies.
5. Widener University
The Widener University Laptop Scholarship is an undergraduate program only available to students in the School of Engineering. It provides laptops to eligible undergraduates who apply.
To be eligible for a free laptop, students must meet SAT or ACT requirements and have a GPA of 3.5. They'll also need to show that they are enrolled full-time for their coursework. Widener offers this perk to help support students who may not have the resources needed to buy their laptops.
6. Full Sail University –Apple MacBook Pro or MSI gaming laptop (depends on major)
Project Launchbox: Full Sail University has teamed up with Apple to provide students with a current-generation MacBook Pro laptop and the software programs needed for students to have success in their chosen degree through their "Project Launchbox."
Certain programs that receive an MSI laptop instead of a MacBook Pro include digital arts such as Game Development, Software Development, and Simulation & Visualization degrees. The Launchbox costs $3,000 but students who maintain above a 1.0 GPA receive a $3,000 scholarship to cover the cost. Click here to request more information about the Launchbox program.
7. Indiana State University-Microsoft Surface Laptop Pro
Indiana State University offers the Sycamore Technology Award, which covers full laptop costs to students who are admitted and are Pell-eligible, as determined by the FAFSA. This scholarship is open to both in and out-of-state residents but not available to international, returning Indiana State, or online-only students.
All incoming freshmen are automatically considered for the award, while transfer students must apply for the scholarship.
8. University of Minnesota-Crookston
U of M Crookston offers every college student a laptop from day one. The University of Minnesota-Crookston offers on-campus students an HP laptop computer. In 2022, This school was ranked the #1 Top Public School and #25 Regional Colleges in the Midwest by U.S. News.
The University of Minnesota-Crookston was the first university to provide laptops to students; since the beginning of this program, hundreds of colleges and universities have followed their example. This program is exclusive to all on-campus students. You'll be issued your free laptop for college on your first day but must return the laptop to the university upon graduation.
9. Saint Leo University
Saint Leo University offers a rental laptop with a $250 security deposit. This laptop rental program is available to qualifying full and part-time students, transfer students, and commuters. Saint Leo was recently ranked 39th nationally in Top Performers in Social Mobility by US News and 51st in Most Diverse Colleges in America by Niche.
10. Rochester College – free Apple MacBook or iPad
Rochester University offers all full-time undergraduate incoming first-time students an Apple MacBook or iPad completely free. Students who transfer to Rochester with 29 credits or less can receive a free MacBook or iPad.
If a student has completed the school's Early College program, they may be eligible with 89 or fewer credits, and if they dual enrolled in high school, they may be eligible with 44 or fewer. Graduates of Rochester University will earn a 20-year net ROI of $59,800 on average. Rochester University offers undergraduate and accelerated degrees online.
11. Colorado Technical University
CTU offers free laptops to Armed Forces veterans and active-duty service members via their Patriot Scholarship. CTU accepts 100% of applicants and has the 3rd safest college campus in Colorado, according to Niche.com. Niche ranks them as 4th in the state in Best Student Life and Best Colleges for Business.
12. Wentworth Institute of Technology-HP or Razer depending on major
Wentworth Institute of Technology provides every full-time undergraduate student with a brand-new laptop that they keep upon graduation. Each major receives the laptop model and software best suited to meet the demands of its major.
The laptop cost is included as part of the tuition with no additional fees. Students officially borrow the laptop from Wentworth during their time enrolled, and upon graduation, the laptop becomes the student's property.
All incoming first-year undergraduate students will receive a 13-inch MacBook Air laptop as a part of the Undergraduate 1:1 Laptop Program.
Students will also receive a backpack and case to protect the laptop.
Transfer students, depending on the number of credits transferring, will receive a 13-inch MacBook or MacBook Air.
As part of the program, students will receive the following equipment and services:
13″ MacBook
Chatham University logo backpack and Speck Case
4-year AppleCare Warranty coverage
4-year SafeWare Accidental Damage Protection
4-year SafeWare Theft Protection
Helpdesk Repair Services
The Technology Fee covers costs for the computer and services. Ownership of the equipment is transferred to the Student upon graduation as detailed in the Student Technology Program Computer Agreement (Student Contract).
Chatham University offers online bachelor's degrees and online graduate degrees.
Online Colleges With Free Laptops FAQs
Do online schools give you a laptop?
Many accredited online schools offer students laptops and other benefits like discounted software, IT support, and discounts to first-year students. Transfer students may not qualify for free college laptop programs, but they sometimes do.
Some online schools offer loaner laptops that must be returned or bought upon graduation. As shown in our school list above, there are a handful of online schools with free laptops for their students.
Online Schools Free Laptops Q&A
A1: Laptops are typically given to new students the day they become official attendees of the online college in which they enroll.
Q2: Do you get to keep the laptop?
A2: The laptop is usually the university's property, but this varies by school. Some universities allow students to keep their laptops upon graduation or transfer, while others would require the laptop to be returned. Many online colleges that offer laptops allow students to keep the laptop upon successful graduation from their college.
Q3: What if the laptop gets lost or stolen?
A3: Generally, if a student loses the laptop or it is stolen, the student pays for it at a reduced rate and must report the theft to the police. Once the police file the report, a replacement laptop may be purchased, often also at a reduced rate.
Does FAFSA Cover Laptops?
Financial aid received through FAFSA covers educational expenses. If you need a laptop for college, you can use your financial aid to purchase a laptop for your schooling.
How can I get a free laptop for college with little or no money?
There are a few ways to get a free laptop for college.
Free Laptops – There are organizations like The On It Foundation and Computers with Causes that offer free laptops to eligible students.
Scholarships and Grants – the Dell Scholars Program offers money, a free laptop, and textbook credits through Chegg.
Discounted Laptops for College Students – some companies and organizations will offer laptop discounts to college students. Refurbished computers can be purchased at a discount too from organizations like Notebooks for Students.
Tech Perk Programs – Dell, Microsoft, Apple, and Samsung all offer discounts to college students.
Local Library Laptops – Some local libraries will lend laptops to students. Most will not allow you to keep them for very long or take the laptop out of the library. Check with your local library.
Do Colleges Supply Laptops?
Not all colleges supply laptops to their students. Most require laptops but expect students to provide their own. Some colleges provide laptops for their students with free laptops, laptop discounts, or loaner laptops to eligible students.
What Are the Best Laptops for College Students?
Not sure which laptop will be best for college? One thing to keep in mind is that not every student will need the same laptop. For example, students studying or majoring in visual arts will need much more powerful laptops than those studying, say, English. Some schools even require students to have or use an Apple device.
A basic, entry-level laptop with a long battery life will suffice for most students.
Top 5 Laptops for College Students
MacBook Air M1 – Best MacBook for students
HP Pavilion Aero 13 – Best lightweight laptop for students under $800
Gateway GWTN141 – Best laptop for college for around $500
Acer Chromebook Spin 513 – Best Chromebook for students
Lenovo Yoga 7i – Best Windows 2-in-1 laptop for students
For more information on each laptop, see CNET's article.
How Do Online College Laptop Programs Work?
To help qualify for classes and save money, many colleges are now offering free laptops for online students. The cost of the laptop is often packaged with the tuition payment or assessed as a one-time or ongoing fee. Some schools allow students to borrow school laptops to be returned to the school upon graduation. Both of these options allow students to have a laptop so they can take college courses online. Whatever the agreement, students can enjoy cost savings because of student laptop discounts, running from $300-$2,000, by choosing a university that offers laptops.
Laptop Program Types
There are several laptop program options that colleges offer their students. Here are the three most common types with their explanations.
Loaner Laptops
Students are given laptops to use while they are enrolled at the school. The laptops must be returned upon graduation, transfer, or school leave. The laptop is not technically free to own but free to use.
Early Graduation Gifts
A school will allow a student to use the laptop while enrolled. If the student completes the program, then the school gives ownership to the student. If the student leaves the school, it must be returned. The free computer belongs to the school until the student graduates. This is an added incentive to graduate.
Payment Plans
Some colleges set up payment plans by which the student gradually pays off the laptop's price. This allows students to spread their spending throughout their college years. The payments may be tacked on as a school fee or as a separate bill. This option is more like a rent-to-own laptop program. When the student graduates, the laptop will belong to him or her.
What Online Colleges Offer Laptops for Students?
Thanks to the colleges listed below, needing a laptop should no longer deter you from attending college. Whether online colleges are offering financial aid through a discounted laptop, laptops for free, or for rent, you shouldn't let the cost of a new laptop stop you from improving your life via a college education.
#1 Wake Forest University – free laptop must be returned upon graduation
#2 Northwest Missouri State University – free laptop must be returned upon graduation
#3 Bethel University – Google Chromebook
#4 Centenary College
#5 Widener University
#6 Full Sail University –Apple MacBook Pro
#7 Indiana State University
#8 University of Minnesota-Crookston
#9 Saint Leo University
#10 Rochester College – free Apple MacBook or iPad
#11 Colorado Technical University
#12 Wentworth Institute of Technology
#13 Chatham University – Free 13-inch MacBook Air laptops, cases, and backpacks for all first-year students and some transfer students.
---
If your college is not on the list above, they still might offer laptops or iPads. Students should contact potential colleges to ask about eligibility and contract terms. Students can also contact their advisors to ask about your school's laptop program.
What Colleges Offer iPads?
iPads offer portability that most laptops don't. Just as online schools give free laptops, the iPad might be a loaner iPad for an enrolled student and become "free" upon graduation.
Online Programs That Might Interest You
Learn about affordability, availability of financial aid, start dates, transferring credits, and more by contacting the online schools below.
Online Schools offering deep discounts on laptops for students
Most colleges and universities offer some discount for students to purchase both the software and hardware needed for classes. If you do not see your school listed here, contact your school or search their website for "computers" or "laptops."
Why Do Online Schools Give Free Laptops?
A student with a laptop is a student that can study and do homework wherever they may be.
Online schools know that students need a computer to do any online work. Since all the classes are online, it only makes sense that the school provides this needed utility. Offering a free laptop to their students allows them not to worry about another big, out-of-pocket expense to enroll. By removing this barrier to entry, online colleges give students a chance to enroll when they may not have before–all because the student could not afford a laptop. There is also the monetary benefit to both colleges and students. In essence, if a laptop is the only thing holding you back from attending a specific university, they are happy to oblige you as a full tuition-paying student.
Typical Technology Needs for College Students
It has become commonplace for teachers to require technology to be used in and out of the classroom. The technology needs for each online course, type of major, or program differs. For example, graphic design courses require a laptop with a good graphics card, music production classes require a good sound card and a lot of RAM, while a business course may require nothing more than a basic laptop with Excel and Word.
Online Schools That Give Refund Checks
If a student has leftover financial aid money, FAFSA may send a refund check. Refunds are not issued until all tuition and fees are paid first.
Purdue University Global
University of Phoenix
Capella University
Saint Leo University
Walden University
Online Schools That Give Refund Checks and Laptops Fast
Many online schools that give refund checks and laptops will disburse refunds through BankMobile Disbursements.
You may want to familiarize yourself with their service to know how it works. See https://bankmobiledisbursements.com/refundchoicessso/
Walden University – paper check or through direct deposit. Refunds are distributed between the third and fourth week of every semester.
University of Phoenix- paper checks or as a direct deposit.
Saint Leo University – paper check, a direct deposit, or payment into the student's BankMobile account.
Strayer University – refund check.
Capella University – paper check or direct deposit.
Liberty University – 21 days after classes start. Delivered with BankMobile Disbursements.
Bethel University – paper check or direct deposit.
Moravian College – refund check.
Valley City State University – refund check.
Independence University – paper check or direct deposit.
Online Programs That Might Interest You
Learn about start dates, transferring credits, availability of financial aid, and more by contacting the universities below.
Further Resources:
Best Laptops on LaptopBlogger.com
Best College Laptop Guide on LaptopNinja.com
Online Schools that Offer Free Laptops & iPads to Students | Best Universities
US News Best Colleges Rankings
http://newstudents.wfu.edu/computing/
http://www.nwmissouri.edu/
http://www.apple.com/finalcutpro/in-action/full-sail/
http://www.independence.edu/
http://www.setonhill.edu/
http://www.stjohns.edu/
http://www.bethelsuccess.net/
https://www.stjohns.edu/about/leadership-and-administration/administrative-offices/information-technology/laptop-program
http://sjudlis.com/opportunities/laptop-program/
https://usnews.com/best-colleges
https://www.payscale.com/college-roi
Related Programs That Might Interest You
Learn about start dates, transferring credits, availability of financial aid, and more by contacting the universities below.