International Student Scholarships: Your Ultimate Guide
As an international student studying in the USA can be an exciting yet costly endeavor. Gratefully, myriad endowments abound to mitigate pecuniary encumbrances.
Scholarships provide financial aid to students to help cover the expenses associated with education. They could be awarded based on various criteria. Some include academic achievement, financial need, and merit. Scholarships can be invaluable to international students for several reasons. For example, they help reduce financial strain when studying abroad. Besides, they offer them the freedom to pursue their educational goals without worrying about costs. Lastly, scholarships can also strengthen a resume making the student more marketable in job applications.
Finding international student scholarships can be an uphill battle, but various resources can assist them in this search. Some examples are scholarship search engines, college financial aid offices, and online scholarship directories, which enable students to locate scholarships that match their qualifications and eligibility criteria.
Let's look at the various types of scholarships available for international students alongside the application tips.
This comprehensive guide will explore the various types of international student scholarships, how to find them, tips for applying, and some of the top scholarships for international students in the USA.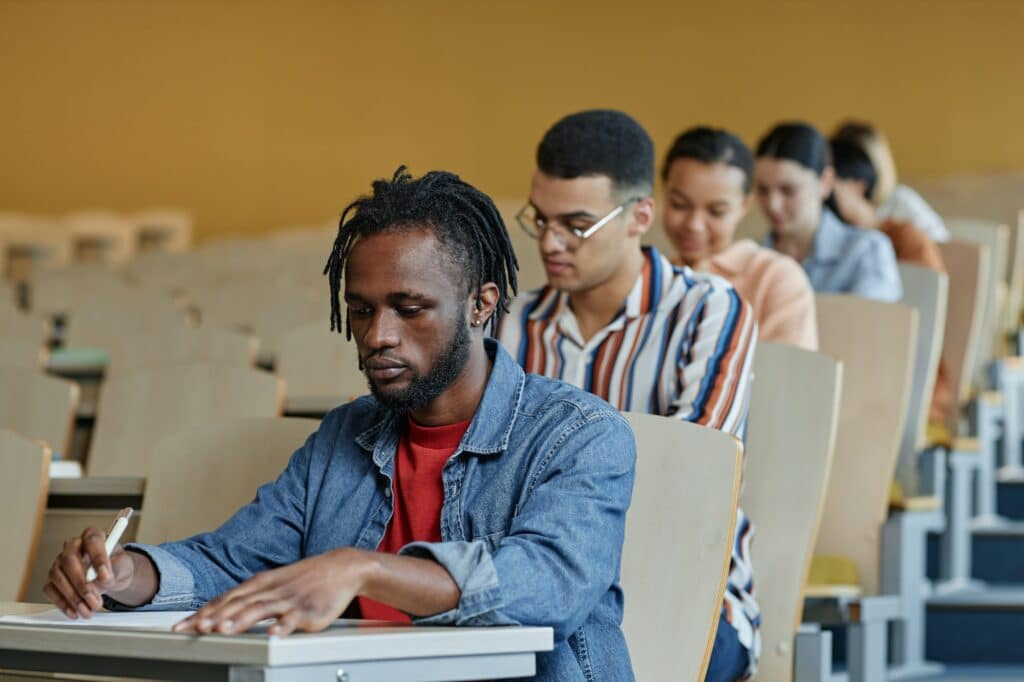 Types of Scholarships for International Students
A diverse array of scholarships exists for global scholars, each possessing distinct stipulations and benchmarks.
Merit-based Scholarships
Such scholarships are conferred in light of a learners scholastic, creative, or athletic merit. Those who flourish within their selected domain or exhibit remarkable aptitude are exceptional contenders for merit-oriented grants.
Need-based Scholarships
Scholarships of this nature are granted on the basis of a learner's financial necessity. Their purpose is to assist those who might lack the resources to fund their academic pursuits. Qualification is generally ascertained by household earnings, dependent count, and enrollment expense at the preferred establishment.
Program-specific Scholarships
Scholarships tailored to particular programs are bestowed upon scholars intending to delve into a distinct academic discipline or register for a specialized curriculum at a secondary institution. These scholarships may be offered by the institution itself or by external organizations and foundations.
Sports scholarships
These awards recognize students with exceptional talent in one sport or discipline.
Academic scholarships
These awards recognize students who have demonstrated exceptional academic achievements throughout their previous studies.
Finding Scholarships for International Students
University Websites
Many universities offer scholarships specifically for international students. Start by checking the websites of the colleges or universities you are interested in attending, and look for their financial aid or international student sections.
Online Scholarship Databases
Numerous digital databases are committed to cataloging scholarships for global scholars, exemplified by InternationalScholarships.com and Fastweb. By creating a profile, you can access a wealth of information on scholarships that match your qualifications and needs.
Social Media
Recollect utilizing social networking channels, such as Facebook, Twitter, and LinkedIn, to your advantage. Many scholarship organizations and universities use these platforms to announce and promote scholarship opportunities.
Applying for Scholarships for International Students
Upon discovering scholarships that align with your requisites and credentials, commence the undertaking of submitting applications.
How to apply for a scholarship for international students
It can be a challenging task to apply for scholarships as an international student. But with proper preparation and approach, your chances of securing financial aid for academic pursuit can increase exponentially. Here are some steps to keep in mind when searching for scholarship funding:
1. Research Scholarships
To start your scholarship research process, research any scholarships that might apply. Secondly, search online databases, or contact scholarship providers directly. Ensure to read all requirements thoroughly to meet eligibility criteria and secure one of these important sources of support!
2. Create a List of Scholarships You Are Eligible for
Once you've identified your eligible scholarships, create a spreadsheet or document to track them. Include details such as application deadlines and requirements and any relevant details such as scholarship names.
3. Complete the Application Process
Read over and follow all application instructions carefully, providing all required information, such as personal details, academic achievements, and any additional criteria specified by the scholarship provider.
4. Submit Your Application Materials
Make sure to submit all required application materials by the deadline, which could include transcripts, letters of recommendation, essays, and any additional supporting materials requested by scholarship providers. Double-check that everything has been provided as requested.
5. Follow up with scholarship providers
Once your application is submitted, follow up with scholarship providers to ensure they received it and inquire about a timeline for announcing results or other details related to your scholarship.
Remember that applying for scholarships is a highly competitive process. Ensure your best effort is put forward when submitting an application. Allow enough time for yourself to complete this step of the application and ensure all materials are submitted before their due dates.
Scholarship Application Tips
Start early: Give yourself ample time to research and gather all necessary documents and materials.
Stay organized: Keep track of deadlines, requirements, and application statuses.
Venture expansively: Refrain from confining your applications to a mere handful of endowments—broaden your scope to augment the likelihood of triumph.
Tips for Writing a Strong Scholarship Application
When applying for scholarships, making an impression application can make all the difference. Here are some helpful hints to ensure a strong scholarship application:
1. Be clear and concise. Use plain language when communicating your message, and avoid using complex or overly technical jargon.
2. Proofread your application carefully. Scrutinize for orthographic and syntactic inaccuracies, and ascertain that your statements exhibit sound composition.
3. Highlight your accomplishments. Ensure that your application indicates specific examples of your successes. Encompassed within are scholastic accolades, communal contributions, and supplementary pursuits beyond the curriculum.
4. Explain why you are interested in the scholarship. Show how it will assist in reaching your academic and career goals.
5. Be yourself. Make your application stand out by injecting some personality and your unique voice.
Letters of Recommendation
A multitude of scholarships necessitates commendatory missives from pedagogues, advisors, or alternate experts acquainted with your competencies and disposition. Choose recommenders who know you well and can provide specific examples of your achievements and strengths. Afford them sufficient duration for penning the endorsement, and express gratitude for their backing.
Undergraduate Scholarships for International Students
Undergraduate scholarships are available to international students who want to earn a bachelor's degree, providing tuition, accommodation, and textbook reimbursement expenses. Below are five such undergraduate scholarships:
Fulbright Foreign Student Program
This highly competitive program provides grants for international students pursuing graduate studies, research, or professional training in the USA. Administered by the U.S. Department of State, the Fulbright Program is available to students from over 155 countries.
Hubert H. Humphrey Fellowship Program
This non-degree program offers professional development and academic coursework for experienced professionals from designated countries. The program focuses on enhancing leadership skills and fostering a mutual exchange of knowledge between participants and their American counterparts.
University of Westminster International Scholarship
This scholarship covers full tuition fees for international students studying for an undergraduate degree at Westminster in England.
American University Emerging Global Leader Scholarship
This scholarship welcomes global scholars exhibiting exceptional leadership promise and aspiring to undertake an undergraduate program at American University in Washington DC. The grant encompasses tuition charges, accommodation, and sustenance expenditures, as well as pertinent outlays.
International Undergraduate Scholarship at the University of Melbourne
This scholarship covers full tuition fees for international undergraduate students who wish to study Melbourne in Australia.
Given the intense rivalry for endowments among international undergraduates, it is prudent to initiate the exploration and submission endeavors as promptly as feasible, thereby bolstering the probability of procuring such an award.
Graduate Scholarships for International Students
Graduate scholarships are available to international students pursuing advanced degrees. Here are five graduate scholarships specifically targeted at international students:
The Fulbright Foreign Student Program offers funding for graduate students studying or conducting research in the United States. Learners are obliged to exhibit English language adeptness and retain a minimum of an undergraduate degree prior to submitting their application.
Offered by Rotary International, these fellowships support international students pursuing a master's degree in peace and conflict resolution at one of the organization's partner universities.
Chevening Scholarships provide funding for students pursuing master's degrees in the UK. For evaluation, contenders are mandated to have accrued a minimum of two years of professional exposure and display indications of leadership capacity.
The Joint Japan/World Bank Graduate Scholarship Program is a funding opportunity for graduate studies related to development issues. Applicants must be citizens of developing nations and accepted into a master's program at a participating university.
Graduate scholarships typically require applicants to have a strong academic background and display leadership potential or dedication to their field of study. It's essential that applicants thoroughly research eligibility requirements, application deadlines, and any additional application materials that might be necessary before applying for one of these awards.
Grants for International Students
International students may also qualify for grants as another source of aid to fund their education, similar to scholarships in that they do not require repayment. However, grants typically focus on financial need rather than merit.
Aga Khan Foundation International Scholarship Program
This scholarship program grants to postgraduate study candidates from certain developing nations.
Rotary Foundation Global Grant
This program awards grants to graduate-level students seeking to study one of Rotary's six areas of focus, such as peace and conflict resolution, disease prevention/treatment, or economic/community development.
The International Peace Scholarship Fund
This program awards grants to women from countries outside of the US who are undertaking graduate-level studies here.
Grants can be an invaluable funding source for international students pursuing academic goals. To increase your chances of receiving funding, research each grant program's eligibility requirements and application deadlines as soon as possible and submit applications early.
Additional Financial Resources for International Students
International students looking to finance their education have various options at their disposal in addition to scholarships. Here are a few alternatives they should explore:
1. Financial aid from your university
Many universities provide international students with financial aid programs.
2. On-campus employment
Some universities offer on-campus jobs for international students to make extra money and gain work experience. This may provide some much-needed extra income while also building your resume.
3. Work-Study programs
These provisions offer monetary assistance, enabling learners to engage in part-time employment as a means to fund their academic endeavors. The information on how much you qualify for can be obtained from the school's financial aid offices.
4. Government grants
Some governments provide grants for international students studying in their countries. Check with your home country's government to see if any programs exist that might aid your study abroad experience.
5. Private loans
Private loans offer another viable means for financing your education, though you should carefully review their terms and interest rates before taking out one.
Students can discover additional financial resources to fund their education and reach their academic goals by exploring the financial options offered under scholarships for international students in the USA.
Conclusion
Exploring the realm of global scholar endowments may prove daunting, yet armed with apt resources and a tactical methodology, you can obtain the requisite fiscal backing to actualize your scholastic aspirations within the USA. Start your search early, stay organized, and apply widely to increase your chances of success.
FAQs
Are there scholarships available for all fields of study? Yes, scholarships are available for a wide range of fields. Be sure to research program-specific scholarships related to your chosen field of study.
Must one be affiliated with a university before submitting scholarship applications? Not necessarily. Some scholarships may require enrollment, while others may not. Check the eligibility requirements for each scholarship before applying.
Can I apply for multiple scholarships? Absolutely! It is suggested to submit applications for numerous scholarships you meet the criteria for, in order to enhance the probability of garnering fiscal backing.
Do scholarships cover all educational expenses? It depends on the scholarship. A few scholarships potentially defray the entire outlay of tuition fees, while others might furnish limited assistance. Be sure to read the details of each scholarship to understand what expenses are covered.
How do I improve my chances of recieving a scholarship? Start your search early, stay organized, apply widely, and put effort into your applications, especially your essays and letters of recommendation.