Accredited Online Colleges in Ohio
Online education is a rapidly growing option for higher education students. Its structure is accessible for working students because it allows for learning that is flexible, affordable, and personalized.
Ohio boasts one of the states with the most online degree-granting schools, with 171,158 undergraduate students and 27,036 graduate students taking at least one distance learning class in 2015.
According to the Distance Education State Almanac of 2017, online learning in Ohio increased by 18.7% between 2012 and 2015. Below, we've gathered information about graduation rates, published rankings, and online services for some of the best online schools in Ohio.
Jump to:
Rankings | Overview | List of Accredited Online Colleges in Ohio
Rankings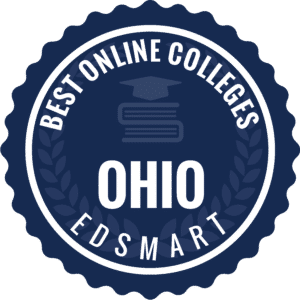 EDsmart has dug through the data trenches to bring you an easy-to-read, easy-to-digest ranking of the best online colleges in Ohio.
Schools are ranked based on four data points in three categories:
Affordability (financial aid, net price)
Student Satisfaction (retention rate)
Student Outcome (4-year graduation rate)
Each data point is ranked with equal weight. Schools received a weighted overall ranking score for each individual point mentioned above–100 being the highest score possible.
In the case of a tie in scoring, the average net price was the determining factor for which school received the higher rank–the lower the net price, the higher the ranking.
All data was gathered from the National Center for Education Statistics website and is accurate at the time of this writing [May 2019].
Best Online Colleges in Ohio
#1 Ohio Northern University
Score: 100
Financial Aid: 99%
Average Net Price: $22,932
Retention Rate: 82%
Graduation Rate: 76%
Founded in 1871, Ohio Northern University is ranked fourth among midwest regional liberal arts colleges by U.S. News & World Report. The private Christian university currently has a 76% graduation rate for undergraduate students, as well as a 66% acceptance rate overall. Of the 3,108 students enrolled at ONU, 3.2% engage in some form of distance learning.
The school's online classes meet the Quality Matters standards for Ohio online schools in higher education. While Ohio Northern University's online courses are selective, the school does cite their support of distance education and their desire to "deliver instruction to students who are separated from the instructor and to support regular and substantive interaction between the students and the instructor, synchronously or asynchronously."

---
#2 Ashland University
Score: 99.4
Financial Aid: 98%
Average Net Price: $20.201
Retention Rate: 77%
Graduation Rate: 60%
Ashland University is a private Christian university with an undergraduate enrollment of 3,380 students, most of whom are working toward a nursing science or education degree. The school's 60% graduation rate and 79% acceptance rate rank it in the Top 200 National University Institutions in the 2016 edition of the U.S. News & Reports' America's Best Colleges survey. Ashland University offers online associate's and bachelor's degrees in business and criminal justice, bachelor's degrees in communication studies and nursing, and master's degrees in nursing, applied exercise science, education, seminary, and strategic communications. In 2012, GetEducated.com ranked Ashland University's Master of Business Administration in the top 40 "Best Buys in Online MBAs."
Offering both online and hybrid courses, AU encourages online learners to work collaboratively with academic leadership, faculty, and staff to continuously improve the University's online offerings. Online students also reap the benefits of the school's many accreditation bodies, including CAEP, CACREP, ACBSP, CSWE, and NASM. Further, Ashland University has collaborated with Ohio eTutoring to provide free, online tutoring support for all of its enrolled students.

---
#3 Youngstown State University
Score: 99.2
Financial Aid: 93%
Average Net Price: $10,637
Retention Rate: 77%
Graduation Rate: 34%
A public research university in Youngstown, OH, Youngstown State University is primarily a commuter school with significant offerings of undergraduate, graduate, and post-graduate online degrees. These nationally accredited degrees include general studies, applied science, nursing, respiratory care, business administration, financial economics, engineering, health and human services, and criminal justice, among others.
The most popular degrees offered at Youngstown State are liberal arts and humanities, criminal justice and safety studies, and social work and youth services. YSU graduates about 34% of its students and costs an average of about $10,000 a year, making it one of the more affordable online colleges in Ohio. Youngstown State University's College of Business was awarded an AACSB (Association to Advance Collegiate Schools of Business) accreditation, an honor held by less than 5% of higher education institutions internationally. Youngstown State University boasts affordable tuition and a plethora of potential degree offerings for its online learners.

---
#4 Mount Vernon Nazarene University
Score: 99.2
Financial Aid: 95%
Average Net Price: $20,880
Retention Rate: 79%
Graduation Rate: 63%
Mount Vernon Nazarene University is a private Christian, liberal arts college that was founded in 1968 by the Church of the Nazarene. The college currently enrolls 1,828 students in undergraduate studies, making the student to faculty ratio 9:1. Mount Vernon Nazarene University prides itself on being designed for the working adult learner, encouraging the students to fit their education into just about any work/life schedule and organizing its class schedule for maximum flexibility. Students can enroll in online courses, on-campus courses, or hybrid courses, and have the freedom to transfer back and forth as necessary. Mount Vernon Nazarene University offers online undergraduate and graduate courses in business, education, ministry, and social work. The school gained accreditation from the Higher Learning Commission, a member of AdvancED, and the Ohio Department of Higher Education. Further, the U.S. News and World Report ranked Mount Vernon Nazarene University #84 in Regional Universities Midwest.

---
#5 Miami University-Oxford
Score: 99.0
Financial Aid: 78%
Average Net Price: $20,316
Retention Rate: 91%
Graduation Rate: 79%
Informally known as Miami of Ohio, Miami University is the 2nd oldest university in Ohio and the 10th oldest public university in the United States with a somewhat competitive acceptance rate of 68%. Miami University's eLearning online courses are robust, with accessibility to undergraduate and graduate classes, certificates, and other advanced courses, though only graduate degrees can be acquired online. The online degree program is highly rated as one of the best online schools in Ohio and boasts a 92% first-to-second year retention rate. Miami University strives to allow their online students the same access to quality courses and the same high level of faculty/student engagement that the school provides its on-campus learners. The online program offers a learning environment that is both flexible and state-of-the-art. Miami University boasts a 79% graduation rate and was ranked #96 in National Universities by U.S. News & World Report. Likewise, the Wall Street Journal ranked Miami's accelerated MBA program 9th globally. Miami University is known for its liberal arts education and is one of the original eight Public Ivy schools or publicly funded universities that provide an Ivy League education.

---
#6 Mount Carmel College of Nursing
Score: 98.8
Financial Aid: 90%
Average Net Price: $17,443
Retention Rate: 67%
Graduation Rate: 73%
Mount Carmel College of Nursing currently enrolls 638 undergraduate students and has a 99% acceptance rate. The only major offered at the college is nursing, and the school graduates about 73% of its students. Accredited by The Higher Learning Commission and The Commission on Collegiate Nursing Education, the college is the #1 largest private BSN program in Ohio.
The school offers an online RN-BSN program for licensed professional nurses who want to earn their Bachelor of Science in Nursing degree, as well as an online Master of Science, a nursing education track for prepared students who wish to teach in an academic or healthcare setting. Mount Carmel College of Nursing additionally offers an accelerated online certification for adult-gerontology acute care nurse practitioners. The school was ranked #10 in the 2019 Best Online Colleges in Ohio report by the SR Education Group and #42 in Best Colleges for Nursing in America by Niche.

---
#7 Cleveland State University
Score: 98.2
Financial Aid: 89%
Average Net Price: $15,320
Retention Rate: 870%
Graduation Rate: 43%
With degree offerings such as Bachelor of Business Administration, Master of Education or Science, and certificates in bioethics, Cleveland State University provides some of the most comprehensive programs of Ohio online schools. CSU designed its online learning platform for highly motivated individuals who don't want to put their careers or personal lives on hold while working to develop their education.
Cleveland State University's acceptance rate is 90%, and its graduation rate is 43%. The most popular online majors are nursing and business, and the on-campus enrollment rate is approximately 9,000 undergraduate students. In an online poll, 76% of Cleveland State students believe their professors put a lot of effort into teaching their classes, and 62% of the students agree that the workload is easy to manage. The U.S. News & World Report ranked Cleveland State University #230 in National Universities and ranked the college #312 in Business Programs.

---
#8 Kettering College
Score: 97.6
Financial Aid: 89%
Average Net Price: $15,320
Retention Rate: 72%
Graduation Rate: 52%
Kettering College is a private Christian institution in Kettering, OH with a total of 342 students currently enrolled in its undergraduate program. The school graduates 52% of its students and accepts 28% of students who apply. The college's online program offers a Bachelor of Science in health sciences, designed for those who already have an associate degree or its equivalent in health care. The school touts a program that will "sharpen your skills and knowledge, but is flexible with your busy work schedule," and allows students to add respiratory care, management, education, sonography, or advanced imaging emphasis to their degree. Kettering College also offers BSHS courses year-round on a shortened schedule, focusing on fewer classes in accelerated sessions that can be completed in seven or eight weeks. Affordable Colleges Online ranked Kettering College 5th in the state of Ohio for one of the Best Online Colleges for 2015-2016.

---
#9 Stark State College
Score: 97.0
Financial Aid: 82%
Average Net Price: $6,357
Retention Rate: 81%
Graduation Rate: 75%
Located in North Canton, OH, Stark State College is a student-centered, comprehensive community college that holds transfer agreements with more than 30 other colleges and universities, including Ohio State University, The University of Akron, and Kent State University. Stark State College has an acceptance rate of 100%, a graduation rate of 18%, and a yearly tuition of approximately $6,000. Because more than 70% of Stark State students work full-time while taking classes, the school focuses on accessibility and flexible scheduling in their designed course work. Stark State offers several degrees, certificates, and courses that are available entirely online. Transfer degrees, technical degrees in business and information technology, and certificates in business, information technology, health and public services, and arts and sciences are available through eStarkState, Stark State College's online learning portal. eStarkState provides an easy and convenient way for both in-state and out-of-state students to complete their education.

---
#10 Ohio Christian University
Score: 95.8
Financial Aid: 84%
Average Net Price: $25,232
Retention Rate: 65%
Graduation Rate: 29%
Previously Circleville Bible College, Ohio Christian University is a private Christian college affiliated with the Churches of Christ in Christian Union denomination. OCU has a 65% acceptance rate and a 29% graduation rate, with over 2,000 undergraduate students currently enrolled full-time. ACU offers fully accredited associate, bachelor's, and master's degrees in healthcare management, ministry, agribusiness, psychology, and several others.
With a yearly cost of approximately $25,000, SR Education Group ranked OCU #12 in 2019 Most Affordable Online Colleges for Counseling Degrees. Ohio Christian University also offers an OCU Online Plus program, designed especially for recent high school graduates. The program allows the student to complete the entire degree online or customize it with credits from internships or international studies. Options include interning with companies and agencies local to the student, studying in Italy with Saints Bible Institute, completing an intensive biblical program in Colorado, and interning with Operation Mobilization in the U.S. and abroad. The online plus degree program allows its students to enjoy the flexibility of online college learning while also gaining valuable, life-long experiences.
Congratulations on making this year's Best Online Colleges in Ohio rankings! If your school information is not up-to-date, please notify [email protected] All information is gathered from online resources, including school websites, US News, and other reputable online sources.
Further Reading: Cheapest Online Colleges
Overview
With Lake Erie to the north and the Ohio River to the south, Ohio has long acted as a transportation hub connecting the Midwest with the Northeast. The diverse economy relies on agriculture, energy, medicine and bioscience, manufacturing, and many more interests. Major employers headquartered in Ohio include Kroger, Procter & Gamble, Nationwide Mutual Insurance Co., Goodyear, and the Cleveland Clinic Health System.
Ohio is the biggest producer of Swiss cheese in the United States, and it's also a leading producer of eggs, tomatoes, soybeans, and grain. The state has more than 14 million acres of farmland, and its dairy outputs are increasing. A Heinz ketchup plant in Fremont is the biggest ketchup processing facility in the world. Ohio is also home to the Cedar Point amusement park, with more rides than any other park. The state also hosts several pro sports teams, including two MLB teams, two NFL teams, and an NBA team.
In the state of Ohio, there is an array of choices when it comes to higher education, including public and private universities. The state's public university system is the University System of Ohio, which includes 13 state universities, 23 community and technical colleges, 24 branch and regional campuses, and a public medical college. With the total enrollment of each of these institutions combined, the University System of Ohio ranks among the most extensive public university systems in the country. The flagship institution of this system is Ohio State University, which is also the third-largest university campus in the United States and the only public university in the state to be a member of the Association of American Universities. Several of Ohio's private institutions are among some of the nation's top universities, including Xavier University, University of Dayton, and Case Western Reserve University.
National or regional accrediting agencies accredit universities and colleges in Ohio. To obtain regional accreditation, institutions of higher education must apply with the North Central Association of Colleges and Schools, which accredit schools in Ohio as well as those in the surrounding North Central region.
Schools with national accreditation are accredited by agencies like the Accrediting Council for Independent Colleges and Schools, Distance Education and Training Council, Accrediting Commission, and the Accrediting Commission of Career Schools and Colleges. For a school to be accredited in the state of Ohio, it should hold accreditation from regional or national bodies, such as these. For programs such as education-training, law, health care, and community and social services, schools may also have specialized secondary accreditation.
Accredited Online Colleges and Online Schools in Ohio
Categories: Private | Public | For-Profit | Faith-Based | Online Colleges

Private Online Schools in Ohio
School Name: Academy of Court Reporting-Cleveland
Accrediting Agency: Accrediting Council for Independent Colleges and Schools
Address: 2044 Euclid Avenue, Cleveland, Ohio 44115
Contact: (216) 861-3222
Website: www.acr.edu
Type of School: 2-year, Private for-profit
Programs Offered: One but less than two years certificate; Associate's degree
School Name: Herzing University
Accrediting Agency: Herzing University is accredited by the Higher Learning Commission, 230 South LaSalle Street, Suite 7-500, Chicago, Illinois, 60614-1413,  www.hlcommission.org, (800) 621-7400
Address: 1600 South Arlington Street, Suite 100, Akron, Ohio 44306-3931
Contact: (330) 724-1600
Website: http://www.herzing.edu
Type of School: 4 year and above, Private, Non-Profit
Programs Offered: One but less than two years certificate; Associate's degree; Bachelor's degree
School Name: Alexandria School
Accrediting Agency: State Board of Career Colleges and Schools
Address: 28500 Miles Rd Ste P, Solon, Ohio 44139
Contact: (440) 914-0044
Website: www.alexandria-school.com
Type of School: < 2-year, Private for-profit
Programs Offered: Less than one year certificate
School Name: American Home Inspectors Training
Address: 303 Carroll St, Akron, Ohio 44325
Contact: (800) 441-9411 x5928
Website: www.ahit.com
Type of School: < 2-year, Private for-profit
Programs Offered: Less than one year certificate
School Name: Antioch University – Midwest
Accrediting Agency: Teacher Education (TED) – Baccalaureate and graduate programs for the preparation of teachers and other professional personnel for elementary and secondary schools
Address: 900 Dayton St, Yellow Springs, Ohio 45387
Contact: (937) 769-1800
Website: www.mcgregor.edu
Type of School: 4-year, Private not-for-profit
Programs Offered: Two but less than 4 years certificate;Bachelor's degree;Postbaccalaureate certificate;Master's degree;Post-master's certificate
School Name: Antioch University PhD Program in Leadership and Change
Accrediting Agency: North Central Association of Colleges and Schools, The Higher Learning Commission
Address: 150 E South College St, Yellow Springs, Ohio 45387
Contact: (937) 769-1360
Website: www.phd.antioch.edu
Type of School: 4-year, Private not-for-profit
Programs Offered: Doctor's degree
School Name: Antonelli College
Accrediting Agency: Accrediting Commission of Career Schools and Colleges of Technology
Address: 124 E Seventh St, Cincinnati, Ohio 45202
Contact: (513) 241-4338
Website: www.antonellicollege.edu
Type of School: 2-year, Private for-profit
Programs Offered: One but less than two years certificate;Associate's degree
School Name: Ashland University
Accrediting Agency: North Central Association Commission on Accreditation and School Improvement, Board of Trustees
Address: 401 College Ave, Ashland, Ohio 44805
Contact: (419) 289-4142
Website: www.ashland.edu
Type of School: 4-year, Private not-for-profit
Programs Offered: Less than one year certificate;One but less than two years certificate;Associate's degree;Bachelor's degree;Postbaccalaureate certificate;Master's degree
School Name: Baldwin-Wallace College
Accrediting Agency: North Central Association of Colleges and Schools, The Higher Learning Commission
Address: 275 Eastland Rd, Berea, Ohio 44017-2088
Contact: (440) 826-2900
Website: www.bw.edu
Type of School: 4-year, Private not-for-profit
Programs Offered: Less than one year certificate;Bachelor's degree;Master's degree
School Name: Bryant and Stratton College-Cleveland
Accrediting Agency: Middle States Association of Colleges and Schools, Commission on Higher Education
Address: 1700 E 13th St, Cleveland, Ohio 44114-3203
Contact: (216) 771-1700
Website: www.bryantstratton.edu
Type of School: 4-year, primarily associate's, Private for-profit
Programs Offered: Associate's degree;Bachelor's degree
School Name: Bryant and Stratton College-Eastlake Campus
Accrediting Agency: Middle States Association of Colleges and Schools, Commission on Higher Education
Address: 35350 Curtis Blvd., Eastlake, Ohio 44095
Contact: (440) 510-1112 x119
Website: www.bryantstratton.edu
Type of School: 4-year, primarily associate's, Private for-profit
Programs Offered: Associate's degree;Bachelor's degree
School Name: Cedarville University
Accrediting Agency: North Central Association of Colleges and Schools, The Higher Learning Commission
Address: 251 N. Main Street, Cedarville, Ohio 45314-0601
Contact: (937) 766-2211
Website: www.cedarville.edu
Type of School: 4-year, Private not-for-profit
Programs Offered: One but less than two years certificate;Bachelor's degree;Master's degree
School Name: Chamberlain College of Nursing–Columbus Campus
Accrediting Agency: North Central Association of Colleges and Schools, The Higher Learning Commission
Address: 1350 Alum Creek Dr, Columbus, Ohio 43209
Contact: (614) 252-8890
Website: www.chamberlain.edu
Type of School: 4-year, Private for-profit
Programs Offered: Associate's degree;Bachelor's degree
School Name: Chancellor University
Accrediting Agency: North Central Association of Colleges and Schools, The Higher Learning Commission
Address: 3921 Chester Avenue, Cleveland, Ohio 44114
Contact: (216) 391-6937
Website: www.myers.edu
Type of School: 4-year, Private for-profit
Programs Offered: Less than one year certificate;One but less than two years certificate;Associate's degree;Bachelor's degree;Master's degree
School Name: Cedarville University
Accrediting Agency: North Central Association of Colleges and Schools, The Higher Learning Commission
Address: 251 N. Main Street, Cedarville, Ohio 45314-0601
Contact: (937) 766-2211
Website: www.cedarville.edu
Type of School: 4-year, Private not-for-profit
Programs Offered: One but less than two years certificate;Bachelor's degree;Master's degree
School Name: Cincinnati Christian University
Accrediting Agency: Association for Biblical Higher Education, Commission on Accreditation  &  North Central Association of Colleges and Schools, The Higher Learning Commission
Address: 2700 Glenway Ave, Cincinnati, Ohio 45204-3200
Contact: (513) 244-8100
Website: www.ccuniversity.edu
Type of School: 4-year, Private not-for-profit
Programs Offered: Associate's degree;Bachelor's degree;Master's degree
School Name: Cleveland Institute of Electronics
Accrediting Agency: Distance Education and Training Council, Accrediting Commission
Address: 1776 E 17th St, Cleveland, Ohio 44114
Contact: (216) 781-9400
Website: www.cie-wc.edu
Type of School: 2-year, Private for-profit
Programs Offered: Less than one year certificate;One but less than two years certificate;Associate's degree;Two but less than 4 years certificate
School Name: Cleveland Institute of Music
Accrediting Agency: North Central Association of Colleges and Schools, The Higher Learning Commission
Address: 11021 East Blvd, Cleveland, Ohio 44106-1776
Contact: (216) 791-5000
Website: www.cim.edu
Type of School: 4-year, Private not-for-profit
Programs Offered: Two but less than 4 years certificate; Bachelor's degree; Postbaccalaureate certificate; Master's degree; Doctor's degree
School Name: Columbus College of Art and Design
Accrediting Agency: National Association of Schools of Art and Design, Commission on Accreditation
Address: 60 Cleveland Ave., Columbus, Ohio 43215
Contact: (614) 224-9101
Website: www.ccad.edu
Type of School: 4-year, Private not-for-profit
Programs Offered: Bachelor's degree; Master's degree
School Name: Davis College
Accrediting Agency: North Central Association of Colleges and Schools, The Higher Learning Commission
Address: 4747 Monroe St, Toledo, Ohio 43623
Contact: (419) 473-2700
Website: www.daviscollege.edu
Type of School: 2-year, Private for-profit
Programs Offered: One but less than two years certificate; Associate's degree
School Name: Daymar College-Jackson
Accrediting Agency: Accrediting Council for Independent Colleges and Schools
Address: 980 East Main Street, Jackson, Ohio 45640
Contact: (740) 286-1554
Website: www.daymarcollege.edu
Type of School: 2-year, Private for-profit
Programs Offered: Associate's degree
School Name: Defiance College
Accrediting Agency: North Central Association of Colleges and Schools, The Higher Learning Commission
Address: 701 N Clinton, Defiance, Ohio 43512
Contact: (419) 784-4010
Website: www.defiance.edu
Type of School: 4-year, Private not-for-profit
Programs Offered: Associate's degree;Two but less than 4 years certificate;Bachelor's degree;Master's degree
School Name: DeVry University-Ohio
Accrediting Agency: North Central Association of Colleges and Schools, The Higher Learning Commission
Address: 1350 Alum Creek Dr, Columbus, Ohio 43209-2705
Contact: (614) 253-7291
Website: www.devry.edu
Type of School: 4-year, Private for-profit
Programs Offered: Associate's degree;Bachelor's degree;Master's degree
School Name: Firelands Regional Medical Center School of Nursing
Accrediting Agency: Nursing (DNUR) – Diploma programs
Address: 1912 Hayes Ave, Sandusky, Ohio 44870-4788
Contact: (419) 557-7111
Website: www.firelands.com
Type of School: 2-year, Private not-for-profit
Programs Offered: Two but less than 4 years certificate
School Name: Fortis College-Centeville
Accrediting Agency: Accrediting Commission of Career Schools and Colleges
Address: 555 E Alex Bell Rd, Centerville, Ohio 45459-2712
Contact: (937) 433-3410
Website: www.fortiscollege.edu
Type of School: 2-year, Private for-profit
Programs Offered: Less than one year certificate; One but less than two years certificate; Associate's degree
School Name: Franciscan University of Steubenville
Accrediting Agency: North Central Association of Colleges and Schools, The Higher Learning Commission
Address: 1235 University Blvd, Steubenville, Ohio 43952-1763
Contact: (740) 283-3771
Website: www.franciscan.edu
Type of School: 4-year, Private not-for-profit
Programs Offered: Associate's degree;Bachelor's degree;Master's degree
School Name: Franklin University
Accrediting Agency: North Central Association of Colleges and Schools, The Higher Learning Commission
Address: 201 S Grant Ave, Columbus, Ohio 43215-5399
Contact: (614) 797-4700
Website: www.franklin.edu
Type of School: 4-year, Private not-for-profit
Programs Offered: Associate's degree;Bachelor's degree;Master's degree
School Name: Galen College of Nursing-Cincinnati
Address: 100 E Business Way Ste 200, Cincinnati, Ohio 45241
Contact: (513) 475-3600
Website: www.galencollege.edu/cincinnati
Type of School: 2-year, Private for-profit
Programs Offered: Associate's degree
School Name: Gods Bible School and College
Accrediting Agency: Association for Biblical Higher Education, Commission on Accreditation; North Central Association of Colleges and Schools, The Higher Learning Commission
Address: 1810 Young Street, Cincinnati, Ohio 45202-6838
Contact: (513) 721-7944
Website: www.gbs.edu
Type of School: 4-year, Private not-for-profit
Programs Offered: Associate's degree;Bachelor's degree
School Name: Harrison College-Grove City
Accrediting Agency: Accrediting Council for Independent Colleges and Schools
Address: 3880 Jackpot Rd, Grove City, Ohio 43123
Contact: (614) 539-8800
Website: www.harrison.edu
Type of School: 2-year, Private for-profit
Programs Offered: Two but less than 4 years certificate;Associate's degree
School Name: Heidelberg University
Accrediting Agency: North Central Association of Colleges and Schools, The Higher Learning Commission
Address: 310 E Market St, Tiffin, Ohio 44883-2462
Contact: (419) 448-2000
Website: www.heidelberg.edu
Type of School: 4-year, Private not-for-profit
Programs Offered: Bachelor's degree;Master's degree
School Name: Herzing University-Toledo
Accrediting Agency: NHerzing University is accredited by the Higher Learning Commission, 230 South LaSalle Street, Suite 7-500, Chicago, Illinois, 60614-1413,  www.hlcommission.org, (800) 621-7400
Contact: (419) 776-0300 x104
Website: www.herzing.edu/toledo
Type of School: 4-year, primarily associate's, Private non-profit
Programs Offered: One but less than two years certificate; Associate's degree; Bachelor's degree
School Name: Hiram College
Accrediting Agency: North Central Association of Colleges and Schools, The Higher Learning Commission
Address: Hinsdale Hall Third Floor, Hiram, Ohio 44234-0067
Contact: (330) 569-3211
Website: www.hiram.edu
Type of School: 4-year, Private not-for-profit
Programs Offered: Bachelor's degree; Master's degree
School Name: Hondros College
Accrediting Agency: Accrediting Council for Independent Colleges and Schools
Address: 4140 Executive Parkway, Westerville, Ohio 43081
Contact: (888) 466-3767
Website: www.hondros.edu
Type of School: 2-year, Private for-profit
Programs Offered: One but less than two years certificate;Associate's degree
School Name: ITT Technical Institute–Akron
Accrediting Agency: Accrediting Council for Independent Colleges and Schools
Address: 3428 W Market St, Akron, Ohio 44333
Contact: (330) 865-8600
Website: www.itt-tech.edu
Type of School: 4-year, primarily associate's, Private for-profit
Programs Offered: Associate's degree; Bachelor's degree
School Name: ITT Technical Institute–Columbus
Accrediting Agency: Accrediting Council for Independent Colleges and Schools
Address: 4717 Hilton Corporate Dr, Columbus, Ohio 43232
Contact: (614) 868-2000
Website: www.itt-tech.edu
Type of School: 4-year, primarily associate's, Private for-profit
Programs Offered: Associate's degree;Bachelor's degree
School Name: ITT Technical Institute-Dayton
Accrediting Agency: Accrediting Council for Independent Colleges and Schools
Address: 3325 Stop Eight Rd, Dayton, Ohio 45414-3877
Contact: (937) 264-7700
Website: www.itt-tech.edu
Type of School: 2-year, Private for-profit
Programs Offered: Associate's degree
School Name: ITT Technical Institute-Hilliard
Accrediting Agency: Accrediting Council for Independent Colleges and Schools
Address: 3781 Park Mill Run, Suite 1, Hilliard, Ohio 43026
Contact: (614) 771-4888
Website: www.itt-tech.edu
Type of School: 2-year, Private for-profit
Programs Offered: Associate's degree
School Name: ITT Technical Institute-Maumee
Accrediting Agency: Accrediting Council for Independent Colleges and Schools
Address: 1656 Henthorne Blvd. – Suite B, Maumee, Ohio 43537
Contact: (419) 861-6500
Website: www.itt-tech.edu
Type of School: 4-year, primarily associate's, Private for-profit
Programs Offered: Associate's degree; Bachelor's degree
School Name: ITT Technical Institute-Norwood
Accrediting Agency: Accrediting Council for Independent Colleges and Schools
Address: 4750 Wesley Ave, Norwood, Ohio 45212
Contact: (513) 531-8300
Website: www.itt-tech.edu
Type of School: 2-year, Private for-profit
Programs Offered: Associate's degree
School Name: ITT Technical Institute-Strongsville
Accrediting Agency: Accrediting Council for Independent Colleges and Schools
Address: 14955 Sprague Rd, Strongsville, Ohio 44136
Contact: (440) 234-9091
Website: www.itt-tech.edu
Type of School: 2-year, Private for-profit
Programs Offered: Associate's degree
School Name: ITT Technical Institute-Warrensville Heights
Accrediting Agency: Accrediting Council for Independent Colleges and Schools
Address: 4700 Richmond Rd., Suite 3000, Warrensville Heights, Ohio 44128
Contact: (216) 896-6500
Website: www.itt-tech.edu
Type of School: 2-year, Private for-profit
Programs Offered: Associate's degree
School Name: ITT Technical Institute-Youngstown
Accrediting Agency: Accrediting Council for Independent Colleges and Schools
Address: 1030 N Meridian Rd, Youngstown, Ohio 44509-4098
Contact: (330) 270-1600
Website: www.itt-tech.edu
Type of School: 2-year, Private for-profit
Programs Offered: Associate's degree
School Name: John Carroll University
Accrediting Agency: North Central Association of Colleges and Schools, The Higher Learning Commission
Address: 20700 N Park Blvd, Cleveland, Ohio 44118-4581
Contact: (216) 397-1886
Website: www.jcu.edu
Type of School: 4-year, Private not-for-profit
Programs Offered: Bachelor's degree;Master's degree;Post-master's certificate
School Name: Kettering College of Medical Arts
Accrediting Agency: North Central Association of Colleges and Schools, The Higher Learning Commission
Address: 3737 Southern Blvd, Kettering, Ohio 45429-1299
Contact: (937) 395-8601
Website: www.kcma.edu
Type of School: 4-year, primarily associate's, Private not-for-profit
Programs Offered: Less than one year certificate;Associate's degree;Bachelor's degree;Master's degree
School Name: Lourdes College
Accrediting Agency: North Central Association of Colleges and Schools, The Higher Learning Commission
Address: 6832 Convent Blvd, Sylvania, Ohio 43560-2898
Contact: (419) 885-3211
Website: www.lourdes.edu
Type of School: 4-year, Private not-for-profit
Programs Offered: Less than one year certificate;One but less than two years certificate;Associate's degree;Bachelor's degree;Postbaccalaureate certificate;Master's degree
School Name: Malone University
Accrediting Agency: North Central Association of Colleges and Schools, The Higher Learning Commission
Address: 2600 Cleveland Avenue NW, Canton, Ohio 44709-3897
Contact: (330) 471-8100
Website: www.malone.edu
Type of School: 4-year, Private not-for-profit
Programs Offered: Bachelor's degree;Postbaccalaureate certificate;Master's degree
School Name: Marietta College
Accrediting Agency: North Central Association of Colleges and Schools, The Higher Learning Commission
Address: 215 Smith St, Marietta, Ohio 45750
Contact: (740) 376-4643
Website: www.marietta.edu
Type of School: 4-year, Private not-for-profit
Programs Offered: Associate's degree;Bachelor's degree;Master's degree
School Name: Mercy College of Northwest Ohio
Accrediting Agency: North Central Association of Colleges and Schools, The Higher Learning Commission
Address: 2221 Madison Avenue, Toledo, Ohio 43604-1132
Contact: (419) 251-1313
Website: www.mercycollege.edu
Type of School: 4-year, primarily associate's, Private not-for-profit
Programs Offered: Associate's degree;Bachelor's degree
School Name: Miami-Jacobs Career College
Accrediting Agency: Accrediting Council for Independent Colleges and Schools
Address: 630 Main St, Cincinnati, Ohio 45202
Contact: (513) 723-0551
Website: www.acr.edu
Type of School: 2-year, Private for-profit
Programs Offered: One but less than two years certificate;Associate's degree
School Name: Mount Carmel College of Nursing
Accrediting Agency: North Central Association of Colleges and Schools, The Higher Learning Commission
Address: 127 So. Davis Ave, Columbus, Ohio 43222-1504
Contact: (614) 234-5800
Website: www.mccn.edu
Type of School: 4-year, Private not-for-profit
Programs Offered: Bachelor's degree; Master's degree; Post-master's certificate
School Name: Mount Vernon Nazarene University
Accrediting Agency: North Central Association of Colleges and Schools, The Higher Learning Commission
Address: 800 Martinsburg Rd, Mount Vernon, Ohio 43050-9500
Contact: (740) 392-6868
Website: www.mvnu.edu
Type of School: 4-year, Private not-for-profit
Programs Offered: Associate's degree;Bachelor's degree;Master's degree
School Name: Muskingum University
Accrediting Agency: North Central Association of Colleges and Schools, The Higher Learning Commission
Address: 163 Stormont Street, New Concord, Ohio 43762
Contact: (740) 826-8211
Website: www.muskingum.edu
Type of School: 4-year, Private not-for-profit
Programs Offered: Bachelor's degree;Master's degree
School Name: Notre Dame College
Accrediting Agency: North Central Association of Colleges and Schools, The Higher Learning Commission
Address: 4545 College Rd, Cleveland, Ohio 44121-4293
Contact: (216) 381-1680
Website: www.notredamecollege.edu
Type of School: 4-year, Private not-for-profit
Programs Offered: Associate's degree;Bachelor's degree;Postbaccalaureate certificate;Master's degree
School Name: Ohio Christian University
Accrediting Agency: Association for Biblical Higher Education, Commission on Accreditation &  North Central Association of Colleges and Schools, The Higher Learning Commission
Address: 1476 Lancaster Pike, Circleville, Ohio 43113
Contact: (740) 474-8896
Website: www.ohiochristian.edu
Type of School: 4-year, Private not-for-profit
Programs Offered: Associate's degree;Bachelor's degree
School Name: Ohio College of Massotherapy Inc
Accrediting Agency: Accrediting Commission of Career Schools and Colleges of Technology
Address: 225 Heritage Woods Dr, Akron, Ohio 44321
Contact: (330) 665-1084
Website: www.ocm.edu
Type of School: 2-year, Private not-for-profit
Programs Offered: Less than one year certificate;One but less than two years certificate;Associate's degree
School Name: Ohio Dominican University
Accrediting Agency: North Central Association of Colleges and Schools, The Higher Learning Commission
Address: 1216 Sunbury Road, Columbus, Ohio 43219
Contact: (614) 253-2741
Website: www.ohiodominican.edu
Type of School: 4-year, Private not-for-profit
Programs Offered: Associate's degree;Bachelor's degree;Master's degree
School Name: Ohio Northern University
Accrediting Agency: North Central Association of Colleges and Schools, The Higher Learning Commission
Address: 525 S. Main St, Ada, Ohio 45810-1599
Contact: (419) 772-2000
Website: www.onu.edu/
Type of School: 4-year, Private not-for-profit
Programs Offered: Bachelor's degree;Postbaccalaureate certificate;Master's degree
School Name: Payne Theological Seminary
Accrediting Agency: North Central Association of Colleges and Schools, The Higher Learning Commission
Address: 1230 Wilberforce-Clifton Rd., P.O. Box 474, Wilberforce, Ohio 45384-0474
Contact: (937) 376-2946
Website: www.payne.edu
Type of School: 4-year, Private not-for-profit
Programs Offered: Master's degree
School Name: Sanford-Brown College-Middleburg Heights
Accrediting Agency: Accrediting Council for Independent Colleges and Schools; Accrediting Bureau of Health Education Schools
Address: 17535 Rosbough Dr Ste 100, Middleburg Heights, Ohio 44130
Contact: (440) 202-3232
Website: www.sbcleveland.com
Type of School: 2-year, Private for-profit
Programs Offered: One but less than two years certificate; Associate's degree; Two but less than 4 years certificate
School Name: Stautzenberger College-Brecksville
Accrediting Agency: Accrediting Council for Independent Colleges and Schools
Address: 8001 Katherine Boulevard, Brecksville, Ohio 44141
Contact: (440) 838-1999
Website: www.learnwhatyoulove.com
Type of School: 2-year, Private for-profit
Programs Offered: Associate's degree
School Name: Stautzenberger College-Maumee
Accrediting Agency: Accrediting Council for Independent Colleges and Schools
Address: 1796 Indian Wood Circle, Maumee, Ohio 43537-4007
Contact: (419) 866-0261
Website: www.sctoday.edu
Type of School: 2-year, Private for-profit
Programs Offered: Less than one year certificate; One but less than two years certificate; Associate's degree
School Name: Strayer University-Ohio
Accrediting Agency: Middle States Commission on Higher Education
Address: 4605 Duke Dr, Mason, Ohio 45040
Contact: (888) 378-7293
Website: www.sctoday.edu
Type of School: 4-year, Private for-profit
Programs Offered: Less than one year certificate; One but less than two years certificate; Associate's degree; Bachelor's degree;Postbaccalaureate certificate;Master's degree
School Name: The Art Institute of Ohio-Cincinnati
Accrediting Agency: Accrediting Commission of Career Schools and Colleges; Accrediting Council for Independent Colleges and Schools
Address: 8845 Governor's HIll Dr., Cincinnati, Ohio 45249
Contact: (513) 833-2400
Website: www.aioc.artinstitutes.edu
Type of School: 4-year, primarily associate's, Private for-profit
Programs Offered: One but less than two years certificate;Associate's degree;Bachelor's degree
School Name: The Christ College of Nursing and Health Sciences
Accrediting Agency: North Central Association of Colleges and Schools, The Higher Learning Commission
Address: 2139 Auburn Avenue, Cincinnati, Ohio 45219-2989
Contact: (513) 585-2401
Website: www.thechristcollege.edu
Type of School: 2-year, Private not-for-profit
Programs Offered: Associate's degree
School Name: The University of Findlay
Accrediting Agency: North Central Association of Colleges and Schools, The Higher Learning Commission
Address: 1000 N Main St, Findlay, Ohio 45840-3653
Contact: (419) 422-8313
Website: www.findlay.edu/
Type of School: 4-year, Private not-for-profit
Programs Offered: Associate's degree;Bachelor's degree;Master's degree;First-professional degree
School Name: Tiffin University
Accrediting Agency: North Central Association of Colleges and Schools, The Higher Learning Commission
Address: 155 Miami Street, Tiffin, Ohio 44883
Contact: (800) 968-6446 x6446
Website: www.tiffin.edu
Type of School: 4-year, Private not-for-profit
Programs Offered: Associate's degree;Bachelor's degree;Master's degree
School Name: Trinity Lutheran Seminary
Accrediting Agency: Commission on Accrediting of the Association of Theological Schools & North Central Association of Colleges and Schools, The Higher Learning Commission
Address: 2199 E Main St, Columbus, Ohio 43209-2334
Contact: (614) 235-4136
Website: www.trinitylutheranseminary.edu
Type of School: 4-year, Private not-for-profit
Programs Offered: Postbaccalaureate certificate;Master's degree;First-professional degree
School Name: Tri-State Bible College
Accrediting Agency: Association for Biblical Higher Education, Commission on Accreditation
Address: 506 Margaret St, South Point, Ohio 45680
Contact: (740) 377-2520
Website: www.tsbc.edu
Type of School: 4-year, primarily associate's, Private not-for-profit
Programs Offered: One but less than two years certificate;Associate's degree;Bachelor's degree
School Name: Union Institute & University
Accrediting Agency: North Central Association of Colleges and Schools, The Higher Learning Commission
Address: 440 E McMillan St, Cincinnati, Ohio 45206-1925
Contact: (800) 486-3116
Website: www.myunion.edu
Type of School: 4-year, Private not-for-profit
Programs Offered: Bachelor's degree;Master's degree;Post-master's certificate
School Name: United Theological Seminary
Accrediting Agency: Commission on Accrediting of the Association of Theological Schools  &  North Central Association of Colleges and Schools, The Higher Learning Commission
Address: 4501 Denlinger Rd., Dayton, Ohio 45426-2308
Contact: (937) 529-2201 x3200
Website: www.united.edu
Type of School: 4-year, Private not-for-profit
Programs Offered: Postbaccalaureate certificate;Master's degree;Doctor's degree;First-professional degree
School Name: University of Dayton
Accrediting Agency: North Central Association of Colleges and Schools, The Higher Learning Commission
Address: 300 College Pk, Dayton, Ohio 45469
Contact: (937) 229-1000
Website: www.udayton.edu
Type of School: 4-year, Private not-for-profit
Programs Offered: Bachelor's degree;Master's degree;Post-master's certificate
School Name: University of Northwestern Ohio
Accrediting Agency: North Central Association of Colleges and Schools, The Higher Learning Commission
Address: 1441 N Cable Rd, Lima, Ohio 45805
Contact: (419) 998-3140
Website: www.unoh.edu
Type of School: 4-year, primarily associate's, Private not-for-profit
Programs Offered: One but less than two years certificate;Associate's degree;Bachelor's degree;Master's degree
School Name: University of Phoenix-Cincinnati Campus
Accrediting Agency: North Central Association of Colleges and Schools, The Higher Learning Commission
Address: 9050 Centre Point, Suite 250, West Chester, Ohio 45069-4875
Contact: (513) 772-9600
Website: www.phoenix.edu
Type of School: 4-year, Private for-profit
Programs Offered: Bachelor's degree;Master's degree
School Name: University of Phoenix-Cleveland Campus
Accrediting Agency: North Central Association of Colleges and Schools, The Higher Learning Commission
Address: 5005 Rockside Road, Suite 130, Independence, Ohio 44131-2194
Contact: (216) 447-8807
Website: www.phoenix.edu
Type of School: 4-year, Private for-profit
Programs Offered: Bachelor's degree;Master's degree
School Name: University of Phoenix-Columbus Ohio Campus
Accrediting Agency: North Central Association of Colleges and Schools, The Higher Learning Commission
Address: 8415 Pulsar Place, Columbus, Ohio 43240-4032
Contact: (614) 433-0095
Website: www.phoenix.edu
Type of School: 4-year, Private for-profit
Programs Offered: Bachelor's degree;Master's degree
School Name: University of Phoenix-Columbus Ohio Campus
Accrediting Agency: North Central Association of Colleges and Schools, The Higher Learning Commission
Address: 8415 Pulsar Place, Columbus, Ohio 43240-4032
Contact: (614) 433-0095
Website: www.phoenix.edu
Type of School: 4-year, Private for-profit
Programs Offered: Bachelor's degree;Master's degree
School Name: University of Rio Grande
Accrediting Agency: North Central Association of Colleges and Schools, The Higher Learning Commission
Address: 218 N College Ave, Rio Grande, Ohio 45674
Contact: (740) 245-7206
Website: www.rio.edu
Type of School: 4-year, Private not-for-profit
Programs Offered: One but less than two years certificate;Associate's degree;Bachelor's degree;Master's degree
School Name: Urbana University
Accrediting Agency: North Central Association of Colleges and Schools, The Higher Learning Commission
Address: 579 College Way, Urbana, Ohio 43078-2091
Contact: (937) 484-1301
Website: www.urbana.edu
Type of School: 4-year, Private not-for-profit
Programs Offered: One but less than two years certificate;Associate's degree;Bachelor's degree;Master's degree
School Name: Walsh University
Accrediting Agency: North Central Association of Colleges and Schools, The Higher Learning Commission
Address: 2020 East Maple St, North Canton, Ohio 44720-3396
Contact: (330) 499-7090
Website: www.walsh.edu
Type of School: 4-year, Private not-for-profit
Programs Offered: Associate's degree;Bachelor's degree;Master's degree;Doctor's degree – professional practice
School Name: Winebrenner Theological Seminary
Accrediting Agency: Commission on Accrediting of the Association of Theological Schools  & North Central Association of Colleges and Schools, The Higher Learning Commission
Address: 950 North Main Street, Findlay, Ohio 45840
Contact: (419) 434-4200
Website: www.winebrenner.edu
Type of School: 4-year, Private not-for-profit
Programs Offered: Master's degree;Doctor's degree;First-professional degree
School Name: Xavier University
Accrediting Agency: North Central Association of Colleges and Schools, The Higher Learning Commission
Address: 3800 Victory Parkway, Cincinnati, Ohio 45207-1092
Contact: (513) 745-3000
Website: www.xavier.edu
Type of School: 4-year, Private not-for-profit
Programs Offered: Less than one year certificate;Associate's degree;Bachelor's degree;Postbaccalaureate certificate;Master's degree;Post-master's certificate;Doctor's degree
Public Online Schools in Ohio
School Name: Air Force Institute of Technology-Graduate School of Engineering & Management
Accrediting Agency: North Central Association of Colleges and Schools, The Higher Learning Commission
Address: 2950 Hobson Way-Wright Patterson AFB, Dayton, Ohio 45433-7765
Contact: (937) 255-3636
Website: www.afit.edu
Type of School: 4-year, Public
Programs Offered: Master's degree;Doctor's degree
School Name: Apollo Career Center
Accrediting Agency: North Central Association Commission on Accreditation and School Improvement, Board of Trustees
Address: 3325 Shawnee Rd, Lima, Ohio 45806-1454
Contact: (419) 998-3000
Website: www.apollocareercenter.com
Type of School: < 2-year, Public
Programs Offered: Less than one year certificate;One but less than two years certificate
School Name: Ashland County-West Holmes Career Center
Accrediting Agency: North Central Association Commission on Accreditation and School Improvement
Address: 1783 State Route 60, Ashland, Ohio 44805-9377
Contact: (419) 289-3313
Website: www.acwhcc-jvs.k12.oh.us
Type of School: < 2-year, Public
Programs Offered: Less than one year certificate; One but less than two years certificate
School Name: Auburn Career Center
Accrediting Agency: North Central Association Commission on Accreditation and School Improvement, Board of Trustees
Address: 8140 Auburn Rd, Concord Twp, Ohio 44077
Contact: (800) 544-9750 x8017
Website: www.auburncc.org
Type of School: < 2-year, Public
Programs Offered: Less than one year certificate;One but less than two years certificate
School Name: Belmont Technical College
Accrediting Agency: North Central Association of Colleges and Schools, The Higher Learning Commission
Address: 120 Fox Shannon Place, Saint Clairsville, Ohio 43950
Contact: (740) 695-9500
Website: www.btc.edu
Type of School: 2-year, Public
Programs Offered: Less than one year certificate; One but less than two years certificate; Associate's degree
School Name: Bowling Green State University-Firelands
Accrediting Agency: North Central Association of Colleges and Schools, The Higher Learning Commission
Address: One University Drive, Huron, Ohio 44839-9791
Contact: (419) 433-5560
Website: www.firelands.bgsu.edu
Type of School: 4-year, primarily associate's, Public
Programs Offered: One but less than two years certificate;Associate's degree;Bachelor's degree
School Name: Bowling Green State University-Main Campus
Accrediting Agency: North Central Association of Colleges and Schools, The Higher Learning Commission
Address: 220 McFall Ctr, Bowling Green, Ohio 43403
Contact: (419) 372-2531
Website: www.bgsu.edu
Type of School: 4-year, Public
Programs Offered: Bachelor's degree;Master's degree;Post-master's certificate;Doctor's degree
School Name: Career and Technology Education Centers of Licking County
Accrediting Agency: North Central Association Commission on Accreditation and School Improvement, Board of Trustees
Address: 150 Price Rd, Newark, Ohio 43055-3399
Contact: (614) 364-2333
Website: www.c-tec.edu
Type of School: 2-year, Public
Programs Offered: Less than one year certificate;One but less than two years certificate;Two but less than 4 years certificate
School Name: Cincinnati State Technical and Community College
Accrediting Agency: North Central Association of Colleges and Schools, The Higher Learning Commission
Address: 3520 Central Parkway, Cincinnati, Ohio 45223-2690
Contact: (513) 569-1500
Website: www.cincinnatistate.edu
Type of School: 2-year, Public
Programs Offered: Less than one year certificate;One but less than two years certificate;Associate's degree
School Name: Clark State Community College
Accrediting Agency: North Central Association of Colleges and Schools, The Higher Learning Commission
Address: 570 E Leffel Ln, Springfield, Ohio 45501-0570
Contact: (937) 325-0691
Website: www.clarkstate.edu
Type of School: 2-year, Public
Programs Offered: One but less than two years certificate;Associate's degree
School Name: Cleveland State University
Accrediting Agency: North Central Association of Colleges and Schools, The Higher Learning Commission
Address: 2121 Euclid Avenue, Cleveland, Ohio 44115-2214
Contact: (216) 687-2000
Website: www.csuohio.edu/
Type of School: 4-year, Public
Programs Offered: Bachelor's degree;Postbaccalaureate certificate;Master's degree;Post-master's certificate;Doctor's degree;First-professional degree;First-professional certificate
School Name: Columbus State Community College
Accrediting Agency: North Central Association of Colleges and Schools, The Higher Learning Commission
Address: 550 E Spring St, Columbus, Ohio 43215
Contact: (614) 287-5353
Website: www.cscc.edu
Type of School: 2-year, Public
Programs Offered: Less than one year certificate; One but less than two years certificate; Associate's degree
School Name: Cuyahoga Community College District
Accrediting Agency: North Central Association of Colleges and Schools, The Higher Learning Commission
Address: 700 Carnegie Ave, Cleveland, Ohio 44115-2878
Contact: (800) 954-8742
Website: www.tri-c.edu
Type of School: 2-year, Public
Programs Offered: One but less than two years certificate; Associate's degree
School Name: Cuyahoga Valley Career Center
Accrediting Agency: North Central Association Commission on Accreditation and School Improvement
Address: 8001 Brecksville Road, Brecksville, Ohio 44141-1296
Contact: (440) 746-8230
Website: www.cvccworks.com
Type of School: < 2-year, Public
Programs Offered: One but less than two years certificate
School Name: Edison State Community College
Accrediting Agency: North Central Association of Colleges and Schools, The Higher Learning Commission
Address: 1973 Edison Dr, Piqua, Ohio 45356-9239
Contact: (937) 778-8600
Website: www.edisonohio.edu
Type of School: 4-year, Public
Programs Offered: Less than one year certificate;One but less than two years certificate;Associate's degree;Postbaccalaureate certificate
School Name: Gallia Jackson Vinton Joint Vocational School District
Accrediting Agency: North Central Association Commission on Accreditation and School Improvement, Board of Trustees
Address: 351 Buckeye Hills Road, Rio Grande, Ohio 45674-0157
Contact: (740) 245-5334
Website: www.bhcc.k12.oh.us/
Type of School: < 2-year, Public
Programs Offered: Less than one year certificate;One but less than two years certificate
School Name: Hocking College
Accrediting Agency: North Central Association of Colleges and Schools, The Higher Learning Commission
Address: 3301 Hocking Parkway, Nelsonville, Ohio 45764
Contact: (740) 753-3591
Website: www.hocking.edu
Type of School: 2-year, Public
Programs Offered: Less than one year certificate;One but less than two years certificate;Associate's degree
School Name: James A Rhodes State College
Accrediting Agency: North Central Association of Colleges and Schools, The Higher Learning Commission
Address: 4240 Campus Dr, Lima, Ohio 45804
Contact: (419) 221-1112
Website: www.rhodesstate.edu
Type of School: 2-year, Public
Programs Offered: Less than one year certificate;One but less than two years certificate;Associate's degree
School Name: Kent State University Ashtabula Campus
Accrediting Agency: North Central Association of Colleges and Schools, The Higher Learning Commission
Address: 3300 Lake Road West, Ashtabula, Ohio 44004
Contact: (440) 964-3322
Website: www.ashtabula.kent.edu
Type of School: 2-year, Public
Programs Offered: Less than one year certificate;Associate's degree
School Name: Kent State University East Liverpool Campus
Accrediting Agency: North Central Association of Colleges and Schools, The Higher Learning Commission
Address: 400 E 4th St, East Liverpool, Ohio 43920
Contact: (330) 382-7400
Website: www.eliv.kent.edu
Type of School: 2-year, Public
Programs Offered: Less than one year certificate;Associate's degree
School Name: Kent State University Geauga Campus
Accrediting Agency: North Central Association of Colleges and Schools, The Higher Learning Commission
Address: 14111 Claridon-Troy Rd, Burton, Ohio 44021
Contact: (440) 834-4187
Website: www.geauga.kent.edu
Type of School: 2-year, Public
Programs Offered: Associate's degree
School Name: Kent State University Kent Campus
Accrediting Agency: North Central Association of Colleges and Schools, The Higher Learning Commission
Address: Kent, Ohio 44242-0001
Contact: (330) 672-3000
Website: www.kent.edu
Type of School: 4-year, Public
Programs Offered: Less than one year certificate;Bachelor's degree;Postbaccalaureate certificate;Master's degree;Post-master's certificate;Doctor's degree
School Name: Kent State University Salem Campus
Accrediting Agency: North Central Association of Colleges and Schools, The Higher Learning Commission
Address: 2491 State Route 45 South, Salem, Ohio 44460
Contact: (330) 332-0361
Website: www.salem.kent.edu
Type of School: 4-year, primarily associate's, Public
Programs Offered: Less than one year certificate;Associate's degree;Bachelor's degree
School Name: Kent State University Stark Campus
Accrediting Agency: North Central Association of Colleges and Schools, The Higher Learning Commission
Address: 6000 Frank Ave NW, Canton, Ohio 44720-7599
Contact: (330) 499-9600
Website: www.stark.kent.edu
Type of School: 2-year, Public
Programs Offered: Associate's degree
School Name: Kent State University Trumbull Campus
Accrediting Agency: North Central Association of Colleges and Schools, The Higher Learning Commission
Address: 4314 Mahoning Ave N.W., Warren, Ohio 44483
Contact: (330) 847-0571
Website: www.trumbull.kent.edu
Type of School: 2-year, Public
Programs Offered: Less than one year certificate;Associate's degree
School Name: Kent State University Tuscarawas Campus
Accrediting Agency: North Central Association of Colleges and Schools, The Higher Learning Commission
Address: 330 University Dr N.E., New Philadelphia, Ohio 44663-9403
Contact: (330) 339-3391
Website: www.tusc.kent.edu
Type of School: 2-year, Public
Programs Offered: Less than one year certificate;Associate's degree
School Name: Lakeland Community College
Accrediting Agency: North Central Association of Colleges and Schools, The Higher Learning Commission
Address: 7700 Clocktower Dr, Kirtland, Ohio 44094-5198
Contact: (440) 525-7000
Website: www.lakelandcc.edu
Type of School: 2-year, Public
Programs Offered: Less than one year certificate;One but less than two years certificate;Associate's degree;Two but less than 4 years certificate
School Name: Lorain County Community College
Accrediting Agency: North Central Association of Colleges and Schools, The Higher Learning Commission
Address: 1005 North Abbe Rd, Elyria, Ohio 44035-1691
Contact: (440) 366-5222
Website: www.lorainccc.edu
Type of School: 2-year, Public
Programs Offered: Less than one year certificate;One but less than two years certificate;Associate's degree
School Name: Marion Technical College
Accrediting Agency: North Central Association of Colleges and Schools, The Higher Learning Commission
Address: 1467 Mount Vernon Ave, Marion, Ohio 43302-5694
Contact: (740) 389-4636 x229
Website: www.mtc.edu
Type of School: 2-year, Public
Programs Offered: Less than one year certificate;One but less than two years certificate;Associate's degree
School Name: Medina County Career Center
Accrediting Agency: North Central Association Commission on Accreditation and School Improvement, Board of Trustees
Address: 1101 W Liberty St, Medina, Ohio 44256
Contact: (330) 725-8461
Website: www.mccc-jvsd.org
Type of School: < 2-year, Public
Programs Offered: Less than one year certificate;One but less than two years certificate
School Name: Miami University-Hamilton
Accrediting Agency: North Central Association of Colleges and Schools, The Higher Learning Commission
Address: 1601 University Blvd, Hamilton, Ohio 45011
Contact: (513) 785-3000
Website: www.ham.muohio.edu
Type of School: 4-year, Public
Programs Offered: One but less than two years certificate;Associate's degree;Bachelor's degree
School Name: Miami University-Middletown
Accrediting Agency: North Central Association of Colleges and Schools, The Higher Learning Commission
Address: 4200 E University Blvd, Middletown, Ohio 45042
Contact: (513) 727-3200
Website: www.mid.muohio.edu
Type of School: 4-year, Public
Programs Offered: One but less than two years certificate;Associate's degree;Bachelor's degree
School Name: North Central State College
Accrediting Agency: North Central Association of Colleges and Schools, The Higher Learning Commission
Address: 2441 Kenwood Circle, Mansfield, Ohio 44901-0698
Contact: (419) 755-4800
Website: www.ncstatecollege.edu
Type of School: 2-year, Public
Programs Offered: Less than one year certificate;One but less than two years certificate;Associate's degree
School Name: Northwest State Community College
Accrediting Agency: North Central Association of Colleges and Schools, The Higher Learning Commission
Address: 22600 State Route 34, Archbold, Ohio 43502-9542
Contact: (419) 267-5511
Website: www.northweststate.edu
Type of School: 2-year, Public
Programs Offered: One but less than two years certificate;Associate's degree
School Name: O C Collins Career Center
Accrediting Agency: North Central Association Commission on Accreditation and School Improvement, Board of Trustees
Address: 11627 State Rte 243, Chesapeake, Ohio 45619-0000
Contact: (740) 867-6641 x202
Website: www.collins-cc.edu
Type of School: 2-year, Public
Programs Offered: Less than one year certificate;One but less than two years certificate;Two but less than 4 years certificate
School Name: Ohio Hi Point Joint Vocational School District
Accrediting Agency: North Central Association Commission on Accreditation and School Improvement, Board of Trustees
Address: 2280 St Rte 540, Bellefontaine, Ohio 43311-9594
Contact: (937) 599-3010 x1398
Website: www.ohp.k12.oh.us
Type of School: < 2-year, Public
Programs Offered: Less than one year certificate;One but less than two years certificate
School Name: Ohio State University-Lima Campus
Accrediting Agency: North Central Association of Colleges and Schools, The Higher Learning Commission
Address: 4240 Campus Dr, Lima, Ohio 45804
Contact: (419) 995-8600
Website: www.lima.ohio-state.edu
Type of School: 4-year, Public
Programs Offered: Associate's degree;Bachelor's degree;Postbaccalaureate certificate;Master's degree
School Name: Ohio State University-Main Campus
Accrediting Agency: North Central Association of Colleges and Schools, The Higher Learning Commission
Address: 190 N. Oval Mall, Columbus, Ohio 43210
Contact: (614) 292-6446
Website: www.osu.edu
Type of School: 4-year, Public
Programs Offered: Associate's degree;Bachelor's degree;Postbaccalaureate certificate;Master's degree;Post-master's certificate
School Name: Ohio State University-Mansfield Campus
Accrediting Agency: North Central Association of Colleges and Schools, The Higher Learning Commission
Address: 1760 University Drive, Mansfield, Ohio 44906
Contact: (419) 755-4011
Website: www.mansfield.ohio-state.edu
Type of School: 4-year, primarily associate's, Public
Programs Offered: Associate's degree;Bachelor's degree;Postbaccalaureate certificate;Master's degree
School Name: Ohio State University-Marion Campus
Accrediting Agency: North Central Association of Colleges and Schools, The Higher Learning Commission
Address: 1465 Mount Vernon Ave, Marion, Ohio 43302-5695
Contact: (740) 389-6786
Website: www.marion.ohio-state.edu
Type of School: 4-year, primarily associate's, Public
Programs Offered: Associate's degree;Bachelor's degree;Postbaccalaureate certificate;Master's degree
School Name: Ohio State University-Newark Campus
Accrediting Agency: North Central Association of Colleges and Schools, The Higher Learning Commission
Address: 1179 University Dr, Newark, Ohio 43055
Contact: (740) 366-9333
Website: www.newark.osu.edu
Type of School: 4-year, primarily associate's, Public
Programs Offered: Associate's degree;Bachelor's degree;Postbaccalaureate certificate;Master's degree
School Name: Ohio University-Chillicothe Campus
Accrediting Agency: North Central Association of Colleges and Schools, The Higher Learning Commission
Address: 101 University Drive, Chillicothe, Ohio 45601-0629
Contact: (740) 774-7200
Website: www.chillicothe.ohiou.edu
Type of School: 4-year, primarily associate's, Public
Programs Offered: Associate's degree;Bachelor's degree;Master's degree
School Name: Ohio University-Eastern Campus
Accrediting Agency: North Central Association of Colleges and Schools, The Higher Learning Commission
Address: 45425 National Rd W, Saint Clairsville, Ohio 43950
Contact: (740) 695-1720
Website: www.eastern.ohiou.edu
Type of School: 4-year, primarily associate's, Public
Programs Offered: Associate's degree;Bachelor's degree;Master's degree
School Name: Ohio University-Lancaster Campus
Accrediting Agency: North Central Association of Colleges and Schools, The Higher Learning Commission
Address: 1570 Granville Pike, Lancaster, Ohio 43130-1037
Contact: (740) 654-6711
Website: www.lancaster.ohiou.edu
Type of School: 4-year, primarily associate's, Public
Programs Offered: Associate's degree;Bachelor's degree;Master's degree
School Name: Ohio University-Main Campus
Accrediting Agency: North Central Association of Colleges and Schools, The Higher Learning Commission
Address: Athens, Ohio 45701-2979
Contact: (740) 593-1000
Website: www.ohio.edu
Type of School: 4-year, Public
Programs Offered: Less than one year certificate;Associate's degree;Bachelor's degree;Postbaccalaureate certificate;Master's degree
School Name: Ohio University-Southern Campus
Accrediting Agency: North Central Association of Colleges and Schools, The Higher Learning Commission
Address: 1804 Liberty Ave, Ironton, Ohio 45638
Contact: (740) 533-4600
Website: www.southern.ohiou.edu/
Type of School: 4-year, primarily associate's, Public
Programs Offered: Associate's degree;Bachelor's degree;Master's degree
School Name: Ohio University-Zanesville Campus
Accrediting Agency: North Central Association of Colleges and Schools, The Higher Learning Commission
Address: 1425 Newark Rd, Zanesville, Ohio 43701
Contact: (740) 453-0762
Website: www.zanesville.ohiou.edu/
Type of School: 4-year, primarily associate's, Public
Programs Offered: Associate's degree;Bachelor's degree;Master's degree
School Name: Owens Community College
Accrediting Agency: North Central Association of Colleges and Schools, The Higher Learning Commission
Address: 30335 Oregon Rd, Perrysburg, Ohio 43551
Contact: (567) 661-7000
Website: www.owens.edu
Type of School: 2-year, Public
Programs Offered: Less than one year certificate;One but less than two years certificate;Associate's degree
School Name: Sandusky Career Center
Accrediting Agency: North Central Association Commission on Accreditation and School Improvement
Address: 2130 Hayes Ave, Sandusky, Ohio 44870
Contact: (419) 625-9294
Website: www.sanduskycareercenter.org
Type of School: 2-year, Public
Programs Offered: Less than one year certificate; One but less than two years certificate; Two but less than 4 years certificate
School Name: Shawnee State University
Accrediting Agency: North Central Association of Colleges and Schools, The Higher Learning Commission
Address: 940 Second St, Portsmouth, Ohio 45662
Contact: (740) 354-3205
Website: www.shawnee.edu
Type of School: 4-year, Public
Programs Offered: One but less than two years certificate;Associate's degree;Bachelor's degree;Master's degree
School Name: Sinclair Community College
Accrediting Agency: North Central Association of Colleges and Schools, The Higher Learning Commission
Address: 444 W. Third St., Dayton, Ohio 45402-1460
Contact: (937) 512-3000
Website: www.sinclair.edu
Type of School: 2-year, Public
Programs Offered: Less than one year certificate;One but less than two years certificate;Associate's degree
School Name: Southern State Community College
Accrediting Agency: North Central Association of Colleges and Schools, The Higher Learning Commission
Address: 100 Hobart Dr, Hillsboro, Ohio 45133
Contact: (937) 393-3431
Website: www.sscc.edu
Type of School: 2-year, Public
Programs Offered: Less than one year certificate;One but less than two years certificate;Associate's degree
School Name: Stark State College of Technology
Accrediting Agency: North Central Association of Colleges and Schools, The Higher Learning Commission
Address: 6200 Frank Ave NW, North Canton, Ohio 44720
Contact: (330) 494-6170
Website: www.starkstate.edu
Type of School: 2-year, Public
Programs Offered: One but less than two years certificate;Associate's degree
School Name: Terra State Community College
Accrediting Agency: North Central Association of Colleges and Schools, The Higher Learning Commission
Address: 2830 Napoleon Rd, Fremont, Ohio 43420-9670
Contact: (419) 334-8400
Website: www.terra.edu
Type of School: 2-year, Public
Programs Offered: Less than one year certificate;One but less than two years certificate;Associate's degree
School Name: Tolles Career and Technical Center
Accrediting Agency: North Central Association Commission on Accreditation and School Improvement
Address: 7877 US Hwy 42 S, Plain City, Ohio 43064
Contact: (614) 873-4666 x248
Website: www.tollestech.com
Type of School: < 2-year, Public
Programs Offered: Less than one year certificate; One but less than two years certificate
School Name: Tri-Rivers Career Center
Accrediting Agency: North Central Association Commission on Accreditation and School Improvement, Board of Trustees
Address: 2222 Marion- Mt. Gilead Rd, Marion, Ohio 43302
Contact: (740) 389-4681 x700
Website: www.tririvers.edu
Type of School: < 2-year, Public
Programs Offered: Less than one year certificate;One but less than two years certificate
School Name: University of Akron Main Campus
Accrediting Agency: North Central Association of Colleges and Schools, The Higher Learning Commission
Address: 302 Buchtel Common, Akron, Ohio 44325-4702
Contact: (330) 972-7111
Website: www.uakron.edu
Type of School: 4-year, Public
Programs Offered: Less than one year certificate;Associate's degree;Bachelor's degree;Postbaccalaureate certificate;Master's degree;Post-master's certificate;Doctor's degree;First-professional degree;First-professional certificate
School Name: University of Akron Wayne College
Accrediting Agency: North Central Association of Colleges and Schools, The Higher Learning Commission
Address: 1901 Smucker Rd, Orrville, Ohio 44667
Contact: (800) 221-8308
Website: www.wayne.uakron.edu
Type of School: 2-year, Public
Programs Offered: Less than one year certificate;Associate's degree
School Name: University of Cincinnati-Clermont College
Accrediting Agency: North Central Association of Colleges and Schools, The Higher Learning Commission
Address: 4200 Clermont College Dr, Batavia, Ohio 45103
Contact: (513) 732-5200
Website: www.clc.uc.edu
Type of School: 4-year, Public
Programs Offered: Less than one year certificate;One but less than two years certificate;Associate's degree;Postbaccalaureate certificate
School Name: University of Cincinnati-Main Campus
Accrediting Agency: North Central Association of Colleges and Schools, The Higher Learning Commission
Address: 2624 Clifton Avenue, Cincinnati, Ohio 45221-0063
Contact: (513) 556-6000
Website: www.uc.edu
Type of School: 4-year, Public
Programs Offered: Less than one year certificate;One but less than two years certificate;Associate's degree;Two but less than 4 years certificate;Bachelor's degree;Postbaccalaureate certificate;Master's degree;Post-master's certificate;Doctor's degree;First-professional degree
School Name: University of Cincinnati-Raymond Walters College
Accrediting Agency: North Central Association of Colleges and Schools, The Higher Learning Commission
Address: 9555 Plainfield Rd, Blue Ash, Ohio 45236-1096
Contact: (513) 745-5600
Website: www.rwc.uc.edu
Type of School: 4-year, Public
Programs Offered: Less than one year certificate;One but less than two years certificate;Associate's degree;Postbaccalaureate certificate
School Name: University of Toledo
Accrediting Agency: North Central Association of Colleges and Schools, The Higher Learning Commission
Address: 2801 W Bancroft, Toledo, Ohio 43606-3390
Contact: (419) 530-4636
Website: www.utoledo.edu/
Type of School: 4-year, Public
Programs Offered: Less than one year certificate;One but less than two years certificate;Associate's degree;Bachelor's degree;Postbaccalaureate certificate;Master's degree;Post-master's certificate;Doctor's degree;First-professional degree
School Name: Upper Valley Joint Vocational School
Accrediting Agency: North Central Association Commission on Accreditation and School Improvement, Board of Trustees
Address: 8811 Career Dr, Piqua, Ohio 45356
Contact: (937) 778-1980
Website: www.uvjvs.org
Type of School: < 2-year, Public
Programs Offered: Less than one year certificate;One but less than two years certificate
School Name: Warren County Career Center
Accrediting Agency: North Central Association Commission on Accreditation and School Improvement
Address: 3525 N St Rt 48, Lebanon, Ohio 45036-1099
Contact: (513) 932-8145 x5249
Website: www.wccareercenter.com
Type of School: 2-year, Public
Programs Offered: Less than one year certificate; One but less than two years certificate; Two but less than 4 years certificate
School Name: Washington State Community College
Accrediting Agency: North Central Association of Colleges and Schools, The Higher Learning Commission
Address: 710 Colegate Dr, Marietta, Ohio 45750
Contact: (740) 374-8716
Website: www.wscc.edu
Type of School: 2-year, Public
Programs Offered: Less than one year certificate;One but less than two years certificate;Associate's degree
School Name: Wayne County Schools Career Center
Accrediting Agency: North Central Association Commission on Accreditation and School Improvement, Board of Trustees
Address: 518 W Prospect St, Smithville, Ohio 44677
Contact: (330) 669-7070
Website: www.wcscc.org
Type of School: < 2-year, Public
Programs Offered: Less than one year certificate;One but less than two years certificate
School Name: Wright State University-Lake Campus
Accrediting Agency: North Central Association of Colleges and Schools, The Higher Learning Commission
Address: 7600 St. Rt. 703, Celina, Ohio 45822-2952
Contact: (419) 586-0300
Website: www.wright.edu
Type of School: 2-year, Public
Programs Offered: Associate's degree
School Name: Wright State University-Main Campus
Accrediting Agency: North Central Association of Colleges and Schools, The Higher Learning Commission
Address: 3640 Colonel Glenn Highway, Dayton, Ohio 45435-0001
Contact: (937) 775-3333
Website: www.wright.edu
Type of School: 4-year, Public
Programs Offered: Associate's degree;Bachelor's degree;Master's degree;Post-master's certificate;Doctor's degree;First-professional degree
School Name: Youngstown State University
Accrediting Agency: North Central Association of Colleges and Schools, The Higher Learning Commission
Address: One University Plaza, Youngstown, Ohio 44555-0001
Contact: (877) 468-6978
Website: www.ysu.edu
Type of School: 4-year, Public
Programs Offered: One but less than two years certificate;Associate's degree;Bachelor's degree;Postbaccalaureate certificate;Master's degree
School Name: Zane State College
Accrediting Agency: North Central Association of Colleges and Schools, The Higher Learning Commission
Address: 1555 Newark Rd, Zanesville, Ohio 43701-2626
Contact: (740) 454-2501
Website: www.zanestate.edu
Type of School: 2-year, Public
Programs Offered: Less than one year certificate;One but less than two years certificate;Associate's degree
For-Profit Online Schools in Ohio
School Name: Academy of Court Reporting-Cleveland
Accrediting Agency: Accrediting Council for Independent Colleges and Schools
Address: 2044 Euclid Avenue, Cleveland, Ohio 44115
Contact: (216) 861-3222
Website: www.acr.edu
Type of School: 2-year, Private for-profit
Programs Offered: One but less than two years certificate;Associate's degree
School Name: Alexandria School
Accrediting Agency: State Board of Career Colleges and Schools
Address: 28500 Miles Rd Ste P, Solon, Ohio 44139
Contact: (440) 914-0044
Website: www.alexandria-school.com
Type of School: < 2-year, Private for-profit
Programs Offered: Less than one year certificate
School Name: American Home Inspectors Training
Address: 303 Carroll St, Akron, Ohio 44325
Contact: (800) 441-9411 x5928
Website: www.ahit.com
Type of School: < 2-year, Private for-profit
Programs Offered: Less than one year certificate
School Name: Antonelli College
Accrediting Agency: Accrediting Commission of Career Schools and Colleges of Technology
Address: 124 E Seventh St, Cincinnati, Ohio 45202
Contact: (513) 241-4338
Website: www.antonellicollege.edu
Type of School: 2-year, Private for-profit
Programs Offered: One but less than two years certificate;Associate's degree
School Name: Bryant and Stratton College-Cleveland
Accrediting Agency: Middle States Association of Colleges and Schools, Commission on Higher Education
Address: 1700 E 13th St, Cleveland, Ohio 44114-3203
Contact: (216) 771-1700
Website: www.bryantstratton.edu
Type of School: 4-year, primarily associate's, Private for-profit
Programs Offered: Associate's degree;Bachelor's degree
School Name: Bryant and Stratton College-Eastlake Campus
Accrediting Agency: Middle States Association of Colleges and Schools, Commission on Higher Education
Address: 35350 Curtis Blvd., Eastlake, Ohio 44095
Contact: (440) 510-1112 x119
Website: www.bryantstratton.edu
Type of School: 4-year, primarily associate's, Private for-profit
Programs Offered: Associate's degree;Bachelor's degree
School Name: Chamberlain College of Nursing–Columbus Campus
Accrediting Agency: North Central Association of Colleges and Schools, The Higher Learning Commission
Address: 1350 Alum Creek Dr, Columbus, Ohio 43209
Contact: (614) 252-8890
Website: www.chamberlain.edu
Type of School: 4-year, Private for-profit
Programs Offered: Associate's degree;Bachelor's degree
School Name: Chancellor University
Accrediting Agency: North Central Association of Colleges and Schools, The Higher Learning Commission
Address: 3921 Chester Avenue, Cleveland, Ohio 44114
Contact: (216) 391-6937
Website: www.myers.edu
Type of School: 4-year, Private for-profit
Programs Offered: Less than one year certificate; One but less than two years certificate;Associate's degree; Bachelor's degree; Master's degree
School Name: Cleveland Institute of Electronics
Accrediting Agency: Distance Education and Training Council, Accrediting Commission
Address: 1776 E 17th St, Cleveland, Ohio 44114
Contact: (216) 781-9400
Website: www.cie-wc.edu
Type of School: 2-year, Private for-profit
Programs Offered: Less than one year certificate; One but less than two years certificate; Associate's degree; Two but less than 4 years certificate
School Name: Davis College
Accrediting Agency: North Central Association of Colleges and Schools, The Higher Learning Commission
Address: 4747 Monroe St, Toledo, Ohio 43623
Contact: (419) 473-2700
Website: www.daviscollege.edu
Type of School: 2-year, Private for-profit
Programs Offered: One but less than two years certificate;Associate's degree
School Name: Daymar College-Jackson
Accrediting Agency: Accrediting Council for Independent Colleges and Schools
Address: 980 East Main Street, Jackson, Ohio 45640
Contact: (740) 286-1554
Website: www.daymarcollege.edu
Type of School: 2-year, Private for-profit
Programs Offered: Associate's degree
School Name: DeVry University-Ohio
Accrediting Agency: North Central Association of Colleges and Schools, The Higher Learning Commission
Address: 1350 Alum Creek Dr, Columbus, Ohio 43209-2705
Contact: (614) 253-7291
Website: www.devry.edu
Type of School: 4-year, Private for-profit
Programs Offered: Associate's degree;Bachelor's degree;Master's degree
School Name: Fortis College-Centeville
Accrediting Agency: Accrediting Commission of Career Schools and Colleges
Address: 555 E Alex Bell Rd, Centerville, Ohio 45459-2712
Contact: (937) 433-3410
Website: www.fortiscollege.edu
Type of School: 2-year, Private for-profit
Programs Offered: Less than one year certificate; One but less than two years certificate; Associate's degree
School Name: Galen College of Nursing-Cincinnati
Address: 100 E Business Way Ste 200, Cincinnati, Ohio 45241
Contact: (513) 475-3600
Website: www.galencollege.edu/cincinnati
Type of School: 2-year, Private for-profit
Programs Offered: Associate's degree
School Name: Harrison College-Grove City
Accrediting Agency: Accrediting Council for Independent Colleges and Schools
Address: 3880 Jackpot Rd, Grove City, Ohio 43123
Contact: (614) 539-8800
Website: www.harrison.edu
Type of School: 2-year, Private for-profit
Programs Offered: Two but less than 4 years certificate; Associate's degree
School Name: Hondros College
Accrediting Agency: Accrediting Council for Independent Colleges and Schools
Address: 4140 Executive Parkway, Westerville, Ohio 43081
Contact: (888) 466-3767
Website: www.hondros.edu
Type of School: 2-year, Private for-profit
Programs Offered: One but less than two years certificate;Associate's degree
School Name: ITT Technical Institute–Akron
Accrediting Agency: Accrediting Council for Independent Colleges and Schools
Address: 3428 W Market St, Akron, Ohio 44333
Contact: (330) 865-8600
Website: www.itt-tech.edu
Type of School: 4-year, primarily associate's, Private for-profit
Programs Offered: Associate's degree; Bachelor's degree
School Name: ITT Technical Institute–Columbus
Accrediting Agency: Accrediting Council for Independent Colleges and Schools
Address: 4717 Hilton Corporate Dr, Columbus, Ohio 43232
Contact: (614) 868-2000
Website: www.itt-tech.edu
Type of School: 4-year, primarily associate's, Private for-profit
Programs Offered: Associate's degree;Bachelor's degree
School Name: ITT Technical Institute-Dayton
Accrediting Agency: Accrediting Council for Independent Colleges and Schools
Address: 3325 Stop Eight Rd, Dayton, Ohio 45414-3877
Contact: (937) 264-7700
Website: www.itt-tech.edu
Type of School: 2-year, Private for-profit
Programs Offered: Associate's degree
School Name: ITT Technical Institute-Hilliard
Accrediting Agency: Accrediting Council for Independent Colleges and Schools
Address: 3781 Park Mill Run, Suite 1, Hilliard, Ohio 43026
Contact: (614) 771-4888
Website: www.itt-tech.edu
Type of School: 2-year, Private for-profit
Programs Offered: Associate's degree
School Name: ITT Technical Institute-Maumee
Accrediting Agency: Accrediting Council for Independent Colleges and Schools
Address: 1656 Henthorne Blvd. – Suite B, Maumee, Ohio 43537
Contact: (419) 861-6500
Website: www.itt-tech.edu
Type of School: 4-year, primarily associate's, Private for-profit
Programs Offered: Associate's degree; Bachelor's degree
School Name: ITT Technical Institute-Norwood
Accrediting Agency: Accrediting Council for Independent Colleges and Schools
Address: 4750 Wesley Ave, Norwood, Ohio 45212
Contact: (513) 531-8300
Website: www.itt-tech.edu
Type of School: 2-year, Private for-profit
Programs Offered: Associate's degree
School Name: ITT Technical Institute-Strongsville
Accrediting Agency: Accrediting Council for Independent Colleges and Schools
Address: 14955 Sprague Rd, Strongsville, Ohio 44136
Contact: (440) 234-9091
Website: www.itt-tech.edu
Type of School: 2-year, Private for-profit
Programs Offered: Associate's degree
School Name: ITT Technical Institute-Warrensville Heights
Accrediting Agency: Accrediting Council for Independent Colleges and Schools
Address: 4700 Richmond Rd., Suite 3000, Warrensville Heights, Ohio 44128
Contact: (216) 896-6500
Website: www.itt-tech.edu
Type of School: 2-year, Private for-profit
Programs Offered: Associate's degree
School Name: ITT Technical Institute-Youngstown
Accrediting Agency: Accrediting Council for Independent Colleges and Schools
Address: 1030 N Meridian Rd, Youngstown, Ohio 44509-4098
Contact: (330) 270-1600
Website: www.itt-tech.edu
Type of School: 2-year, Private for-profit
Programs Offered: Associate's degree
School Name: Miami-Jacobs Career College
Accrediting Agency: Accrediting Council for Independent Colleges and Schools
Address: 630 Main St, Cincinnati, Ohio 45202
Contact: (513) 723-0551
Website: www.acr.edu
Type of School: 2-year, Private for-profit
Programs Offered: One but less than two years certificate;Associate's degree
School Name: Sanford-Brown College-Middleburg Heights
Accrediting Agency: Accrediting Council for Independent Colleges and Schools; Accrediting Bureau of Health Education Schools
Address: 17535 Rosbough Dr Ste 100, Middleburg Heights, Ohio 44130
Contact: (440) 202-3232
Website: www.sbcleveland.com
Type of School: 2-year, Private for-profit
Programs Offered: One but less than two years certificate; Associate's degree; Two but less than 4 years certificate
School Name: Stautzenberger College-Brecksville
Accrediting Agency: Accrediting Council for Independent Colleges and Schools
Address: 8001 Katherine Boulevard, Brecksville, Ohio 44141
Contact: (440) 838-1999
Website: www.learnwhatyoulove.com
Type of School: 2-year, Private for-profit
Programs Offered: Associate's degree
School Name: Stautzenberger College-Maumee
Accrediting Agency: Accrediting Council for Independent Colleges and Schools
Address: 1796 Indian Wood Circle, Maumee, Ohio 43537-4007
Contact: (419) 866-0261
Website: www.sctoday.edu
Type of School: 2-year, Private for-profit
Programs Offered: Less than one year certificate; One but less than two years certificate; Associate's degree
School Name: Strayer University-Ohio
Accrediting Agency: Middle States Commission on Higher Education
Address: 4605 Duke Dr, Mason, Ohio 45040
Contact: (888) 378-7293
Website: www.sctoday.edu
Type of School: 4-year, Private for-profit
Programs Offered: Less than one year certificate; One but less than two years certificate; Associate's degree; Bachelor's degree; Postbaccalaureate certificate; Master's degree
School Name: The Art Institute of Ohio-Cincinnati
Accrediting Agency: Accrediting Commission of Career Schools and Colleges; Accrediting Council for Independent Colleges and Schools
Address: 8845 Governor's HIll Dr., Cincinnati, Ohio 45249
Contact: (513) 833-2400
Website: www.aioc.artinstitutes.edu
Type of School: 4-year, primarily associate's, Private for-profit
Programs Offered: One but less than two years certificate; Associate's degree; Bachelor's degree
School Name: University of Phoenix-Cincinnati Campus
Accrediting Agency: North Central Association of Colleges and Schools, The Higher Learning Commission
Address: 9050 Centre Point, Suite 250, West Chester, Ohio 45069-4875
Contact: (513) 772-9600
Website: www.phoenix.edu
Type of School: 4-year, Private for-profit
Programs Offered: Bachelor's degree;Master's degree
School Name: University of Phoenix-Cleveland Campus
Accrediting Agency: North Central Association of Colleges and Schools, The Higher Learning Commission
Address: 5005 Rockside Road, Suite 130, Independence, Ohio 44131-2194
Contact: (216) 447-8807
Website: www.phoenix.edu
Type of School: 4-year, Private for-profit
Programs Offered: Bachelor's degree;Master's degree
Faith-Based Online Schools in Ohio
School Name: Ashland University
Accrediting Agency: North Central Association Commission on Accreditation and School Improvement, Board of Trustees
Address: 401 College Ave, Ashland, Ohio 44805
Contact: (419) 289-4142
Website: www.ashland.edu
Type of School: 4-year, Private not-for-profit
Programs Offered: Less than one year certificate;One but less than two years certificate;Associate's degree;Bachelor's degree;Postbaccalaureate certificate;Master's degree
School Name: Baldwin-Wallace College
Accrediting Agency: North Central Association of Colleges and Schools, The Higher Learning Commission
Address: 275 Eastland Rd, Berea, Ohio 44017-2088
Contact: (440) 826-2900
Website: www.bw.edu
Type of School: 4-year, Private not-for-profit
Programs Offered: Less than one year certificate;Bachelor's degree;Master's degree
School Name: Cedarville University
Accrediting Agency: North Central Association of Colleges and Schools, The Higher Learning Commission
Address: 251 N. Main Street, Cedarville, Ohio 45314-0601
Contact: (937) 766-2211
Website: www.cedarville.edu
Type of School: 4-year, Private not-for-profit
Programs Offered: One but less than two years certificate;Bachelor's degree;Master's degree
School Name: Cedarville University
Accrediting Agency: North Central Association of Colleges and Schools, The Higher Learning Commission
Address: 251 N. Main Street, Cedarville, Ohio 45314-0601
Contact: (937) 766-2211
Website: www.cedarville.edu
Type of School: 4-year, Private not-for-profit
Programs Offered: One but less than two years certificate;Bachelor's degree;Master's degree
School Name: Cincinnati Christian University
Accrediting Agency: Association for Biblical Higher Education, Commission on Accreditation  &  North Central Association of Colleges and Schools, The Higher Learning Commission
Address: 2700 Glenway Ave, Cincinnati, Ohio 45204-3200
Contact: (513) 244-8100
Website: www.ccuniversity.edu
Type of School: 4-year, Private not-for-profit
Programs Offered: Associate's degree;Bachelor's degree;Master's degree
School Name: Davis College
Accrediting Agency: North Central Association of Colleges and Schools, The Higher Learning Commission
Address: 4747 Monroe St, Toledo, Ohio 43623
Contact: (419) 473-2700
Website: www.daviscollege.edu
Type of School: 2-year, Private for-profit
Programs Offered: One but less than two years certificate; Associate's degree
School Name: Defiance College
Accrediting Agency: North Central Association of Colleges and Schools, The Higher Learning Commission
Address: 701 N Clinton, Defiance, Ohio 43512
Contact: (419) 784-4010
Website: www.defiance.edu
Type of School: 4-year, Private not-for-profit
Programs Offered: Associate's degree;Two but less than 4 years certificate;Bachelor's degree;Master's degree
School Name: Franciscan University of Steubenville
Accrediting Agency: North Central Association of Colleges and Schools, The Higher Learning Commission
Address: 1235 University Blvd, Steubenville, Ohio 43952-1763
Contact: (740) 283-3771
Website: www.franciscan.edu
Type of School: 4-year, Private not-for-profit
Programs Offered: Associate's degree;Bachelor's degree;Master's degree
School Name: Gods Bible School and College
Accrediting Agency: Association for Biblical Higher Education, Commission on Accreditation; North Central Association of Colleges and Schools, The Higher Learning Commission
Address: 1810 Young Street, Cincinnati, Ohio 45202-6838
Contact: (513) 721-7944
Website: www.gbs.edu
Type of School: 4-year, Private not-for-profit
Programs Offered: Associate's degree;Bachelor's degree
School Name: Heidelberg University
Accrediting Agency: North Central Association of Colleges and Schools, The Higher Learning Commission
Address: 310 E Market St, Tiffin, Ohio 44883-2462
Contact: (419) 448-2000
Website: www.heidelberg.edu
Type of School: 4-year, Private not-for-profit
Programs Offered: Bachelor's degree;Master's degree
School Name: Hiram College
Accrediting Agency: North Central Association of Colleges and Schools, The Higher Learning Commission
Address: Hinsdale Hall Third Floor, Hiram, Ohio 44234-0067
Contact: (330) 569-3211
Website: www.hiram.edu
Type of School: 4-year, Private not-for-profit
Programs Offered: Bachelor's degree; Master's degree
School Name: John Carroll University
Accrediting Agency: North Central Association of Colleges and Schools, The Higher Learning Commission
Address: 20700 N Park Blvd, Cleveland, Ohio 44118-4581
Contact: (216) 397-1886
Website: www.jcu.edu
Type of School: 4-year, Private not-for-profit
Programs Offered: Bachelor's degree;Master's degree;Post-master's certificate
School Name: Kettering College of Medical Arts
Accrediting Agency: North Central Association of Colleges and Schools, The Higher Learning Commission
Address: 3737 Southern Blvd, Kettering, Ohio 45429-1299
Contact: (937) 395-8601
Website: www.kcma.edu
Type of School: 4-year, primarily associate's, Private not-for-profit
Programs Offered: Less than one year certificate;Associate's degree;Bachelor's degree;Master's degree
School Name: Lourdes College
Accrediting Agency: North Central Association of Colleges and Schools, The Higher Learning Commission
Address: 6832 Convent Blvd, Sylvania, Ohio 43560-2898
Contact: (419) 885-3211
Website: www.lourdes.edu
Type of School: 4-year, Private not-for-profit
Programs Offered: Less than one year certificate;One but less than two years certificate;Associate's degree;Bachelor's degree;Postbaccalaureate certificate;Master's degree
School Name: Malone University
Accrediting Agency: North Central Association of Colleges and Schools, The Higher Learning Commission
Address: 2600 Cleveland Avenue NW, Canton, Ohio 44709-3897
Contact: (330) 471-8100
Website: www.malone.edu
Type of School: 4-year, Private not-for-profit
Programs Offered: Bachelor's degree;Postbaccalaureate certificate;Master's degree
School Name: Mercy College of Northwest Ohio
Accrediting Agency: North Central Association of Colleges and Schools, The Higher Learning Commission
Address: 2221 Madison Avenue, Toledo, Ohio 43604-1132
Contact: (419) 251-1313
Website: www.mercycollege.edu
Type of School: 4-year, primarily associate's, Private not-for-profit
Programs Offered: Associate's degree;Bachelor's degree
School Name: Mount Carmel College of Nursing
Accrediting Agency: North Central Association of Colleges and Schools, The Higher Learning Commission
Address: 127 So. Davis Ave, Columbus, Ohio 43222-1504
Contact: (614) 234-5800
Website: www.mccn.edu
Type of School: 4-year, Private not-for-profit
Programs Offered: Bachelor's degree; Master's degree; Post-master's certificate
School Name: Mount Vernon Nazarene University
Accrediting Agency: North Central Association of Colleges and Schools, The Higher Learning Commission
Address: 800 Martinsburg Rd, Mount Vernon, Ohio 43050-9500
Contact: (740) 392-6868
Website: www.mvnu.edu
Type of School: 4-year, Private not-for-profit
Programs Offered: Associate's degree;Bachelor's degree;Master's degree
School Name: Muskingum University
Accrediting Agency: North Central Association of Colleges and Schools, The Higher Learning Commission
Address: 163 Stormont Street, New Concord, Ohio 43762
Contact: (740) 826-8211
Website: www.muskingum.edu
Type of School: 4-year, Private not-for-profit
Programs Offered: Bachelor's degree;Master's degree
School Name: Notre Dame College
Accrediting Agency: North Central Association of Colleges and Schools, The Higher Learning Commission
Address: 4545 College Rd, Cleveland, Ohio 44121-4293
Contact: (216) 381-1680
Website: www.notredamecollege.edu
Type of School: 4-year, Private not-for-profit
Programs Offered: Associate's degree;Bachelor's degree;Postbaccalaureate certificate;Master's degree
School Name: Ohio Christian University
Accrediting Agency: Association for Biblical Higher Education, Commission on Accreditation &  North Central Association of Colleges and Schools, The Higher Learning Commission
Address: 1476 Lancaster Pike, Circleville, Ohio 43113
Contact: (740) 474-8896
Website: www.ohiochristian.edu
Type of School: 4-year, Private not-for-profit
Programs Offered: Associate's degree;Bachelor's degree
School Name: Ohio Dominican University
Accrediting Agency: North Central Association of Colleges and Schools, The Higher Learning Commission
Address: 1216 Sunbury Road, Columbus, Ohio 43219
Contact: (614) 253-2741
Website: www.ohiodominican.edu
Type of School: 4-year, Private not-for-profit
Programs Offered: Associate's degree;Bachelor's degree;Master's degree
School Name: Ohio Northern University
Accrediting Agency: North Central Association of Colleges and Schools, The Higher Learning Commission
Address: 525 S. Main St, Ada, Ohio 45810-1599
Contact: (419) 772-2000
Website: www.onu.edu/
Type of School: 4-year, Private not-for-profit
Programs Offered: Bachelor's degree;Postbaccalaureate certificate;Master's degree
School Name: Payne Theological Seminary
Accrediting Agency: North Central Association of Colleges and Schools, The Higher Learning Commission
Address: 1230 Wilberforce-Clifton Rd., P.O. Box 474, Wilberforce, Ohio 45384-0474
Contact: (937) 376-2946
Website: www.payne.edu
Type of School: 4-year, Private not-for-profit
Programs Offered: Master's degree
School Name: The Christ College of Nursing and Health Sciences
Accrediting Agency: North Central Association of Colleges and Schools, The Higher Learning Commission
Address: 2139 Auburn Avenue, Cincinnati, Ohio 45219-2989
Contact: (513) 585-2401
Website: www.thechristcollege.edu
Type of School: 2-year, Private not-for-profit
Programs Offered: Associate's degree
School Name: Trinity Lutheran Seminary
Accrediting Agency: Commission on Accrediting of the Association of Theological Schools & North Central Association of Colleges and Schools, The Higher Learning Commission
Address: 2199 E Main St, Columbus, Ohio 43209-2334
Contact: (614) 235-4136
Website: www.trinitylutheranseminary.edu
Type of School: 4-year, Private not-for-profit
Programs Offered: Postbaccalaureate certificate;Master's degree;First-professional degree
School Name: Tri-State Bible College
Accrediting Agency: Association for Biblical Higher Education, Commission on Accreditation
Address: 506 Margaret St, South Point, Ohio 45680
Contact: (740) 377-2520
Website: www.tsbc.edu
Type of School: 4-year, primarily associate's, Private not-for-profit
Programs Offered: One but less than two years certificate;Associate's degree;Bachelor's degree
School Name: United Theological Seminary
Accrediting Agency: Commission on Accrediting of the Association of Theological Schools  &  North Central Association of Colleges and Schools, The Higher Learning Commission
Address: 4501 Denlinger Rd., Dayton, Ohio 45426-2308
Contact: (937) 529-2201 x3200
Website: www.united.edu
Type of School: 4-year, Private not-for-profit
Programs Offered: Postbaccalaureate certificate;Master's degree;Doctor's degree;First-professional degree
School Name: University of Dayton
Accrediting Agency: North Central Association of Colleges and Schools, The Higher Learning Commission
Address: 300 College Pk, Dayton, Ohio 45469
Contact: (937) 229-1000
Website: www.udayton.edu
Type of School: 4-year, Private not-for-profit
Programs Offered: Bachelor's degree;Master's degree;Post-master's certificate
School Name: Walsh University
Accrediting Agency: North Central Association of Colleges and Schools, The Higher Learning Commission
Address: 2020 East Maple St, North Canton, Ohio 44720-3396
Contact: (330) 499-7090
Website: www.walsh.edu
Type of School: 4-year, Private not-for-profit
Programs Offered: Associate's degree;Bachelor's degree;Master's degree;Doctor's degree – professional practice
School Name: Winebrenner Theological Seminary
Accrediting Agency: Commission on Accrediting of the Association of Theological Schools  & North Central Association of Colleges and Schools, The Higher Learning Commission
Address: 950 North Main Street, Findlay, Ohio 45840
Contact: (419) 434-4200
Website: www.winebrenner.edu
Type of School: 4-year, Private not-for-profit
Programs Offered: Master's degree;Doctor's degree;First-professional degree
School Name: Xavier University
Accrediting Agency: North Central Association of Colleges and Schools, The Higher Learning Commission
Address: 3800 Victory Parkway, Cincinnati, Ohio 45207-1092
Contact: (513) 745-3000
Website: www.xavier.edu
Type of School: 4-year, Private not-for-profit
Programs Offered: Less than one year certificate;Associate's degree;Bachelor's degree;Postbaccalaureate certificate;Master's degree;Post-master's certificate;Doctor's degree