Best Christian Colleges & Universities in Florida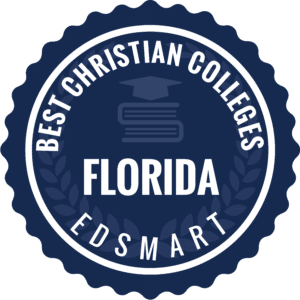 For Christians who prefer an education that integrates Christian principles into academics and student life, a faith-based university gives them a community in which they can practice their faith in a supportive environment, strengthen their body, mind, and soul, and still get a valuable education. Christian colleges in Florida help students to combine rigorous academics with a Christian-based ethos.
The schools in our list of best Christian colleges in Florida let Students combine their academic ambition with their Christian faith. The achievements and academics of each university are diverse, which allows them to pick a college that satisfies their unique academic interests and preferred applications of faith.
Related Programs That Might Interest You
Learn about start dates, transferring credits, availability of financial aid, and more by contacting the universities below.


Ranking Methodology
The Best Christian Colleges & Universities in Florida ranking is based on four main data points in four categories:
Affordability (average net price)
Student Satisfaction (retention rate)
Academic Quality (4-year graduation rate)
Student Outcome (20-year return on investment per Payscale.com)
Each data point is ranked with equal weight. Schools received a weighted overall ranking score for each individual point mentioned above–100 being the highest score possible.
In the case of a tie in scoring, the average net price was the determining factor for which school received the higher rank–the lower the net price, the higher the ranking.
All data was gathered from the National Center for Education Statistics website, College Scorecard, and school websites.
Top 5 Christian Colleges in Florida for 2022
1. Florida Southern College
Score: 100
Average Net Price: $25,646
Retention Rate: 82%
Graduation Rate: 59%
Salary After Attending: $61,020
Florida Southern College has a lot of awards that speak to its robust reputation for combining a strong academic background with the Christian faith. U.S. News and World Report ranked the school #8 in Regional Universities South and the top twenty of student religiosity by The Princeton Review so that students know that they are in a community of faith-based individuals dedicated to their academics.
Florida Southern College has a ranked program in criminal justice, with other students opting for majors in disciplines such as business and nursing. Students can also pursue a degree in citrus horticulture and technology that drives the Florida-based industry.
Unlike many other small colleges, this college has both undergraduate and graduate degree programs. Graduate programs center around business, education, and nursing. Continuing studies as an undergraduate means students can earn a doctorate in nursing, physical therapy, or educational leadership. Study is also available for a master-level degree in nursing, accounting, business administration, or a graduate-level certificate in supply chain management or healthcare management.
2. Eckerd College
Score: 99.8
Average Net Price: $34,860
Retention Rate: 81%
Graduation Rate: 64%
Salary After Attending: $61,218
As one of the few Christian colleges in FL with a waterfront view, Eckerd College in St. Petersburg provides a view of the warm waters of the Gulf of Mexico. It fully embraces its location by encouraging students to incorporate the outdoors in their study time, majors, and social events. It ranks #78 for the Best Christian Colleges in America, according to Niche.Com. Through the school's 40-hour community service and learning requirement, students can apply the knowledge they learn in the classroom to help those who are in need.
Eckerd College's coastal location feeds into the types of degrees students pursue. Students at Eckerd College gravitate toward majors in the sciences, especially one of the many biology-based degree programs, and business. The school offers an undergraduate degree in a variety of majors with an emphasis on environmental science, marine biology, oceanography, and biology. Learners even have the opportunity to serve as a research assistant on and off-campus or train for the Peace Corps.
3. Palm Beach Atlantic University
Score: 99
Average Net Price: $25,887
Retention Rate: 75%
Graduation Rate: 52%
Salary After Attending: $54,996
Individuals' Christian faith is a focus of the curriculum at Palm Beach Atlantic University through requirements in community service and weekly chapel attendance. The school promotes a biblical approach to its academics, as well. The centering of Christian dogma in academics does not detract from its academic rigor, evidenced by its ranking in National Universities, and ranking for Top Performers on Social Mobility by U.S. News and World Report. 
Palm Beach Atlantic University has a range of undergraduate, graduate, and online undergraduate and professional programs. This campus has an emphasis on healing with popular undergraduate programs in psychology and nursing and graduate programs in pharmacology. Students can even combine a graduate degree in pharmacology with a graduate degree with a business degree to maximize their employability. If they want to study a practical application course in religion to work within a Christian-based organization or meet the requirements to transfer their Registered Nurse licensing to a Bachelor of Science in Nursing, they can take online courses.
4. Warner University
Score: 98.8
Average Net Price: $16,159
Retention Rate: 59%
Graduation Rate: 50%
Salary After Attending: $41,937
Warner University is a small Christian college with around 1,000 students that lets them get a more intimate collegiate experience with small class sizes and plenty of opportunities for interaction with faculty and peers. WU's rural setting in Lake Wales lowers distractions from studies, unlike colleges set in more populated areas. Required community service focuses on alleviating problems in the rural communities surrounding the college. U.S. News and World Report ranked Warner University in the top 60 regional colleges in the South.
Popular undergraduate majors are in teaching, exercise science, and the humanities. The college boasts a complete career placement of all teaching graduates for over a decade. Learners can also choose from one of the different graduate programs concentrating on business, education, or religious ministry. If they meet the requirements as a mature student, they can earn an online bachelors-level degree in subjects like business, ministry, and education. Primarily the college's online education gears toward associate degrees to help students transition into a four-year program.
5. Southeastern University
Score: 98.4
Average Net Price: $24,909
Retention Rate: 68%
Graduation Rate: 45%
Salary After Attending: $40,485
Southeastern University is a Christian-based private college that focuses on preparing to share students to share their Christianity with the world through its many performance-based majors. This school ranks in the top 100 of Southern universities, according to U.S. News and World Report, and Niche.com ranks the school as one of the top 40 most conservative colleges in the U.S. The commitment to Christian-based principles through the integration of biblical teachings in degree programs, required chapel services, and community service projects is tangible on campus.
In addition to traditional undergraduate majors, Southeastern University is on the cutting edge of career advancement with an emphasis on media in various forms, including music, journalism, broadcasting, film, music and business, and the visual arts. It also has an extensive physical therapy and exercise science program. Students can also earn a graduate education with degrees studying counseling, social work, business, education, and divinity.
Related Programs That Might Interest You
Learn about start dates, transferring credits, availability of financial aid, and more by contacting the universities below.


Further Reading: