For many people in the current United States workforce, one thing is true: if a bachelor's degree is the cost of getting a job, then a master's degree is the price of being able to move up in that career. There are many fields where capable employees will find themselves blocked from ascending further in their careers because they lack a master's degree. This isn't because of a lack of experience or technical skill, but because many employers believe that a master's degree gives an employee an extra edge.
A master's degree shows a certain level of discipline on the part of the employee, as well as more knowledge and skills.
But if you're already neck-deep in a career and have family obligations,  it can be really difficult to hit the pause button and get a master's degree. Fortunately, a master's degree is more accessible than ever before. Online degrees are offered by more universities than ever before. These online programs give students incredible flexibility and value, all while giving you the key to staying competitive.
If you're worried that employers won't accept an online degree, don't sweat it. Here's the thing about the difference between an online degree and a traditional degree: a degree is a degree no matter what the format. It's the same piece of paper with your credentials, with nothing to say that you did it online.
Before you enroll, make sure to check to see if the program you are interested in is 100% online or is a hybrid format of some sort.

Without further ado, here are the top 30 most affordable online master's programs according to each school's average graduate student tuition for in-state students as reported to the National Center for Education Statistics.
In-state tuition is used in place of out-of-state tuition due to a report from The Learning House showing that more than three in four (78%) online students enroll at a school with a campus within 100 miles.
The Most Affordable Online Colleges Offering Master's Degrees
2019-2020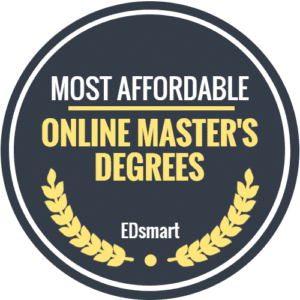 1. Fort Hays State University
Average Graduate Student Tuition (In-State): $3497
The most affordable school on our list is Fort Hays State University from the prairie state of Kansas. Ranked at number 1 and located at the heart of the state, the Virtual College at Fort Hays enables from all over to attend classes and earn their degree.  FHSU believes that a high-quality college education should be accessible for all. To that end, the Virtual College brings flexibility, convenience, and great value to all of its students. With rolling classes each semester, students are able to complete courses on a timeline that fits their schedule. While many schools offer online degrees (that's what this list is for after all), what truly sets FHSU apart from its peers is that it is consistently ranked as one of the best online programs in the country by U.S. News and World Report and a host of other services. The school offers over 50 online degrees with 16 at the master's level. Some of the standout FHSU degrees include the master's in psychology, business administration, nursing education, education and more.
2. Midwestern State University
Average Graduate Student Tuition (In-State): $3849
At number two on our list is Midwestern State University. The "midwestern" part of the name Midwestern State University refers to the midwest of the state of Texas, and not the midwest of the country. Slight misnomers aside, there are no misunderstandings about the quality of education students of MSU receive.  As the only public liberal arts college in the state, MSU's online graduate programs are firmly rooted in liberal arts while being professionally focused.  Even though this school ranks on our in-state tuition costs, MSU offers non-Texas residents a special tuition rate as well so that students from all over can get a world-class education. Classes are generally small with an 18:1  student to faculty ratio that ensures students receive the attention they needed–even online.
Average Graduate Student Tuition (In-State): $3870
Don't let its rural setting fool you. Our number three, Wayne State College, is a school that has extended its student population by building on its online program in incredible ways. The school is most well-known for its online master's degree programs in Business Administration, Education, Organizational Management, but also 13 other online master's degrees.  All online courses are taught by the same faculty that teaches on-campus, meaning there is no difference in the quality of education between the two formats. WSC's online degree programs make use of Blackboard to help facilitate classroom interaction. Through this system, students are able to keep in touch with instructors and fellow students while staying on top of their coursework.
Visit Wayne State College Online
4. University of West Georgia
Average Graduate Student Tuition (In-State): $4086
"Amazing things happen when you Go West." That's certainly true for our fourth-ranked school, the University of West Georgia. As one of the most forward-thinking schools in the state, UWG embraces diversity, values community and drives student success. Home to more than 13,000 students, UWG offers more than 88 fields of studies and more than 30 master's degree programs. Some of the degrees like computer science, early childhood education, music education, nursing, business administration, public administration, and special education are fully optimized for online students only. Because of the online format, students are able to save huge amounts of money that they would normally have to spend on their education. On top of that, non-residents aren't charged extra fees.
Visit University of West Georgia online
5. Valdosta State University
Average Graduate Student Tuition (In-State): $4482
The second of our top ten schools from the state of Georgia, Valdosta State University is ranked number five on our list.  Valdosta State University prides itself as being a place where students will never feel invisible. This is done through its commitment to innovative learning environments and methods, hands-on research, and small class sizes.  What makes this school affordable is that it offers Georgia's in-state tuition rates for Florida, South Carolina, Tennessee, and Alabama residents. The online aspect of the school, dramatically helps students reduce costs, and is an especially enticing option for non-traditional students.  With over 25 online graduate degrees and certificates to choose from, students are able to specialize in the field of their choice and achieve their educational goals.
Visit Valdosta State University online
Average Graduate Student Tuition (In-State): $4529
At number 6 on our list is the only university named after a geological formation (one of the world's richest deposits of rocks from the Permian geologic period). Home to more than 7000 students and 250 teaching faculty, this school sits in a region of huge economic growth. UTPB ranks as one of the top 5 public universities in Texas for students employed one year after graduation–a stunning achievement in today's competitive job markets. This quality of education extends into the school's online programs as well. UTPB offers 10 online graduate programs in fields like educational leadership, special education, business administration, accounting, public administration, and kinesiology. Classes are typically delivered in an eight-week term, allowing students to go through their classes at a faster pace and graduate sooner.
Average Graduate Student Tuition (In-State): $4806
Number seven on our list is Arkansas State University located in Northeastern Arkansas. The flagship school of the Arkansas State University system, the school consistently ranks among the top 25 schools in the region and is known throughout the state as an economic and cultural engine of Northeast Arkansas. If there is a place to go for a master's degree in the state, it's here. For more than 60 years students have come to A-State and that trend continues as the school invests heavily in its online offerings. With 13 different programs from fields like education, early childhood education, special education, public administration, engineering management, and sports administration, students are able to graduate in as little as 20 months with a master's degree. Courses are often organized into seven-week blocks for accelerated learning.
Average Graduate Student Tuition (In-State): $4807
The University of Central Arkansas is the second school from the state of Arkansas within our top ten. As one of the oldest universities in the state, UCA has had the benefit of years of experience in delivering quality education to its students. As a learner-focused school, UCA  adapts to the needs of the students to account for the vast variety of learning styles. With the advent and growing popularity of online programs, the school has turned its focus on making education more affordable. Currently, UCA offers a number of hybrid master's degree programs, and five 100% online programs that do not require any visits to the UCA campus. These programs are the master's of business administration, family and consumer sciences, geographic information systems, health science, and special education.
Average Graduate Student Tuition (In-State): $4824
Our first school from the midwestern state of Missouri, Missouri State University comes in at number nine on our list as one of the most affordable online master's degree programs in the country. MSU prides itself on being a comprehensive university system with a mission in public affairs. To that end, MSU students are known to be people that focus on ethical leadership, cultural competence, and community engagement. While the school has three campuses in the state (and one in China, how cool is that?)  MSU proudly features more than 15 100% online master's degree programs, and two doctorate programs.  Featuring subjects like communications, art history, business administration, criminal justice, education, and nursing to name a few, students of the MSU system are able to quickly earn their degrees. Students of the online programs also pay the same tuition rates as Missouri-residents.
Average Graduate Student Tuition (In-State): $4842
Rounding out our top ten schools is Henderson State University, the third school from the state of Arkansas within the top ten. Henderson State University believes that access to affordable education provides opportunities for everyone.  Through small class sizes, HSU is able to ensure that the quality of education never dips and that students receive value for what they are paying.  HSU's online programs are no different from their on-campus equivalent. The school has focused its online graduate degree offerings to the fields of education and business. These programs are flexible so that students can attend live, online courses anywhere with an internet connection.
Further Reading: Cheapest Online Colleges
Average Graduate Student Tuition (In-State): $4851
Located in the town of Kennesaw, Georgia, Kennesaw State University is a member of the University System of Georgia and is home to an innovative teaching and learning environment that never strays far from its entrepreneurial spirit. The school is a Carnegie designated doctoral institution (a school with a moderate level of research activity). Though the school's student population is well over 30,000(!), you'll never notice it because class sizes are kept to a comfortable size. Online programs are designed to accommodate working professions that are seeking academic advancement.  Currently, KSU offers online master's degrees in business, computing and software engineering, education, engineering, nursing, and social science. The school hopes to expand its online offerings in the near future, but in the meantime, KSU also offers a number of specialization certificates.
Further Reading: Cheapest Accredited Online College Rankings
Average Graduate Student Tuition (In-State): $5184
From its roots as a women's educational center in 1889, Georgia college has set itself as a destination for students looking to make a difference. As Georgia's designated public liberal arts university, Georgia College prides itself on its ability to teach students how to learn, instilling a lifelong passion for learning that abides with graduates wherever they go. One of the ways the school does this is through "highly intentional engagement." Students are strongly encouraged to engage in research, study abroad, provide community service in environments outside of the classroom. Georgia College features hybrid online/on-campus programs, as well as 19 different 100% online graduate degrees. All of these offerings are fully accredited and taught by distinguished faculty so students can rest assured that they are obtaining a world-class education.
Average Graduate Student Tuition (In-State): $5220
There are subtle cues about how seriously a school takes its online degree offerings. One of them is the placement of online degree information in their website's architecture. The University of Texas-Tyler is a school that takes online degrees seriously. By featuring the online programs prominently on their home page, we know that online programs are important to them. Of course, web design is not the best way to determine the quality level of an online degree. The evidence of a top-quality education can be found in the student testimonials, the university rankings, and the commitment of distinguished faculty members. UT-Tyler offers more than 15 online master's degrees with a number of online certifications for more specialization. Students can save time and money by attending classes that are in hybrid or 100% online.
Average Graduate Student Tuition (In-State): $5539
Oklahoma State University prides itself on being "America's brightest orange." While many schools support diversity, few schools are as active in promoting it as OSU. OSU has shown its support for DACA students and has taken a stand politically to encourage Congress to an equitable resolution to this highly contested issue. Regardless of where you stand on the political scale, the fact that OSU believes so strongly in its students that it is willing to stake its reputation on its stance is to be commended. OSU's online programs are for students that need flexible and convenient options for earning their degrees.  With more than 20 different master's degrees in fields like business administration, business analytics, psychology, education, fire and emergency management, and more, students are able to get ahead in their career without getting behind financially.
Average Graduate Student Tuition (In-State): $5391
For more than 137 years Sam Houston State University has been synonymous with lives of meaningful achievement. This proud tradition finds its roots in the motto of the school: "the measure of a life is its service." This motto has been the guiding principle for everything that the school does whether in research, creative endeavors, volunteer service and more. SHSU understands that the future is becoming increasingly digital and that students require methods of attaining an education through non-traditional methods. To that end. SHSU offers $1000 scholarships to new 100% online students. SHSU's focus on online education is already seeing dividends. US News recently ranked the schools graduate program in criminal justice as the top criminal justice in the country. Beyond criminal justice, the school offers over 20 different master's degree programs online.

Average Graduate Student Tuition (In-State): $5435
Montana State University – Billings finds its home in Billings, Montana. As a region of notable outdoor recreation, Billings is the economic hub of the area and MSUB is a big reason why. MSUB is home to 4,400 students, making it a small but intimate community. One of the most attractive parts of MSUB is its small student to faculty ratio of 19:1. This means that students will receive the attention they need instead of being just another name on the roster. MSUB offers online masters degrees in health administration, public relations, rehabilitation and mental health counseling, and special education. Additionally, the school offers a number of online certificate programs in accounting, human resource management and more.
Average Graduate Student Tuition (In-State): $5724
Home of the Red Raiders, Texas Tech University has been a pillar in the state of Texas.  Texas Tech University finds its home in Lubbock but has satellite campuses throughout the state. As a school committed to teaching and the advancement of knowledge, Texas Tech University is a comprehensive research university that meets the highest standards of excellence in higher education. In fact, TTU has a "highest research" activity rating on the Carnegie Classification of research. The benefit of having high research is that students often benefit from the research that the faculty is engaged in. This extends to TTU's online students as well as on-campus students. TTU offers more than 25 online master's degree programs in fields like agricultural education, horticulture, engineering, software engineering, business administration, public administration, education, English, and more. TTU also features dedicated staff to specifically support the needs of online and distance students.
Average Graduate Student Tuition (In-State): $5742
Columbus State University was founded in 1958 in Columbus, Georgia 100 miles outside of Atlanta and is part of the Georgia University system. 8500 students call this school home and its easy to see why. CSU offers a wide variety of degree forms from online degrees to doctorates. They always say that it's about the people, and in the case of the CSU, it's definitely true. With stellar faculty and small class sizes, CSU offers a top-notch educational opportunity for students from all over the country. But beyond campus, CSU has also stood out because of its efforts in providing quality online education. CSU offers almost 30 different online master's degrees in fields like computer science, education, cyber security management, nursing, business administration, public administration, and more.
Average Graduate Student Tuition (In-State): $5760
The only school from the state of South Dakota on our list, the South Dakota School of Mines and Technology is certainly a mouthful, but a top contender in the field of online programs nevertheless. The school was originally founded in 1885 to provide instruction in mining–the region's primary industry–but today the school has evolved into one of the leading science and technology universities in the area. Located in Rapid City in the beautiful Black Hills of South Dakota, the school is still known for its focus on STEM academics. If you guessed that SD Mines would offer online master's degrees in engineering you'd be correct. The school offers three engineering degrees: construction engineering and management, engineering management, and mining engineering and management. These degrees are available 100% online or in a hybrid format at their Rushmore campus, making SD Mines a competitive choice for an engineering degree.
Average Graduate Student Tuition (In-State): $5793
Students at North Dakota State University are at the center of hands-on learning experiences. NDSU makes its home in the town of Fargo, North Dakota. Students come to NDSU because they know that its a top-ranked school in the sciences. Listed in the National Science Foundation's top 100 in several areas including agricultural science, social science, physical sciences, chemistry, psychology, and computer sciences, NDSU helps students prepare for to make a difference in the world. Many students opt to take advantage of hybrid classes even while attending classes on campus. This university offers more than 10 degrees 100% online. Students can find specialties like construction management, health and exercise science, managerial logistics, transportation, community development, dietetics, family science, merchandising and more.
Average Graduate Student Tuition (In-State): $5941
Texas A&M University is well known for its dominance in collegiate sports as well as their strong academic background. As a flagship university of the state, this school provides some of the best return on investment among Texas's public schools.  "Aggieland," as it is referred to by members of the community, is located in the heart of the Houston-Dallas-Austin area. With a student body population of more than 65,000 students, this is one of the largest schools in the country. Texas A&M offers 47 graduate degrees through distance education in fields of study like agriculture and life sciences, education, engineering, geosciences, government and public service, medicine, nursing, public health, and law. Distance education students can expect to receive the same top-tier education as they would through traditional on-campus programs.
Average Graduate Student Tuition (In-State): $6084
Emporia State University calls the town of Emporia, Kansas home and has been providing education to the community for more 150 years. Emporia State University offers the intimacy of small classroom settings while maintaining the amenities of graduate student life at a large university. Since ESU's graduate school is primarily a master's degree-granting school, students will have the opportunity to work one-on-one with faculty towards their educational interests, conducting research and teaching that would normally be reserved for doctoral students. ESU has more than 31 different master's degree programs and 33 concentrations to choose from to choose from.  Additionally, students from the Midwest states are eligible for reduced tuition costs.
Average Graduate Student Tuition (In-State): $6174
Home of over 15,000 students, Lamar University is the home of the Cardinals. Located near Houston in Beaumont, Texas, LU is one of the fastest growing Texas universities. It's easy to see why. LU stresses academic achievement by emphasizing hands-on learning at all degree levels and facilitates this end by providing small class sizes so students can build meaningful relationships with faculty members. LU is a recognized leader in online education and features online graduate degrees in more than 20 programs, covering a span of disciplines like nursing, criminal justice, business administration, construction project management, education, digital learning, counseling, public health, and more.
Average Graduate Student Tuition (In-State): $6462
For over 80 years the Eastern New Mexico University has serviced the Eastern side of the state from the town of Portales. Their mission has been to emphasize liberal learning, freedom of inquiry, cultural diversity, and whole student life. To that end, ENMU has focused heavily on online education, recognizing that student needs have evolved in the last decade. ENMU's motto is "Student Success–that's what it's all about." This can be seen in the quality of education and quality of life of students at the school. ENMU reports a 97% student satisfaction rate, a stunning achievement. ENMU's online graduate degrees are available in 15 different disciplines including business administration, education, communication, English, financial planning, nursing, physical education and more.
Average Graduate Student Tuition (In-State): $6488
As a comprehensive university, Southeast Missouri State University offers more than 75 graduate programs. Located on the banks of the Mississippi River, Southeast is located in Cape Girardeau, the largest city between St. Lous and Memphis. Nearly 12,000 students call this university home, making it the ideal size for students to take advantage of a vibrant student community and critical learning opportunities. 100% of all majors have internships and experiential learning options.  Southeast Online recognizes that non-traditional students can't always attend classes in the same way other students can. To that end, Southeast has optimized their online programs with flexibility in mind. With more than 15 online programs, students are able to take advantage of this convenience and get ahead in their careers.
25. University of Louisiana at Monroe
Average Graduate Student Tuition (In-State): $6490
The University of Lousiana Monroe is a state-funded school that is home to over 9100 students. Since its founding in 1931, the school has awarded more than 72,000 degrees to more than 65,000 alumni. Passion begets passion, and that's definitely true at the University of Louisiana Monroe. Professors are enthusiasts that love to share their passion for their fields of learning. Students get to benefit from this excitement as their classrooms become places of discovery. ULM wants to play a role in your next big achievement. With more than 20 graduate master's degrees to choose from, getting that extra step on your career has never been easier.
Average Graduate Student Tuition (In-State): $6636
Georgia Southern University is the state's largest and most comprehensive university south of Atlanta. Home to more than 27,000 students from all 50 states and 102 nations, Georgia Southern encourages learning, discovery, and personal growth. The hallmark of a Georgia Southern education has always been about bringing theory into practice beyond the classroom. It's this mindset that has brought students success since the school's foundation in 1906. This is certainly true in their online master's degree programs.  As a school that tries to meet the growing diverse needs of its students, Georgia Southern offers masters degrees in fields of business, education, health, humanities, and social sciences.
Average Graduate Student Tuition (In-State): $6966
Marshall University believes in how education can change lives. Thanks to small classes sizes, faculty members that believe in the potential of the students, and modern educational facilities, that belief is made real. More than 13,000 students call this university home, and it is easy to see why. Marshall University has been synonymous with quality education since its founding almost 200 years ago.  Distance learning students are able to attend online master's degree classes in counseling, leadership studies, education, geography, mathematics, journalism, business administration, nursing, and criminal justice.
Average Graduate Student Tuition (In-State): $7016
The University of Central Missouri is one of those rare innovative schools that is able to balance a high-quality education with affordability (and that's why they're on our list, go figure eh?). More than 12,000 students call UCM home, and its because of the promise that the school will support students as they study hard. In fact, UCM has something they call the "learning to a greater degree" contract that awards financial scholarships and is a commitment to help students graduate on time.  UCM's commitment to students extends online as well. Online students are able to qualify for in-state tuition rates even if they live in other states or on the other side of the world. UCM is an example of a school that believes that cost should not prevent students from getting the education they desire.
Average Graduate Student Tuition (In-State): $7176
California State University Dominguez Hills is one of the standout universities in California. A home to people whose innovative solutions have impacted the community, CSU Dominguez Hills is well known for its academic prowess and its service to the community. It's a school of growing reputation and has impressively been garnering attention for its top value and affordability.  This is true in its online offerings as well. With more than 20 fully online master's degree programs to choose from, students can rest assured that they will be able to get the best value for their education and make progress in their careers.
Average Graduate Student Tuition (In-State): $7360
A maverick school in the heart of Texas, the University of Texas at Arlington is known for bucking the stagnation of the academic world and creating a nurturing environment for its students. UTA is dedicated to producing critical thinkers and lifelong learners that will make a difference in the world. With a global enrollment of more than 58,000 students, UTA is truly a university of distinction. UTA's online programs are also well known for its accelerated rates, with some stand out programs including UTA's nursing, education, public administration, business administration, and public health programs. Programs can be completed in as little time as 9-22 months, meaning students can return to the workforce with practical knowledge.
Resources: