Best Colleges & Universities of Alaska 2023
One click can begin a thousand-mile journey to the immense state of Alaska and the best colleges and universities in Alaska. The state situated furthest north in the United States is widely recognized for its stunning natural landscapes. Attending the best college in Alaska allows people to behold the wonder and beauty that is in Alaska as individuals move forward in their academic journey.
Fourteen colleges, universities, and other postsecondary education institutions are available from which students can choose. For those who may be looking to live in and explore Alaska during college, we hope to provide some helpful information as they decide which institution is right for them.
Alaska colleges may not be the first place one may think of when speculating about where to attend school, but with lower tuition rates than most other states, it becomes quite a viable option. Though there are few postsecondary schools there, Alaska has adopted measures to boost academic growth and has kept tuition costs low. By doing so, Alaska has added low-cost tuition to the long list of beautiful things that already draw many to the state. The hope is that it will bring students to their colleges who are excited to enjoy all that Alaska offers.
Online Programs That Might Interest You
Learn about start dates, transferring credits, availability of financial aid, and more by contacting the universities below.
Colleges in Alaska Fast Facts
Fall enrollment (2017) = 26,905
Degrees awarded in Alaska(2016) = 5,630
Median in-state public tuition (2016) = $5,936
Median private tuition (2016) = $14,450
Largest school = University of Alaska Anchorage
Rankings
EDsmart assesses colleges in Alaska based on data that covers four main areas:
Cost (average net price)
Academic quality (graduation rate)
Student satisfaction (retention rate)
Salary After Attending (the median earnings of former students who received federal financial aid, at 10 years after entering the school)
All data was gathered from the U.S. Dept of Education websites College Scorecard and College Navigator.
This ranking aims to help students assess the affordability and value of top colleges in Alaska so they can make informed decisions about which college to attend.
Best Accredited Colleges Alaska 2023
1. University of Alaska Fairbanks
Score: 100
Salary After Graduating: $43,728
Average Net Price: $10,510
Retention Rate: 75%
Graduation Rate: 34%
A search among the best schools in Alaska will reveal that the University of Alaska Fairbanks tops the list. As the only national college in the state, as named by U.S. News and World Reports, it also received the high honor of being called one of the top 100 small universities in the country in 2022 by Times Higher Education.
Offering undergraduate and graduate programs of study, UAF offers majors such as Accounting, Alaska Native Languages, Atmospheric Sciences, Indigenous Studies, Oceanography, Physics, and more. Students have the convenience of completing their post graduate studies and seamlessly transitioning to their graduate studies within the same college, eliminating the need for transferring to another educational institution. Some programs qualify for significantly discounted tuition, so it's worth the effort to inquire about them.
The Best Colleges in Alaska receive an A ranking from Niche.com. The four-year university has a solid rating. With an A in Diversity and B+ in Academics, it could very well be the right choice for those in pursuit of higher education. The availability of on-campus housing and dining choices enables students from various regions of the country to reside on campus as they pursue their degrees, fostering a diverse and inclusive environment.
2. Alaska Career College
Score: 99.6
Salary After Graduating: $31,891
Average Net Price: $15,191
Retention Rate: 72%
Graduation Rate: 73%
Among the best schools in Alaska, Alaska Career College offers certifications and degree programs ranging from Aircraft Dispatching to Therapeutic Massage. Its Medical Assistant program remains one of its most popular programs. ACC also offers associate degrees in Business: Accounting Technology, Business: Computer Technology, Business: Human Resources, Insurance Coding and Billing, and Phlebotomy Technician.
Students benefit from smaller class sizes and the resulting increased personalized attention they receive from instructors. Since March of 1985, the college received accreditation from the Accrediting Commission of Career Schools and Colleges (ACCSC), meaning that all programs of study at ACC meet specific standards as deemed necessary by the accrediting party. While transferring credits from one college to another, students will discover the paramount significance of accreditation.
In addition to providing support for individuals across various age groups the institution is dedicated to meeting the specific needs of active US military personnel, veterans as well as their dependents. Offering a flexible classroom environment and assistance in locating housing in Anchorage, student needs are prioritized by college staff, who strive to set them up for academic success. With a B rating from Niche.com and a 100 percent approval rate, this small institution rates high for student quality of life.
3. University of Alaska Southeast
Score: 99.6
Salary After Graduating: $40,727
Average Net Price: $10,292
Retention Rate: 61%
Graduation Rate: 36%
At the University of Alaska Southeast, students have the advantage of pursuing both undergraduate and graduate degrees in a single location. This high-ranking college has programs of study that include Biology and Marine Biology, Education, Healthcare, Marine Transportation, Mining, and Outdoor Studies, to name a few. UAS encompasses three campuses located in Juneau, Ketchikan, and Sitka, ensuring enhanced accessibility and convenience for students pursuing their preferred academic disciplines.
With a vibrant student life that encourages exploration of the surroundings, UAS stands out as one of Alaska's premier educational institutions. From offering paddleboards, tents, and mountain bike rentals to making dozens of exciting clubs such as Gaming Club, Film Club, and Orchestra accessible, the institution knows how to appeal to people on a personal level. Enriching experiences await those who begin their careers and journeys from the University of Alaska Southeast.
The four-year college has a B rating on Niche.com. It earned an A- in Diversity and a B+ in Academics. UAS has an acceptance rate of 64 percent and costs just over $40,000 to attend. There are ample scholarship opportunities accessible to students seeking financial assistance to offset the expenses of pursuing higher education. Interested persons can look into them by visiting the college's website.
4. University of Alaska Anchorage
Score: 99.6
Salary After Graduating: $47,891
Average Net Price: $11,782
Retention Rate: 67%
Graduation Rate: 32%
Known as the second largest post secondary institution in Alaska, the University of Alaska Anchorage offers over 100 certifications and degree programs. Students can major in anything from Accounting to Art to Computer Science to Medical Laboratory Science. The university is divided into multiple colleges of study which specialize in different disciplines such as Arts and Sciences, Engineering, and Health.
Generous with its awarding of scholarships, potential attendees will find it topping the list of the best colleges in Alaska for a good reason. The average student at U of A is female and over 28 years of age. Adults who look to change careers or hope to continue graduate studies at another institution love what UAA has to offer them.
Its Niche.com score ranks it a C. U of A received an A for diversity thanks to its variety of subjects to study. For those who care less about partying and more about gaining the knowledge and skills needed to work in the profession of their choice, they'll want to review the application process and try for some of the $34 million total in scholarships.
5. Alaska Pacific University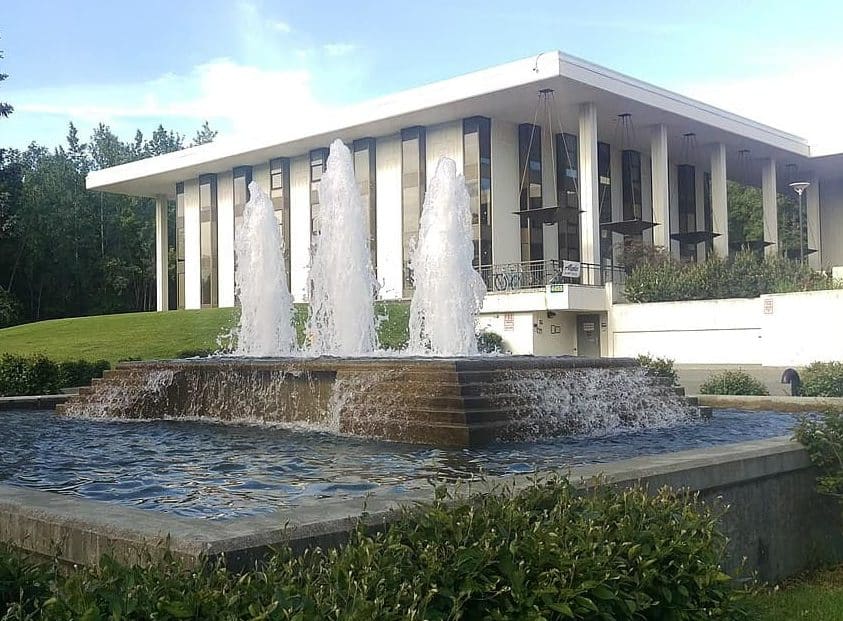 Score: 99.4
Salary After Graduating: $47,267
Average Net Price: $20,651
Retention Rate: 63%
Graduation Rate: 36%
Students in Alaska who want a different type of higher education gravitate toward Alaska Pacific University (APU). The school caters to the requirements of both undergraduate and graduate students, providing a diverse array of degree programs and certifications across various professional domains. Some of the more exciting options include Marine and Environmental Sciences, Outdoors Studies, and Outdoor and Environmental Education. Many APU students take advantage of everything the beautiful state has to offer by pursuing majors that involve the natural world. For those who opt to major in the fields as mentioned above of study, they will get an up-close and personal view of the Great Outdoors through the classes they take.
The best colleges in Alaska rank high for student satisfaction. When considering APU, don't forget to consider the school's many recreation facilities, including a pool, weight room, climbing wall, and even biking trails. Students who want to live on campus find housing options that meet their needs and budget. APU students can eat well at school, too, thanks to the dining hall and weekly Farmer's Market.
Quite possibly one of the better schools in the state for all the extras it offers its students, Alaska Pacific University's Niche.com rating is a B straight across the board. It's a smaller institution with big potential!
Rankings for 2021 Best Colleges in Alaska:
1. University of Alaska Fairbanks
2. Alaska Career College
3. University of Alaska Anchorage
4. Alaska Pacific University
5. University of Alaska Southeast
Colleges and Universities in Alaska
Attending college in Alaska can be a fitting choice for individuals seeking exceptional educational prospects, potential travel adventures, and immersive outdoor experiences.
Alaska Vocational Technical Center
Alaska Career College
Ilisagvik College
Alaska Bible College
Alaska Pacific University
University of Alaska Fairbanks
University of Alaska Southeast
University of Alaska Anchorage
Alaska Christian College
Iḷisaġvik College (tribal community college)
Kodiak College (community college)
Kenai Peninsula College (community college)
Matanuska–Susitna College (community college)
Prince William Sound College (community college)
Charter College (associate's college)
Alaska Career College (vocational school)
Certain colleges may offer more options in terms of classes taken as well as general education required. For those who are seeking different kinds of learning experiences from those they have been exposed to in high school, universities in Alaska can give them that chance. In addition, Alaska provides five schools for students to choose from that offer both undergraduate and graduate programs in their respective fields.
For example, the University of Alaska Fairbanks offers studies such as Wildlife Biology and Wilderness Leadership while Anchorage's University of Alaska Anchorage has a program called Outdoor Pursuits which focuses on teaching participants how to safely handle equipment used when hiking, camping, and so forth.
For students aspiring to study in Alaska but desiring independence without the need for campus residency or roommates, alternative options are readily accessible. The university system offers many online courses for those who prefer learning this way. Gone are the days when students had to reside far from their families during college, as they now have the opportunity to pursue higher education through remote learning, ensuring they can stay connected while receiving a quality education.
Alaska presents abundant opportunities for students to engage in various activities beyond their academic commitments. The universities in Alaska boast a plethora of sports teams, clubs, and organizations, enabling students to actively participate on campus.
One of the most remarkable aspects of attending college in Alaska is the unparalleled access to outdoor pursuits, an experience less attainable in other states. With its diverse landscape, Alaska offers a wide range of activities that students may not encounter elsewhere.
While residing in Alaska may not be the most suitable choice for students seeking regular visits to family residing in a different city or state, it serves as an ideal destination for those yearning for a fresh start and are open to spending less time with their family during holidays. Alaska provides an exceptional environment to pursue their educational journey.
Online Programs That Might Interest You
Learn about start dates, transferring credits, availability of financial aid, and more by contacting the universities below.
Sources
DataUSA.io
NCES
School websites