Best Christian Colleges & Universities Florida 2023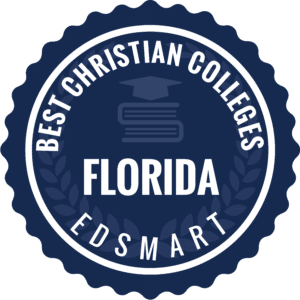 For Christians who prefer an education that integrates Christian principles into academics and student life, a faith-based university gives them a community in which they can practice their faith in a supportive environment, strengthen their body, mind, and soul, and still get a valuable education. Christian colleges in Florida help students combine rigorous academics with a Christian-based ethos.
The schools in our list of best Christian colleges in Florida let Students combine their academic ambition with their Christian faith. The achievements and academics of each university are diverse, which allows them to pick a college that satisfies their unique academic interests and preferred applications of faith.
Related Programs That Might Interest You
Learn about start dates, transferring credits, availability of financial aid, and more by contacting the universities below.
Accredited Christian Colleges in Florida 2023
1. Eckerd College
Score: 100.0
Average Net Price: $36,531
Retention Rate: 81%
Graduation Rate: 65%
Salary After Attending: $47,643
As one of the few Christian colleges in FL with a waterfront view, Eckerd College in St. Petersburg provides a view of the warm waters of the Gulf of Mexico. It fully embraces its location by encouraging students to incorporate the outdoors into their study time, majors, and social events. It ranks #43 among the Most Diverse Colleges in Florida, according to Niche.com. Through the school's 40-hour community service and learning requirement, students can apply the knowledge they learn in the classroom to help those who are in need. Eckerd College's coastal location feeds into the types of degrees students pursue. Students at Eckerd College gravitate toward majors in the sciences, especially one of the many biology-based degree programs, and business. The school offers an undergraduate degree in a variety of majors with an emphasis on environmental science, marine biology, oceanography, and biology. Learners even have the opportunity to serve as research assistants on and off campus or train for the Peace Corps.
2. Palm Beach Atlantic University
Score: 99.0
Average Net Price: $26,530
Retention Rate: 75%
Graduation Rate: 53%
Salary After Attending: $46,413
Individuals' Christian faith is a focus of the curriculum at Palm Beach Atlantic University through requirements in community service and weekly chapel attendance. The school promotes a biblical approach to its academics, as well. The centering of Christian dogma in academics does not detract from its academic rigor, evidenced by its ranking in National Universities, and ranking for Top Performers on Social Mobility by U.S. News and World Report. Palm Beach Atlantic University has a range of undergraduate, graduate, and online undergraduate and professional programs. This campus has an emphasis on healing with popular undergraduate programs in psychology and nursing and graduate programs in pharmacology. Students can even combine a graduate degree in pharmacology with a graduate degree in the business degree to maximize their employability. If they want to study a practical application course in religion to work within a Christian-based organization or meet the requirements to transfer their Registered Nurse licensing to a Bachelor of Science in Nursing, they can take online courses.
3. Southeastern University
Score: 98.8
Average Net Price: $26,640
Retention Rate: 66%
Graduation Rate: 47%
Salary After Attending: $40,636
Southeastern University is a Christian-based private college that focuses on preparing to share students to share their Christianity with the world through its many performance-based majors. This school ranks #105 in Top Performers on Social Mobility, according to U.S. News and World Report, and Niche.com ranks the school as one of the top 50 most conservative colleges in the U.S. The commitment to Christian-based principles through the integration of biblical teachings in degree programs, required chapel services, and community service projects is tangible on campus. In addition to traditional undergraduate majors Southeastern University is on the cutting edge of career advancement with an emphasis on media in various forms, including music, journalism, broadcasting, film, music and business, and the visual arts. It also has an extensive physical therapy and exercises science program. Students can also earn a graduate education with degrees studying counseling, social work, business, education, and divinity.
4. Florida Southern College
Score: 98.6
Average Net Price: $26,517
Retention Rate: 82%
Graduation Rate: 61%
Salary After Attending: $47,123
Florida Southern College has a lot of awards that speak to its robust reputation for combining a strong academic background with the Christian faith. U.S. News and World Report ranked the school #8 in Regional Universities South and the top twenty of student religiosity by The Princeton Review so that students know that they are in a community of faith-based individuals dedicated to their academics. Unlike many other small colleges this college has both undergraduate and graduate degree programs. Graduate programs center around business, education, and nursing. Continuing studies as an undergraduate means students can earn a doctorate in nursing, physical therapy, or educational leadership. The study is also available for a master-level degree in nursing, accounting, business administration, or a graduate-level certificate in supply chain management or healthcare management.
5. Warner University
Score: 98.4
Average Net Price: $18,108
Retention Rate: 58%
Graduation Rate: 46%
Salary After Attending: $41,924
Warner University is a small Christian college with around 1,000 students which lets them get a more intimate collegiate experience with small class sizes and plenty of opportunities for interaction with faculty and peers. WU's rural setting in Lake Wales lowers distractions from studies, unlike colleges set in more populated areas. Required community service focuses on alleviating problems in the rural communities surrounding the college. U.S. News and World Report ranked Warner University in the top 140 regional colleges in the South. Popular undergraduate majors are in teaching, exercise science, and the humanities. The college boasts a complete career placement of all teaching graduates for over a decade. Learners can also choose from one of the different graduate programs concentrating on business, education, or religious ministry. If they meet the requirements as a mature student, they can earn an online bachelors-level degree in subjects like business, ministry, and education. Primarily the college's online education gears toward associate degrees to help students transition into a four-year program.
6. Johnson University Florida
Score: 98.0
Average Net Price: $18,713
Retention Rate: 48%
Graduation Rate: 25%
Salary After Attending: $36,422
Johnson University's mission is to provide a Christian education for those who want to pursue ministry or other strategic vocations. The Florida campus is just minutes away from some of the country's most famous attractions and is a short drive from both coasts. Niche.com ranked Johnson University #38 in Best Colleges for Religious Studies in America. Johnson University has been committed to excellence in education since 1893 and offers a variety of programs for each area of interest. Depending on your career desires or need, you could further your studies or just start working. Experienced faculty give students the skills and resources they'll need both in their spiritual lives and for their careers. You'll also be taught by other students so you can learn from peers as well as mentors.
7. Florida Memorial University
Score: 97.4
Average Net Price: $19,173
Retention Rate: 57%
Graduation Rate: 38%
Salary After Attending: $34,962
At Florida Memorial University, they have a goal to help you achieve your lifelong career goals! They offer 27 undergraduate degree programs and 3 master's degrees to let you explore your future. The university offers degree programs that embody a course of study that is compatible with the school's mission by helping students to develop the skills necessary for pursuing lifelong learning and becoming global citizens. According to U.S. News and World Report, Florida Memorial University ranks #13 in Top Performers on Social Mobility and #45 in Regional Colleges South. Art, science, business, education, and cybersecurity are among degrees students can earn. With a variety of majors and extracurricular activities, it's no surprise that Florida Memorial University grads are desired by people everywhere.
8. Bethune-Cookman University
Score: 97.0
Average Net Price: $17,517
Retention Rate: 61%
Graduation Rate: 39%
Salary After Attending: $34,962
The Bethune-Cookman journey emphasizes ensuring the finest educational opportunities for each student. Bethune-Cookman University achieves student success by developing creativity, innovation, and entrepreneurial thinking skills. These skills are the kind that will be enduring and will help you meet the needs of changing times. These are the skills it will take for you to lead as the world changes. The U.S. News and World Report ranked Bethune-Cookman #18 in Top Performers on Social Mobility and #49 in Historically Black Colleges and Universities. Studying at BCU means having a wide variety of courses to choose from. They have programs like Nursing, Hospitality, and Environmental Studies that have been designed to allow you to explore new subjects and discover your passion.
9. Trinity College of Florida
Score: 96.8
Average Net Price: $15,731
Retention Rate: 64%
Graduation Rate: 46%
Salary After Attending: $36,193
Trinity College of Florida is a private, nonprofit accredited divinity school located on the Gulf Coast in Trinity Beach. Established in 1932 the school's mission is to "provide students with both biblical knowledge and practical experience as they prepare for leadership positions in Christian ministry." Trinity College of Florida has a long legacy of talented Christian leaders who are able to help individuals achieve success in every aspect of their lives. Trinity College of Florida is a small school with 171 undergrad students. The admissions are fairly selective, with the Trinity College acceptance rate being 50%. Popular majors at TCF include Business, Divinity, Ministry, and Pre-Theology. These majors are often pursued by students who are looking to have a strong educational background in the study of Christianity in order to pursue pastoral ministry. Other popular majors at TCF include Counseling Psychology and Public Health.
10. The Baptist College of Florida
Score: 96.6
Average Net Price: $11,764
Retention Rate: 73%
Graduation Rate: 62%
Salary After Attending: $34,057
Baptist College of Florida is distinctly desirable to those looking for a more Christian-based education. All the courses are taught from a seminary-Esque perspective, while local churches and pastors help in shaping the academia. The goals of BCF are to provide a top-quality education that includes both practical knowledge and spiritual wisdom. The institution aspires for students to complete their studies with outstanding scholastic abilities, a profound comprehension of their purpose, and the requisite competencies to thrive in their ministry. Niche.com ranked Baptist College of Florida #37 in Best Colleges for Religious Studies in America. According to U.S. News and World Report BCF ranks #24 in Regional Colleges South. BCF has a variety of subjects to choose from when it comes to your education including, Business, General Education, Worship, Teacher Education, Music, and Theology.
11. Edward Waters University
Score: 95.8
Average Net Price: $14,097
Retention Rate: 53%
Graduation Rate: 20%
Salary After Attending: $30,657
Edward Waters University is working hard to become a nationally recognized place for dynamic, globally-diverse education centered on excellence. EWU aims to be innovative, with a supportive focus on academic excellence. U.S. News and World Report have ranked Edward Waters University among the top 100 for both Historically Black Colleges and for Regional Colleges in the South. Edward Waters University hosts close to 1,000 full-time scholars and proffers five bachelor's degree curricula, encompassing Biology, Business Administration, Communications, Criminal Justice, and Psychology. Edward Waters University's Division of Academic Affairs is committed to fostering quality education, research, and service. All of the faculty are devoted to creating an exemplary environment for academics.
12. Hobe Sound Bible College
Score: 95.0
Average Net Price: $10,205
Retention Rate: 78%
Graduation Rate: 48%
Salary After Attending: $27,271
Hobe Sound Bible College has one mission, to provide a Christ-centered education that is centered on the teachings of scripture. They are committed to preparing student leaders who think biblically and are able to seek God in all they do. Hobe Sound Bible College wants to equip you with the skills, knowledge, and wisdom necessary to thrive in our ever changing society. Their aspiration is for students to undergo an intellectually enriching journey, fostering self discovery and growth, as well as a spiritually rewarding experience that nurtures a profound connection with Jesus. As a small institution only 82 undergraduates are enrolled at the Hobe Sound Bible College, with a 100% acceptance rate. The most popular majors at the college include Liberal Arts and Humanities, Counseling Psychology, and Elementary Education.
Related Programs That Might Interest You
Learn about start dates, transferring credits, availability of financial aid, and more by contacting the universities below.
Further Reading: