Top 20 Cosmetology Schools in the US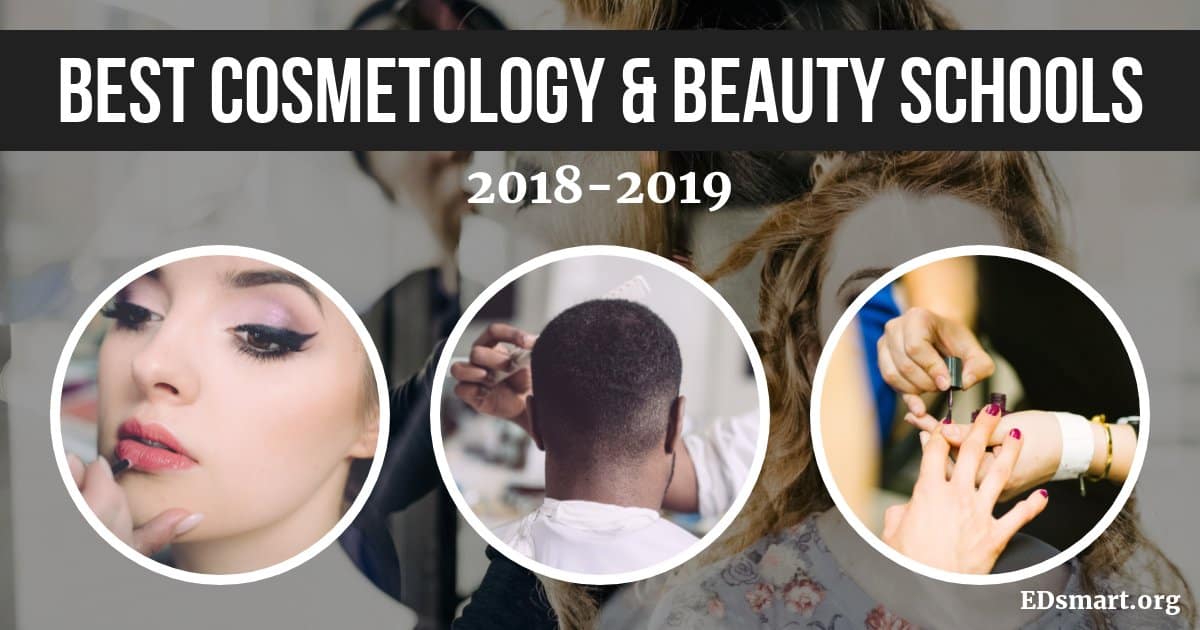 If you have an interest in not just the latest hot hair trend, getting perfect manicures and pedicures, or having a great skincare regimen, but actually making those things happen, then cosmetology is a field for you. Cosmetology focuses on hair care, skincare, and nail care. It can be a very rewarding career, as cosmetologists often get to help clients look their best.
Choosing cosmetology as your field of study is a very different educational path than a traditional four-year college degree. You're not going to be subjected to as many "general education" requirements, but you will be able to focus on something that you are interested in right away. Because cosmetology programs are often part of a technical school there is a lot of hands-on experience necessary to learn the trade (in fact you won't graduate if you don't have hands-on experience).
EDsmart has put together this guide to help you decide if beauty school is right for you.
Jump to a section
Is Cosmetology Right for Me? | How to Become a Licensed Cosmetologist | Top 20 Cosmetology and Beauty Schools
Is Cosmetology Right for Me?
Cosmetology can be a demanding field that requires a lot of social interaction. It involves being physically close with people and being on your feet and using your hands to perform most tasks. If you're considering cosmetology school, ask yourself these questions:
Am I a social person that likes meeting new people and engaging in conversation?
Do I like working one-on-one with people?
Am I comfortable touching people?
Do I like being on my feet all day and using my hands?
Am I comfortable with giving honest opinions in a tactful way?
Am I able to accept harsh and unfair opinions about my work?
Am I someone that enjoys keeping up with the latest trends and learning how to create them?
If you answered yes to these questions, then odds are you'd be a good fit for beauty school.
There are a lot of similarities between traditional college degrees and a beauty school program. You'll still have to attend classes and lectures, read textbooks, and do homework. You have to take exams both in the student salons, and written formats. Where it differs is in a cosmetology school, you're able to focus on your passions right away instead of wading through prerequisite classes. Additionally, these programs are significantly shorter than a four-year college degree. Most of these programs can be finished within two years, if not one year.
One factor that keeps people away from enrolling in a program is age. If you are a non-traditional "older" student, don't worry about not fitting in with other students. Many people turn to cosmetology after trying other careers. It's never too late to follow your dreams.
How to become a licensed cosmetologist
Step One: Graduate High School
It seems like a no-brainer, but the first step in becoming a licensed cosmetologist is to graduate high school or earn your GED. All beauty school programs require at least a GED equivalent before applicants are able to apply (in fact many schools require students to be at least 18 years of age as well). However, there are some programs out there that allow concurrent high school and cosmetology school enrollment (meaning you can be a high school student that hasn't graduated yet and still attend a cosmetology program). These programs are offered at a school by school basis or under special arrangement with high school counselors.
Step Two: Don't Be a Criminal
Again, this sounds like a no-brainer, but a lot of schools ask for a criminal record background check as part of the application process. If this may be a potential problem for you, be honest about it up front with the admissions group of the cosmetology school to prevent any misunderstandings. You'll at least be able to explain your circumstances instead of letting them draw their own incorrect conclusions.
Step Three: Get the Training
Getting the training means enrolling in a cosmetology school that is right for you. Do your homework and research the different schools in your area (or check the list below!). Be sure to compare the length of the program, the cost of the program, and the job placement percentage. If you have family or work obligations, some schools offer night courses for part-time students which allow for a more flexible schedule.
Most schools can take anywhere from 9 months to 2 years to complete the program, and students graduate with a diploma or certificate at the end of the program. A majority of states require at least 1500 training hours before you're eligible to test for a state license. License requirements vary from state to state. Luckily for you, most cosmetology programs are designed to help students pass their licensing exams as smoothly as possible.
Step Four: Specialization
We live in a world where specialization can be the difference between landing a job and being unemployed. In beauty school, specialization is an extra 600+ hours of coursework. This may sound like a lot of time and work, but the benefit of specialization is that it offers additional training and allows you to land positions like wedding hairstylist, nail technician, beautician, barber stylist, spa manager and more. Specialization also allows you to follow your interests instead of performing the tasks that you're not enjoying.
Step Five: Pass the Licensing Exam
Every state in the United States requires cosmetology graduates to pass a licensing exam before they are able to practice cosmetology. The requirements differ from state to state, but beauty school programs generally prepare students very well for this exam. The licensing exam includes written and practical questions in skin care, makeup, and hair care. When you've passed the exam you just need to pay the fee to get the license and then you're a licensed cosmetologist.
Step Six: Get a Job
Once you're a licensed cosmetologist, you're able to start looking for employment in beauty salons, spas, barbershops, and other work environments. Some schools have a student placement program that helps graduates transition into full-time employment, while other schools may have internship programs that allow students to have meaningful work experience.
Further Reading: Cheap Online Colleges
---
Top 20 Cosmetology & Beauty Schools
2018-2019
At EDsmart we know that it's important to do your research on what schools fit your own personal needs. We've ranked some of the best programs in the country in this list below according to academic quality and affordability.
The graduation rate stated is the percentage of students that graduate from the school (the higher the better–it's not good to go to a school where you're not going to graduate). The net price is a clearer picture of how much a student can expect to pay for a program. All data was gathered from the National Center for Education Statistics.

Program Graduation rate: 54%
Net Price $2,961
One of our two schools from Utah on this list, the Ogden-Weber Technical College is a school that recognizes that "experience is everything." As a tech school that is consistently rated as being one of the best schools in the state for technical education, OTechfeatures a job placement rate of 94% and a licensure rate of 99%–making OTech a school for students that are serious about starting a career. Students attending this beauty school are encouraged to develop their artistic and technical skills through the art of cosmetology through a rigorous combination of theory and hands-on experience. The program is 16-months long at 40 hours per week to attain their cosmetology certificate.
Program Graduation rate: 44%
Net Price $2,882
Atlanta Technical College is the highest ranked Georgia cosmetology school on our list and there is a reason why. For over 50 years, Atlanta Technical College has been committed to transforming the lives and communities by helping students become contributing members of the workforce. The cosmetology diploma program here focuses on training students in safety, sanitation, hair care, hair shaping, hair styling and more. Beyond traditional cosmetology skills, the program also emphasizes developing skills in reception, sales, management and work ethics so that students are employable when they graduate. The program lasts for three semesters, and at the end, students will be eligible to test for their state license.




Program graduation rate: 41%
Net Price: $2275
Another of our Georgia based beauty school programs, the Southern Regional College services the seven communities of Thomasville, Colquitt, Grady, Mitchell, Tift, Turner, and Worth counties. A college dedicated to providing students with hands-on experiences to help them prepare for their careers, SRTC equips its students for success. Students of SRTC's cosmetology program will receive specialized training in hair care, skincare, nail care, as well as training in safety, and sanitation. Graduates often go on to positions as cosmetologists, salon managers, salon owners, and cosmetology salespersons. This program is a four-semester program that can be taken at eight different locations (including select high schools) throughout the region.
Program graduation rate: 57%
Net Price: $5,164
South Georgia Techincal College has a long history in the state of Georgia. Prior to being used as a college, the land that is now SGTC was once an aviation training base for pilots in World War I and World War II. From its lofty aerial history, the base became a vocational school in 1948.  Since then students from around the region have sought out this school to master their technical skills. For a cosmetology program, SGTC is a competitive choice when compared to other beauty schools in the South. SGTC makes our list as one of the top five schools because of the way it has instilled the importance of work ethics in standing out in the field.
Program graduation rate: 59%
Net price: $5164
Three cosmetology schools from Oklahoma made our list, and the Moore Norman Technology Center is the top-ranked program from the state.  MNTC focuses on experiential learning and hands-on training so that students can quickly gain meaningful career skills. This is especially true for MNTC's cosmetology program. With an 88.9% placement rate, MNTC students are prepared for roles as cosmetologists, hairdressers, hair stylists, shampooers, and hair color specialists. This cosmetology school's program is 1500 hours long and is available as day classes and evening classes.
Program graduation rate: 41%
Net price: $3216
From its humble beginnings of four programs, seven employees and 32 students, Southeastern Technical College has served the citizen of eight counties from its location right in the heart of southeast Georgia. Now with sites in multiple counties across the state students are able to achieve the education they desire in a convenient and competitive environment.  Students attending STC's beauty school for an education in cosmetology can expect to learn about all aspects of the industry, from hair braiding to salon management and more. So long as a prospective student has their official high school/high school equivalent transcripts, students as young as 16 can enroll in this program. Graduates have often found work very quickly after graduation and have gone on to be cosmetology salespersons, cosmetologists, salon managers, and salon owners.
Program graduation rate: 43%
Net price: $4379
One of two schools representing the state of Arkansas, we are pleased to include the East Arkansas Community College within our top 10 cosmetology schools in the country. Though today the EACC and the Crowley Ridge Technical Institute have merged to become one school, CRTI still provides high quality academic, vocational, and occupational education in a cost-effective manner. This is especially true of its beauty school program that trains students to become outstanding hair stylists, hairdressers, cosmetologists and more. Students of the beauty school undergo technical training and soft skills training in management, interpersonal relations, and record keeping.
Program graduation rate: 73%
Net price: $6663
As our school with the highest graduation rate on our list, we have to draw special attention to the Pioneer Technology Center and the hard work they put into helping students achieve their goals. Pioneer Technology Center has been about helping people make their lives better and in turn, making their futures brighter by encouraging students to develop technical skills and the character traits needed for success. Their beauty school's cosmetology program is no exception to this goal. This program helps budding cosmetologists combine their creativity and their entrepreneurial skills, all while receiving hands-on instruction. As a 1500 hour long program, students cover the basics of facials, manicures, pedicures, hairstyling, cutting, and treatment, and more. Graduates have gone on to be cosmetologists, facialists, makeup artists and even state board inspectors.
Program graduation rate: 39%
Net price: $2345
Located in South Georgia, Wiregrass Georgia Technical College has been a pillar of the community for more than 50 years. Since its foundation in 1963, the school has grown to provide services for 11 counties at four campuses and 12 centers located throughout the area. The best-kept secret about this school is the HOPE program–Helping Outstanding Pupils Educationally–that helps students obtain financial assistance in the form of scholarships and grants. The Cosmetology school provides live work services in on-campus salons to the community at four locations (meaning that members of the community can come to campus for a haircut). Beyond traditional diplomas in Cosmetology, WGTC's beauty school also offers certificates for Cosmetic Estheticians, barbering, and more.
Program graduation rate: 37%
Net price: $626
Another technical college in the state of Georgia, Albany Techincal College has served the Southwest Georgia community for more than 50 years by helping individuals develop the skills to meet the rapidly evolving workforce.  What makes Albany Tech stand out is that they're the most cost-effective school on our list. Albany Tech is the only technical college that offers a full-service Career Development Center on campus so that students can start their education with the end in mind. The Cosmetology school at Albany Tech prepares students for a career in cosmetology through a regime of courses that cover a wide range of topics like state laws, sanitation, anatomy and physiology, hair treatments and manipulation, computer skills and more. Students that are interested in teaching also have the opportunity to gain an education on how to teach cosmetology at this program.




Program graduation rate: 40%
Net price: $5014
One of two schools from Mississippi on our list, the East Central Community College serves a five-county district in the eastern end of the state. Located in Decatur, MS, the school has served the community since 1928. ECCC's cosmetology school is open to students at least 17 years of age that have completed high school or the GED. As a 12 month program, students must complete 1500 hours of training and maintain an 85 average grade to be eligible to take the state license exams.  In exchange, students receive an education in cosmetology sciences, hair care, skin care, nail care, and salon business. Sounds like a good deal, doesn't it?
Program graduation rate: 50%
Net price: $6953
The second school on our list from the beautiful state of Arkansas, the University of Arkansas Community College-Batesville is a public college located in the town of Batesville in the north of the state. UACCB prides itself on being able to provide affordable access to technical education that meets the educational needs of the people of northern Arkansas. This dedication can be seen in the low cost of the program for students of the beauty school. UACCB's cosmetology school is designed to provide students with the education necessary to succeed in their field. As a 12 month program with lots of hands-on training, students quickly learn how to perform in all areas of beauty services.
Program graduation rate: 47%
Net price: $7022
As our only school representing the state of New Mexico, we're proud to recognize the achievements of Clovis Community College. CCC has served the communities of Eastern New Mexico for almost 60 years. As a result, it has developed a close relationship with Eastern New Mexico University to provide residents of the area with opportunities they would not have otherwise. What makes CCC stand out from its peers in other cosmetology school peers in other states is that CCC is a Pivot Point member school, meaning it offers students training on the most up-to-date equipment in modern salon settings. Classrooms are stocked with professional grade products and equipment with staff that takes a personal interest in student success. The program runs for three semesters and one summer and begins every fall.
Program graduation rate: 36%
Net price: $3774
Georgia Northwestern Technical College is located in Rome, Georgia and serves nine counties across the northwestern end of the state. What sets GNTC apart from other schools in the region is its dedication to a high quality of education and customer service. It's rare to hear a school talk about education and customer service in the same breath, but it's an important factor in learning. This focus on customer/student experience can be seen in all of GNTC's programs–especially the cosmetology school.  With four programs of study within cosmetology (cosmetology, hair designer, nail technician, and shampoo technician) students are able to receive as much education as they need to fit their particular interests.
Program graduation rate: 34%
Net price: $3979
Oconee Fall Line Technical College is another school well-known for its quality of education in its beauty school and cosmetology programs. Located in the heart of Georgia, Oconee Fall Line Technical College serves an 11 county area in central and eastern Georgia. Residents of these counties know that graduates of the OFTC are primed for success, and the school helps students of all educational backgrounds attain the education they need. OFTC's cosmetology school emphasizes the theory and practical aspects of operating an efficient and effective beauty salon and helps students prepare for careers related to skin, hair, and nail care.
Program graduation rate: 58%
Net price: $14475
Hailing from the "sooner state" of Oklahoma, Southwest Technology Center finds its home in Atlus, Oklahoma and serves its community by investing in the community and changing their lives through excellence in education and integrity. SWTC's cosmetology school is a 1000/1500 hour program that develops skills in manicuring, pedicuring, facials, scalp treatments, shampoo tints, hair cutting and shaping, and more. High school students that are at least 16 years old can attend this program with a recommendation from a high school counselor.  Graduates of the program are able to quickly find employment thanks to the relationships SWTC builds with local businesses. Students are able to find employment through work-based experiences and student placement.
Program graduation rate: 32%
Net price: $3943
Our final school from the southern state of Georgia, West Georgia Techincal College serves a seven-county area on the western side of the state. The school offers technical education, adult education, and continuing education classes for members of the community to develop their skills. WGTC is unique in that it believes that faculty and students both share the responsibility for learning. This is especially true of the beauty school's cosmetology program. At WGTC students can expect to be a part of exciting opportunities in this growing field.  Students can earn both diplomas and certifications as part of this program.
Program graduation rate: 40%
Net price: $7244
Hailing from the prairies of Kansas, Seward County Community College is the only school from Kansas on our list. A vibrant center of higher education on the high plains, SCCC ranks as one of the top 5% of community colleges by the Aspen Institute–a great feat considering serves a seven-county area including a county with one of the highest foreign-born percentage populations in the United States. Students of the cosmetology school can expect to develop technical skills in hair design, nail technology, and skin care. As one of the flagship programs of the school, SCCC features a unique 6000 square foot salon clinic where students offer their services to members of the community.  Students learn not only the technical skills to provide client services, but also behind the scenes soft skills like scheduling software, inventory management, and maintaining client history.
Program graduation rate: 42%
Net price: $8837
Our second school west of the Rockies, Bridgerland Technical College is located in the beautiful town of Logan, Utah. As a school with year-round admissions, students can expect to have easy enrollment so long as there is space available. This is true in almost all of the school's programs, including the beauty school's cosmetology program. As an open-entry, open-exit format, the program can be started at the first of every month.  This program is a 1600 hour program that is expected to take 10-13 months to finish. Students will learn the skills necessary for the profession while dealing with customers in a real-world salon environment.
Program graduation rate: 33%
Net price: $5914
For more than 100 years this Mississippi school has served the community in its educational needs. The school calls Ellisville, Mississippi home and serves an eight-county district. JCJC features a "dual credit/dual enrollment" program that allows high school students to earn both high school and college credit at the same time–giving students an advantage when they are ready for college life.  The cosmetology school at JCJC is designed to prepare students for employment in the industry. Structured as a three-semester program, the course meets a total of 1500 clock hours, meaning students are eligible to take the state board cosmetology exam.