ASU Online MBA Program Overview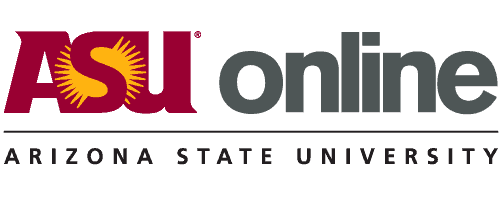 Arizona State University, offers an excellent online MBA program. It is accredited by the Association to Advance Collegiate Schools of Business, which is a gold standard in accreditation.
ASU has an application deadline of June 1 for U.S. students. The deadline for international students in February 1. The ASU MBA online program has an acceptance rate of 64%. The average GMAT score of students admitted to this program is 592.
US News and World Report ranks the ASU online MBA program at #5 in the Best Online MBA programs.

Other US News Rankings
Tuition at ASU
The ASU online MBA cost is $1216 per credit hour. A total of 49 credit hours is required to receive your MBA, bringing the tuition cost to $59,584. Additionally, there is a technology fee of $100 per academic year, as well as a fee of $96 per academic year for the Financial Aid Trust. There may also be additional fees, based on the elective classes that are chosen.
Financial Aid
ASU is committed to helping students find a way to pay for their online MBA. This school offers several resources to help students find the most economical options for financing their education.
Scholarships
ASU offers a variety of information and tools to help students find scholarships that are available. Take a look at this partial list.
Annual Community Volunteer Scholarship – $1500
Students must show exceptional volunteer involvement in the community.
Must be enrolled as a full-time student at college or university in USA or Canada.
Be in good standing with the school.
Have parent or legal guardian's permission to apply.
FreeLogoServices.com Scholarship – $1500
Minimum GPA 2.5
Completed 1 year of studies in product design or graphic design, marketing or branding.
Students must demonstrate promise in logo design.
Student Loans
Government loans are available to help students finance their education. Students are allowed to borrow up to $20,500 per year with these loans.
Private Loans
Many students also choose to utilize private loans as a means to pay for their college education. Private loans are generally through banks and credit unions.
Further Reading: Most Affordable Online Colleges
Curriculum Overview
The curriculum of ASU's online MBA program provides students a chance to focus on one class at a time, which lasts 5 weeks. Students need to attend 17 classes; 11 of them being core classes and the remaining 6 are elective classes, creating a total of 49 credits.
Core Courses
Operations and Supply Management – Management issues, quality control, new product development, etc.
Strategic Management – Bringing together strategy and policy.
Statistics for Managers – Learning statistical accounting for decision making.
Financial Accounting – Learning accounting systems and reporting for business.
Managerial Accounting – Concepts and procedures for decision making.
Marketing Management – Market planning, strategy and control.
Managerial Finance – Theories and techniques for corporate finance
Organization Theory – Developing skills to deal with the human side of business
Managerial Economics – Learning the impact of the economy on business.Elective Courses
Another way students can enhance their skills is by choosing elective courses that are in line with their career goals. At ASU students can choose the following areas of focus:
Advanced Corporate Finance
Financial Statement Analysis
International Financial Management
Investment Funds/Portfolio Management
Business-to-Business (B2B) Marketing
Development and Pricing of New Products
Global Marketing
Services Marketing
Strategic Procurement
Supplier Management and Negotiation
Logistics in the Supply Chain
Supply Chain Design and Cost Management
ASU's online MBA program offers students the ability to choose an area of focus that will provide them the skills needed to advance in a career of their choice.
MBA Concentrations
Adding flexibility, students also have the option of beginning courses in either January or August. Students can also earn concurrent degrees in the ASU MBA online program in the following areas:
Post Graduation Experience
Income
Income of students entering ASU's online MBA program: $70,593
Income of students with 3 months work experience: $95,700
Average signing bonus with companies: $19,672
Work
Very large and well known companies hire graduates of ASU. The majority of jobs are in the technology field at 36.2% and the largest professional function is in supply chain at 53.4%.
Some of the hiring companies include:
Amazon
American Express
Tesoro Corp.
PetSmart Inc.
Western Digital
Dell
Apple, Inc
Chevron Corp.
Sources:
https://asuonline.asu.edu/online-degree-programs/graduate/master-business-administration
https://wpcarey.asu.edu/mba-programs/custom-corporate/academics#scm
https://www.usnews.com/education/online-education/arizona-state-university-OBUS0021/mba
https://wpcarey.asu.edu/recruit-graduates/mba-employment-statistics
https://wpcarey.asu.edu/mba-programs/custom-corporate/courses