The Best Scholarship Websites to Fund Your Education
The majority of people are paying for college by taking active steps to make it more affordable. According to the Sallie Mae How America Pays for College 2022 report, 89% of families reported taking prudent steps to make college more affordable.
This includes eliminating schools from consideration based on cost, developing a plan to pay for all years of college before the student enrolled, and maximizing "free money" such as scholarships and grants. Additionally, 81% of families said they filed the FAFSA® to qualify for federal financial aid.
Data from the How America Pays for College 2022 report shows that 60% of families used scholarships in 2022.
The most common source of scholarships was the college or university the student is attending, used by 62% of families and covering an average of $6,335.
Nearly 4 in 10 scholarship recipients said they received the funds from the state (38%), with an average amount of $2,362, or from companies or non-profit organizations (37%), reporting $2,189, on average.
Additionally, 45% of families think scholarships are only for exceptional students and 36% believe it's not worth applying for a scholarship if the parents make too much money.
Finding scholarships can be as easy as picking up your cell phone and searching on Google.
Below, you will find the best scholarship websites online today. Within each, you will find easy access to millions of scholarship dollars to help fund your education. Start your search with one of these databases, and you're sure to find money to fund your college education in no time.
If you're looking for scholarship application tips, visit College Raptor Scholarship Guides.
Online Programs That Might Interest You
Learn about start dates, transferring credits, availability of financial aid, and more by contacting the universities below.
---
Bold.org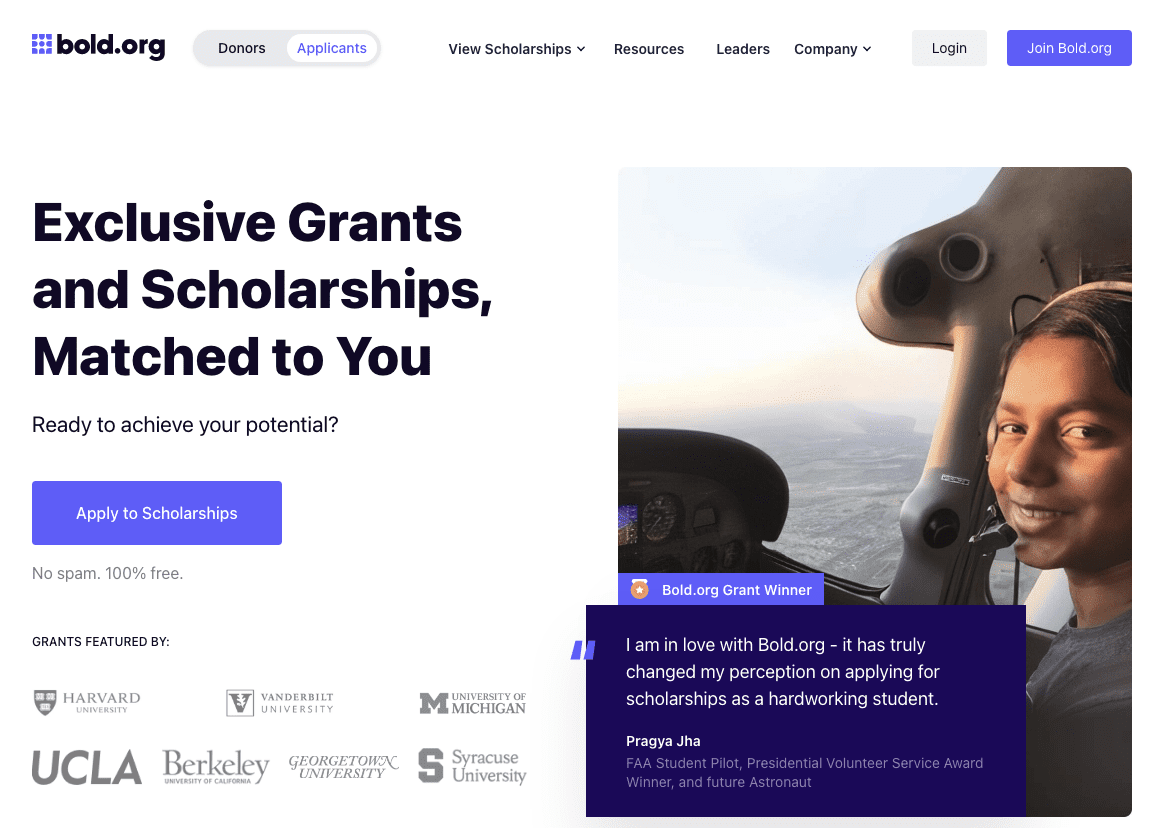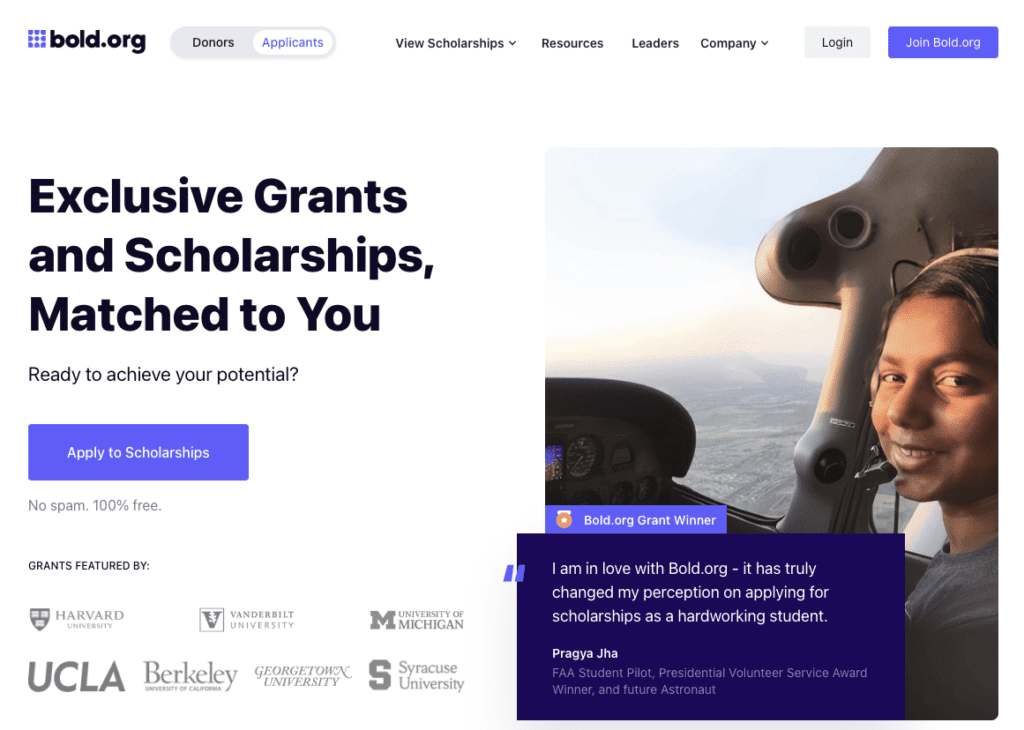 Bold.org makes it easy for students to apply to countless scholarships. The scholarship platform hosts awards sponsored by a variety of donors: individuals, companies, families, foundations, and other organizations. It's completely free to view the available scholarships and apply to as many as you want.
Scholarships and grants are divided into clear categories, so it's easy to find awards you're eligible for. You can browse through scholarships for high school students, minorities, athletes, entrepreneurs, and students entering specific fields such as nursing or STEM. You can also use the filters to narrow down your search by education level and/or essay requirements.
You'll create a personal profile that you can use in all your scholarship applications on the site, reducing the amount of time it takes to apply. Many awards don't even require anything more than your profile, though there are some scholarships that require an essay as part of the application.
Many of these are offered to active students, but there are also awards open to graduates who are paying off student debt. You can also find helpful tips and educational resources for saving money, studying, and time management.
Visit Bold.org to start applying for scholarships today!
Scholarships.com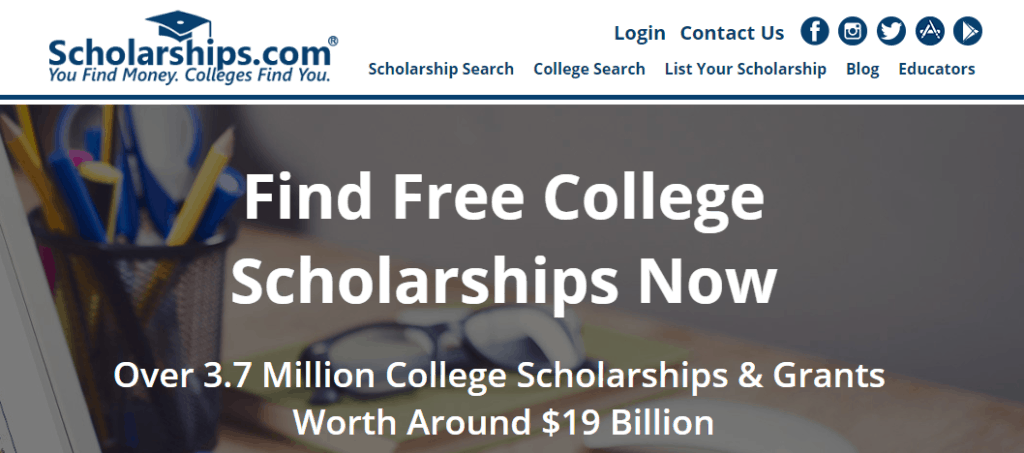 Scholarships.com offers quick and easy access to over 2.7 million free college scholarships. Over the years, they've provided access to scholarships with a total value of over $19 billion since its inception.
Scholarship listings are updated every few months and the site offers all types of scholarships.
Registration is simple. Registered users can choose which types of scholarships they're shown and can opt-in for email notifications about relevant scholarships to a person's preferences.
Scholarships.com also offers a college directory and college matching service all at no cost for registered users.
Visit Scholarships.com today to start finding funding for your college education.
Peterson's


Peterson's helps students and prospective students for their perfect scholarship(s) through over 5 thousand scholarship providers. This scholarship website provides $10 billion in scholarships, grants, fellowships, prizes & forgivable loans.
Peterson's provides a simple interface with tools, tips, filters, and a short survey that will tie scholarships to your background, life experience and more.
Peterson's offers access to a few undergraduate scholarships that are over $100,000 each. At the graduate level, Peterson's offers over 82 scholarships over $25,000 each. The highest scholarship being offered by Fannie and John Hertz Foundation Fellowship at $200,000 per awardee.
The filtering capabilities on Peterson's easily help narrow down which scholarships will work for you. The more niche your scholarship, the better.
Visit: https://www.petersons.com/
Fastweb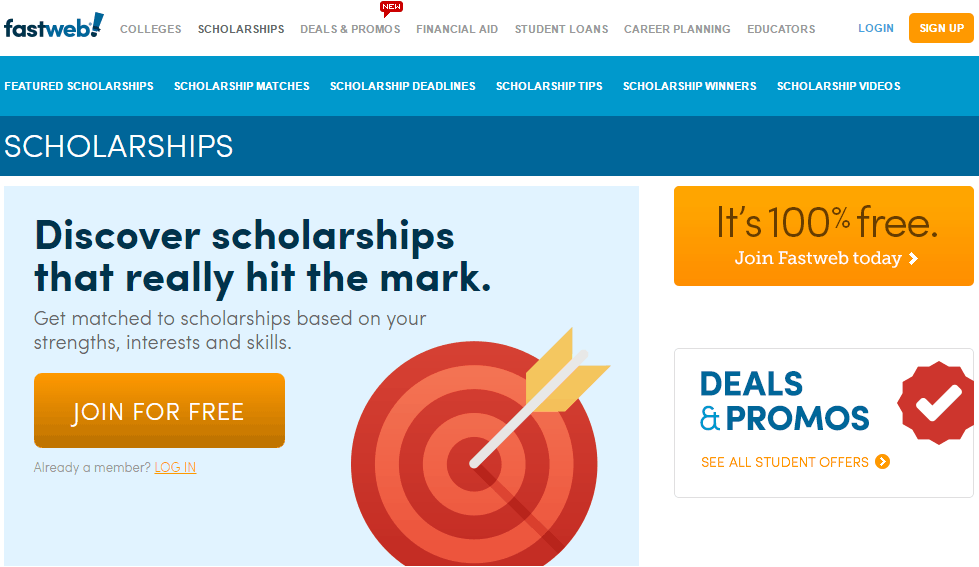 This site has helped hundreds of students to find money for college. Fastweb is free and easy registration makes it a popular destination for those seeking scholarship money. The site will match you with scholarships based on your strengths, interests, and skills.
Scholarship seekers can select specific criteria for which scholarships they seek such as amount, deadline, and types of scholarships. They also offer links to scholarship application pages.
One thing that sets Fastweb apart from its competitors is that they provide scholarship tips, career advice, financial aid information and resources, and a college search tool. This is truly an all-in-one site for paying for college.
The Fastweb scholarship database is updated every 24 hours or less, making it the most thorough and up-to-date scholarship search website. Once registered, users can choose to be notified, via email, of new or possible scholarship opportunities.
Visit Fastweb.com today and find a scholarship fast!
Unigo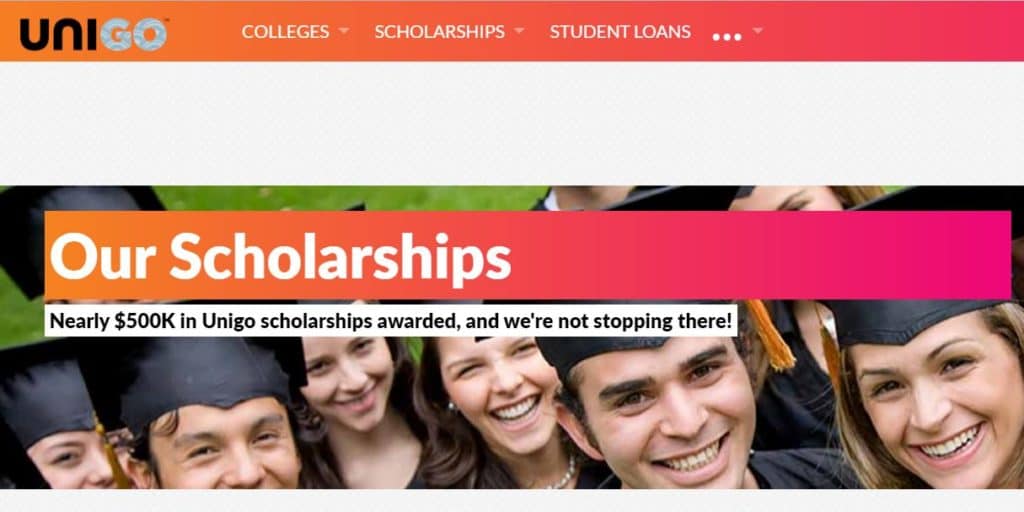 Unigo sets itself apart from the rest of the online scholarships websites. Their robust platform offers plenty beyond scholarships, including jobs, internships, college rankings and profiles, and more.
This site provides around 3.6 million scholarships totaling over $14 billion in awards. Unigo offers personalized results to offer you the best opportunities.
Unigo's list of scholarships, awards, and grants can "give you fun, unusual, academic, need-based, student-specific, career, and even more types of scholarships."
One of EDsmart's favorite scholarships on this site is the $2,000 Zombie Apocolypse scholarship. All they require is a student's "plan to avoid the zombies, where you would hide (or maybe you don't need to), and the top five things you would bring to stay alive."
Visit UNIGO today to find scholarships for all walks of life.
Chegg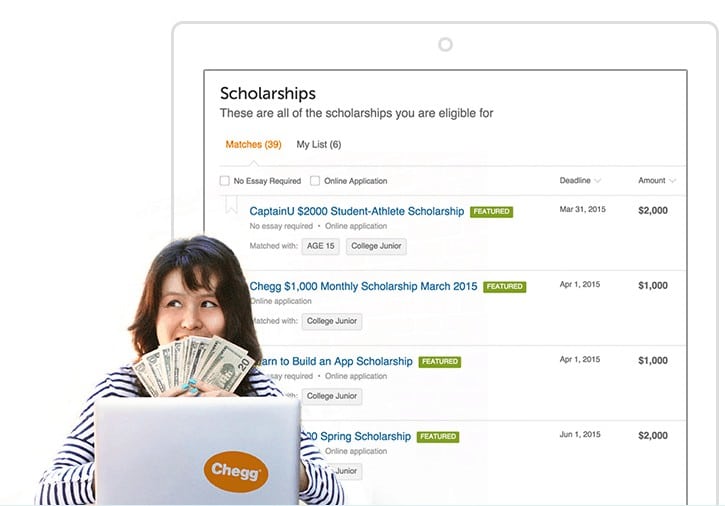 Chegg, formerly known as Zinch.com, is a newer scholarship website that has seen rapid growth due to the simplicity of its scholarship search tools. Visitors can compare different scholarships from all fields and industries.
Chegg is free to use and provides over 5,000 scholarships with a total value of over $1 billion in awards. Chegg is updated frequently so that students can quickly be the first to apply.
Chegg requires user registration. Once registered, you can search for scholarships that are most relevant to your goals and needs, including your age and stage of education. Registered users can organize and save scholarships for later viewing and application.
Scholarship opportunities cover a wide range of opportunities including traditional and vocational schooling and even grad school. The site itself also offers a $1,000 Monthly Scholarship.
This site offers users the ability to search by zip code, cumulative GPA, and more. This allows students to find scholarships provided by local businesses, foundations, and associations—some of the best scholarships to apply for due to localization.
Once you have found scholarships for which you would like to apply, you can review deadlines and submission requirements. The interface and search tool are intuitive and easy to use. Registered users can also opt-in to receive reminders so they will never miss a scholarship deadline.
Visit Chegg to begin your college funding journey.
Cappex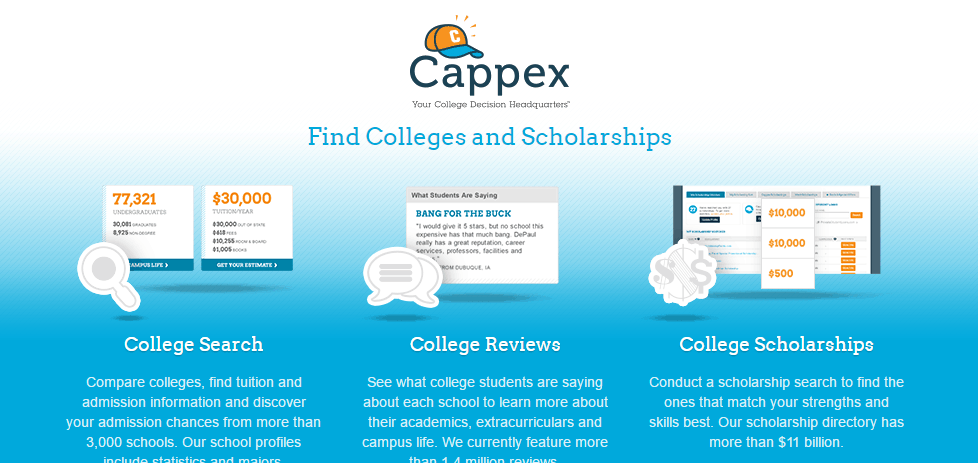 Cappex is a free service that claims to provide "More Than $11 Billion in Scholarships." Registering can be tricky but well worth it once you're signed up. The registration process helps narrow down the best awards for you. Make sure to fill out as much as possible. The more information you provide about your college plans, the better your scholarship results will be.
Registrants get total access to college scholarships, college reviews, and tuition and admissions-related information.
This site offers its "What Are My Chances" tool, which calculates your odds of getting into certain colleges before you apply. They also provide a college comparison tool that allows you to add personal notes and rankings. Another helpful tool is the Cappex College Fit Meter which will instantly show you whether or not a college you're interested in will be right for you.
Cappex has a rating of A+ on the BBB with zero complaints.
Visit Cappex.com
GoingMerry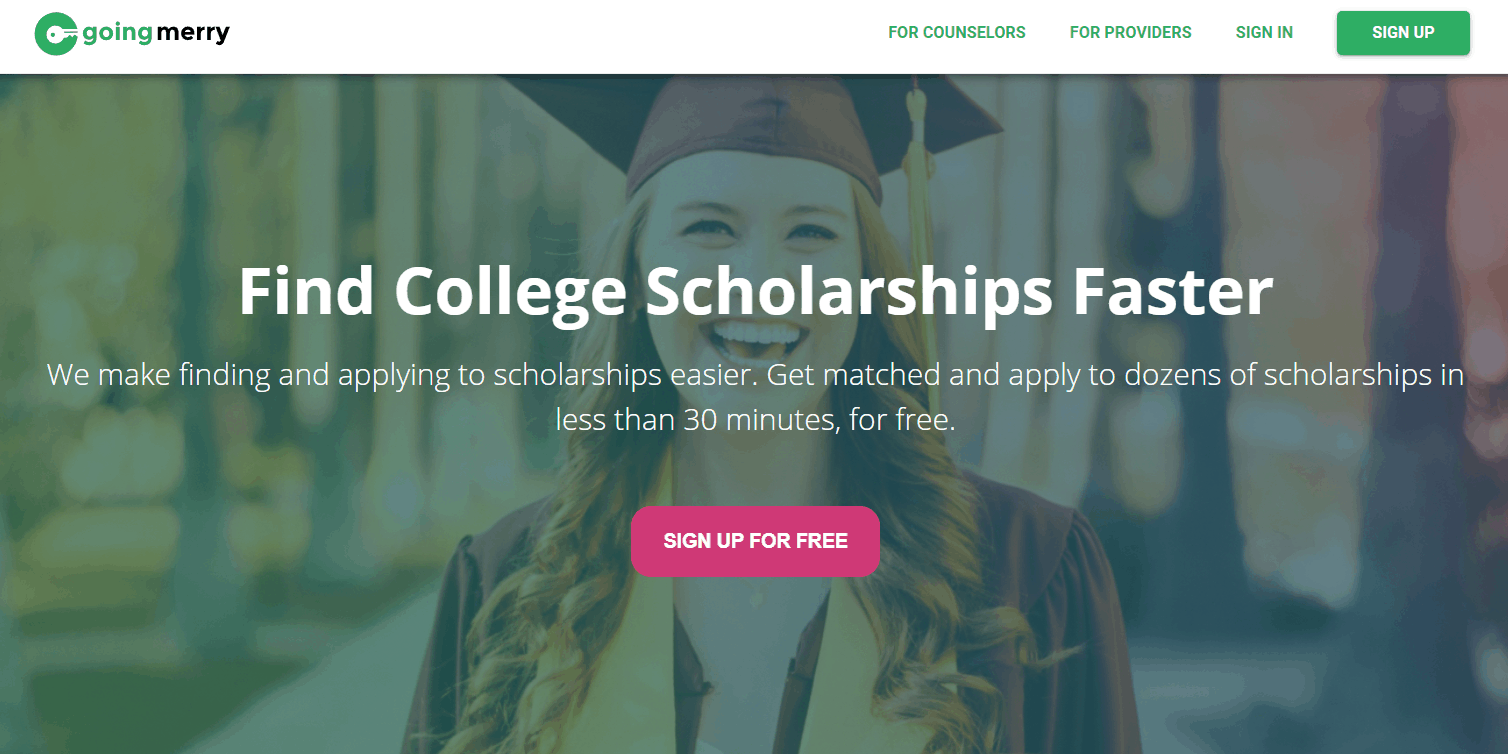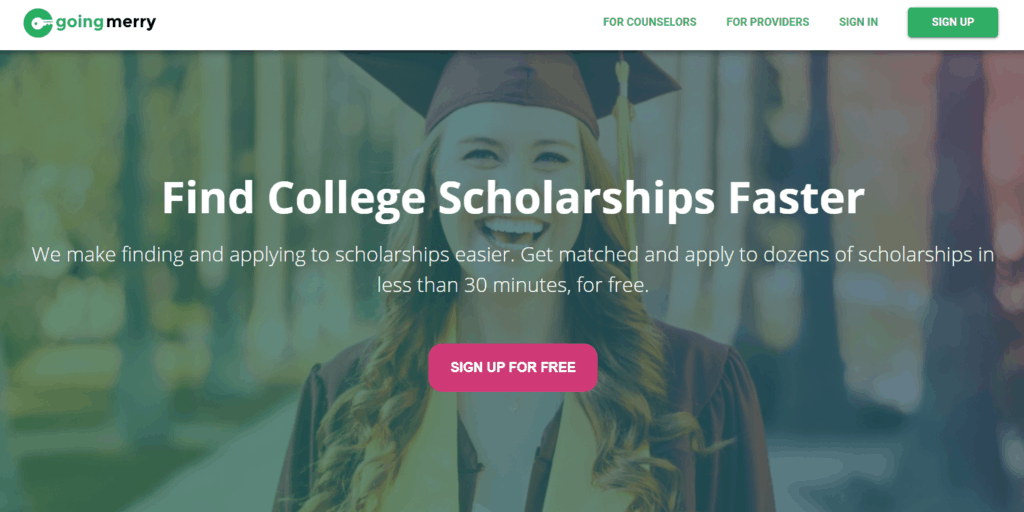 GoingMerry is a scholarship platform that works with over 7,000 high schools and focuses on hyperlocal scholarships as well as third-party national scholarships.
Completing scholarship applications is free and easy. Students can fill out their information once and the system will automatically find scholarships for which the students qualify.
Their app allows students to quickly find and organize their favorite scholarships. Filtering allows them to search by category, deadline, completion time, award amount, number of winners, number of applications, location, and more.
GoingMerry is the best platform for school counselors. Counselors can host all of their local scholarships for free.
Many of the counselors that GoingMerry works with recommending them to their students over sites like FastWeb and others because they have built one place for all their scholarships--no more jumping around to different sites because GoingMerry houses them and students apply for scholarships via the GoingMerry college scholarships platform.
If you're looking for other ways to pay for college, GoingMerry has a mountain of information to help with that too. Check out their Paying for College guide to get started.
Visit GoingMerry.com
What is a scholarship?
A scholarship is a monetary award given to college students to help them pay for their education. There are awards available for undergraduate, graduate, and doctoral programs. In most cases, scholarship funds are gifts, not loans – they don't need to be paid back.
The scholarship money a student receives is usually put toward direct educational expenses, such as tuition, fees, equipment, and textbooks. There are some scholarship awards that offer money for additional expenses, such as room and board, but these aren't as common.
Because most scholarships are gifts, they are funded through charitable donations. Donors can be individuals, companies, religious organizations, and government entities. Award amounts can vary widely. Some scholarships are worth a few hundred dollars, and other ones can cover the entire cost of a university degree: tens of thousands of dollars.
The eligibility rules for a scholarship may be set by the person or organization offering it. Generally, scholarships are offered to exceptional students, athletes, and/or members of underrepresented groups.
How do scholarships work?
In the most basic sense, a donor creates a scholarship fund and determines what they want the eligibility criteria to be. Students apply for the scholarship, and the donor or host organization chooses a winner: the person they feel meets the criteria the best. While there are some scholarships that are given to students with financial needs, most awards are merit-based.
Scholarships can be given for a single semester or school year. Other awards may be available for the entire length of the degree program. Many of these multi-year awards require the recipient to maintain a certain GPA in order to remain eligible. Sometimes the student has to major in a certain subject or take a few specific classes, such as honors courses.
Sometimes the money for a scholarship is paid directly to the recipient with the understanding that they will use it toward their educational expenses. In other cases, the award money is paid directly to the student's university.
How to find scholarships
There are countless scholarships available, and in most cases, there isn't a limit to the number you can apply for and win. It's a good idea to spend some time looking for available scholarships and applying for them.
Libraries may also have details on local awards, especially those offered by the state or municipal government.
Scholarship sites make it easy to get details on numerous scholarships all at once. With many of these sites, you can search for specific criteria or browse through awards in different categories. For example, a female student who wants to get an engineering degree may look for engineering scholarships or awards open to women in STEM.
How to apply for scholarships
Scholarships can dramatically reduce the financial burden of going to college. Here's a step-by-step guide to applying for these awards.
Step 1: Search for scholarships
Use a scholarship website to find awards you're eligible for. Make a list of all the scholarships you want to apply for. You may want to organize your list based on the award amount, the lengthiness of the application, or the deadline.
Step 2: Check the deadlines
Most applications for financial aid and scholarships are due in the fall, but you can find awards with deadlines throughout the year. You can start looking for scholarships during your junior or senior year of high school. For any award you decide to apply for, make a note of the deadline so you can avoid missing it.
Step 3: Follow the application requirements
Some scholarships require you to write an essay on a specific topic or provide evidence of excellence in extracurriculars like athletics or music. Other awards are far simpler, requiring no more than your personal information and details about your college plans. With some of these easy awards, you might be able to apply in just a few minutes right on the website with your profile.
You may want to apply for all the easy no-essay scholarships first and then work on the longer applications. Or you might want to do the harder ones first so you have time to fine-tune your personal essays. Either way, make sure you follow all the requirements for each award so you don't miss out because of an incomplete application.
Step 4: Double-check your application
It's always important to take the time to check over your application before you submit it. Make sure you've included all the required information and that your contact details are correct.
Frequently Asked Questions About Scholarships
Do you still have questions about scholarships? Here are some expert answers.
Are scholarships taxable?
In most cases, scholarship money is tax-free. As long as you are a student at a standard educational institution and use the money for approved expenses, you don't need to pay taxes on it. Tuition, fees, textbooks, equipment, and supplies are examples of approved expenses.
What is a merit scholarship?
A merit scholarship is awarded based on the applicant's performance in athletics, academics, or another area.
How is a student loan different from a scholarship?
Scholarships are awarded as gifts that do not need to be repaid. Additionally, student loan eligibility is usually based on financial need whereas most scholarships base eligibility on merit.
Do you have to pay back scholarships?
In most cases, scholarships are considered "gift aid," which you aren't required to pay back. (You do need to pay back student loans). However, some grants and scholarships require you to take certain classes or maintain a specific GPA to continue being eligible.
What scholarships can I get?
There are countless scholarships available. The best way to see which ones you can get is to use a website that provides information on many different awards.
What is the difference between a financial grant and a scholarship?
Most grants and scholarships are considered gift aid meaning they don't need to be repaid. However, grants are generally given out based on financial need whereas most scholarships are based on merit, such as academic or athletic excellence.
Are there scholarships for medical school?
Yes! There are many different types of scholarships for medical school offered by private donors, organizations, and charities.
How many scholarships can I get?
You may apply for as many awards as you want and can accept any of them that you win.
Further Resources:
Access Scholarships - Scholarships Search Engine 
Online Programs That Might Interest You
Learn about start dates, transferring credits, availability of financial aid, and more by contacting the universities below.