Accredited Online Colleges in PA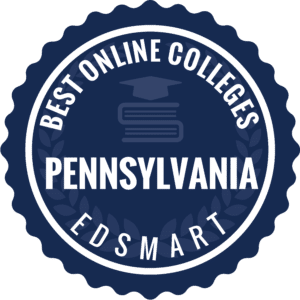 With the rapid innovation and widespread adoption of information and communication technology, online education is becoming increasingly popular. Online learning can allow you to pursue your degree from the comfort of your home or wherever you may be. Online courses also tend to be cheaper and can be taken at your own pace.
In Pennsylvania, in particular, many renowned colleges offer online programs. Here are some of the best of these offers in Pennsylvania.
Jump to:
Rankings | Overview | List of Accredited Online Colleges in PA
Rankings
EDsmart has dug through the data trenches to bring you an easy to read, easy to digest ranking of the best online colleges in PA.
Schools are ranked based on four data points in three categories:
Affordability (financial aid, net price)
Student Satisfaction (retention rate)
Student Outcome (4-year graduation rate)
Each data point is ranked with equal weight. Schools received a weighted overall ranking score for each individual point mentioned above–100 being the highest score possible.
In the case of a tie in scoring, the average net price was the determining factor for which school received the higher rank–the lower the net price, the higher the ranking.
All data was gathered from the National Center for Education Statistics website and is accurate at the time of this writing [April 2019].
Best Online Colleges in PA
Score: 99.8
Financial Aid: 100%
Average Net Price: $30,540
Retention Rate: 86%
Graduation Rate: 80%
Duquesne (pronounced doo-KAYN) University is located in Pittsburgh, Pennsylvania, and ranks #40 in best schools by US News in terms of their value for the tuition. The median starting salary for graduates of Duquesne is estimated to be $50,300, right at the average among all colleges.
Duquesne has the second-highest retention and graduation rates on our best online colleges in PA ranking.
This university accepts 72% of all applicants and 59% of early admissions applicants. The most popular majors at the university are Nursing Science/Biology, Psychology, and Education. Duquesne University offers both undergraduate and graduate online programs with a wide range of choices of major. The university's mission statement is that "Duquesne serves God by serving students through commitment to excellence in liberal and professional education, profound concern for moral and spiritual values maintaining an ecumenical atmosphere open to diversity, service to the Church, the community, the nation, and the world, and attentiveness to global concerns". This declaration shows that Duquesne is a dedicated Christian university, which is something to consider when applying to programs.
Score: 99.4
Financial Aid: 100%
Average Net Price: $25,525
Retention Rate: 85%
Graduation Rate: 63%
Like Duquesne, Chatham University is located in Pittsburgh, Pennsylvania. It began as a women's only college in 1869 but has now been co-ed since 2014. Chatham is unique in that it offers an "Integrated Degree Program" in which students can obtain both a Bachelor's and a Master's Degree in just five years. Chatham partners with top-ranked university Carnegie Mellon for this program. The online program at Chatham University is available for both graduate and undergraduate programs. The school's acceptance rate is 55%, and 65.3% of classes hold fewer than 20 students. The university's mission statement states: "Chatham University prepares its students to build lives of purpose, value, and fulfilling work. Through professional skill development and liberal arts learning, Chatham prepares its graduates to be informed and engaged citizens in their communities; to recognize and respect the diversity of culture, identity, and opinion; and to live sustainably."
Score: 99.2
Financial Aid: 100%
Average Net Price: $27,977
Retention Rate: 81%
Graduation Rate: 70%
DeSales offers some of the most online majors in our list of online schools in Pennsylvania. These majors range from marketing to theology to finance and criminal justice. DeSales focuses on helping students to pursue their degree in convenience, offering courses to be completed at your own pace. Desales is ranked #43 in best value schools by US News and World Report. It has a 74% acceptance rate and accepts either ACT or SAT scores. The average student to faculty ratio at DeSales is 12 students to 1 faculty member. This ratio is favorable for students who like to have more access to professors and faculty members for help. Like Duquesne, DeSales is also a Christian institution, as their mission statement states: "it is the mission of DeSales University to provide men and women with quality higher education according to the philosophy of Christian humanism as developed by Saint Francis de Sales and his spiritual heirs."
Score: 99.0
Financial Aid: 94%
Average Net Price: $17,577
Retention Rate: 81%
Graduation Rate: 66%
Slippery Rock University, located in Butler County, Pennsylvania, also offers online programs for undergraduate and graduate degrees.
Slippery Rock provides the second most affordable average net price on our list of best online colleges in PA.
They offer degrees in the following fields: leadership studies, management, nursing, philanthropy, and nonprofit management, and liberal arts. It is perhaps the cheapest option available to you, and for this reason, it is ranked #54 in best value schools by US News and World Report. Despite being so cheap, graduates can earn an average salary upon graduating of $42,400, which is within the typical range.
Score: 98.0
Financial Aid: 82%
Average Net Price: $34,705
Retention Rate: 90%
Graduation Rate: 84%
Gettysburg College has the highest retention and graduation rates on our list of best online colleges in PA.
Gettysburg is a private college that ranks #49 in best liberal arts colleges according to US News and World Report. Students at Gettysburg College can enjoy some of the highest teaching quality in the country, as the college was ranked #28 in best undergraduate teaching by US News and World Report. On top of its excellent education, it boasts a median starting salary for graduates of $51,700, which is slightly above the average for recent graduates. Naturally, Gettysburg college is a bit more selective than other schools on the list, accepting 46% of applicants. Another favorable aspect of the college is that 70% of its classes have fewer than 20 students, and it has a student to faculty ratio of 9:1, so students can develop a more personal relationship with their professors.
Score: 97.4
Financial Aid: 99%
Average Net Price: $21,832
Retention Rate: 78%
Graduation Rate: 55%
Point Park University is one of the newer schools in the region, having begun its journey of enlightenment in 1960. As it is a newer university, it focuses much more on online education than many other schools on the list. It offers perhaps the broadest range of online majors, ranging from business to information technology to criminal justice to public relations. It offers graduate programs as well and even a doctoral program. It is possible to obtain a Ph.D. in Community Engagement through a Point Park University education. For students who prefer to receive a certificate, a program geared towards being a K-12 principal is an option, as well as a superintendent letter of eligibility. Tuition is much cheaper at Point Park than many other schools on this list, with a cost per credit of $455 for most classes. According to their mission statement, "Point Park University educates students in a diverse urban environment and prepares graduates to apply knowledge to achieve their goals, advance their professions, and serve their communities."
Score: 97.0
Financial Aid: 95%
Average Net Price: $15,513
Retention Rate: 66%
Graduation Rate: 43%
Edinboro University of Pennsylvania is the most affordable online college in our best online colleges in PA ranking.
Online course offerings at Edinboro are available for students who need flexibility in studying day or night and are offered for both undergraduate and graduate students. An extensive range of "over 25 award-winning and nationally accredited graduate programs", according to the university's website. These programs range from business management to arts, to education, and nursing. It is also one of the more affordable options on this list, with tuition and fees of $10,282 for the 2017-2018 school year. The acceptance rate at Edinboro University is 95%, which means it is a safe option to consider for many students. It also has a rolling application deadline.
Score: 97.0
Financial Aid: 88%
Average Net Price: $19,731
Retention Rate: 77%
Graduation Rate: 62%
Millersville University is a public college that is very different from other schools on the list in that it follows a 4-1-4 based academic schedule. This system means that students can take one class per month, for a total of up to 9 courses in a year. Many students find that focusing on one course at a time allows them to focus more on the material and manage their time more efficiently.
This unique draw of the university brings a total enrollment of nearly 7,000 students. Another draw is that 82% of students receive financial aid, according to Millersville University's website. Their focus is on students obtaining a high-quality education without being in loads of debt after graduating. The school's mission statement states that "Millersville University provides diverse, dynamic, meaningful experiences to inspire learners to grow both intellectually and personally to enable them to contribute positively to local and global communities."
Score: 99.6
Financial Aid: 91%
Average Net Price: $19,247
Retention Rate: 72%
Graduation Rate: 56%
Indiana University of Pennsylvania is a public college located in Indiana, Pennsylvania, and has an enrollment of over 10,000 students. It is one of the more affordable colleges on the list, with tuition and fees for in-state students of $12,979. It also has a rolling deadline for applications, which offers a more convenient and larger application window for prospective students. While it is nearly the lowest-ranked school on this list, it is comparable with all other colleges in terms of breadth of course offerings, which range from business to environmental studies to science and technology to social sciences and research. The school's mission statement states that "Indiana University of Pennsylvania engages students as learners and leaders in an intellectually challenging, culturally enriched, and contemporarily diverse environment."
Score: 99.6
Financial Aid: 95%
Average Net Price: $26,312
Retention Rate: 76%
Graduation Rate: 60%
Wilkes University, located in Wilkes-Barre, Pennsylvania, is ranked #45 in best value schools, as they focus on high quality, affordable education. Their mission statement states that: "A student who may not have succeeded elsewhere thrives at Wilkes. Its why we can count so many Wilkes alumni as leaders in their careers and communities. We're not just about diplomas and degrees. We're about more than teaching. We're about mentoring." This mission is reflected in the university's success, as the median starting salary for graduates of Wilkes University is estimated to be $51,600, which is above average. Wilkes offers online education for undergraduate and graduate programs, which include nursing, education, creative writing, business, and more.
Congratulations on making this year's Best Online Colleges in PA rankings! If your school information is not up-to-date, please notify [email protected] All information was gathered from online resources, including school websites, US News, and other reputable online sources.
Further Reading: Affordable Online College Rankings
Overview
The Commonwealth of Pennsylvania was one of the original Thirteen Colonies and has played a crucial role in United States history. Philadelphia hosted the First and Second Continental Congresses, the latter of which signed the Declaration of Independence. Philadelphia was the nation's capital during the Revolutionary War and the 1790's while Washington, D.C., was under construction. The state is home to 12.6 million people, with almost 6 million in the greater Philadelphia metropolitan area alone. The state's thriving economy is diversified into a wide array of industries. PNC Financial Services is the biggest bank in the state and the fifth-biggest in the country. Pennsylvania is also the nation's top producer of mushrooms and the third-biggest supplier of Christmas trees. The nation's first zoo is in Philadelphia, and there are 121 state parks scattered throughout Pennsylvania. More pretzels and potato chips are produced in Pennsylvania than in any other state, and Utz Quality Foods and Wise Snack Foods are both based in the state.
In addition to all of this, Pennsylvania is home to a vast number of colleges and universities offering online education. One of the state's best-known universities is Pennsylvania State, which offers a wide variety of online classes and programs. There are also several faith-based schools in the state, which incorporate education and spirituality. Whichever school you choose to attend in Pennsylvania, the first thing you want to check for is the school's accreditation status. This understanding will help you to ensure that the education you receive from the school is of high-quality. The regional accrediting agency over Pennsylvania is the Middle States Commission on Higher Education. Some of the other institutional accrediting agencies that are popular among Pennsylvanian schools are the Association for Biblical Higher Education for many of the faith-based schools, and the Accrediting Commission of Career Schools and Colleges for many of the technical schools. In addition to institutional accreditation, many schools offer accredited programs. Below, you'll find a list of every school in Pennsylvania with online classes. To help you narrow your search, the schools have been classified into four categories: private, public, for-profit, and faith-based schools.
Accredited Online Colleges in Pennsylvania
Categories: Private | Public | For Profit | Faith Based

Private Schools
School Name: Alvernia College
Accrediting Agency: Middle States Association of Colleges and Schools, Commission on Higher Education
Address: 400 Saint Bernardine St, Reading, Pennsylvania 19607-1799
Contact: (610) 796-8200
Website: www.alvernia.edu
Type of School: 4-year, Private not-for-profit
Programs Offered: Associate's degree;Bachelor's degree;Master's degree
School Name: American College
Accrediting Agency: Middle States Association of Colleges and Schools, Commission on Higher Education
Address: 270 Bryn Mawr Ave, Bryn Mawr, Pennsylvania 19010-2196
Contact: (610) 526-1000
Website: www.theamericancollege.edu
Type of School: 4-year, Private not-for-profit
Programs Offered: Master's degree
School Name: Arcadia University
Accrediting Agency: Middle States Association of Colleges and Schools, Commission on Higher Education
Address: 450 S Easton Rd, Glenside, Pennsylvania 19038-3295
Contact: (215) 572-2900
Website: www.arcadia.edu
Type of School: 4-year, Private not-for-profit
Programs Offered: Bachelor's degree;Postbaccalaureate certificate;Master's degree;Post-master's certificate
School Name: Baptist Bible College and Seminary
Accrediting Agency: Association for Biblical Higher Education, Commission on Accreditation & Middle States Association of Colleges and Schools, Commission on Higher Education
Address: 538 Venard Rd, Clarks Summit, Pennsylvania 18411
Contact: (570) 586-2400
Website: www.bbc.edu
Type of School: 4-year, Private not-for-profit
Programs Offered: One but less than two years certificate;Associate's degree;Bachelor's degree;Master's degree
School Name: Berks Technical Institute
Accrediting Agency: Accrediting Commission of Career Schools and Colleges, Commission on Higher Education
Address: 2205 Ridgewood Rd, Wyomissing, Pennsylvania 19610-1168
Contact: (610) 372-1722
Website: www.berks.edu
Type of School: 2-year, Private for-profit
Programs Offered: One but less than two years certificate; Associates degree
School Name: Bethel Seminary of the East
Accrediting Agency: North Central Association of Colleges and Schools, The Higher Learning Commission
Address: 2325 Maryland Road, Suite 225, Willow Grove, Pennsylvania 19090
Contact: (215) 659-1000
Website: www.bethel.edu
Type of School: 4-year, Private not-for-profit
Programs Offered: Postbaccalaureate certificate;Master's degree;First-professional degree
School Name: Biblical Theological Seminary
Accrediting Agency: Commission on Accrediting of the Association of Theological Schools & Middle States Association of Colleges and Schools, Commission on Higher Education
Address: 200 N Main St, Hatfield, Pennsylvania 19440
Contact: (215) 368-5000
Website: www.biblical.edu
Type of School: 4-year, Private not-for-profit
Programs Offered: Postbaccalaureate certificate;Master's degree;Post-master's certificate;Doctor's degree;First-professional degree
School Name: Bryn Athyn College of the New Church
Accrediting Agency: Middle States Association of Colleges and Schools, Commission on Higher Education
Address: 801 Tomlinson Rd, Bryn Athyn, Pennsylvania 19009-0717
Contact: (267) 502-2543
Website: www.brynathyn.edu
Type of School: 4-year, Private not-for-profit
Programs Offered: Associate's degree;Bachelor's degree;Master's degree;First-professional degree
School Name: Cabrini College
Accrediting Agency: Middle States Association of Colleges and Schools, Commission on Higher Education
Address: 610 King of Prussia Rd, Radnor, Pennsylvania 19087-3698
Contact: (610) 902-8100
Website: www.cabrini.edu
Type of School: 4-year, Private not-for-profit
Programs Offered: Less than one year certificate;Bachelor's degree;Postbaccalaureate certificate;Master's degree
School Name: Calvary Baptist Theological Seminary
Accrediting Agency: Middle States Association of Colleges and Schools, Commission on Higher Education
Address: 1380 S. Valley Forge Rd., Lansdale, Pennsylvania 19446-4797
Contact: (215) 368-7538
Website: www.cbs.edu
Type of School: 4-year, Private not-for-profit
Programs Offered: Master's degree
School Name: Carlow University
Accrediting Agency: Middle States Association of Colleges and Schools, Commission on Higher Education
Address: 3333 Fifth Ave, Pittsburgh, Pennsylvania 15213-3165
Contact: (412) 578-6000
Website: www.carlow.edu
Type of School: 4-year, Private not-for-profit
Programs Offered: Bachelor's degree;Postbaccalaureate certificate;Master's degree;Post-master's certificate
School Name: Carnegie Mellon University
Accrediting Agency: Middle States Association of Colleges and Schools, Commission on Higher Education
Address: 5000 Forbes Ave, Pittsburgh, Pennsylvania 15213-3890
Contact: (412) 268-2000
Website: www.cmu.edu/
Type of School: 4-year, Private not-for-profit
Programs Offered: Bachelor's degree;Master's degree;Post-master's certificate;Doctor's degree
School Name: Cedar Crest College
Accrediting Agency: Middle States Association of Colleges and Schools, Commission on Higher Education
Address: 100 College Drive, Allentown, Pennsylvania 18104-6196
Contact: (610) 606-4666 x3329
Website: www.cedarcrest.edu
Type of School: 4-year, Private not-for-profit
Programs Offered: One but less than two years certificate;Two but less than 4 years certificate;Bachelor's degree;Postbaccalaureate certificate;Master's degree
School Name: Central Pennsylvania College
Accrediting Agency: Middle States Association of Colleges and Schools, Commission on Higher Education
Address: 600 Valley Road P.O. Box 309, Summerdale, PA 17093-0309
Contact: (800) 759-2727
Website: www.centralpenn.edu
Type of School: 4-year, Private for-profit
Programs Offered: Less than one year certificate;Associate's degree;Bachelor's degree
School Name: Chatham University
Accrediting Agency: Middle States Association of Colleges and Schools, Commission on Higher Education
Address: Woodland Rd, Pittsburgh, Pennsylvania 15232
Contact: (412) 365-1100
Website: www.chatham.edu
Type of School: 4-year, Private not-for-profit
Programs Offered: Bachelor's degree;Postbaccalaureate certificate;Master's degree
School Name: Delaware Valley College
Accrediting Agency: Middle States Association of Colleges and Schools, Commission on Higher Education
Address: 700 E Butler Ave, Doylestown, Pennsylvania 18901-2697
Contact: (215) 345-1500
Website: www.delval.edu
Type of School: 4-year, Private not-for-profit
Programs Offered: One but less than two years certificate;Associate's degree;Bachelor's degree;Master's degree
School Name: DeSales University
Accrediting Agency: Middle States Association of Colleges and Schools, Commission on Higher Education
Address: 2755 Station Avenue, Center Valley, Pennsylvania 18034-9568
Contact: (610) 282-1100
Website: www.desales.edu
Type of School: 4-year, Private not-for-profit
Programs Offered: Bachelor's degree;Postbaccalaureate certificate;Master's degree;Post-master's certificate
School Name: DeVry University-Pennsylvania
Accrediting Agency: North Central Association of Colleges and Schools, The Higher Learning Commission
Address: 1140 Virginia Dr, Fort Washington, Pennsylvania 19034-3204
Contact: (215) 591-5700
Website: www.devry.edu
Type of School: 4-year, Private for-profit
Programs Offered: Associate's degree;Bachelor's degree;Master's degree
School Name: Drexel University
Accrediting Agency: Middle States Association of Colleges and Schools, Commission on Higher Education
Address: 3141 Chestnut St, Philadelphia, Pennsylvania 19104
Contact: (215) 895-2000
Website: www.drexel.edu
Type of School: 4-year, Private not-for-profit
Programs Offered: One but less than two years certificate;Associate's degree;Bachelor's degree;Postbaccalaureate certificate;Master's degree;Post-master's certificate
School Name: Duquesne University
Accrediting Agency: Middle States Association of Colleges and Schools, Commission on Higher Education
Address: Administration Bldg 600 Forbes Ave, Pittsburgh, Pennsylvania 15282
Contact: (412) 396-6000
Website: www.duq.edu
Type of School: 4-year, Private not-for-profit
Programs Offered: Bachelor's degree;Postbaccalaureate certificate;Master's degree;Post-master's certificate;Doctor's degree;First-professional degree
School Name: Eastern University
Accrediting Agency: Middle States Association of Colleges and Schools, Commission on Higher Education
Address: 1300 Eagle Rd, Saint Davids, Pennsylvania 19087-3696
Contact: (610) 341-5800
Website: www.eastern.edu
Type of School: 4-year, Private not-for-profit
Programs Offered: Associate's degree;Bachelor's degree;Postbaccalaureate certificate;Master's degree;Doctor's degree;First-professional degree
School Name: Elizabethtown College
Accrediting Agency: Middle States Association of Colleges and Schools, Commission on Higher Education
Address: One Alpha Dr, Elizabethtown, Pennsylvania 17022-2298
Contact: (717) 361-1000
Website: www.etown.edu
Type of School: 4-year, Private not-for-profit
Programs Offered: Less than one year certificate;Associate's degree;Bachelor's degree;Postbaccalaureate certificate;Master's degree
School Name: Evangelical Theological Seminary
Accrediting Agency: Commission on Accrediting of the Association of Theological Schools; Middle States Commission on Higher Education; Council for Higher Education
Address: 121 S. College St., Meyerstown, Pennsylvania 17067-1222
Contact: (717) 866-5775 x2107
Website: www.evangelical.edu
Type of School: 4-year, Private not-for-profit
Programs Offered: Postbaccalaureate certificate; Master's degree
School Name: Everest Institute-Pittsburgh
Accrediting Agency: Accrediting Council for Independent Colleges and Schools
Address: 100 Forbes Ave, Suite 1200, Pittsburgh, Pennsylvania 15222-1320
Contact: (412) 261-4520
Website: www.everest.edu/campus/pittsburgh
Type of School: 2-year, Private for-profit
Programs Offered: Less than one year certificate;Associate's degree;Two but less than 4 years certificate
School Name: Gannon University
Accrediting Agency: Middle States Association of Colleges and Schools, Commission on Higher Education
Address: 109 W Sixth St, Erie, Pennsylvania 16541-0001
Contact: (814) 871-7000
Website: www.gannon.edu
Type of School: 4-year, Private not-for-profit
Programs Offered: Less than one year certificate;Associate's degree;Two but less than 4 years certificate;Bachelor's degree;Postbaccalaureate certificate;Master's degree;Post-master's certificate;Doctor's degree
School Name: Gratz College
Accrediting Agency: Middle States Commission on Higher Education, Council for Higher Education
Address: 7605 Old York Rd., Melrose Park, Pennsylvania 19027-3010
Contact: (215) 635-7300 x185
Website: www.gratz.edu
Type of School: 4-year, Private not-for-profit
Programs Offered: Less than one year certificate; Bachelor's degree; Master's degree; Doctor's degree
School Name: Grove City College
Accrediting Agency: Middle States Commission on Higher Education, Council for Higher Education
Address: 100 Campus Dr., Grove City, Pennsylvania 16127-2104
Contact: (724) 458-2000
Website: www.gcc.edu
Type of School: 4-year. Private not-for-profit
Programs Offered: Bachelor's degree
School Name: Harcum College
Accrediting Agency: Middle States Association of Colleges and Schools, Commission on Higher Education
Address: 750 Montgomery Ave, Bryn Mawr, Pennsylvania 19010-3470
Contact: (610) 525-4100
Website: www.harcum.edu
Type of School: 2-year, Private not-for-profit
Programs Offered: One but less than two years certificate;Associate's degree;Two but less than 4 years certificate
School Name: Immaculata University
Accrediting Agency: Middle States Association of Colleges and Schools, Commission on Higher Education
Address: 1145 King Rd, Immaculata, Pennsylvania 19345-0702
Contact: (610) 647-4400
Website: www.immaculata.edu
Type of School: 4-year, Private not-for-profit
Programs Offered: Associate's degree;Bachelor's degree;Master's degree;Doctor's degree
School Name: ITT Technical Institute-Bensalem
Accrediting Agency: Accrediting Council for Independent Colleges and Schools
Address: 3330 Tillman Dr, Bensalem, Pennsylvania 19020-2030
Contact: (215) 244-8871
Website: www.itt-tech.edu
Type of School: 2-year, Private for-profit
Programs Offered: Associate's degree;Two but less than 4 years certificate
School Name: ITT Technical Institute-Dunmore
Accrediting Agency: Accrediting Council for Independent Colleges and Schools
Address: 1000 Meade St. – Suite 210, Dunmore, Pennsylvania 18512
Contact: (570) 330-0600
Website: www.itt-tech.edu
Type of School: 2-year, Private for-profit
Programs Offered: Associates degree; Two but less than 4 years certificate
School Name: ITT Technical Institute-Harrisburg
Accrediting Agency: Accrediting Council for Independent Colleges and Schools
Address: 449 Eisenhower Blvd, Suite 100, Harrisburg, Pennsylvania 17111
Contact: (717) 565-1700
Website: www.itt-tech.edu
Type of School: 2-year, Private for-profit
Programs Offered: Associate's degree;Two but less than 4 years certificate
School Name: ITT Technical Institute-King of Prussia
Accrediting Agency: Accrediting Council for Independent Colleges and Schools
Address: 760 Moore Rd, Ste 150, King of Prussia, Pennsylvania 19406-1212
Contact: (610) 491-8004
Website: www.itt-tech.edu
Type of School: 2-year, Private for-profit
Programs Offered: Associate's degree;Two but less than 4 years certifica
School Name: ITT Technical Institute-Pittsburgh
Accrediting Agency: Accrediting Council for Independent Colleges and Schools
Address: Ten Parkway Ctr, Pittsburgh, Pennsylvania 15220
Contact: (412) 937-9150
Website: www.itt-tech.edu
Type of School: 2-year, Private for-profit
Programs Offered: Associate's degree;Two but less than 4 years certificate
School Name: ITT Technical Institute-Tarentum
Accrediting Agency: Accrediting Council for Independent Colleges and Schools
Address: 100 Pittsburgh Mills Circle, Tarentum, Pennsylvania 15084
Contact: (724) 274-1400
Website: www.itt-tech.edu
Type of School: 2-year, Private for-profit
Programs Offered: Associates degree; Two but less than 4 years certificate
School Name: Juniata College
Accrediting Agency: Middle States Commission on Higher Education, Council for Higher Education
Address: 1700 Moore St., Huntingdon, Pennsylvania 16652-2196
Contact: (814) 641-3000
Website: www.juniata.edu
Type of School: 4-year, Private not-for-profit
Programs Offered: Bachelor's degree
School Name: Keystone College
Accrediting Agency: Middle States Association of Colleges and Schools, Commission on Higher Education
Address: One College Green, La Plume, Pennsylvania 18440-0200
Contact: (570) 945-8000
Website: www.keystone.edu
Type of School: 4-year, Private not-for-profit
Programs Offered: Less than one year certificate;One but less than two years certificate;Associate's degree;Bachelor's degree;Postbaccalaureate certificate
School Name: King's College
Accrediting Agency: Middle States Association of Colleges and Schools, Commission on Higher Education
Address: 133 N River St, Wilkes Barre, Pennsylvania 18711-0801
Contact: (570) 208-5900
Website: www.kings.edu
Type of School: 4-year, Private not-for-profit
Programs Offered: Less than one year certificate;Associate's degree;Bachelor's degree;Postbaccalaureate certificate;Master's degree
School Name: La Roche College
Accrediting Agency: Middle States Association of Colleges and Schools, Commission on Higher Education
Address: 9000 Babcock Blvd, Pittsburgh, Pennsylvania 15237-5898
Contact: (412) 367-9300
Website: www.laroche.edu
Type of School: 4-year, Private not-for-profit
Programs Offered: Less than one year certificate;Associate's degree;Bachelor's degree;Postbaccalaureate certificate;Master's degree
School Name: La Salle University
Accrediting Agency: Middle States Commission on Higher Education, Council for Higher Education
Address: 1900 W. Olney Ave., Philadelphia, Pennsylvania 19141-1199
Contact: (215) 951-1000
Website: www.lasalle.edu
Type of School: 4-year, Private not-for-profit
Programs Offered: Less than one year certificate; Associates degree; Bachelor's degree; Postbaccalaureate certificate; Master's degree; Post-master's certificate; Doctor's degree-professional practice
School Name: Lake Erie College of Osteopathic Medicine
Accrediting Agency: Middle States Association of Colleges and Schools, Commission on Higher Education
Address: 1858 W Grandview Blvd, Erie, Pennsylvania 16509-1025
Contact: (814) 866-6641
Website: www.lecom.edu
Type of School: 4-year, Private not-for-profit
Programs Offered: Postbaccalaureate certificate;Master's degree;First-professional degree
School Name: Lancaster Bible College
Accrediting Agency: Association for Biblical Higher Education, Commission on Accreditation & Middle States Association of Colleges and Schools, Commission on Higher Education
Address: 901 Eden Rd, Lancaster, Pennsylvania 17601-3403
Contact: (717) 569-7071
Website: www.LBC.edu
Type of School: 4-year, Private not-for-profit
Programs Offered: One but less than two years certificate;Associate's degree;Bachelor's degree;Postbaccalaureate certificate;Master's degree
School Name: Lutheran Theological Seminary at Gettysburg
Accrediting Agency: Commission on Accrediting of the Association of Theological Schools & Middle States Association of Colleges and Schools, Commission on Higher Education
Address: 61 Seminary Ridge, Gettysburg, Pennsylvania 17325-1795
Contact: (717) 334-6286
Website: www.ltsg.edu
Type of School: 4-year, Private not-for-profit
Programs Offered: Master's degree;Post-master's certificate
School Name: Lutheran Theological Seminary at Philadelphia
Accrediting Agency: Commission on Accrediting of the Association of Theological Schools & Middle States Association of Colleges and Schools, Commission on Higher Education
Address: 7301 Germantown Ave, Philadelphia, Pennsylvania 19119-1794
Contact: (215) 248-4616
Website: www.ltsp.edu
Type of School: 4-year, Private not-for-profit
Programs Offered: Postbaccalaureate certificate;Master's degree
School Name: Manor College
Accrediting Agency: Middle States Association of Colleges and Schools, Commission on Higher Education
Address: 700 Fox Chase Rd, Jenkintown, Pennsylvania 19046-3399
Contact: (215) 885-2360
Website: www.manor.edu
Type of School: 2-year, Private not-for-profit
Programs Offered: One but less than two years certificate;Associate's degree
School Name: Marywood University
Accrediting Agency: Middle States Association of Colleges and Schools, Commission on Higher Education
Address: 2300 Adams Ave, Scranton, Pennsylvania 18509-1598
Contact: (570) 348-6211
Website: www.marywood.edu
Type of School: 4-year, Private not-for-profit
Programs Offered: One but less than two years certificate;Bachelor's degree;Postbaccalaureate certificate;Master's degree;Post-master's certificate
School Name: McCann School of Business & Technology
Accrediting Agency: Accrediting Council for Independent Colleges and Schools
Address: 2650 Woodglen Road, Pottsville, Pennsylvania 17901
Contact: (570) 622-7622
Website: www.mccannschool.edu
Type of School: 2-year, Private for-profit
Programs Offered: Less than one year certificate;One but less than two years certificate;Associate's degree;Two but less than 4 years certificate
School Name: Mercy Hospital School of Nursing
Accrediting Agency: National League for Nursing Accrediting Commission
Address: 1401 Blvd of the Allies, Pittsburgh, Pennsylvania 15219-5166
Contact: (412) 232-8171
Website: www.upmc.com/hospitalsfacilities/hospitals/mercy/professionaleducation/school-of-nursing/pages/default.aspx
Type of School: 2-year, Private not-for-profit
Programs Offered: Two but less than 4 years certificate
School Name: Mercyhurst College
Accrediting Agency: Middle States Association of Colleges and Schools, Commission on Higher Education
Address: 501 E 38th St, Erie, Pennsylvania 16546
Contact: (814) 824-2000
Website: www.mercyhurst.edu
Type of School: 4-year, Private not-for-profit
Programs Offered: Less than one year certificate;One but less than two years certificate;Associate's degree;Bachelor's degree;Postbaccalaureate certificate;Master's degree
School Name: Messiah College
Accrediting Agency: Middle States Commission on Higher Education, Council for Higher Education
Address: One College Ave., Grantham, Pennsylvania 17027
Contact: (717) 766-2511
Website: www.messiah.edu
Type of School: 4-year, Private not-for-profit
Programs Offered: Bachelor's degree; Master's degree; Post-master's certificate
School Name: Misericordia University
Accrediting Agency: Middle States Association of Colleges and Schools, Commission on Higher Education
Address: 301 Lake St, Dallas, Pennsylvania 18612-1098
Contact: (570) 674-6400
Website: www.misericordia.edu
Type of School: 4-year, Private not-for-profit
Programs Offered: Less than one year certificate;Bachelor's degree;Master's degree;Post-master's certificate
School Name: Mount Aloysius College
Accrediting Agency: Middle States Association of Colleges and Schools, Commission on Higher Education
Address: 7373 Admiral Peary Hwy, Cresson, Pennsylvania 16630-1999
Contact: (814) 886-4131
Website: www.mtaloy.edu/home/
Type of School: 4-year, primarily associate's, Private not-for-profit
Programs Offered: Less than one year certificate;Associate's degree;Bachelor's degree;Master's degree
School Name: Neumann University
Accrediting Agency: Middle States Association of Colleges and Schools, Commission on Higher Education
Address: One Neumann Drive, Aston, Pennsylvania 19014-1298
Contact: (610) 459-0905
Website: www.neumann.edu
Type of School: 4-year, Private not-for-profit
Programs Offered: Less than one year certificate;One but less than two years certificate;Associate's degree;Bachelor's degree;Master's degree
School Name: Newport Business Institute-Lower Burrell
Accrediting Agency: Accrediting Council for Independent Colleges and Schools, Council for Higher Education
Address: 945 Greensburg Rd., Lower Burrell, Pennsylvania 15068
Contact: (724) 339-0455 x17
Website: www.nbi.edu
Type of School: 2-year, Private for-profit
Programs Offered: Less than one year certificate, One but less than two years certificate, Associate degree
School Name: Newport Business Institute – Williamsport
Accrediting Agency: Accrediting Council for Independent Colleges and Schools, Council for Higher Education
Address: 945 Greensburg Rd., Lower Burrell, Pennsylvania 15068
Contact: (570) 326-2869
Website: www.newportbusiness.edu
Type of School: 2-year, Private for-profit
Programs Offered: Associate degree
School Name: Northeastern Hospital School of Nursing
Accrediting Agency: Nursing (DNUR) – Diploma programs
Address: 2301 E Allegheny Ave, Philadelphia, Pennsylvania 19134
Contact: (215) 291-3145
Website: www.nehson.templehealth.org
Type of School: 2-year, Private not-for-profit
Programs Offered: Two but less than 4 years certificate
School Name: Peirce College
Accrediting Agency: Middle States Association of Colleges and Schools, Commission on Higher Education
Address: 1420 Pine Street, Philadelphia, Pennsylvania 19102-4699
Contact: (888) 467-3472
Website: www.peirce.edu
Type of School: 4-year, Private not-for-profit
Programs Offered: One but less than two years certificate;Associate's degree;Bachelor's degree
School Name: Pennsylvania College of Art and Design
Accrediting Agency: Middle States Association of Colleges and Schools, Commission on Higher Education
Address: 204 N Prince St, Lancaster, Pennsylvania 17608-0059
Contact: (717) 396-7833
Website: www.pcad.edu
Type of School: 4-year, Private not-for-profit
Programs Offered: Less than one year certificate;Bachelor's degree
School Name: Philadelphia Biblical University-Langhorne
Accrediting Agency: Association for Biblical Higher Education, Commission on Accreditation & Middle States Association of Colleges and Schools, Commission on Higher Education
Address: 200 Manor Ave, Langhorne, Pennsylvania 19047-2990
Contact: (215) 752-5800
Website: www.pbu.edu
Type of School: 4-year, Private not-for-profit
Programs Offered: One but less than two years certificate;Bachelor's degree;Master's degree
School Name: Philadelphia University
Accrediting Agency: Middle States Association of Colleges and Schools, Commission on Higher Education
Address: School House Lane and Henry Avenue, Philadelphia, Pennsylvania 19144-5497
Contact: (215) 951-2700
Website: www.philau.edu
Type of School: 4-year, Private not-for-profit
Programs Offered: Associate's degree;Bachelor's degree;Postbaccalaureate certificate;Master's degree;Post-master's certificate
School Name: Pittsburgh Institute of Mortuary Science Inc
Accrediting Agency: American Board of Funeral Service Education, Committee on Accreditation
Address: 5808 Baum Blvd, Pittsburgh, Pennsylvania 15206-3706
Contact: (412) 362-8500
Website: www.pims.edu
Type of School: 2-year, Private not-for-profit
Programs Offered: One but less than two years certificate; Associate's degree
School Name: Pittsburgh Technical Institute
Accrediting Agency: Middle States Association of Colleges and Schools, Commission on Higher Education
Address: 1111 McKee Road, Oakdale, Pennsylvania 15071
Contact: (412) 809-5100
Website: www.pti.edu
Type of School: 2-year, Private for-profit
Programs Offered: Less than one year certificate; One but less than two years certificate;Associate's degree
School Name: Point Park University
Accrediting Agency: Middle States Association of Colleges and Schools, Commission on Higher Education
Address: 201 Wood St, Pittsburgh, Pennsylvania 15222-1984
Contact: (412) 391-4100
Website: www.pointpark.edu
Type of School: 4-year, Private not-for-profit
Programs Offered: One but less than two years certificate; Associate's degree; Bachelor's degree; Postbaccalaureate certificate;Master's degree
School Name: Robert Morris University
Accrediting Agency: American Osteopathic Association, Commission on Osteopathic College Accreditation & Middle States Association of Colleges and Schools, Commission on Higher Education
Address: 6001 University Boulevard, Moon Township, Pennsylvania 15108-1189
Contact: (412) 762-0097
Website: www.rmu.edu
Type of School: 4-year, Private not-for-profit
Programs Offered: Less than one year certificate; One but less than two years certificate; Bachelor's degree; Postbaccalaureate certificate;Master's degree
School Name: Rosemont College
Accrediting Agency: Middle States Association of Colleges and Schools, Commission on Higher Education
Address: 1400 Montgomery Ave, Rosemont, Pennsylvania 19010-1699
Contact: (610) 527-0200
Website: www.rosemont.edu
Type of School: 4-year, Private not-for-profit
Programs Offered: Bachelor's degree;Postbaccalaureate certificate;Master's degree
School Name: Saint Charles Borromeo Seminary-Overbrook
Accrediting Agency: Middle States Association of Colleges and Schools, Commission on Higher Education
Address: 100 East Wynnewood Road, Wynnewood, Pennsylvania 19096
Contact: (610) 667-3394
Website: www.scs.edu
Type of School: 4-year, Private not-for-profit
Programs Offered: Less than one year certificate;One but less than two years certificate;Two but less than 4 years certificate;Bachelor's degree;Postbaccalaureate certificate;Master's degree;First-professional degree
School Name: Saint Francis University
Accrediting Agency: Middle States Association of Colleges and Schools, Commission on Higher Education
Address: 117 Evergreen Dr, Loretto, Pennsylvania 15940
Contact: (814) 472-3000
Website: www.francis.edu
Type of School: 4-year, Private not-for-profit
Programs Offered: Associate's degree;Bachelor's degree;Postbaccalaureate certificate;Master's degree;Doctor's degree
School Name: Saint Joseph's University
Accrediting Agency: Middle States Association of Colleges and Schools, Commission on Higher Education
Address: 5600 City Avenue, Philadelphia, Pennsylvania 19131-1395
Contact: (610) 660-1000
Website: www.sju.edu
Type of School: 4-year, Private not-for-profit
Programs Offered: One but less than two years certificate;Associate's degree;Bachelor's degree;Postbaccalaureate certificate;Master's degree;Post-master's certificate
School Name: Salus University
Accrediting Agency: Middle States Association of Colleges and Schools, Commission on Higher Education
Address: 8360 Old York Rd, Elkins Park, Pennsylvania 19027-6262
Contact: (215) 780-1400
Website: www.Salus.edu
Type of School: 4-year, Private not-for-profit
Programs Offered: Bachelor's degree;Postbaccalaureate certificate;Master's degree;Doctor's degree;First-professional degree
School Name: Sanford-Brown Institute – Pittsburgh
Accrediting Agency: Accrediting Commission of Career Schools and Colleges, Council for Higher Education
Address: 421 Seventh Avenue, Pittsburgh, Pennsylvania 15219-1907
Contact: (412) 281-2600 x138
Website: www.sanfordbrown.edu/pittsburgh
Type of School: 2-year, Private for-profit
Programs Offered: One but less than two years certificate; Associate degree
School Name: Sanford-Brown Institute – Trevose
Accrediting Agency: Accrediting Bureau of Health Education Schools, Accrediting Council for Independent Colleges and Schools, Council for Higher Education
Address: 3600 Horizon Blvd., Suite GL1, Trevose, Pennsylvania 19053
Contact: (215) 436-6900
Website: www.sanfordbrown.edu/trevose
Type of School: 2-year, Private for-profit
Programs Offered: One but less than two years certificate; Associate degree; Two but less than 4 years certificate
School Name: Seton Hill University
Accrediting Agency: Middle States Association of Colleges and Schools, Commission on Higher Education
Address: One Seton Hill Dr, Greensburg, Pennsylvania 15601
Contact: (724) 834-2200
Website: www.setonhill.edu
Type of School: 4-year, Private not-for-profit
Programs Offered: Bachelor's degree;Postbaccalaureate certificate;Master's degree
School Name: Strayer University-Pennsylvania
Address: 3600 Horizon Blvd. Ste. 100, Trevose, Pennsylvania 19053
Contact: (888) 378-7293
Website: www.strayeri.edu
Type of School: 4-year, Private for-profit
Programs Offered: Less than one year certificate; One but less than two years certificate; Associates degree; Bachelor's degree; Postbaccalaureate certificate; Master's degree
School Name: The Art Institute of Philadelphia
Accrediting Agency: Accrediting Council for Independent Colleges and Schools
Address: 1622 Chestnut Street, Philadelphia, Pennsylvania 19103-5198
Contact: (800) 275-2474
Website: www.artinstitutes.edu/philadelphia/
Type of School: 4-year, Private for-profit
Programs Offered: Less than one year certificate;Associate's degree;Bachelor's degree
School Name: The Art Institute of Pittsburgh
Accrediting Agency: Accrediting Council for Independent Colleges and Schools & Middle States Association of Colleges and Schools, Commission on Higher Education
Address: 420 Boulevard of the Allies, Pittsburgh, Pennsylvania 15219-1328
Contact: (412) 291-6200
Website: artinstitutes.edu/pittsburgh/
Type of School: 4-year, Private for-profit
Programs Offered: One but less than two years certificate;Associate's degree;Bachelor's degree
School Name: The Are Institute of Pittsburgh-Online Division
Address: 1400 Penn Avenue, Pittsburgh, Pennsylvania 15222-4332
Contact: (412) 291-6200 x4434
Website: www.artinstitutes.edu/pittsburgh
Type of School: 4-year, primarily associates, Private for-profit
Programs Offered: One but less than two years certificate; Associate degree; Bachelor's degree
School Name: Thiel College
Accrediting Agency: Middle States Association of Colleges and Schools, Commission on Higher Education
Address: 75 College Ave, Greenville, Pennsylvania 16125-2181
Contact: (724) 589-2000
Website: www.thiel.edu
Type of School: 4-year, Private not-for-profit
Programs Offered: Associate's degree;Bachelor's degree
School Name: Thomas Jefferson University
Accrediting Agency: Middle States Association of Colleges and Schools, Commission on Higher Education
Address: 1020 Walnut Street, Philadelphia, Pennsylvania 19107
Contact: (215) 955-6000
Website: www.jefferson.edu
Type of School: 4-year, Private not-for-profit
Programs Offered: Associate's degree;Bachelor's degree;Postbaccalaureate certificate;Master's degree;Post-master's certificate;Doctor's degree;First-professional degree
School Name: Trinity Episcopal School for Ministry
Accrediting Agency: Commission on Accrediting of the Association of Theological Schools
Address: 311 Eleventh St, Ambridge, Pennsylvania 15003-2397
Contact: (724) 266-3838
Website: www.tesm.edu
Type of School: 4-year, Private not-for-profit
Programs Offered: Postbaccalaureate certificate;Master's degree
School Name: Tri-State Business Institute
Accrediting Agency: Accrediting Council for Independent Colleges and Schools, Council for Higher Education
Address: 5757 W. 26th St., Erie, Pennsylvania 16506-1013
Contact: (814) 838-7673
Website: www.tsbi.edu
Type of School: 2-year, Private for-profit
Programs Offered: Less than one year certificate; One but less than two years certificate; Associate degree; Two but less than 4 years certificate
School Name: University of Pennsylvania
Accrediting Agency: Middle States Association of Colleges and Schools, Commission on Higher Education
Address: 1 College Hall 34th and Spruce Sts, Philadelphia, Pennsylvania 19104-6303
Contact: (215) 898-5000
Website: www.upenn.edu
Type of School: 4-year, Private not-for-profit
Programs Offered: Less than one year certificate;One but less than two years certificate;Associate's degree;Two but less than 4 years certificate;Bachelor's degree;Postbaccalaureate certificate;Master's degree;Post-master's certificate;Doctor's degree;First-professional degree;First-professional certificate
School Name: University of Phoenix-Harrisburg Campus
Accrediting Agency: North Central Association of Colleges and Schools, The Higher Learning Commission
Address: 4050 Crums Mill Rd, Harrisburg, Pennsylvania 17112-2894
Contact: (717) 540-3300
Website: www.phoenix.edu
Type of School: 4-year, Private for-profit
Programs Offered: Bachelor's degree;Master's degree
School Name: University of Phoenix-Philadelphia Campus
Accrediting Agency: North Central Association of Colleges and Schools, The Higher Learning Commission
Address: 170 South Warner Road, Ste. 200, Wayne, Pennsylvania 19087-2121
Contact: (610) 989-0880
Website: www.phoenix.edu
Type of School: 4-year, Private for-profit
Programs Offered: Less than one year certificate;Bachelor's degree;Master's degree
School Name: University of Phoenix-Pittsburgh Campus
Accrediting Agency: North Central Association of Colleges and Schools, The Higher Learning Commission
Address: Penn Center West, Bldg. 6, Suite 100, Pittsburgh, Pennsylvania 15276-0109
Contact: (412) 747-9000
Website: www.phoenix.edu
Type of School: 4-year, Private for-profit
Programs Offered: Less than one year certificate;Bachelor's degree;Master's degree
School Name: University of Scranton
Accrediting Agency: Middle States Association of Colleges and Schools, Commission on Higher Education
Address: 800 Linden Street, Scranton, Pennsylvania 18510-4629
Contact: (570) 941-7400
Website: www.scranton.edu
Type of School: 4-year, Private not-for-profit
Programs Offered: One but less than two years certificate;Associate's degree;Bachelor's degree;Postbaccalaureate certificate;Master's degree;Post-master's certificate;Doctor's degree
School Name: University of the Sciences in Philadelphia
Accrediting Agency: Middle States Association of Colleges and Schools, Commission on Higher Education
Address: 600 S 43rd Street, Philadelphia, Pennsylvania 19104-4495
Contact: (215) 596-8800
Website: www.usp.edu
Type of School: 4-year, Private not-for-profit
Programs Offered: Bachelor's degree;Postbaccalaureate certificate;Master's degree;Post-master's certificate
School Name: Valley Forge Christian College
Accrediting Agency: Middle States Association of Colleges and Schools, Commission on Higher Education
Address: 1401 Charlestown Road, Phoenixville, Pennsylvania 19460
Contact: (610) 935-0450
Website: www.vfcc.edu
Type of School: 4-year, Private not-for-profit
Programs Offered: One but less than two years certificate;Associate's degree;Bachelor's degree;Master's degree
School Name: Villanova University
Accrediting Agency: Middle States Association of Colleges and Schools, Commission on Higher Education
Address: 800 Lancaster Avenue, Villanova, Pennsylvania 19085-1699
Contact: (610) 519-4500
Website: www.villanova.edu
Type of School: 4-year, Private not-for-profit
Programs Offered: Associate's degree;Bachelor's degree;Postbaccalaureate certificate;Master's degree;Post-master's certificate;Doctor's degree;First-professional degree
School Name: Waynesburg University
Accrediting Agency: Middle States Association of Colleges and Schools, Commission on Higher Education
Address: 51 W College St, Waynesburg, Pennsylvania 15370-1257
Contact: (724) 627-8191
Website: www.waynesburg.edu
Type of School: 4-year, Private not-for-profit
Programs Offered: Associate's degree;Bachelor's degree;Master's degree;Doctor's degree
School Name: Westminster College
Accrediting Agency: Middle States Association of Colleges and Schools, Commission on Higher Education
Address: 319 South Market Street, New Wilmington, Pennsylvania 16172
Contact: (724) 946-8761
Website: www.westminster.edu
Type of School: 4-year, Private not-for-profit
Programs Offered: Bachelor's degree;Master's degree
School Name: Westminster Theological Seminary
Accrediting Agency: Commission on Accrediting of the Association of Theological Schools & Middle States Association of Colleges and Schools, Commission on Higher Education
Address: 2960 W Church Rd, Glenside, Pennsylvania 19038
Contact: (215) 887-5511
Website: www.wts.edu
Type of School: 4-year, Private not-for-profit
Programs Offered: Postbaccalaureate certificate;Master's degree;Doctor's degree;First-professional degree
School Name: Widener University-Main Campus
Accrediting Agency: Middle States Association of Colleges and Schools, Commission on Higher Education
Address: One University Place, Chester, Pennsylvania 19013-5792
Contact: (610) 499-4000
Website: www.widener.edu
Type of School: 4-year, Private not-for-profit
Programs Offered: One but less than two years certificate;Associate's degree;Bachelor's degree;Postbaccalaureate certificate;Master's degree;Post-master's certificate
School Name: Wilkes University
Accrediting Agency: Middle States Association of Colleges and Schools, Commission on Higher Education
Address: 84 West South Street, Wilkes-Barre, Pennsylvania 18766
Contact: (570) 408-5000
Website: www.wilkes.edu
Type of School: 4-year, Private not-for-profit
Programs Offered: Bachelor's degree;Master's degree
Public Schools
School Name: Bloomsburg University of Pennsylvania
Accrediting Agency: Middle States Association of Colleges and Schools, Commission on Higher Education
Address: 400 E Second St, Bloomsburg, Pennsylvania 17815
Contact: (570) 389-4000
Website: www.bloomu.edu
Type of School: 4-year, Public
Programs Offered: Less than one year certificate;Bachelor's degree;Postbaccalaureate certificate;Master's degree;Post-master's certificate
School Name: Bucks County Community College
Accrediting Agency: Middle States Association of Colleges and Schools, Commission on Higher Education
Address: 275 Swamp Rd, Newtown, Pennsylvania 18940-4106
Contact: (215) 968-8000
Website: www.bucks.edu
Type of School: 2-year, Public
Programs Offered: Less than one year certificate;One but less than two years certificate;Associate's degree
School Name: Butler County Community College
Accrediting Agency: Middle States Association of Colleges and Schools, Commission on Higher Education
Address: College Drive Oak Hills, Butler, Pennsylvania 16003-1203
Contact: (724) 287-8711
Website: www.bc3.edu
Type of School: 2-year, Public
Programs Offered: Less than one year certificate;One but less than two years certificate;Associate's degree
School Name: California University of Pennsylvania
Accrediting Agency: Middle States Association of Colleges and Schools, Commission on Higher Education
Address: 250 University Ave, California, Pennsylvania 15419-1394
Contact: (724) 938-4400
Website: www.cup.edu
Type of School: 4-year, Public
Programs Offered: Associate's degree;Bachelor's degree;Postbaccalaureate certificate;Master's degree;Post-master's certificate
School Name: Cheyney University of Pennsylvania
Accrediting Agency: Middle States Association of Colleges and Schools, Commission on Higher Education
Address: 1837 University Circle, Cheyney, Pennsylvania 19319-0200
Contact: (610) 399-2000
Website: www.cheyney.edu
Type of School: 4-year, Public
Programs Offered: Bachelor's degree;Postbaccalaureate certificate;Master's degree;Post-master's certificate
School Name: Clarion University of Pennsylvania
Accrediting Agency: Middle States Association of Colleges and Schools, Commission on Higher Education
Address: 840 Wood St, Clarion, Pennsylvania 16214
Contact: (814) 393-2000
Website: www.clarion.edu
Type of School: 4-year, Public
Programs Offered: Associate's degree;Bachelor's degree;Postbaccalaureate certificate;Master's degree;Post-master's certificate
School Name: Community College of Allegheny County
Accrediting Agency: Middle States Association of Colleges and Schools, Commission on Higher Education
Address: 800 Allegheny Ave, Pittsburgh, Pennsylvania 15233-1895
Contact: (412) 323-2323
Website: www.ccac.edu
Type of School: 2-year, Public
Programs Offered: Less than one year certificate;One but less than two years certificate;Associate's degree;Two but less than 4 years certificate
School Name: Community College of Beaver County
Accrediting Agency: Middle States Association of Colleges and Schools, Commission on Higher Education
Address: One Campus Drive, Monaca, Pennsylvania 15061-258
Contact: (724) 775-8561
Website: www.ccbc.edu
Type of School: 2-year, Public
Programs Offered: Less than one year certificate;One but less than two years certificate;Associate's degree
School Name: Community College of Philadelphia
Accrediting Agency: Middle States Association of Colleges and Schools, Commission on Higher Education
Address: 1700 Spring Garden St, Philadelphia, Pennsylvania 19130-3991
Contact: (215) 751-8000
Website: www.ccp.edu
Type of School: 2-year, Public
Programs Offered: One but less than two years certificate;Associate's degree
School Name: Delaware County Community College
Accrediting Agency: Middle States Association of Colleges and Schools, Commission on Higher Education
Address: 901 S Media Line Rd, Media, Pennsylvania 19063-1094
Contact: (610) 359-5000
Website: www.dccc.edu
Type of School: 2-year, Public
Programs Offered: Less than one year certificate;One but less than two years certificate;Associate's degree
School Name: East Stroudsburg University of Pennsylvania
Accrediting Agency: Middle States Association of Colleges and Schools, Commission on Higher Education
Address: 200 Prospect Street, East Stroudsburg, Pennsylvania 18301-2999
Contact: (570) 422-3211
Website: www.esu.edu
Type of School: 4-year, Public
Programs Offered: Associate's degree;Bachelor's degree;Postbaccalaureate certificate;Master's degree
School Name: Edinboro University of Pennsylvania
Accrediting Agency: Middle States Association of Colleges and Schools, Commission on Higher Education
Address: 219 Meadville Street, Edinboro, Pennsylvania 16444-0001
Contact: (814) 732-2000
Website: webs.edinboro.edu/welcome/
Type of School: 4-year, Public
Programs Offered: Associate's degree;Bachelor's degree;Postbaccalaureate certificate;Master's degree;Post-master's certificate
School Name: Harrisburg Area Community College-Harrisburg
Accrediting Agency: Middle States Association of Colleges and Schools, Commission on Higher Education
Address: One HACC Dr, Harrisburg, Pennsylvania 17110-2999
Contact: (717) 780-2300
Website: www.hacc.edu
Type of School: 2-year, Public
Programs Offered: Less than one year certificate;One but less than two years certificate;Associate's degree
School Name: Indiana University of Pennsylvania-Main Campus
Accrediting Agency: Middle States Association of Colleges and Schools, Commission on Higher Education
Address: 1011 South Dr 201 Sutton Hall, Indiana, Pennsylvania 15705-1098
Contact: (724) 357-2100
Website: www.iup.edu
Type of School: 4-year, Public
Programs Offered: One but less than two years certificate;Associate's degree;Bachelor's degree;Postbaccalaureate certificate;Master's degree;Post-master's certificate
School Name: Kutztown University of Pennsylvania
Accrediting Agency: Middle States Association of Colleges and Schools, Commission on Higher Education
Address: 15200 Kutztown Rd, Kutztown, Pennsylvania 19530-0730
Contact: (610) 683-4000
Website: www.kutztown.edu
Type of School: 4-year, Public
Programs Offered: Bachelor's degree;Postbaccalaureate certificate;Master's degree
School Name: Lehigh Carbon Community College
Accrediting Agency: Middle States Association of Colleges and Schools, Commission on Higher Education
Address: 4525 Education Park Dr, Schnecksville, Pennsylvania 18078-2598
Contact: (610) 799-2121
Website: www.lccc.edu
Type of School: 2-year, Public
Programs Offered: Less than one year certificate;One but less than two years certificate;Associate's degree;Two but less than 4 years certificate
School Name: Lock Haven University
Accrediting Agency: Middle States Association of Colleges and Schools, Commission on Higher Education
Address: 401 North Fairview Street, Lock Haven, Pennsylvania 17745-2390
Contact: (570) 484-2011
Website: www.lhup.edu
Type of School: 4-year, Public
Programs Offered: Associate's degree;Bachelor's degree;Master's degree
School Name: Luzerne County Community College
Accrediting Agency: Middle States Association of Colleges and Schools, Commission on Higher Education
Address: 1333 South Prospect Street, Nanticoke, Pennsylvania 18634-3899
Contact: (570) 740-0200
Website: www.luzerne.edu
Type of School: 2-year, Public
Programs Offered: Less than one year certificate;One but less than two years certificate;Associate's degree
School Name: Mansfield University of Pennsylvania
Accrediting Agency: Middle States Association of Colleges and Schools, Commission on Higher Education
Address: Mansfield, Pennsylvania 16933
Contact: (570) 662-4000
Website: www.mansfield.edu
Type of School: 4-year, Public
Programs Offered: Associate's degree;Bachelor's degree;Postbaccalaureate certificate;Master's degree;Post-master's certificate
School Name: Millersville University of Pennsylvania
Accrediting Agency: Middle States Association of Colleges and Schools, Commission on Higher Education
Address: 20 Dilworth Rd, Millersville, Pennsylvania 17551-0302
Contact: (717) 872-3024
Website: www.millersville.edu
Type of School: 4-year, Public
Programs Offered: Associate's degree;Bachelor's degree;Postbaccalaureate certificate;Master's degree;Post-master's certificate
School Name: Montgomery County Community College-Central Campus
Accrediting Agency: Middle States Association of Colleges and Schools, Commission on Higher Education
Address: 340 Dekalb Pike, Blue Bell, Pennsylvania 19422-0796
Contact: (215) 641-6300
Website: www.mc3.edu
Type of School: 2-year, Public
Programs Offered: One but less than two years certificate;Associate's degree
School Name: Montgomery County Community College-West Campus
Accrediting Agency: Radiologic Technology (RAD) – Programs for radiographers
Address: 101 College Dr, Pottstown, Pennsylvania 19464-5437
Contact: (610) 718-1800
Website: www.mc3.edu
Type of School: 2-year, Public
Programs Offered: One but less than two years certificate;Associate's degree
School Name: Northampton County Area Community College
Accrediting Agency: Middle States Association of Colleges and Schools, Commission on Higher Education
Address: 3835 Green Pond Rd, Bethlehem, Pennsylvania 18020-7599
Contact: (610) 861-5300
Website: www.northampton.edu
Type of School: 2-year, Public
Programs Offered: Less than one year certificate;One but less than two years certificate;Associate's degree
School Name: Pennsylvania College of Technology
Accrediting Agency: Middle States Association of Colleges and Schools, Commission on Higher Education
Address: One College Ave, Williamsport, Pennsylvania 17701-5799
Contact: (570) 326-3761
Website: www.pct.edu
Type of School: 4-year, primarily associate's, Public
Programs Offered: One but less than two years certificate;Associate's degree;Two but less than 4 years certificate;Bachelor's degree
School Name: Pennsylvania Highlands Community College
Accrediting Agency: Middle States Association of Colleges and Schools, Commission on Higher Education
Address: 101 Community College Way, Johnstown, Pennsylvania 15904
Contact: (814) 262-6400
Website: www.pennhighlands.edu
Type of School: 2-year, Public
Programs Offered: Less than one year certificate;One but less than two years certificate;Associate's degree
School Name: Pennsylvania State University-Brandywine
Accrediting Agency: Middle States Association of Colleges and Schools, Commission on Higher Education
Address: 25 Yearsley Mill Rd, Media, Pennsylvania 19063-5522
Contact: (610) 892-1200
Website: www.de.psu.edu/
Type of School: 4-year, Public
Programs Offered: Less than one year certificate;Associate's degree;Bachelor's degree
School Name: Pennsylvania State University-College of Medicine
Accrediting Agency: Middle States Association of Colleges and Schools, Commission on Higher Education
Address: 500 University Dr, Hershey, Pennsylvania 17033-2360
Contact: (717) 531-8521
Website: www.HMC.psu.edu/COLLEGE/
Type of School: 4-year, Public
Programs Offered: Master's degree
School Name: Pennsylvania State University-Main Campus
Accrediting Agency: Middle States Association of Colleges and Schools, Commission on Higher Education
Address: 201 Old Main, University Park, Pennsylvania 16802-1589
Contact: (814) 865-4700
Website: www.psu.edu/
Type of School: 4-year, Public
Programs Offered: Less than one year certificate;One but less than two years certificate;Associate's degree;Two but less than 4 years certificate;Bachelor's degree;Postbaccalaureate certificate;Master's degree
School Name: Pennsylvania State University-Penn State Abington
Accrediting Agency: Middle States Association of Colleges and Schools, Commission on Higher Education
Address: 1600 Woodland Rd, Abington, Pennsylvania 19001-3918
Contact: (215) 881-7300
Website: www.abington.psu.edu
Type of School: 4-year, Public
Programs Offered: Associate's degree;Bachelor's degree
School Name: Pennsylvania State University-Penn State Altoona
Accrediting Agency: Middle States Association of Colleges and Schools, Commission on Higher Education
Address: 3000 Ivyside Pk, Altoona, Pennsylvania 16601-3777
Contact: (814) 949-5000
Website: www.aa.psu.edu/
Type of School: 4-year, Public
Programs Offered: Less than one year certificate;Associate's degree;Bachelor's degree
School Name: Pennsylvania State University-Penn State Beaver
Accrediting Agency: Middle States Association of Colleges and Schools, Commission on Higher Education
Address: 100 University Dr, Monaca, Pennsylvania 15061-2764
Contact: (724) 773-3800
Website: www.br.psu.edu/
Type of School: 4-year, Public
Programs Offered: Less than one year certificate;Associate's degree;Bachelor's degree
School Name: Pennsylvania State University-Penn State Berks
Accrediting Agency: Middle States Association of Colleges and Schools, Commission on Higher Education
Address: Tulpehocken Rd, Reading, Pennsylvania 19610-1016
Contact: (610) 396-6000
Website: www.bk.psu.edu/
Type of School: 4-year, Public
Programs Offered: Less than one year certificate;Associate's degree;Bachelor's degree
School Name: Pennsylvania State University-Penn State Dubois
Accrediting Agency: Middle States Association of Colleges and Schools, Commission on Higher Education
Address: One College Place, Dubois, Pennsylvania 15801-2597
Contact: (814) 375-4700
Website: www.ds.psu.edu/
Type of School: 4-year, primarily associate's, Public
Programs Offered: Less than one year certificate;Associate's degree;Bachelor's degree
School Name: Pennsylvania State University-Penn State Erie-Behrend College
Accrediting Agency: Middle States Association of Colleges and Schools, Commission on Higher Education
Address: 5091 Station Rd, Erie, Pennsylvania 16563-0002
Contact: (814) 898-6000
Website: www.pserie.psu.edu/
Type of School: 4-year, Public
Programs Offered: Less than one year certificate;Associate's degree;Bachelor's degree;Master's degree
School Name: Pennsylvania State University-Penn State Fayette- Eberly Campus
Accrediting Agency: Middle States Association of Colleges and Schools, Commission on Higher Education
Address: One University Dr, Route 119 North, Uniontown, Pennsylvania 15401-0519
Contact: (724) 430-4100
Website: www.fe.psu.edu/
Type of School: 4-year, primarily associate's, Public
Programs Offered: Associate's degree;Bachelor's degree
School Name: Pennsylvania State University-Penn State Great Valley
Accrediting Agency: Middle States Association of Colleges and Schools, Commission on Higher Education
Address: 30 E Swedesford Rd, Malvern, Pennsylvania 19355-1488
Contact: (610) 648-3200
Website: www.gv.psu.edu
Type of School: 4-year, Public
Programs Offered: Postbaccalaureate certificate;Master's degree
School Name: Pennsylvania State University-Penn State Greater Allegheny
Accrediting Agency: Middle States Association of Colleges and Schools, Commission on Higher Education
Address: 4000 University Dr, McKeesport, Pennsylvania 15131-7644
Contact: (412) 675-9000
Website: www.ga.psu.edu/
Type of School: 4-year, Public
Programs Offered: Associate's degree;Bachelor's degree
School Name: Pennsylvania State University-Penn State Harrisburg
Accrediting Agency: Middle States Association of Colleges and Schools, Commission on Higher Education
Address: 777 W Harrisburg Pike, Middletown, Pennsylvania 17057-4846
Contact: (717) 948-6452
Website: www.hbg.psu.edu
Type of School: 4-year, Public
Programs Offered: Less than one year certificate;Associate's degree;Bachelor's degree;Postbaccalaureate certificate;Master's degree
School Name: Pennsylvania State University-Penn State Hazleton
Accrediting Agency: Middle States Association of Colleges and Schools, Commission on Higher Education
Address: 76 University Drive, Hazleton, Pennsylvania 18202-8025
Contact: (570) 450-3000
Website: www.hn.psu.edu/
Type of School: 4-year, primarily associate's, Public
Programs Offered: Associate's degree;Bachelor's degree
School Name: Pennsylvania State University-Penn State Lehigh Valley
Accrediting Agency: Middle States Association of Colleges and Schools, Commission on Higher Education
Address: 8380 Mohr Ln, Fogelsville, Pennsylvania 18051-1918
Contact: (610) 285-5000
Website: www.an.psu.edu/
Type of School: 4-year, Public
Programs Offered: Associate's degree;Bachelor's degree
School Name: Pennsylvania State University-Penn State Mont Alto
Accrediting Agency: Middle States Association of Colleges and Schools, Commission on Higher Education
Address: One Campus Dr, Mont Alto, Pennsylvania 17237-9700
Contact: (717) 749-6000
Website: www.ma.psu.edu/
Type of School: 4-year, primarily associate's, Public
Programs Offered: Associate's degree;Bachelor's degree
School Name: Pennsylvania State University-Penn State New Kensington
Accrediting Agency: Middle States Association of Colleges and Schools, Commission on Higher Education
Address: 3550 7th Street Road Rte 780, Upper Burrell, Pennsylvania 15068-1765
Contact: (724) 334-5466
Website: www.nk.psu.edu/
Type of School: 4-year, Public
Programs Offered: Less than one year certificate;Associate's degree;Bachelor's degree
School Name: Pennsylvania State University-Penn State Schuylkill
Accrediting Agency: Middle States Association of Colleges and Schools, Commission on Higher Education
Address: 200 University Dr, Schuylkill Haven, Pennsylvania 17972-2202
Contact: (570) 385-6000
Website: www.sl.psu.edu
Type of School: 4-year, Public
Programs Offered: Associate's degree;Bachelor's degree
School Name: Pennsylvania State University-Penn State Shenango
Accrediting Agency: Middle States Association of Colleges and Schools, Commission on Higher Education
Address: 147 Shenango Ave, Sharon, Pennsylvania 16146-1537
Contact: (724) 983-2803
Website: www.shenango.psu.edu
Type of School: 4-year, primarily associate's, Public
Programs Offered: Less than one year certificate;Associate's degree;Bachelor's degree
School Name: Pennsylvania State University-Penn State Wilkes-Barre
Accrediting Agency: Middle States Association of Colleges and Schools, Commission on Higher Education
Address: Old Rte 115, Lehman, Pennsylvania 18627-0217
Contact: (570) 675-2171
Website: www.wb.psu.edu/
Type of School: 4-year, Public
Programs Offered: Associate's degree;Bachelor's degree
School Name: Pennsylvania State University-Penn State Worthington Scranton
Accrediting Agency: Middle States Association of Colleges and Schools, Commission on Higher Education
Address: 120 Ridge View Dr, Dunmore, Pennsylvania 18512-1602
Contact: (570) 963-2500
Website: www.sn.psu.edu/
Type of School: 4-year, Public
Programs Offered: Associate's degree;Bachelor's degree
School Name: Pennsylvania State University-Penn State York
Accrediting Agency: Middle States Association of Colleges and Schools, Commission on Higher Education
Address: 1031 Edgecomb Ave, York, Pennsylvania 17403-3326
Contact: (717) 771-4000
Website: www.yk.psu.edu/
Type of School: 4-year, Public
Programs Offered: Associate's degree;Bachelor's degree
School Name: Reading Area Community College
Accrediting Agency: Middle States Association of Colleges and Schools, Commission on Higher Education
Address: 10 S Second St, Reading, Pennsylvania 19603-1706
Contact: (610) 372-4721
Website: www.racc.edubr
Type of School: 2-year, Public
Programs Offered: Less than one year certificate;One but less than two years certificate;Associate's degree
School Name: Shippensburg University of Pennsylvania
Accrediting Agency: Middle States Association of Colleges and Schools, Commission on Higher Education
Address: 1871 Old Main Drive, Shippensburg, Pennsylvania 17257-2299
Contact: (717) 477-7447
Website: www.ship.edu
Type of School: 4-year, Public
Programs Offered: Bachelor's degree;Postbaccalaureate certificate;Master's degree;Post-master's certificate
School Name: Slippery Rock University of Pennsylvania
Accrediting Agency: Middle States Association of Colleges and Schools, Commission on Higher Education
Address: 1 Morrow Way, Slippery Rock, Pennsylvania 16057-1383
Contact: (724) 738-9000
Website: www.sru.edu
Type of School: 4-year, Public
Programs Offered: One but less than two years certificate;Bachelor's degree;Postbaccalaureate certificate;Master's degree;Post-master's certificate
School Name: Temple University
Accrediting Agency: Middle States Association of Colleges and Schools, Commission on Higher Education
Address: 1801 North Broad Street, Philadelphia, Pennsylvania 19122-6096
Contact: (215) 204-7000
Website: WWW.TEMPLE.EDU
Type of School: 4-year, Public
Programs Offered: One but less than two years certificate;Associate's degree;Two but less than 4 years certificate;Bachelor's degree;Postbaccalaureate certificate;Master's degree;Post-master's certificate;Doctor's degree;First-professional degree;First-professional certificate
School Name: The Dickinson School of Law of the Pennsylvania State University
Accrediting Agency: Law (LAW) – Professional schools
Address: 150 South College St, Carlisle, Pennsylvania 17013-2861
Contact: (717) 240-5000
Website: www.dsl.psu.edu/
Type of School: 4-year, Public
Programs Offered: Master's degree
School Name: University of Pittsburgh – Bradford
Accrediting Agency: Middle States Commission on Higher Education
Address: 300 Campus Drive, Bradford, Pennsylvania 16701
Contact: (814) 362-7500
Website: www.upb.pitt.edu
Type of School: 4-year, Public
Programs Offered: Associates degree; Bachelor's degree
School Name: University of Pittsburgh-Johnstown
Accrediting Agency: Middle States Association of Colleges and Schools, Commission on Higher Education
Address: 450 Schoolhouse Road, Johnstown, Pennsylvania 15904
Contact: (814) 269-7000
Website: www.upj.pitt.edu
Type of School: 4-year, Public
Programs Offered: One but less than two years certificate;Associate's degree;Bachelor's degree
School Name: University of Pittsburgh-Pittsburgh Campus
Accrediting Agency: Middle States Association of Colleges and Schools, Commission on Higher Education
Address: 4200 Fifth Avenue, Pittsburgh, Pennsylvania 15260
Contact: (412) 624-4141
Website: www.pitt.edu
Type of School: 4-year, Public
Programs Offered: Less than one year certificate;One but less than two years certificate;Two but less than 4 years certificate;Bachelor's degree;Postbaccalaureate certificate;Master's degree;Post-master's certificate
School Name: University of Pittsburgh-Titusville
Accrediting Agency: Middle States Association of Colleges and Schools, Commission on Higher Education
Address: 504 East Main Street, Titusville, Pennsylvania 16354
Contact: (814) 827-4400
Website: www.upt.pitt.edu
Type of School: 2-year, Public
Programs Offered: Less than one year certificate;Associate's degree
School Name: West Chester University of Pennsylvania
Accrediting Agency: Middle States Association of Colleges and Schools, Commission on Higher Education
Address: University Avenue and High Street, West Chester, Pennsylvania 19383
Contact: (610) 436-1000
Website: www.wcupa.edu
Type of School: 4-year, Public
Programs Offered: Bachelor's degree;Postbaccalaureate certificate;Master's degree;Post-master's certificate
School Name: Westmoreland County Community College
Accrediting Agency: Middle States Association of Colleges and Schools, Commission on Higher Education
Address: 145 Pavilion Lane, Youngwood, Pennsylvania 15697-1895
Contact: (724) 925-4000
Website: wccc.edu
Type of School: 2-year, Public
Programs Offered: Less than one year certificate;One but less than two years certificate;Associate's degree
For-Profit Schools
School Name: Berks Technical Institute
Accrediting Agency: Accrediting Commission of Career Schools and Colleges, Commission on Higher Education
Address: 2205 Ridgewood Rd, Wyomissing, Pennsylvania 19610-1168
Contact: (610) 372-1722
Website: www.berks.edu
Type of School: 2-year, Private for-profit
Programs Offered: One but less than two years certificate; Associates degree
School Name: Central Pennsylvania College
Accrediting Agency: Middle States Association of Colleges and Schools, Commission on Higher Education
Address: 600 Valley Road P.O. Box 309, Summerdale, PA 17093-0309
Contact: (800) 759-2727
Website: www.centralpenn.edu
Type of School: 4-year, Private for-profit
Programs Offered: Less than one year certificate;Associate's degree;Bachelor's degree
School Name: DeVry University-Pennsylvania
Accrediting Agency: North Central Association of Colleges and Schools, The Higher Learning Commission
Address: 1140 Virginia Dr, Fort Washington, Pennsylvania 19034-3204
Contact: (215) 591-5700
Website: www.devry.edu
Type of School: 4-year, Private for-profit
Programs Offered: Associate's degree;Bachelor's degree;Master's degree
School Name: Everest Institute-Pittsburgh
Accrediting Agency: Accrediting Council for Independent Colleges and Schools
Address: 100 Forbes Ave, Suite 1200, Pittsburgh, Pennsylvania 15222-1320
Contact: (412) 261-4520
Website: www.everest.edu/campus/pittsburgh
Type of School: 2-year, Private for-profit
Programs Offered: Less than one year certificate;Associate's degree;Two but less than 4 years certificate
School Name: ITT Technical Institute-Bensalem
Accrediting Agency: Accrediting Council for Independent Colleges and Schools
Address: 3330 Tillman Dr, Bensalem, Pennsylvania 19020-2030
Contact: (215) 244-8871
Website: www.itt-tech.edu
Type of School: 2-year, Private for-profit
Programs Offered: Associate's degree;Two but less than 4 years certificate
School Name: ITT Technical Institute-Dunmore
Accrediting Agency: Accrediting Council for Independent Colleges and Schools
Address: 1000 Meade St. – Suite 210, Dunmore, Pennsylvania 18512
Contact: (570) 330-0600
Website: www.itt-tech.edu
Type of School: 2-year, Private for-profit
Programs Offered: Associates degree; Two but less than 4 years certificate
School Name: ITT Technical Institute-Harrisburg
Accrediting Agency: Accrediting Council for Independent Colleges and Schools
Address: 449 Eisenhower Blvd, Suite 100, Harrisburg, Pennsylvania 17111
Contact: (717) 565-1700
Website: www.itt-tech.edu
Type of School: 2-year, Private for-profit
Programs Offered: Associate's degree;Two but less than 4 years certificate
School Name: ITT Technical Institute-King of Prussia
Accrediting Agency: Accrediting Council for Independent Colleges and Schools
Address: 760 Moore Rd, Ste 150, King of Prussia, Pennsylvania 19406-1212
Contact: (610) 491-8004
Website: www.itt-tech.edu
Type of School: 2-year, Private for-profit
Programs Offered: Associate's degree;Two but less than 4 years certifica
School Name: ITT Technical Institute-Pittsburgh
Accrediting Agency: Accrediting Council for Independent Colleges and Schools
Address: Ten Parkway Ctr, Pittsburgh, Pennsylvania 15220
Contact: (412) 937-9150
Website: www.itt-tech.edu
Type of School: 2-year, Private for-profit
Programs Offered: Associate's degree;Two but less than 4 years certificate
School Name: ITT Technical Institute-Tarentum
Accrediting Agency: Accrediting Council for Independent Colleges and Schools
Address: 100 Pittsburgh Mills Circle, Tarentum, Pennsylvania 15084
Contact: (724) 274-1400
Website: www.itt-tech.edu
Type of School: 2-year, Private for-profit
Programs Offered: Associates degree; Two but less than 4 years certificate
School Name: McCann School of Business & Technology
Accrediting Agency: Accrediting Council for Independent Colleges and Schools
Address: 2650 Woodglen Road, Pottsville, Pennsylvania 17901
Contact: (570) 622-7622
Website: www.mccannschool.edu
Type of School: 2-year, Private for-profit
Programs Offered: Less than one year certificate;One but less than two years certificate;Associate's degree;Two but less than 4 years certificate
School Name: Newport Business Institute – Lower Burrell
Accrediting Agency: Accrediting Council for Independent Colleges and Schools, Council for Higher Education
Address: 945 Greensburg Rd., Lower Burrell, Pennsylvania 15068
Contact: (724) 339-0455 x17
Website: www.nbi.edu
Type of School: 2-year, Private for-profit
Programs Offered: Less than one year certificate, One but less than two years certificate, Associate degree
School Name: Newport Business Institute – Williamsport
Accrediting Agency: Accrediting Council for Independent Colleges and Schools, Council for Higher Education
Address: 945 Greensburg Rd., Lower Burrell, Pennsylvania 15068
Contact: (570) 326-2869
Website: www.newportbusiness.edu
Type of School: 2-year, Private for-profit
Programs Offered: Associate degree
School Name: Pittsburgh Technical Institute
Accrediting Agency: Middle States Association of Colleges and Schools, Commission on Higher Education
Address: 1111 McKee Road, Oakdale, Pennsylvania 15071
Contact: (412) 809-5100
Website: www.pti.edu
Type of School: 2-year, Private for-profit
Programs Offered: Less than one year certificate;One but less than two years certificate;Associate's degree
School Name: Sanford-Brown Institute – Pittsburgh
Accrediting Agency: Accrediting Commission of Career Schools and Colleges, Council for Higher Education
Address: 421 Seventh Avenue, Pittsburgh, Pennsylvania 15219-1907
Contact: (412) 281-2600 x138
Website: www.sanfordbrown.edu/pittsburgh
Type of School: 2-year, Private for-profit
Programs Offered: One but less than two years certificate; Associate degree
School Name: Sanford-Brown Institute – Trevose
Accrediting Agency: Accrediting Bureau of Health Education Schools, Accrediting Council for Independent Colleges and Schools, Council for Higher Education
Address: 3600 Horizon Blvd., Suite GL1, Trevose, Pennsylvania 19053
Contact: (215) 436-6900
Website: www.sanfordbrown.edu/trevose
Type of School: 2-year, Private for-profit
Programs Offered: One but less than two years certificate; Associate degree; Two but less than 4 years certificate
School Name: Strayer University-Pennsylvania
Address: 3600 Horizon Blvd. Ste. 100, Trevose, Pennsylvania 19053
Contact: (888) 378-7293
Website: www.strayeri.edu
Type of School: 4-year, Private for-profit
Programs Offered: Less than one year certificate; One but less than two years certificate; Associates degree; Bachelor's degree; Postbaccalaureate certificate; Master's degree
School Name: The Art Institute of Philadelphia
Accrediting Agency: Accrediting Council for Independent Colleges and Schools
Address: 1622 Chestnut Street, Philadelphia, Pennsylvania 19103-5198
Contact: (800) 275-2474
Website: www.artinstitutes.edu/philadelphia/
Type of School: 4-year, Private for-profit
Programs Offered: Less than one year certificate;Associate's degree;Bachelor's degree
School Name: The Art Institute of Pittsburgh
Accrediting Agency: Accrediting Council for Independent Colleges and Schools & Middle States Association of Colleges and Schools, Commission on Higher Education
Address: 420 Boulevard of the Allies, Pittsburgh, Pennsylvania 15219-1328
Contact: (412) 291-6200
Website: artinstitutes.edu/pittsburgh/
Type of School: 4-year, Private for-profit
Programs Offered: One but less than two years certificate;Associate's degree;Bachelor's degree
School Name: The Are Institute of Pittsburgh-Online Division
Address: 1400 Penn Avenue, Pittsburgh, Pennsylvania 15222-4332
Contact: (412) 291-6200 x4434
Website: www.artinstitutes.edu/pittsburgh
Type of School: 4-year, primarily associates, Private for-profit
Programs Offered: One but less than two years certificate; Associate degree; Bachelor's degree
School Name: Tri-State Business Institute
Accrediting Agency: Accrediting Council for Independent Colleges and Schools, Council for Higher Education
Address: 5757 W. 26th St., Erie, Pennsylvania 16506-1013
Contact: (814) 838-7673
Website: www.tsbi.edu
Type of School: 2-year, Private for-profit
Programs Offered: Less than one year certificate; One but less than two years certificate; Associate degree; Two but less than 4 years certificate
School Name: University of Phoenix-Harrisburg Campus
Accrediting Agency: North Central Association of Colleges and Schools, The Higher Learning Commission
Address: 4050 Crums Mill Rd, Harrisburg, Pennsylvania 17112-2894
Contact: (717) 540-3300
Website: www.phoenix.edu
Type of School: 4-year, Private for-profit
Programs Offered: Bachelor's degree;Master's degree
School Name: University of Phoenix-Philadelphia Campus
Accrediting Agency: North Central Association of Colleges and Schools, The Higher Learning Commission
Address: 170 South Warner Road, Ste. 200, Wayne, Pennsylvania 19087-2121
Contact: (610) 989-0880
Website: www.phoenix.edu
Type of School: 4-year, Private for-profit
Programs Offered: Less than one year certificate;Bachelor's degree;Master's degree
School Name: University of Phoenix-Pittsburgh Campus
Accrediting Agency: North Central Association of Colleges and Schools, The Higher Learning Commission
Address: Penn Center West, Bldg. 6, Suite 100, Pittsburgh, Pennsylvania 15276-0109
Contact: (412) 747-9000
Website: www.phoenix.edu
Type of School: 4-year, Private for-profit
Programs Offered: Less than one year certificate;Bachelor's degree;Master's degree
Faith-Based Schools
School Name: Baptist Bible College and Seminary
Accrediting Agency: Association for Biblical Higher Education, Commission on Accreditation & Middle States Association of Colleges and Schools, Commission on Higher Education
Address: 538 Venard Rd, Clarks Summit, Pennsylvania 18411
Contact: (570) 586-2400
Website: www.bbc.edu
Type of School: 4-year, Private not-for-profit
Programs Offered: One but less than two years certificate;Associate's degree;Bachelor's degree;Master's degree
School Name: Bethel Seminary of the East
Accrediting Agency: North Central Association of Colleges and Schools, The Higher Learning Commission
Address: 2325 Maryland Road, Suite 225, Willow Grove, Pennsylvania 19090
Contact: (215) 659-1000
Website: www.bethel.edu
Type of School: 4-year, Private not-for-profit
Programs Offered: Postbaccalaureate certificate;Master's degree;First-professional degree
School Name: Biblical Theological Seminary
Accrediting Agency: Commission on Accrediting of the Association of Theological Schools & Middle States Association of Colleges and Schools, Commission on Higher Education
Address: 200 N Main St, Hatfield, Pennsylvania 19440
Contact: (215) 368-5000
Website: www.biblical.edu
Type of School: 4-year, Private not-for-profit
Programs Offered: Postbaccalaureate certificate;Master's degree;Post-master's certificate;Doctor's degree;First-professional degree
School Name: Bryn Athyn College of the New Church
Accrediting Agency: Middle States Association of Colleges and Schools, Commission on Higher Education
Address: 801 Tomlinson Rd, Bryn Athyn, Pennsylvania 19009-0717
Contact: (267) 502-2543
Website: www.brynathyn.edu
Type of School: 4-year, Private not-for-profit
Programs Offered: Associate's degree;Bachelor's degree;Master's degree;First-professional degree
School Name: Calvary Baptist Theological Seminary
Accrediting Agency: Middle States Association of Colleges and Schools, Commission on Higher Education
Address: 1380 S. Valley Forge Rd., Lansdale, Pennsylvania 19446-4797
Contact: (215) 368-7538
Website: www.cbs.edu
Type of School: 4-year, Private not-for-profit
Programs Offered: Master's degree
School Name: Evangelical Theological Seminary
Accrediting Agency: Commission on Accrediting of the Association of Theological Schools; Middle States Commission on Higher Education; Council for Higher Education
Address: 121 S. College St., Meyerstown, Pennsylvania 17067-1222
Contact: (717) 866-5775 x2107
Website: www.evangelical.edu
Type of School: 4-year, Private not-for-profit
Programs Offered: Postbaccalaureate certificate; Master's degree
School Name: Immaculata University
Accrediting Agency: Middle States Association of Colleges and Schools, Commission on Higher Education
Address: 1145 King Rd, Immaculata, Pennsylvania 19345-0702
Contact: (610) 647-4400
Website: www.immaculata.edu
Type of School: 4-year, Private not-for-profit
Programs Offered: Associate's degree;Bachelor's degree;Master's degree;Doctor's degree
School Name: King's College
Accrediting Agency: Middle States Association of Colleges and Schools, Commission on Higher Education
Address: 133 N River St, Wilkes Barre, Pennsylvania 18711-0801
Contact: (570) 208-5900
Website: www.kings.edu
Type of School: 4-year, Private not-for-profit
Programs Offered: Less than one year certificate;Associate's degree;Bachelor's degree;Postbaccalaureate certificate;Master's degree
School Name: La Salle University
Accrediting Agency: Middle States Commission on Higher Education, Council for Higher Education
Address: 1900 W. Olney Ave., Philadelphia, Pennsylvania 19141-1199
Contact: (215) 951-1000
Website: www.lasalle.edu
Type of School: 4-year, Private not-for-profit
Programs Offered: Less than one year certificate; Associates degree; Bachelor's degree; Pastbaccalaureate certificate; Master's degree; Post-master's certificate; Doctor's degree – professional practice
School Name: Lancaster Bible College
Accrediting Agency: Association for Biblical Higher Education, Commission on Accreditation & Middle States Association of Colleges and Schools, Commission on Higher Education
Address: 901 Eden Rd, Lancaster, Pennsylvania 17601-3403
Contact: (717) 569-7071
Website: www.LBC.edu
Type of School: 4-year, Private not-for-profit
Programs Offered: One but less than two years certificate;Associate's degree;Bachelor's degree;Postbaccalaureate certificate;Master's degree
School Name: Lutheran Theological Seminary at Gettysburg
Accrediting Agency: Commission on Accrediting of the Association of Theological Schools & Middle States Association of Colleges and Schools, Commission on Higher Education
Address: 61 Seminary Ridge, Gettysburg, Pennsylvania 17325-1795
Contact: (717) 334-6286
Website: www.ltsg.edu
Type of School: 4-year, Private not-for-profit
Programs Offered: Master's degree;Post-master's certificate
School Name: Lutheran Theological Seminary at Philadelphia
Accrediting Agency: Commission on Accrediting of the Association of Theological Schools & Middle States Association of Colleges and Schools, Commission on Higher Education
Address: 7301 Germantown Ave, Philadelphia, Pennsylvania 19119-1794
Contact: (215) 248-4616
Website: www.ltsp.edu
Type of School: 4-year, Private not-for-profit
Programs Offered: Postbaccalaureate certificate;Master's degree
School Name: Marywood University
Accrediting Agency: Middle States Association of Colleges and Schools, Commission on Higher Education
Address: 2300 Adams Ave, Scranton, Pennsylvania 18509-1598
Contact: (570) 348-6211
Website: www.marywood.edu
Type of School: 4-year, Private not-for-profit
Programs Offered: One but less than two years certificate;Bachelor's degree;Postbaccalaureate certificate;Master's degree;Post-master's certificate
School Name: Mercyhurst College
Accrediting Agency: Middle States Association of Colleges and Schools, Commission on Higher Education
Address: 501 E 38th St, Erie, Pennsylvania 16546
Contact: (814) 824-2000
Website: www.mercyhurst.edu
Type of School: 4-year, Private not-for-profit
Programs Offered: Less than one year certificate;One but less than two years certificate;Associate's degree;Bachelor's degree;Postbaccalaureate certificate;Master's degree
School Name: Messiah College
Accrediting Agency: Middle States Commission on Higher Education, Council for Higher Education
Address: One College Ave., Grantham, Pennsylvania 17027
Contact: (717) 766-2511
Website: www.messiah.edu
Type of School: 4-year, Private not-for-profit
Programs Offered: Bachelor's degree; Master's degree; Post-master's certificate
School Name: Misericordia University
Accrediting Agency: Middle States Association of Colleges and Schools, Commission on Higher Education
Address: 301 Lake St, Dallas, Pennsylvania 18612-1098
Contact: (570) 674-6400
Website: www.misericordia.edu
Type of School: 4-year, Private not-for-profit
Programs Offered: Less than one year certificate;Bachelor's degree;Master's degree;Post-master's certificate
School Name: Mount Aloysius College
Accrediting Agency: Middle States Association of Colleges and Schools, Commission on Higher Education
Address: 7373 Admiral Peary Hwy, Cresson, Pennsylvania 16630-1999
Contact: (814) 886-4131
Website: www.mtaloy.edu/home/
Type of School: 4-year, primarily associate's, Private not-for-profit
Programs Offered: Less than one year certificate;Associate's degree;Bachelor's degree;Master's degree
School Name: Neumann University
Accrediting Agency: Middle States Association of Colleges and Schools, Commission on Higher Education
Address: One Neumann Drive, Aston, Pennsylvania 19014-1298
Contact: (610) 459-0905
Website: www.neumann.edu
Type of School: 4-year, Private not-for-profit
Programs Offered: Less than one year certificate;One but less than two years certificate;Associate's degree;Bachelor's degree;Master's degree
School Name: Philadelphia Biblical University-Langhorne
Accrediting Agency: Association for Biblical Higher Education, Commission on Accreditation & Middle States Association of Colleges and Schools, Commission on Higher Education
Address: 200 Manor Ave, Langhorne, Pennsylvania 19047-2990
Contact: (215) 752-5800
Website: www.pbu.edu
Type of School: 4-year, Private not-for-profit
Programs Offered: One but less than two years certificate;Bachelor's degree;Master's degree
School Name: Rosemont College
Accrediting Agency: Middle States Association of Colleges and Schools, Commission on Higher Education
Address: 1400 Montgomery Ave, Rosemont, Pennsylvania 19010-1699
Contact: (610) 527-0200
Website: www.rosemont.edu
Type of School: 4-year, Private not-for-profit
Programs Offered: Bachelor's degree;Postbaccalaureate certificate;Master's degree
School Name: Saint Charles Borromeo Seminary-Overbrook
Accrediting Agency: Middle States Association of Colleges and Schools, Commission on Higher Education
Address: 100 East Wynnewood Road, Wynnewood, Pennsylvania 19096
Contact: (610) 667-3394
Website: www.scs.edu
Type of School: 4-year, Private not-for-profit
Programs Offered: Less than one year certificate;One but less than two years certificate;Two but less than 4 years certificate;Bachelor's degree;Postbaccalaureate certificate;Master's degree;First-professional degree
School Name: Saint Francis University
Accrediting Agency: Middle States Association of Colleges and Schools, Commission on Higher Education
Address: 117 Evergreen Dr, Loretto, Pennsylvania 15940
Contact: (814) 472-3000
Website: www.francis.edu
Type of School: 4-year, Private not-for-profit
Programs Offered: Associate's degree;Bachelor's degree;Postbaccalaureate certificate;Master's degree;Doctor's degree
School Name: Saint Joseph's University
Accrediting Agency: Middle States Association of Colleges and Schools, Commission on Higher Education
Address: 5600 City Avenue, Philadelphia, Pennsylvania 19131-1395
Contact: (610) 660-1000
Website: www.sju.edu
Type of School: 4-year, Private not-for-profit
Programs Offered: One but less than two years certificate;Associate's degree;Bachelor's degree;Postbaccalaureate certificate;Master's degree;Post-master's certificate
School Name: Seton Hill University
Accrediting Agency: Middle States Association of Colleges and Schools, Commission on Higher Education
Address: One Seton Hill Dr, Greensburg, Pennsylvania 15601
Contact: (724) 834-2200
Website: www.setonhill.edu
Type of School: 4-year, Private not-for-profit
Programs Offered: Bachelor's degree;Postbaccalaureate certificate;Master's degree
School Name: Trinity Episcopal School for Ministry
Accrediting Agency: Commission on Accrediting of the Association of Theological Schools
Address: 311 Eleventh St, Ambridge, Pennsylvania 15003-2397
Contact: (724) 266-3838
Website: www.tesm.edu
Type of School: 4-year, Private not-for-profit
Programs Offered: Postbaccalaureate certificate;Master's degree
School Name: Valley Forge Christian College
Accrediting Agency: Middle States Association of Colleges and Schools, Commission on Higher Education
Address: 1401 Charlestown Road, Phoenixville, Pennsylvania 19460
Contact: (610) 935-0450
Website: www.vfcc.edu
Type of School: 4-year, Private not-for-profit
Programs Offered: One but less than two years certificate;Associate's degree;Bachelor's degree;Master's degree
School Name: Villanova University
Accrediting Agency: Middle States Association of Colleges and Schools, Commission on Higher Education
Address: 800 Lancaster Avenue, Villanova, Pennsylvania 19085-1699
Contact: (610) 519-4500
Website: www.villanova.edu
Type of School: 4-year, Private not-for-profit
Programs Offered: Associate's degree;Bachelor's degree;Postbaccalaureate certificate;Master's degree;Post-master's certificate;Doctor's degree;First-professional degree
School Name: Westminster Theological Seminary
Accrediting Agency: Commission on Accrediting of the Association of Theological Schools & Middle States Association of Colleges and Schools, Commission on Higher Education
Address: 2960 W Church Rd, Glenside, Pennsylvania 19038
Contact: (215) 887-5511
Website: www.wts.edu
Type of School: 4-year, Private not-for-profit
Programs Offered: Postbaccalaureate certificate;Master's degree;Doctor's degree;First-professional degree