Accredited Online Colleges in South Carolina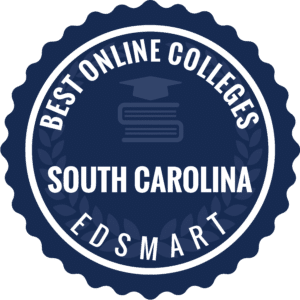 South Carolina is home to 79 degree-granting higher education institutions, according to a 2017 Babson Survey Research Group report.
To choose the best option for online schools in South Carolina, you need to consider your career goals along with the value you can get for your education. Depending on your learning objectives, you might only need to take general education courses online as you pursue your schooling or your entire degree. Either way, you have a lot of educational and career options with these online colleges in SC.
Jump to:
Rankings | Overview | List of Accredited Online Colleges in SC
Rankings
Schools are ranked based on four data points in three categories:
Affordability (financial aid, net price)
Student Satisfaction (retention rate)
Student Outcome (4-year graduation rate)
Each data point is ranked with equal weight. Schools received a weighted overall ranking score for each individual point mentioned above–100 being the highest score possible.
In the case of a tie in scoring, the average net price was the determining factor for which school received the higher rank–the lower the net price, the higher the ranking.
All data was gathered from the National Center for Education Statistics website and is accurate at the time of this writing [April 2021].
Best Online Colleges in South Carolina for 2021
1. Lake Superior State University
Score: 100
Salary After Attending: $58,601
Average Net Price: $11,043
Retention Rate: 71%
Graduation Rate: 67%
While its programs certainly include various unique options, such as courses in Cannabis Business, Lake Superior State University offers some of its general education courses online and a Bachelor's degree in Science in Criminal Justice. This program has a range of concentrations for students to choose from, such as Law Enforcement, Corrections, and Homeland Security. Learners can receive instruction from teachers who are active in careers within the field of criminology to give insight into real-world working conditions.
Students can learn to problem solve and think like someone in the criminal justice field while cultivating their research and writing skills. LSSU offers classes involving psychology, math, casework, corrections, policy, ethics, and more. The university even partners with universities and law enforcement in Canada to offer a broad spectrum of opportunities. Knowing that they can interact with classmates that come from all over the country and across the world means that students can gain a more comprehensive national or international perspective even though they are at home. Lake Superior State also ranks number 3 in top public schools in the nation, according to US News and World Report.
2. Presbyterian College
Score: 99.4 
Salary After Attending: $42,363
Average Net Price: $18,851
Retention Rate: 79%
Graduation Rate: 66%
Presbyterian College in Clinton, South Carolina, offers a four-year liberal arts program with a variety of majors. The most popular majors at PCC are Psychology, English, or Business, or several undergraduate majors across the humanities, social sciences, and physical sciences. If you are interested in graduate school, check out the graduate program in Pharmacy or professional studies in the Physician Assistant program.
Although the university does not offer any online degree programs, students can take a limited number of general education courses online. This allows them to take general survey courses on their own schedule before taking advanced classes on campus, which enables them to concentrate more on work, family, or even travel before they begin more complicated studies. Students can learn off-campus through the college's well-known internship, work placement, and study abroad programs. In a school of just over 1,000 people, you do not need to worry about getting lost in the crowd. Small class sizes provide lots of opportunities for in-depth discussion even online.
3. University of South Carolina-Upstate
Score: 99.0
Salary After Attending: $59,124
Average Net Price: $15,506
Retention Rate: 66%
Graduation Rate: 52%
The University of South Carolina Upstate balances education and costs with on-campus, online, and hybrid programs. Many of the online and hybrid undergraduate and graduate programs focus on the health industry, especially nursing. You can earn a Bachelor of Science in Criminal Justice, Information Management and Systems, and Health Informatics. The university also offers a degree that helps students transition from RN to BSN.
Students can vie for more job opportunities by using course credits in their associate-level nursing degree toward their bachelor's education in nursing, allowing them to complete the degree in one to two years. Medical students can continue their health services or nursing careers even further through a hybrid degree involving both evening and online classes towards degrees or programs such as Master of Science in Informatics, or through the Master of Science in Nursing, Clinical Nurse Leader, which contains complete online course delivery with a hybrid clinical practice in their area.
4. Southern Wesleyan University
Score: 98.8
Salary After Attending: $46,556
Average Net Price: $17,188
Retention Rate: 72%
Graduation Rate: 51%
Get your online degree at Southern Wesleyan University for a Christian-focused distance learning education. This school also focuses on providing an affordable online experience for students and offers scholarships and corporate discounts, along with relatively lower tuition rates. The primary concentrations of SWU's online programs related to education, business, and health.
The Business Administration program allows students to tailor their business education toward a specific perspective career with concentrations that include Accounting, Economics, Human Resources, Marketing, Management, and Supply Chain Management. Studies are available in Human Services, Early Childhood, and Family Studies, or get a Nursing degree.
Continue your education at the graduate level with an online program in education or business or business leadership. As one of the few MBA programs in the country that do not require GMAT or GRE scores, students can apply for a business degree at Southern Wesleyan University without balancing months of exam studying with a full-time career or family.
5. Winthrop University
Score: 98.8
Salary After Attending: $40,368
Average Net Price: $17,592
Retention Rate: 76%
Graduation Rate: 58%
As one of the top 25 ranked regional universities in the South by US News and World Report, students at Winthrop University can be sure to receive a quality education with high value. It also ranks #6 in the Top Public Schools and #12 in Most Innovative Schools. Individuals can take their undergraduate courses online, but this university specializes in online graduate education.
WU provides Master's degrees in Arts Administration, which focus on expanding the learners' knowledge and practical application of non-profit management, specifically for those in the arts sector. Their Master's degree in Social Work prepares students for a rewarding career by providing education requirements to pass the licensing exam. WU uses evaluative measures in the courses and practicum placement services, which make their licensing exam passage rates higher than average. Students can also earn Masters' degrees in Business Administration or Education with a concentration in Special Education Intervention.
6. North Greenville University
Score: 98.2
Salary After Attending: $41,789
Average Net Price: $20,025
Retention Rate: 72%
Graduation Rate: 55%
North Greenville University offers both undergraduate and graduate-level online programs for those who are at least 22 years old. Attendees can earn an undergraduate degree in Criminal Justice, Applied Psychology, Elementary Education, Business and Leadership, or Christian Ministries. Online learners also take advantage of the many undergraduate and graduate one-year professional certificates that concentrate on furthering knowledge related to business, church management, theology, and professional development.
North Greenville University is one of the few online colleges in South Carolina to offer both quality Masters and Doctorate programs. Students can pursue a Master's degree in Music Education to enrich their teaching skills or study one of the school's theology-based graduate programs at a university ranked in the top 100 for Best Colleges for Religious Studies by Niche.com. The Master's degree program in Medical Science at NGU fulfills the educational requirements to become a Physician Assistant. Students at NGU can earn a doctorate on their own schedule with a Doctorate of Education or Doctorate of Ministry.
Overview
South Carolina is one of the smaller states in the country, measuring only 200 miles wide and 260 miles long. Now home to more than 4.5 million people, South Carolina has a long and rich history. It was one of the original Thirteen Colonies and was the first to secede from the Union, becoming a cornerstone of the Confederate States of America. Its history makes the state a popular tourist destination.
The state has been a producer of tobacco almost since its inception. Its other agricultural products include cattle, dairy, poultry, hogs, and soybeans. South Carolina's economy also relies on a diverse array of manufacturing interests, including chemical goods, textiles, automobiles and automobile products, and machinery. In addition to all of this, South Carolina is home to a large number of colleges and universities.
The College of Charleston, founded in 1770, is one of the oldest institutions of higher learning in the United States, and the nation's first municipal college. The University of South Carolina has more than 28,000 students spread over a 359-acre campus. Many schools in South Carolina now offer classes and degree programs online.
Online education is perfect for individuals who are unable to attend a traditional classroom. Because a high-quality education is essential for those considering enrolling in online classes, one way to ensure the education they receive is of high-quality is to check its accreditation status.
The Southern Association of Colleges and Schools Commission on Colleges is the regional accrediting agency over South Carolina. Some other institutional accrediting agencies include the Association for Biblical Higher Education, which accredits faith-based schools, and the Accrediting Council for Independent Colleges and Schools, which accredits many of the technical schools in the state.
South Carolina Online Education Fast Facts & Figures
If you're looking for an online school in South Carolina, there are plenty to choose from. Below, you'll find a list of all of these schools, divided into four categories: private schools, public schools, for-profit schools, and faith-based schools. This should help you narrow your search.
Accredited Online Colleges in South Carolina
Categories
Private | Public | For Profit | Faith Based
Private Schools
School Name: Anderson University
Accrediting Agency: Southern Association of Colleges and Schools, Commission on Colleges
Address: 316 Boulevard, Anderson, South Carolina 29621
Contact: (864) 231-2000
Website: www.andersonuniversity.edu
Type of School: 4-year, Private not-for-profit
Programs Offered: Bachelor's degree;Master's degree
School Name: Bob Jones University
Accrediting Agency: Transnational Association of Christian Colleges and Schools, Accreditation Commission
Address: 1700 Wade Hampton Boulavard, Greenville, South Carolina 29614-0001
Contact: (864) 242-5100
Website: www.bju.edu
Type of School: 4-year, Private not-for-profit
Programs Offered: One but less than two years certificate;Associate's degree;Two but less than 4 years certificate;Bachelor's degree;Postbaccalaureate certificate;Master's degree;Post-master's certificate;Doctor's degree;First-professional degree
School Name: Cathedral Bible College
Address: 803 Howard Pkwy, Myrtle Beach, South Carolina 29577-1413
Contact: (843) 477-1503
Website: www.cathedralministries.org
Type of School: 4-year, primarily associates, Private not-for-profit
Programs Offered: Less than one year certificate; One but less than two years certificate; Associates degree; Bachelor's degree; Master's degree; Doctor's degree
School Name: Charleston Southern University
Accrediting Agency: Southern Association of Colleges and Schools, Commission on Colleges
Address: 9200 University Blvd, Charleston, South Carolina 29410-8087
Contact: (843) 863-7000
Website: www.csuniv.edu
Type of School: 4-year, Private not-for-profit
Programs Offered: Bachelor's degree;Master's degree
School Name: Coker College
Accrediting Agency: Southern Association of Colleges and Schools, Commission on Colleges, Council for Higher Education
Address: 300 E. College Ave., Hartsville, South Carolina, 29550
Contact: (843) 383-8000
Website: www.coker.edu
Type of School: 4-year, Private not-for-profit
Programs Offered: Bachelor's degree
School Name: Columbia College
Accrediting Agency: Southern Association of Colleges and Schools, Commission on Colleges
Address: 1301 Columbia College Dr, Columbia, South Carolina 29203
Contact: (803) 786-3012
Website: www.columbiacollegesc.edu
Type of School: 4-year, Private not-for-profit
Programs Offered: Bachelor's degree;Master's degree
School Name: Columbia International University
Accrediting Agency: Association for Biblical Higher Education, Commission on Accreditation, Southern Association of Colleges and Schools, Commission on Colleges
Address: 7435 Monticello Rd, Columbia, South Carolina 29203-1513
Contact: (803) 754-4100
Website: www.ciu.edu
Type of School: 4-year, Private not-for-profit
Programs Offered: One but less than two years certificate;Associate's degree;Bachelor's degree;Postbaccalaureate certificate;Master's degree;Post-master's certificate;Doctor's degree;First-professional degree
School Name: Erskine College and Seminary
Accrediting Agency: Southern Association of Colleges and Schools, Commission on Colleges
Address: 2 Washington St, Due West, South Carolina 29639
Contact: (864) 379-2131
Website: www.erskine.edu
Type of School: 4-year, Private not-for-profit
Programs Offered: One but less than two years certificate;Bachelor's degree;Master's degree;Doctor's degree;First-professional degree
School Name: ITT Technical Institute-Columbia
Accrediting Agency: Accrediting Council for Independent Colleges and Schools
Address: 1628 Browning Road, Suite 180, Columbia, South Carolina 29210
Contact: (803) 216-6600
Website: www.itt-tech.edu
Type of School: 4-year, primarily associate's, Private for-profit
Programs Offered: Associate's degree;Bachelor's degree
School Name: ITT Technical Institute-Greenville
Accrediting Agency: Accrediting Council for Independent Colleges and Schools
Address: Six Independence Pointe, Greenville, South Carolina 29615
Contact: (864) 288-0777
Website: www.itt-tech.edu
Type of School: 4-year, primarily associate's, Private for-profit
Programs Offered: Associate's degree;Bachelor's degree
School Name: ITT Technical Institute – North Charleston
Accrediting Agency: Accrediting Council for Independent College and Schools
Address: 2431 W. Aviation Ave., North Charleston, South Carolina 29406
Contact: (843) 745-5700
Website: www.itt-tech.edu
Type of School: 4-year, primarily associates, Private for-profit
Programs Offered: Associates degree; Bachelor's degree
School Name: Limestone College
Accrediting Agency: Southern Association of Colleges and Schools, Commission on Colleges
Address: 1115 College Drive, Gaffney, South Carolina 29340-3799
Contact: (800) 795-7151 x0
Website: www.limestone.edu
Type of School: 4-year, Private not-for-profit
Programs Offered: Associate's degree;Bachelor's degree
School Name: North Greenville University
Accrediting Agency: Southern Association of Colleges and Schools, Commission on Colleges
Address: 7801 N. Tigerville Road, Tigerville, South Carolina 29688-1892
Contact: (864) 977-7000
Website: www.ngu.edu
Type of School: 4-year, Private not-for-profit
Programs Offered: Associate's degree;Bachelor's degree;Master's degree
School Name: Strayer University-South Carolina
Address: 555 N. Pleasantburg Dr. Ste. 300, Greenville, South Carolina 29607
Contact: (888) 378-7293
Website: www.strayer.edu
Type of School: 4-year, Private for-profit
Programs Offered: Less than one year certificate; Associates degree; Bachelor's degree; Postbaccalaureate certificate; Master's degree
School Name: University of Phoenix-Columbia Campus
Accrediting Agency: North Central Association of Colleges and Schools, The Higher Learning Commission
Address: 1001 Pinnacle Point Drive, Columbia, South Carolina 29223-5733
Contact: (803) 699-5096
Website: www.phoenix.edu
Type of School: 4-year, Private for-profit
Programs Offered: Bachelor's degree;Master's degree
School Name: Virginia College-Columbia
Accrediting Agency: Accrediting Council for Independent Colleges and Schools,
Address: 7201 Two Notch Rd. Suite 1000, Columbia, South Carolina 29223
Contact: (803) 509-7100 x4725
Website: www.vc.edu
Type of School: 2-year, Private for-profit
Programs Offered: One but less than two years certificate; Associates degree
Public Schools
School Name: Aiken Technical College
Accrediting Agency: Southern Association of Colleges and Schools, Commission on Colleges
Address: 2276 Jefferson Davis Highway, Graniteville, South Carolina 29829
Contact: (803) 593-9231
Website: www.atc.edu
Type of School: 2-year, Public
Programs Offered: Less than one year certificate;One but less than two years certificate;Associate's degree
School Name: Central Carolina Technical College
Accrediting Agency: Southern Association of Colleges and Schools, Commission on Colleges
Address: 506 N Guignard Dr, Sumter, South Carolina 29150-2499
Contact: (803) 778-1961
Website: www.cctech.edu
Type of School: 2-year, Public
Programs Offered: Less than one year certificate;One but less than two years certificate;Associate's degree
School Name: Citadel Military College of South Carolina
Accrediting Agency: Southern Association of Colleges and Schools, Commission on Colleges
Address: 171 Moultrie St, Charleston, South Carolina 29409
Contact: (843) 225-3294
Website: www.citadel.edu
Type of School: 4-year, Public
Programs Offered: Bachelor's degree;Master's degree;Post-master's certificate
School Name: Clemson University
Accrediting Agency: Southern Association of Colleges and Schools, Commission on Colleges
Address: 201 Sikes Hall, Clemson, South Carolina 29634
Contact: (864) 656-4636
Website: www.clemson.edu
Type of School: 4-year, Public
Programs Offered: Bachelor's degree;Postbaccalaureate certificate;Master's degree;Post-master's certificate
School Name: Coastal Carolina University
Accrediting Agency: Southern Association of Colleges and Schools, Commission on Colleges
Address: 108 James P. Blanton Circle, Conway, South Carolina 29526
Contact: (843) 347-3161
Website: www.coastal.edu
Type of School: 4-year, Public
Programs Offered: Bachelor's degree;Postbaccalaureate certificate;Master's degree
School Name: College of Charleston
Accrediting Agency: Southern Association of Colleges and Schools, Commission on Colleges
Address: 66 George St, Charleston, South Carolina 29424-0001
Contact: (843) 953-5500
Website: www.cofc.edu
Type of School: 4-year, Public
Programs Offered: Bachelor's degree;Postbaccalaureate certificate;Master's degree
School Name: Denmark Technical College
Accrediting Agency: National Accrediting Commission of Cosmetology Arts and Sciences &  Southern Association of Colleges and Schools, Commission on College
Address: 1126 Solomon Blatt Blvd, Denmark, South Carolina 29042
Contact: (803) 793-5100
Website: www.denmarktech.edu
Type of School: 2-year, Public
Programs Offered: Less than one year certificate;One but less than two years certificate;Associate's degree
School Name: Florence-Darlington Technical College
Accrediting Agency: National Accrediting Commission of Cosmetology Arts and Sciences &  Southern Association of Colleges and Schools, Commission on Colleges
Address: 2715 W. Lucas Street, Florence, South Carolina 29501-0548
Contact: (843) 661-8324
Website: www.fdtc.edu
Type of School: 2-year, Public
Programs Offered: Less than one year certificate;One but less than two years certificate;Associate's degree
School Name: Greenville Technical College
Accrediting Agency: Southern Association of Colleges and Schools, Commission on Colleges
Address: 506 S Pleasantburg Dr, Greenville, South Carolina 29607-2416
Contact: (864) 250-8111
Website: www.gvltec.edu
Type of School: 2-year, Public
Programs Offered: Less than one year certificate;One but less than two years certificate;Associate's degree
School Name: Horry-Georgetown Technical College
Accrediting Agency: Southern Association of Colleges and Schools, Commission on Colleges
Address: 2050 Highway 501 East, Conway, South Carolina 29526
Contact: (843) 347-3186
Website: www.hgtc.edu
Type of School: 2-year, Public
Programs Offered: Less than one year certificate;One but less than two years certificate;Associate's degree
School Name: Lander University
Accrediting Agency: Southern Association of Colleges and Schools, Commission on Colleges
Address: 320 Stanley Avenue, Greenwood, South Carolina 29649-2099
Contact: (864) 388-8000
Website: www.lander.edu
Type of School: 4-year, Public
Programs Offered: Less than one year certificate;Bachelor's degree;Master's degree
School Name: Medical University of South Carolina
Accrediting Agency: Southern Association of Colleges and Schools, Commission on Colleges
Address: 179 Ashley Ave, Charleston, South Carolina 29425
Contact: (843) 792-2300
Website: www.musc.edu
Type of School: 4-year, Public
Programs Offered: Bachelor's degree;Postbaccalaureate certificate;Master's degree;Post-master's certificate;Doctor's degree;First-professional degree
School Name: Midlands Technical College
Accrediting Agency: Southern Association of Colleges and Schools, Commission on Colleges
Address: 1260 Lexington Drive, West Columbia, South Carolina 29170-2176
Contact: (803) 738-8324
Website: www.midlandstech.edu
Type of School: 2-year, Public
Programs Offered: Less than one year certificate;One but less than two years certificate;Associate's degree
School Name: Northeastern Technical College
Accrediting Agency: Southern Association of Colleges and Schools, Commission on Colleges
Address: 1201 Chesterfield Hwy., Cheraw, South Carolina 29520-1007
Contact: (843) 921-6900
Website: www.netc.edu
Type of School: 2-year, Public
Programs Offered: Less than one year certificate;One but less than two years certificate;Associate's degree
School Name: Orangeburg Calhoun Technical College
Accrediting Agency: Southern Association of Colleges and Schools, Commission on Colleges
Address: 3250 Saint Matthews Rd, Orangeburg, South Carolina 29118-8299
Contact: (803) 536-0311
Website: www.octech.edu
Type of School: 2-year, Public
Programs Offered: Less than one year certificate;One but less than two years certificate;Associate's degree
School Name: Piedmont Technical College
Accrediting Agency: Southern Association of Colleges and Schools, Commission on Colleges
Address: 620 North Emerald Road, Greenwood, South Carolina 29646
Contact: (864) 941-8324
Website: www.ptc.edu
Type of School: 2-year, Public
Programs Offered: Less than one year certificate;One but less than two years certificate;Associate's degree;Two but less than 4 years certificate
School Name: South Carolina State University
Accrediting Agency: Southern Association of Colleges and Schools, Commission on Colleges
Address: 300 College St NE, Orangeburg, South Carolina 29117-0001
Contact: (803) 536-7000
Website: www.scsu.edu
Type of School: 4-year, Public
Programs Offered: Bachelor's degree;Postbaccalaureate certificate;Master's degree;Post-master's certificate;Doctor's degree
School Name: Spartanburg Community College
Accrediting Agency: Southern Association of Colleges and Schools, Commission on Colleges
Address: Business I-85, Spartanburg, South Carolina 29303
Contact: (864) 592-4600
Website: www.sccsc.edu
Type of School: 2-year, Public
Programs Offered: Less than one year certificate;One but less than two years certificate;Associate's degree
School Name: Technical College of the Lowcountry
Accrediting Agency: National Accrediting Commission of Cosmetology Arts and Sciences & Southern Association of Colleges and Schools, Commission on Colleges
Address: 921 Ribaut Road, Beaufort, South Carolina 29901-1288
Contact: (800) 768-8252
Website: www.tcl.edu
Type of School: 2-year, Public
Programs Offered: Less than one year certificate;One but less than two years certificate;Associate's degree
School Name: Tri-County Technical College
Accrediting Agency: Southern Association of Colleges and Schools, Commission on Colleges
Address: 7900 U.S. Hwy 76, Pendleton, South Carolina 29670
Contact: (864) 646-1500
Website: www.tctc.edu
Type of School: 2-year, Public
Programs Offered: Less than one year certificate;One but less than two years certificate;Associate's degree
School Name: Trident Technical College
Accrediting Agency: National Accrediting Commission of Cosmetology Arts and Sciences & Southern Association of Colleges and Schools, Commission on Colleges
Address: 7000 Rivers Avenue, Charleston, South Carolina 29423-8067
Contact: (843) 574-6111
Website: www.tridenttech.edu
Type of School: 2-year, Public
Programs Offered: Less than one year certificate;One but less than two years certificate;Associate's degree
School Name: University of South Carolina-Aiken
Accrediting Agency: Southern Association of Colleges and Schools, Commission on Colleges
Address: 471 University Pkwy, Aiken, South Carolina 29801
Contact: (803) 648-6851
Website: www.usca.edu
Type of School: 4-year, Public
Programs Offered: Bachelor's degree;Master's degree
School Name: University of South Carolina-Beaufort
Accrediting Agency: Southern Association of Colleges and Schools, Commission on Colleges
Address: 1 University Boulevard, Bluffton, South Carolina 29909
Contact: (843) 521-4100
Website: www.uscb.edu
Type of School: 4-year, Public
Programs Offered: Associate's degree;Bachelor's degree
School Name: University of South Carolina-Columbia
Accrediting Agency: Southern Association of Colleges and Schools, Commission on Colleges
Address: Columbia, South Carolina 29208
Contact: (803) 777-7000
Website: www.sc.edu/
Type of School: 4-year, Public
Programs Offered: Associate's degree;Bachelor's degree;Postbaccalaureate certificate;Master's degree;Post-master's certificate;Doctor's degree;First-professional degree
School Name: University of South Carolina-Lancaster
Address: 476 Hubbard Drive, Lancaster, South Carolina 29720
Contact: (803) 313-7000
Website: www.usclancaster.sc.edu
Type of School: 2-year, Public
Programs Offered: Associates degree
School Name: University of South Carolina-Salkehatchie
Address: 465 James Brandt Blvd., Allendale, South Carolina 29810
Contact: (800) 922-5500
Website: www.uscsalkehatchie.sc.edu
Type of School: 2-year, Public
Programs Offered: Associates degree
School Name: University of South Carolina-Sumter
Address: 200 Miller Rd., Sumter, South Carolina 29150-2498
Contact: (803) 775-8727
Website: www.uscsumter.edu
Type of School: 2-year, Public
Programs Offered: Associates degree
School Name: University of South Carolina-Union
Address: 309 East Academy St., Union, South Carolina 29379
Contact: (864) 429-8728
Website: www.uscunion.sc.edu
Type of School: 2-year, Public
Programs Offered: Associates degree
School Name: University of South Carolina-Upstate
Accrediting Agency: Southern Association of Colleges and Schools, Commission on Colleges
Address: 800 University Way, Spartanburg, South Carolina 29303-4999
Contact: (864) 503-5000
Website: www.uscupstate.edu
Type of School: 4-year, Public
Programs Offered: One but less than two years certificate;Bachelor's degree;Postbaccalaureate certificate;Master's degree
School Name: Williamsburg Technical College
Accrediting Agency: Southern Association of Colleges and Schools, Commission on Colleges
Address: 601 Martin Luther King Jr Ave, Kingstree, South Carolina 29556-4197
Contact: (843) 355-4110
Website: www.wiltech.edu
Type of School: 2-year, Public
Programs Offered: Less than one year certificate;One but less than two years certificate;Associate's degree
School Name: Winthrop University
Accrediting Agency: Southern Association of Colleges and Schools, Commission on Colleges
Address: 119 Tillman Hall, Rock Hill, South Carolina 29733
Contact: (803) 323-2211
Website: www.winthrop.edu
Type of School: 4-year, Public
Programs Offered: Less than one year certificate;Bachelor's degree;Postbaccalaureate certificate;Master's degree;Post-master's certificate
School Name: York Technical College
Accrediting Agency: Southern Association of Colleges and Schools, Commission on Colleges
Address: 452 S Anderson Rd, Rock Hill, South Carolina 29730
Contact: (803) 327-8000
Website: www.yorktech.com
Type of School: 2-year, Public
Programs Offered: Less than one year certificate;One but less than two years certificate;Associate's degree
For-Profit Schools
School Name: ITT Technical Institute-Columbia
Accrediting Agency: Accrediting Council for Independent Colleges and Schools
Address: 1628 Browning Road, Suite 180, Columbia, South Carolina 29210
Contact: (803) 216-6600
Website: www.itt-tech.edu
Type of School: 4-year, primarily associate's, Private for-profit
Programs Offered: Associate's degree;Bachelor's degree
School Name: ITT Technical Institute-Greenville
Accrediting Agency: Accrediting Council for Independent Colleges and Schools
Address: Six Independence Pointe, Greenville, South Carolina 29615
Contact: (864) 288-0777
Website: www.itt-tech.edu
Type of School: 4-year, primarily associate's, Private for-profit
Programs Offered: Associate's degree; Bachelor's degree
School Name: ITT Technical Institute – North Charleston
Accrediting Agency: Accrediting Council for Independent College and Schools
Address: 2431 W. Aviation Ave., North Charleston, South Carolina 29406
Contact: (843) 745-5700
Website: www.itt-tech.edu
Type of School: 4-year, primarily associates, Private for-profit
Programs Offered: Associates degree; Bachelor's degree
School Name: Miller-Motte Technical College
Accrediting Agency: Accrediting Council for Independent Colleges and Schools
Address: 8085 Rivers Ave-Ste E, North Charleston, South Carolina 29406
Contact: (843) 574-0101
Website: www.miller-motte.com
Type of School: 2-year, Private for-profit
Programs Offered: Less than one year certificate; One but less than two years certificate; Associate's degree
School Name: South University, Columbia
Accrediting Agency: Southern Association of Colleges and Schools, Commission on Colleges
Address: 9 Science Court, Columbia, South Carolina 29203
Contact: (803) 799-9082
Website: www.southuniversity.edu
Type of School: 4-year, Private non-profit
Programs Offered: Associate's degree; Bachelor's degree; Master's degree; Doctorate
School Name: Strayer University-South Carolina
Address: 555 N. Pleasantburg Dr. Ste. 300, Greenville, South Carolina 29607
Contact: (888) 378-7293
Website: www.strayer.edu
Type of School: 4-year, Private for-profit
Programs Offered: Less than one year certificate; Associates degree; Bachelor's degree; Postbaccalaureate certificate; Master's degree
School Name: University of Phoenix-Columbia Campus
Accrediting Agency: North Central Association of Colleges and Schools, The Higher Learning Commission
Address: 1001 Pinnacle Point Drive, Columbia, South Carolina 29223-5733
Contact: (803) 699-5096
Website: www.phoenix.edu
Type of School: 4-year, Private for-profit
Programs Offered: Bachelor's degree; Master's degree
School Name: Virginia College-Columbia
Accrediting Agency: Accrediting Council for Independent Colleges and Schools,
Address: 7201 Two Notch Rd. Suite 1000, Columbia, South Carolina 29223
Contact: (803) 509-7100 x4725
Website: www.vc.edu
Type of School: 2-year, Private for-profit
Programs Offered: One but less than two years certificate; Associates degree
Faith-Based Schools
School Name: Bob Jones University
Accrediting Agency: Transnational Association of Christian Colleges and Schools, Accreditation Commission
Address: 1700 Wade Hampton Boulavard, Greenville, South Carolina 29614-0001
Contact: (864) 242-5100
Website: www.bju.edu
Type of School: 4-year, Private not-for-profit
Programs Offered: One but less than two years certificate;Associate's degree;Two but less than 4 years certificate;Bachelor's degree;Postbaccalaureate certificate;Master's degree;Post-master's certificate;Doctor's degree;First-professional degree
School Name: Cathedral Bible College
Address: 803 Howard Pkwy, Myrtle Beach, South Carolina 29577-1413
Contact: (843) 477-1503
Website: www.cathedralministries.org
Type of School: 4-year, primarily associates, Private not-for-profit
Programs Offered: Less than one year certificate; One but less than two years certificate; Associates degree; Bachelor's degree; Master's degree; Doctor's degree
School Name: Columbia International University
Accrediting Agency: Association for Biblical Higher Education, Commission on Accreditation, Southern Association of Colleges and Schools, Commission on Colleges
Address: 7435 Monticello Rd, Columbia, South Carolina 29203-1513
Contact: (803) 754-4100
Website: www.ciu.edu
Type of School: 4-year, Private not-for-profit
Programs Offered: One but less than two years certificate;Associate's degree;Bachelor's degree;Postbaccalaureate certificate;Master's degree;Post-master's certificate;Doctor's degree;First-professional degree
School Name: Erskine College and Seminary
Accrediting Agency: Southern Association of Colleges and Schools, Commission on Colleges
Address: 2 Washington St, Due West, South Carolina 29639
Contact: (864) 379-2131
Website: www.erskine.edu
Type of School: 4-year, Private not-for-profit
Programs Offered: One but less than two years certificate;Bachelor's degree;Master's degree;Doctor's degree;First-professional degree
School Name: Limestone College
Accrediting Agency: Southern Association of Colleges and Schools, Commission on Colleges
Address: 1115 College Drive, Gaffney, South Carolina 29340-3799
Contact: (800) 795-7151 x0
Website: www.limestone.edu
Type of School: 4-year, Private not-for-profit
Programs Offered: Associate's degree;Bachelor's degree
School Name: North Greenville University
Accrediting Agency: Southern Association of Colleges and Schools, Commission on Colleges
Address: 7801 N. Tigerville Road, Tigerville, South Carolina 29688-1892
Contact: (864) 977-7000
Website: www.ngu.edu
Type of School: 4-year, Private not-for-profit
Programs Offered: Associate's degree;Bachelor's degree;Master's degree