Top 20 Online Communications Degree Programs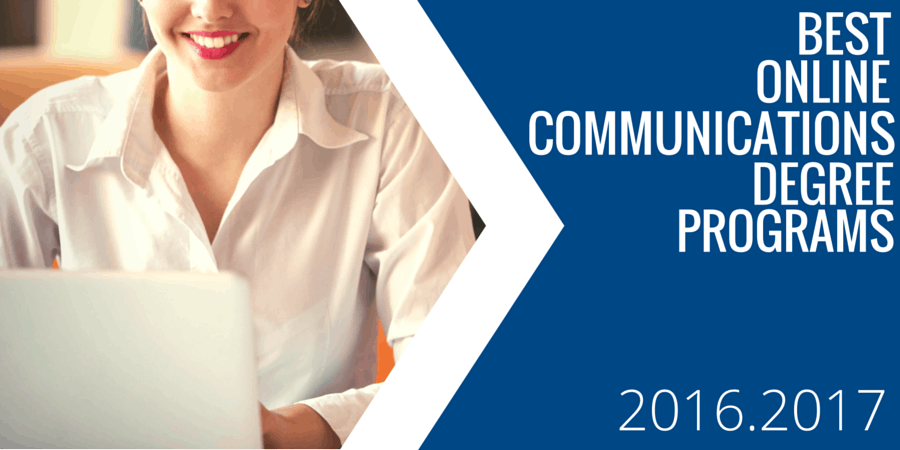 The online communication degree has long been a popular program delivered via distance learning. According to U.S. News and World Report, Communication is among the 10 most popular majors in the United States.
Communications degrees are generally associated with journalism, reporting, broadcasting and other media outlets. Careers for communications majors span a wide variety of industries including marketing, advertising, and public relations. Communications graduates also face a lower unemployment rate than most other majors.



General Criteria
Offer a bachelor's degree or higher
Is a public or private not-for-profit college
Offer at least one fully online bachelor's communications degree program
Scoring Metrics
Net Price
Percent of students receiving financial aid
Retention rate
6-year graduation rate
Student-faculty ratio
Sources
NCES – primary federal entity for collecting and analyzing data related to education. Provides consistent, reliable, complete, and accurate indicators of education status and trends.
IPEDS – primary federal source for data on colleges, universities, and technical and vocational post-secondary schools in the U.S.
The following colleges have been recognized for being among the top for online communications programs for the 2017-2018 academic year.
TOP 20 ONLINE COMMUNICATIONS
DEGREE PROGRAMS
#1
University of Louisville
College of Arts & Sciences
BACHELOR'S DEGREES
Bachelor of Arts in Communication
Bachelor of Science in Communication
The University of Louisville tops the 2017-2018 Best Online Communications Degree Programs with their outstanding program. The major requirements for these degrees can be completed in as little as two years. The programs are based on research and coursework and emphasize multiple facets of contexts and perspectives within the field of communication. This school also has a strong on-campus communications Masters degree program. The University of Louisville is regionally accredited by the Southern Association of Colleges and Schools.
SCORE
100
Net Price: $14,635
Financial Aid: 97%
Retention Rate: 81%
Graduation Rate: 54%
Student-Teacher Ratio: 12:1